We use affiliate links. If you buy something through the links on this page, we may earn a commission at no cost to you. Learn more.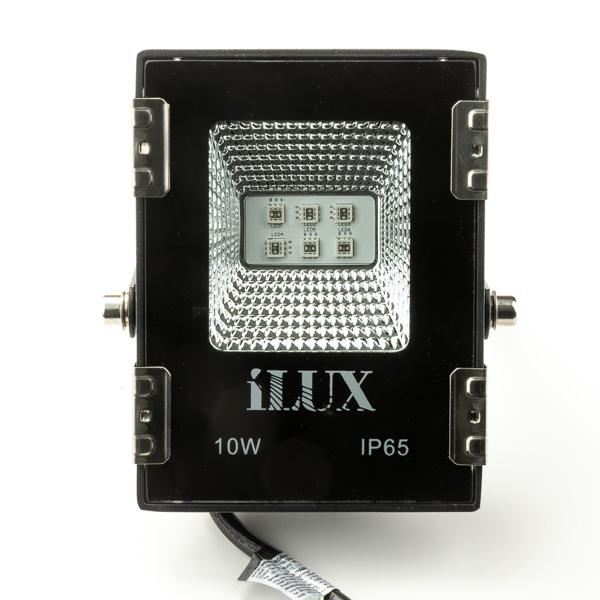 REVIEW – It seems like everywhere you turn nowadays everything is going "RGB", LED, or connected. I thought maybe these LE iLUX Smart LED Flood Lights might make a nice addition to my computer setup. Read on to find out if they worked out.
What is it?
The LE iLUX Smart LED Flood Light is a 10 watt LED light that is IP65 waterproof, and can be controlled by the included remote or via their smartphone app.
What's in the box?
3 LE iLUX Smart LED Flood Lights
Remote control
Remote control instructions
Light instructions
Design and features
The LE iLUX Smart LED Flood Lights come in a three pack, with an included remote. The box was deceptively small as they did not include much protective material, probably because these lights are built like a tank. I thought the remote was a nice touch, as some companies just rely on smartphone apps lately. The lights are controlled via bluetooth.
The case of the lights is an aluminum alloy and appears to be extremely durable and well built. The lights also have a bracket/stand on the back that already has holes in it to make mounting them to a surface much easier.
The power cord is heavy duty, almost too stiff as it made the lights hard to stand upright. They would be best mounted to a small board as a base. I was disappointed to see that the power cords were only 30″ long. It really should have at least a 4 to 6-foot cord. The LED's have a 50,000 hour rating.
The lights support 16 million colors, with 8 preset dynamic editable light modes. There is also a dynamic lighting mode which can change the light color between single color, 3 color, 7 color, or random color changes. There is a setting for gradual change or direct change (instant) as well as a speed setting for the change delay.
One thing I really liked was the ability to group lights and control those groups individually. Changing the brightness, color, and on/off for an entire group of lights at one time.
The iLux Mesh smartphone app is really nice. It's simple to use and does just about everything you would want to do with these lights.
The included remote has quite a few buttons including 4 group buttons that turn on and off a group of lights. One nice thing I found with the remote was that it has glow-in-the-dark buttons! When you just want to turn the lights on or off you don't need to find the app on your smartphone, you can simply press a button on the remote.
My thought when I accepted this review was to use them as backlighting for my computer setup and possibly for accent lighting for photography shoots. Although they're great for backlighting on my computer, they're not quite bright enough for use in most photography setups – although I'll probably use them occasionally.
The following photos were taken outside. I was hoping for a little snow, but we didn't get but a dusting. Taking photos of lights is actually pretty tricky, but I tried to get as close to what I was actually seeing. You can somewhat compare the brightness of them to the porch light that is on the left side.
What I like
Smartphone app
Remote Control
Thin
Sturdy
What needs to be improved
Short power cord
Power cord comes out of the bottom too far
Final thoughts
These lights work well despite the shortcomings of a short cord. They're plenty bright enough for outdoor accent lighting and will add a nice touch to your landscape or holiday lighting.
Price: $67.99 (set of three)
Where to buy: Amazon
Source: The sample of this product was provided by Lighting Ever.