We use affiliate links. If you buy something through the links on this page, we may earn a commission at no cost to you. Learn more.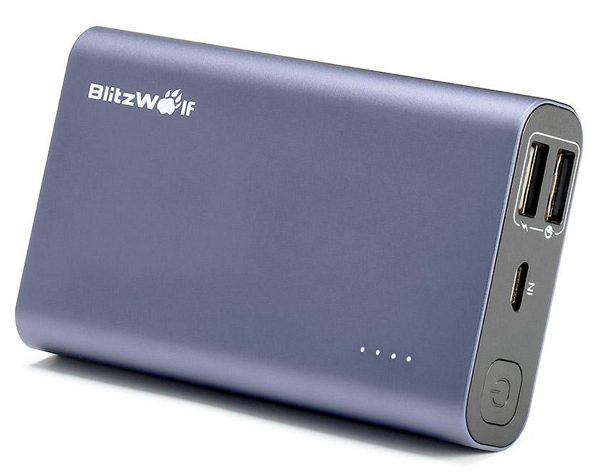 REVIEW – Until the day when quick-charging long-lasting battery technology is commercially available to power all of our consumer electronic gadgets, an external power bank is required necessity. Blitzwolf makes a version with Qualcomm Quick Charge 3.0. Read on to see what I think!                                               
What is it?
The BlitzWolf BW-P3 power bank is a gadget that you can use to charge rechargeable devices.  The power bank contains batteries and circuitry to regulate power output. The circuitry ensures that the power delivered to each USB port is optimized to minimize the charging time required. Special circuitry, licensed by Qualcomm, is available to charge compatible devices as quickly as possible. 
What's in the box?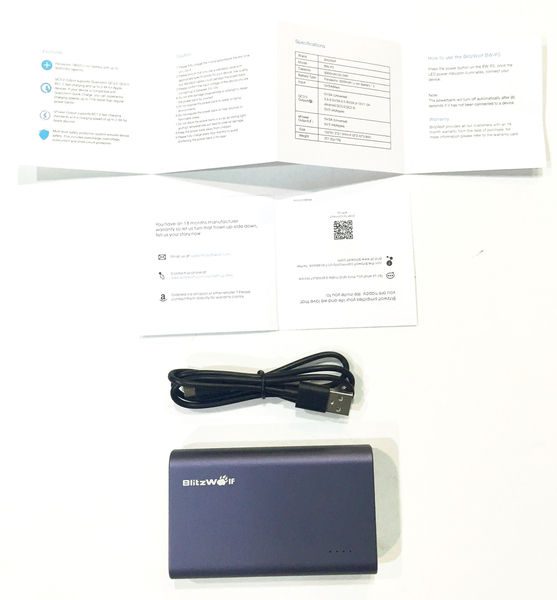 BlitzWolf® BW-P3 QC3.0 Power Bank
Micro USB Charging Cable
User Manual
Warranty Card
Design and features
Specifications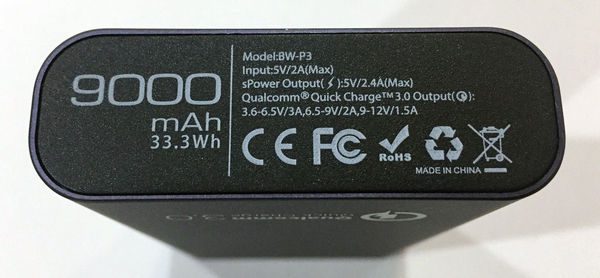 Brand
 BlitzWolf®
 Model
 BW-P3
 Capacity
 9000mAh/33.3Wh
 Power
 18W(two USB ports total)
 Input
 5V/2A (max)
 Output 1
 5V/2.4A (max)
 Output 2
 5V/2.4A (non-Quick Charge,universal)
3.6-6.5V/3A,6.5-9V/2A,9-12V/1.5A (QC3.0)
 Charging time
 5 hours (with 5V/2A Charger)
10 hours (with 5V/1A Charger)
 Size
 102*61.5*21.3mm
 Weight
 225g±5g
 Certification
 CE,FCC,Qualcomm QC3.0
Unboxing
The power bank is made and ships from China. It took 18 days from the day I ordered it to arrive: 13 days from Shenzhen, China to Chicago, Illinois, USA, and another 4 days from Chicago to Massachusetts, USA.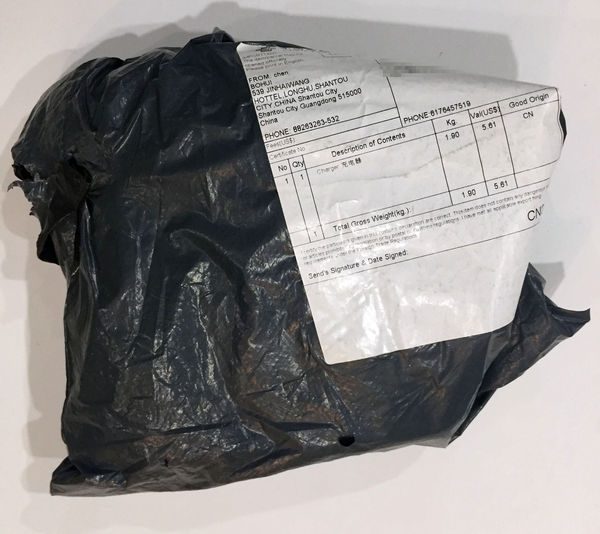 The Package was well wrapped and the box inside didn't show any signs of damage from the trip.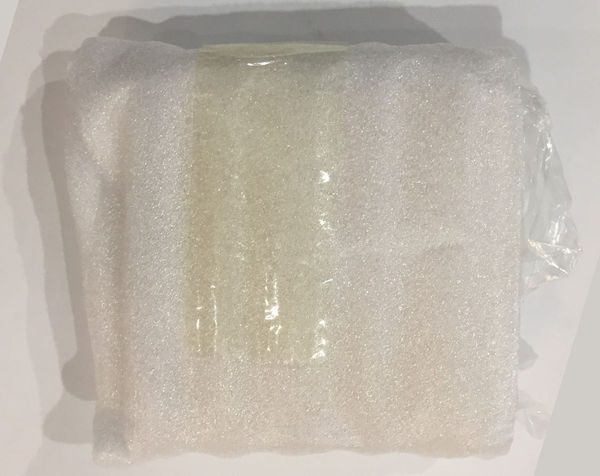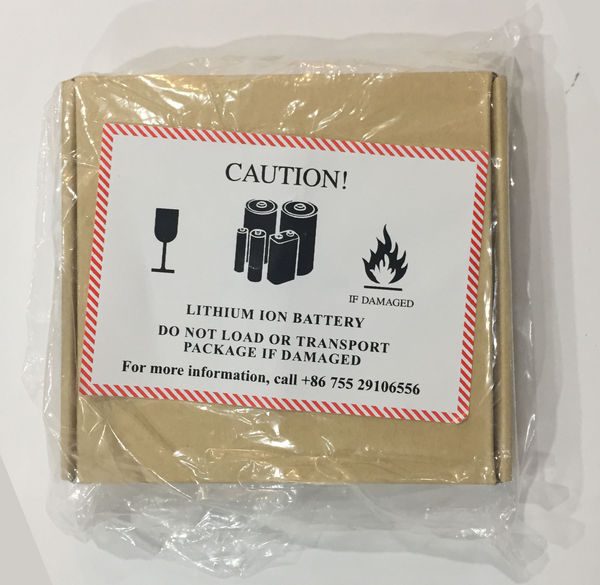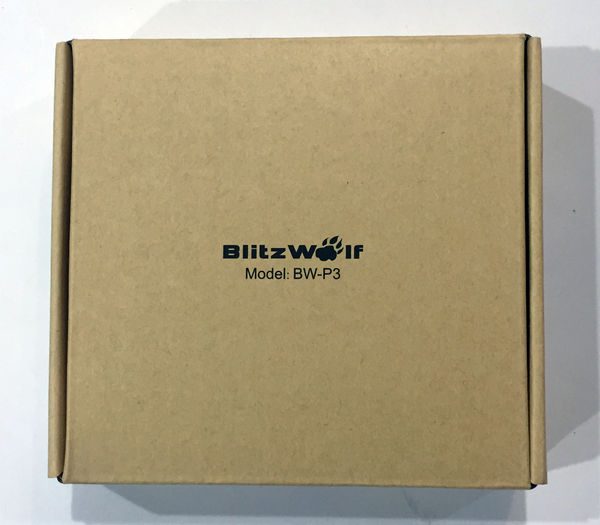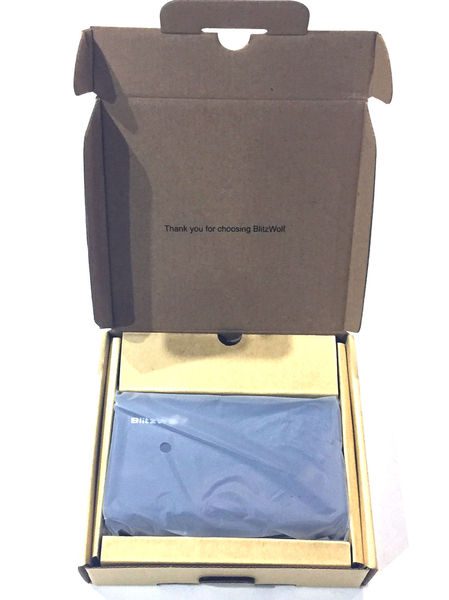 Design of the BlitzWolf® BW-P3 QC3.0 Power Bank
Weighing in at 221 grams and slightly larger than a deck of cards, the power pack has a substantial feel to it, indicative of a solid, well-crafted device. Its dimensions are perfect for large and small hands and make it easy to hold alongside a phone or tablet while charging. The dimensions are also perfect to hold 3 TR 18650 lithium batteries, which hold the charge for this unit. I purchased this six months ago, but the manufacturer is currently selling these units as a 10000 mAh capacity device. Since I charged the unit to 37 Wh, I'm not sure if they changed the capacity inside or just changed the label on the case. TR 18650 batteries come in many capacities, so a change in the supplier may have allowed Blitzwolf to upgrade their product
The Aluminum shell does not feel like it will dent or buckle if pressed. The front and back end, fabricated from black plastic are inset into the aluminum frame and gives the device a well crafted and defined appearance. The power button is large yet it doesn't rock in the frame; it's another design specification and manufacturing touch which confirms that this is a well designed and constructed device.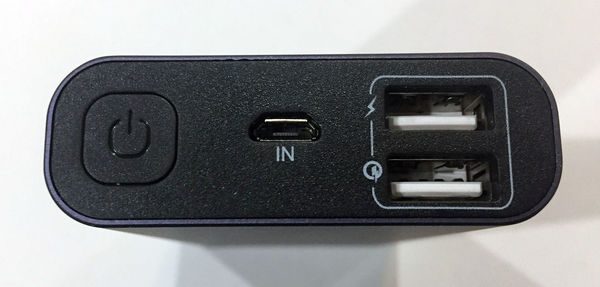 The bottom of the unit is emblazoned with the Qualcomm Quick Charge 3.0 symbol and text.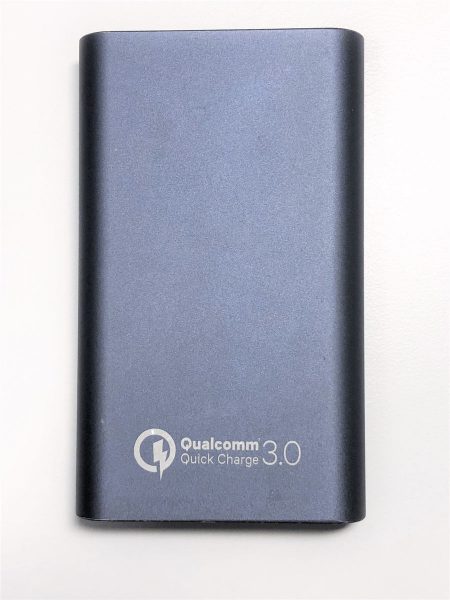 The top of the unit has the BlitzWolf logo and 4 white LEDs to indicate remaining capacity and charging status.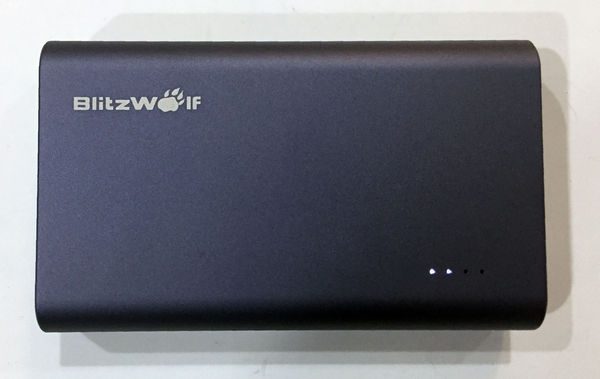 The LEDs are quite bright and easy to see even in full sun. 
Performance
I monitored the power bank charging with a J7-t safety tester and also monitored the temperature of the battery pack with an infrared thermometer.
Charging
The power bank draws up to 8 W (5.2 V, 1.52 amps) while charging. It took 3:42 to charge 24 Wh. While charging the case temperature rose from 73°F to 82°F. The next time it was empty I charged the pack using the supplied cable and it took 5:21 to charge 37 Wh. So it appears that the unit does have the stated capacity of 33.3 Wh.
Discharging
I used the power bank to charge a completely dead iPhone 6. It took 3:51 to charge the iPhone 9.9 Wh. I observed the phone charging at 7 W after an hour, so some trickle charging occurring for most of that elapsed time. The iPhone has a 6.9 Wh battery so 3 Wh was lost as heat in the charging process.
I also used the power bank to charge a dead LeTV Le Eco Le Pro 3 using the QC port. The charging occurred at up to 18.5 W (7.4 V, 2.5 amps) but changed according to the battery charging circuit requirements. The power bank charged 17 Wh into the phone by Quick Charge before being completely drained. The temperature of the case was measured as high as 104°F but dropped to 101°F as the charging continued.
What I like
Easy to use
Compact
High Capacity
QC 3.0
What needs to be improved
Final thoughts
I recommend this product for those who would like to be able to charge their devices quickly and also have a good looking and dependable device. The design and performance are exactly as advertised. 
Price: $42.89 often less with sales, coupons and volume discounts
Where to buy: Banggood
Source: The Blitzwolf sample for this review was purchased with my own funds.