We use affiliate links. If you buy something through the links on this page, we may earn a commission at no cost to you. Learn more.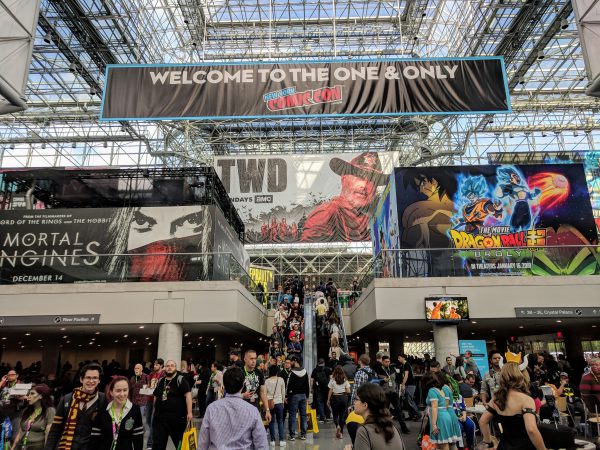 ARTICLE – I recently attended the 2018 New York Comic Con, literally my most favorite place in the world. NYCC showcases everything I love; Comic books, Fantasy art, Superheroes, Pop culture, Science fiction shows, and so much more.

Held since 2006 at New York City's Jacob K. Javits Convention Center, the New York Comic Con packs in fans of all types for four days of pop culture fun. Attendance for the last few years has been well over 150,000, but this year approximately 250,000 tickets were sold, which puts the NYCC firmly ahead of the mother-of-all comic conventions, the San Diego Comic-con. One way the NYCC was able to increase ticket sales was to host Comic-Con events at venues all around the city.
In this article, I'll cover some of the greatest highlights of NYCC 2018 and at the end, I've included my video updates and interviews from the floor as well as a photo gallery of outstanding cosplayers.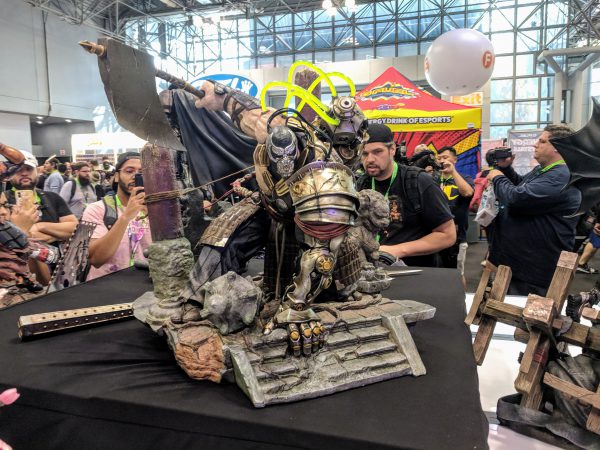 Toys, action figures, and collectibles are a huge part of NYCC and many companies showcase their upcoming lines at the convention. This year there were a lot of alternate imaginings of characters, like a Shogun-era Bane from the Batman universe. But, as usual, the classic fan favorites like Superman and Marvel's Deadpool are still big sellers.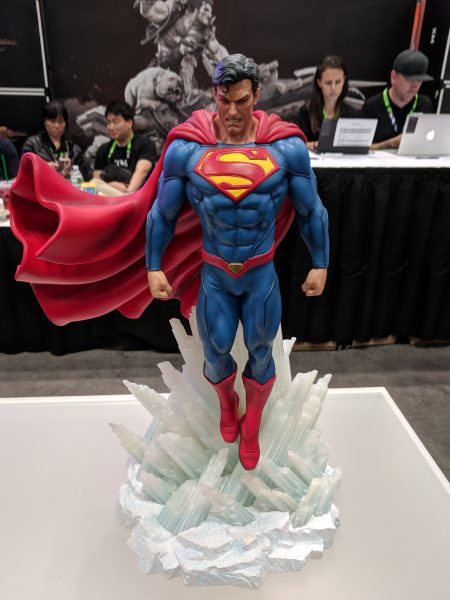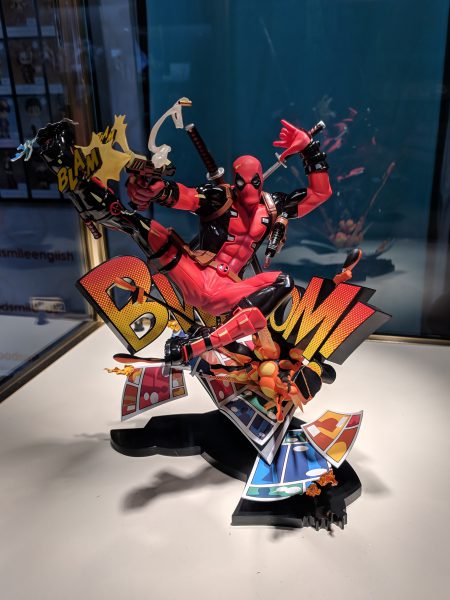 Collectibles from popular fantasy and science fiction movies are also popular if you can afford their sometimes exorbitant prices and have the room to display them properly.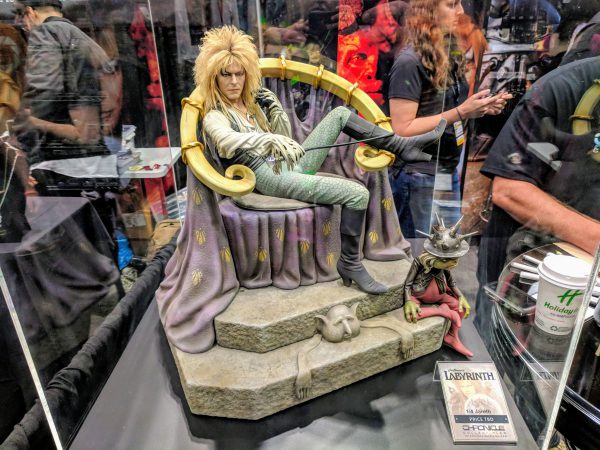 These statuettes of David Bowie and Jeff Goldblum from Chronicle Collectibles challenged each other for sexiest reclining pose from a movie.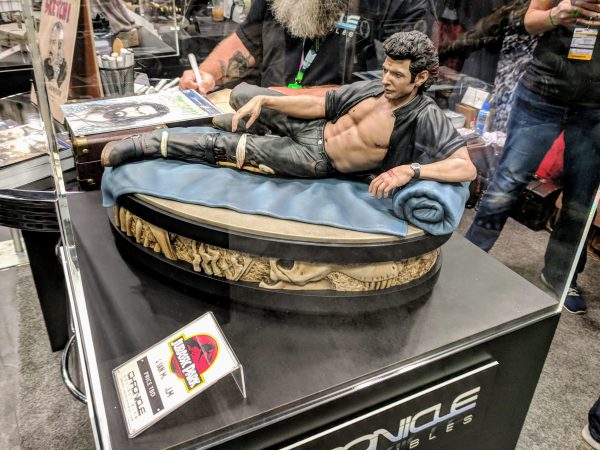 The level of detail on some of these statuettes is astounding and many of them, like this Iron Man Hulkbuster, have working lights that add to their realism.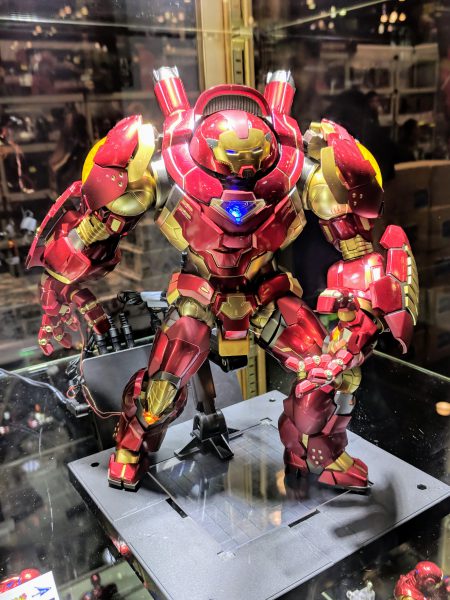 Some vendors even sell gear that let you become your favorite video game character. This Mega Man helmet matches perfectly to the one worn by the action figurine.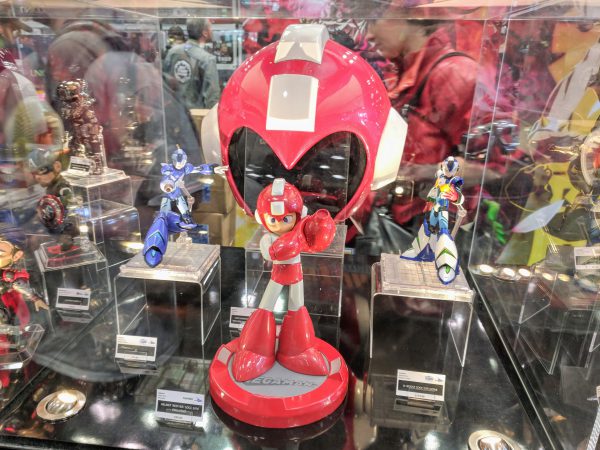 One of the many joys of Comic Con is getting to see fictional characters you love represented in real life. Often booths have life-sized or larger-than-life recreations of characters from movies, comics, and toy lines.
Sure, the Stay Puft Marshmallow Man from Ghostbusters should be as tall as a building, but it was still a treat to see this guy hanging out at the Playmobil booth.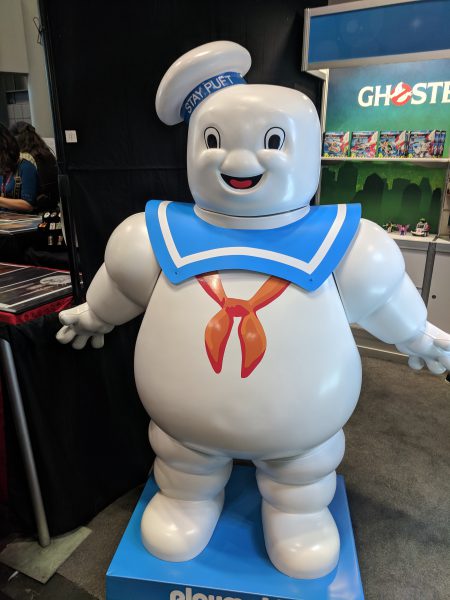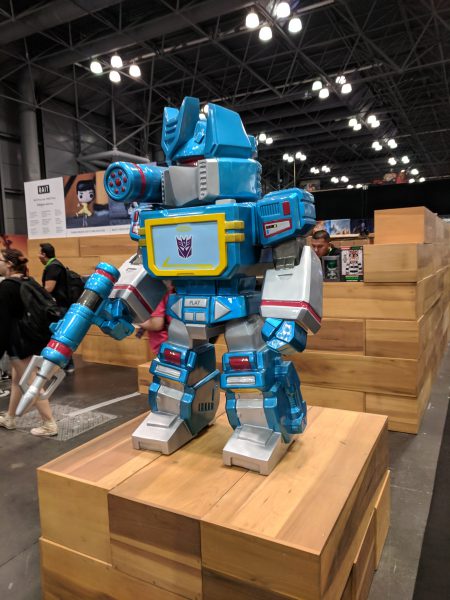 Funko's Pop line of bobbleheads always draw crowds and this year they were welcomed by an oversized Gladiator Hulk figure from Thor: Ragnorak.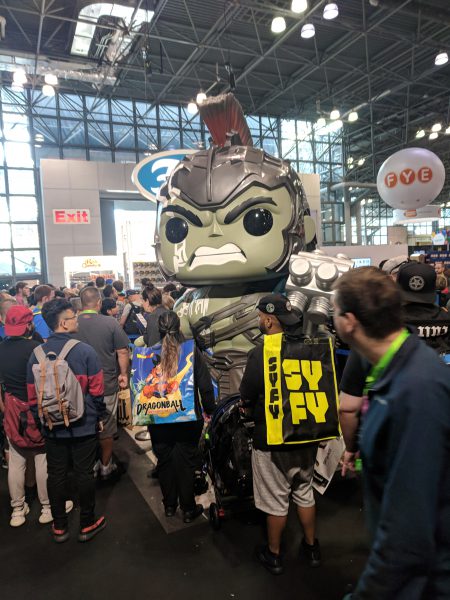 Netflix used this massive statue of She-Ra to create some buzz for the She-Ra and the Princesses of Power original series.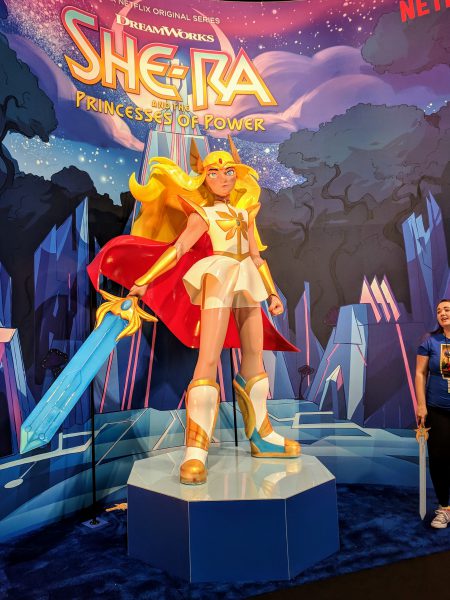 Even more impressive than She-Ra was this full-scale replica of the power armor from Fallout 4. The super realistic rifle was particularly cool.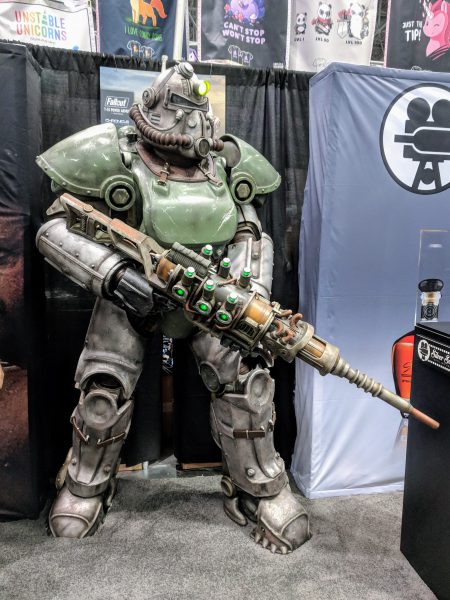 I finally got the chance to tell a life-sized Han Solo how I really felt about him while he was frozen in carbonite. He said he knew.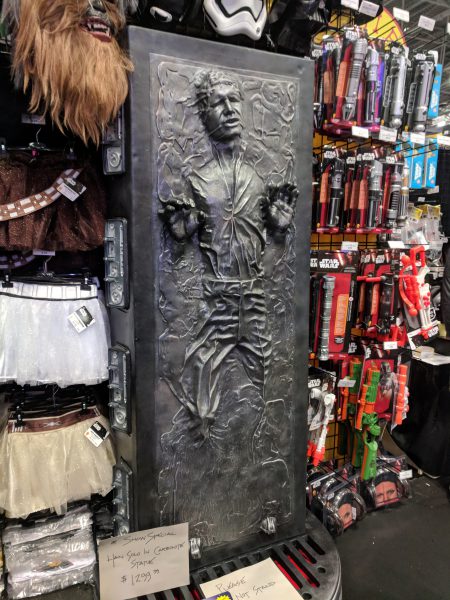 DC always uses this area of NYCC to showcase the costumes from upcoming movies. This year, the armor and costumes from Aquaman were on display.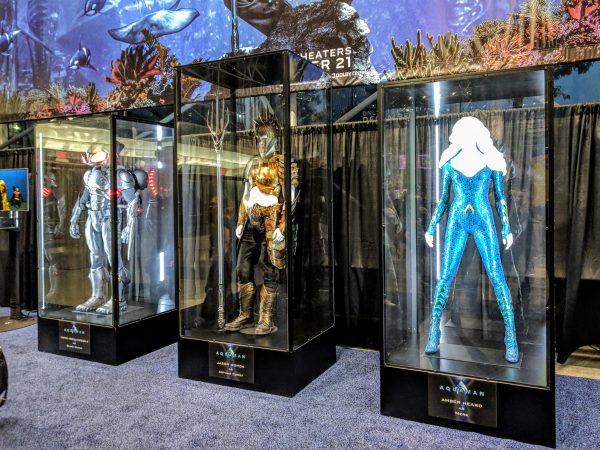 No NYCC would be complete without some proper Dragon Ball Z representation.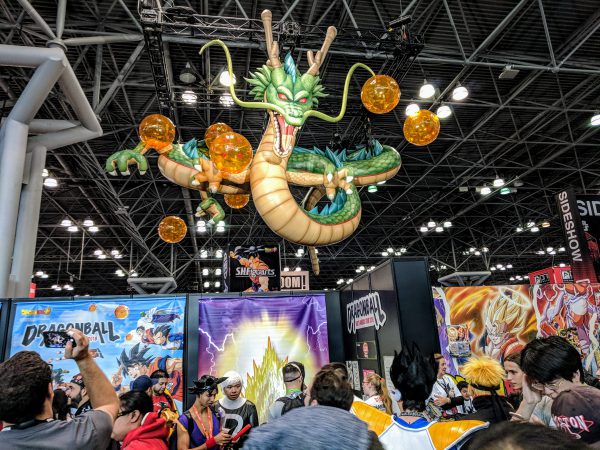 If you get inspired by all of the cool figures and toys and decide during Comic Con that you want to join in the fun, there are plenty of vendors selling costumes that range from silly to practically movie-quality replicas.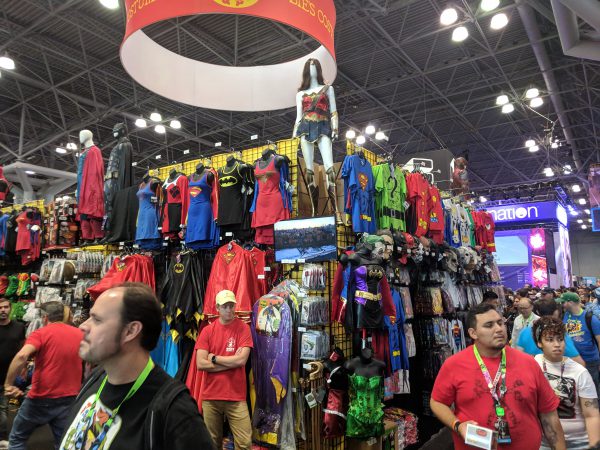 Or you can just grab a T-shirt from one of the many clothing vendors, officially sanctioned and otherwise.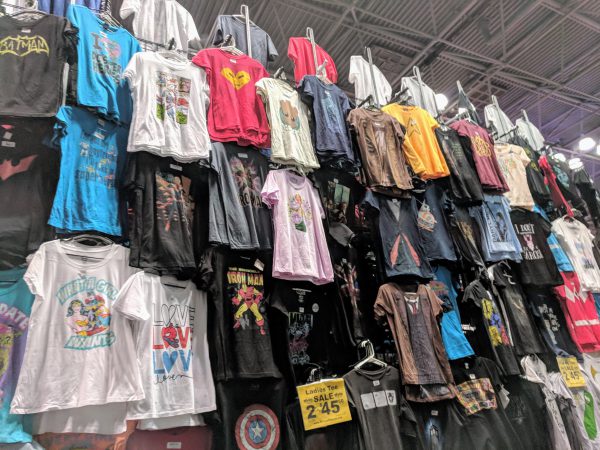 If you've checked out any of my NYCC video updates, which are included towards the end of this article, you know that there are plenty of gadgets and cool devices that are debuted or demoed at NYCC. I was lucky enough to get hands-on with a few.
Red's Hydrogen One holographic phone has been making news for a few years now and as the release day of November 2 draws closer, Red is making the phone more available for public demos.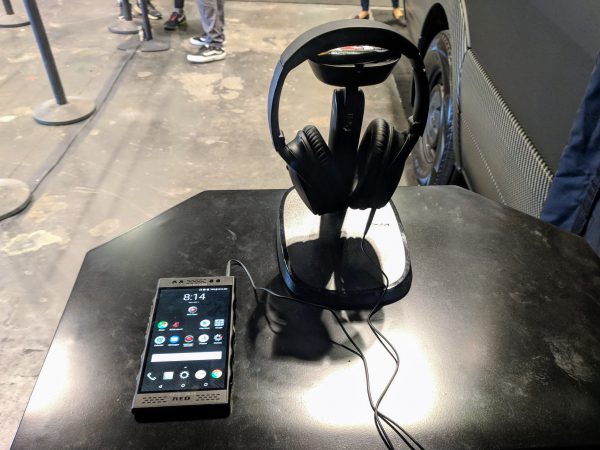 The Hydrogen One is unique in many ways, the biggest feature though is its ability to show 3D like images and video without the use of 3D glasses. The feature is impossible to show or explain unless you experience it for yourself.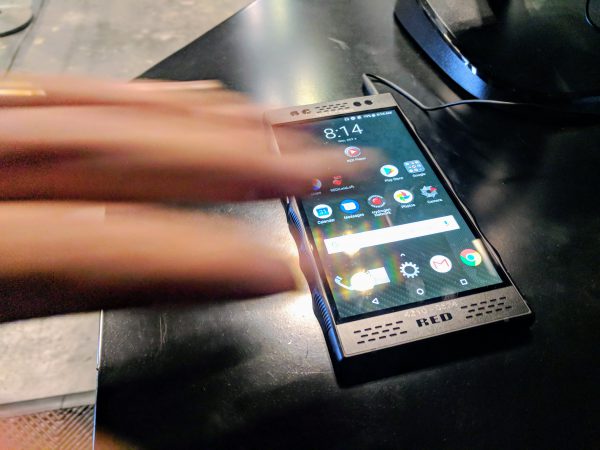 The Red representative was pretty hesitant to let me photograph the phone during the demo, but as you can see, I was too quick for him. The holographic screen is indeed very impressive; it successfully recreates the depth of 3D video and the effect is pretty mind-blowing.
The phone itself is incredibly sturdy, quite heavy actually, and has some serious textured grips. Since Red is known for making high-end cameras, it's no surprise that the Hydrogen One has the heft and feel of an expensive digital camera. There are contacts on the back of the phone for future modules that will enable the Hydrogen One to shoot unparalleled photos and video.
The Red Hydrogen One will be available on November 2 for $1295 through AT&T and Verizon. The add-on modules will be available in 2019.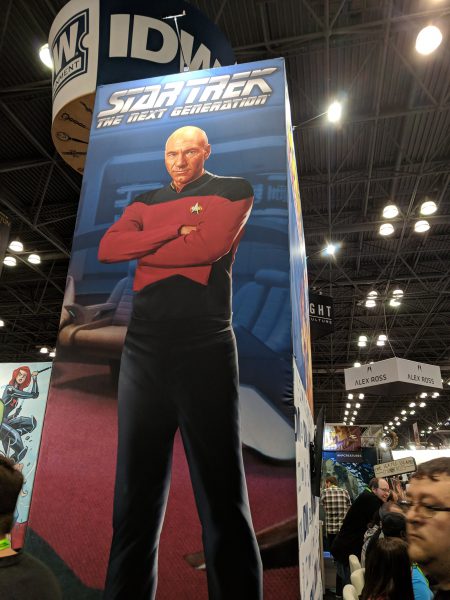 The varying, random type of items for sale at NYCC always surprises me. There are vendors that will help you proudly represent your love for a movie, comic, or even a favorite 80s cartoon. I didn't know I needed Star Wars inspired sneakers and an Alec Guinness pint glass until I came across this booth.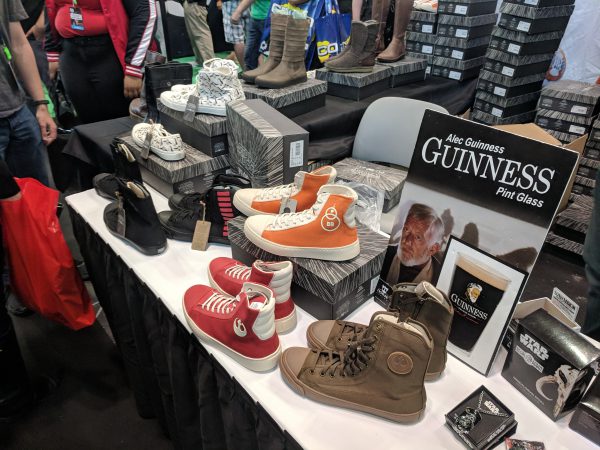 And where else could I find expensive, fine Transformers and Dungeons & Dragons themed jewelry?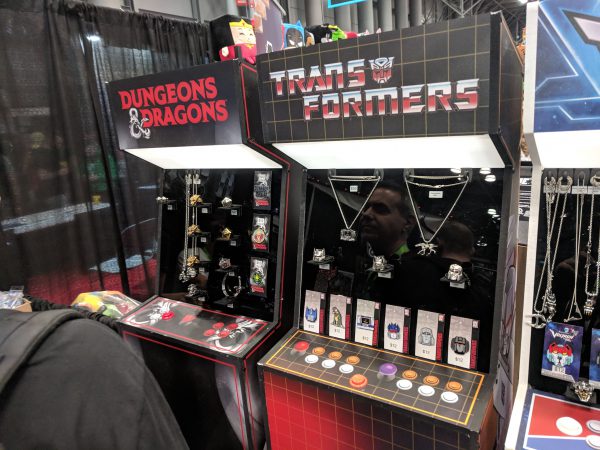 Citizen watches was on hand to showcase their very expensive and classy line of Marvel branded custom watches.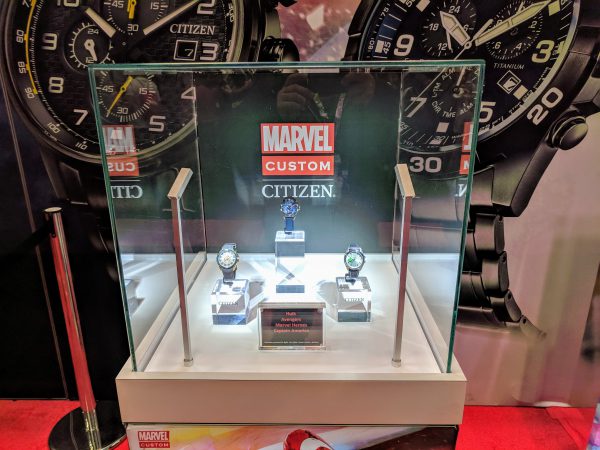 Fans of Rick and Morty are legion, so at Comic Con you can find just about any item you like branded with Rick and Morty characters. This Rick and Morty Pickle Rick board game was one of the odder finds.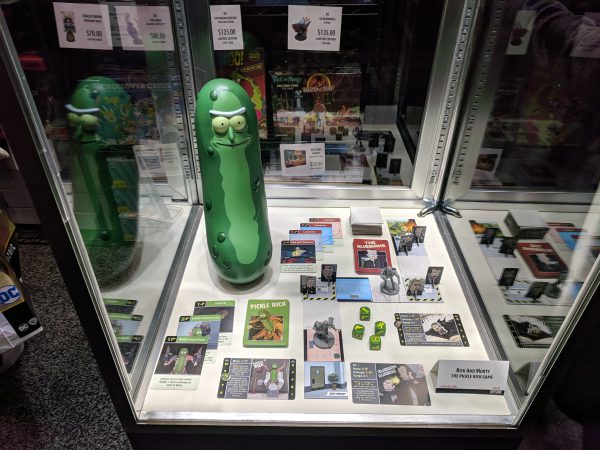 Want to take your Star Wars obsession into the kitchen or on a picnic? Luckily, with these Imperial cheeseboards and picnic coolers, you're in luck! The Dark Side never tasted so good.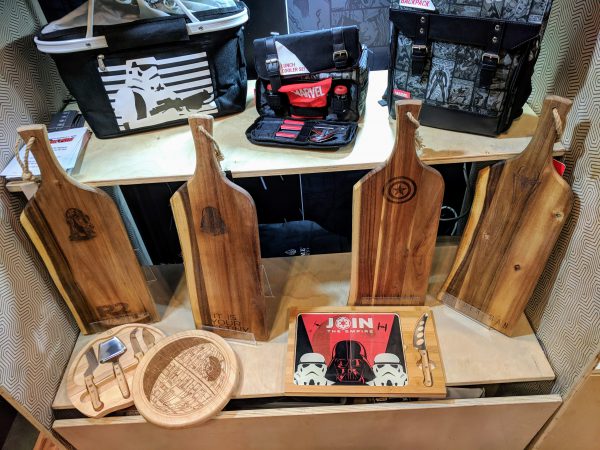 While big brands like Disney, Marvel, and DC have a major presence at NYCC, there is still space for smaller vendors with more unique wares. For instance, you can pick up a handmade custom dragon puppet from Khaleesi herself.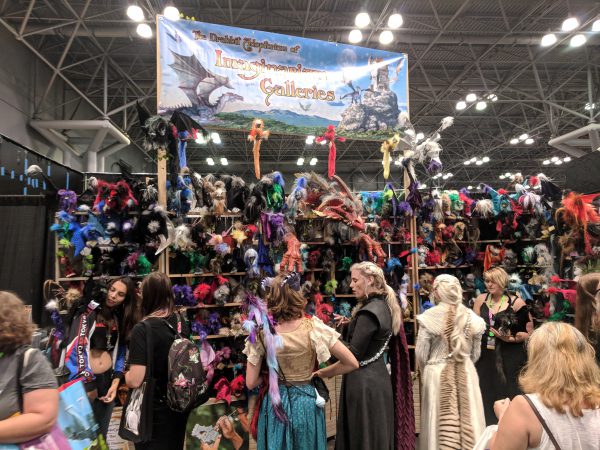 Or if you need that perfect accessory to complete your cosplay costume you can browse through all kinds of franchise specific mock weaponry.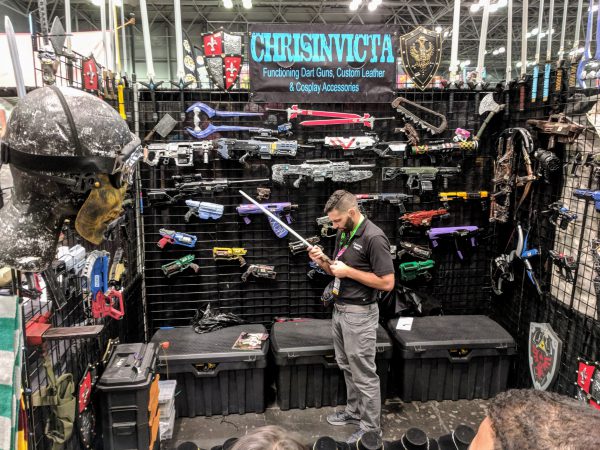 One particularly creative vendor had a booth that sold pop culture, music, and political figures immortalized as saints in posters and candles.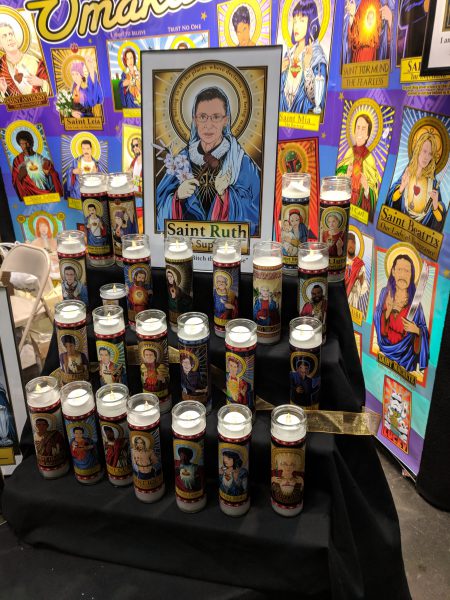 Anime toys and art are big sellers at NYCC and you can spend a whole day picking through some of the booths specializing in the genre.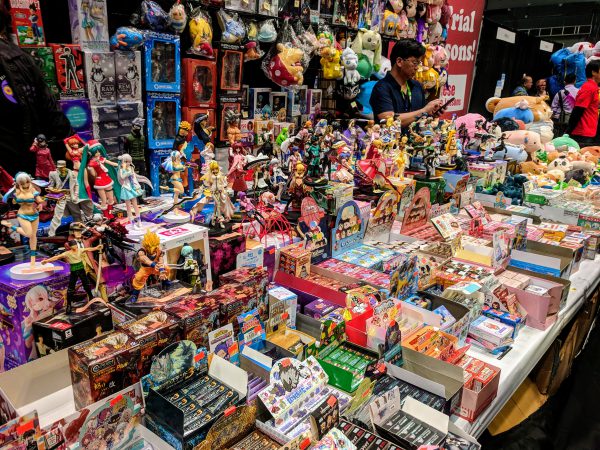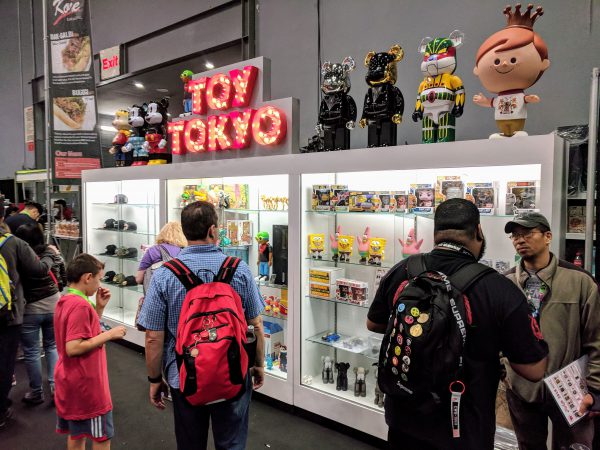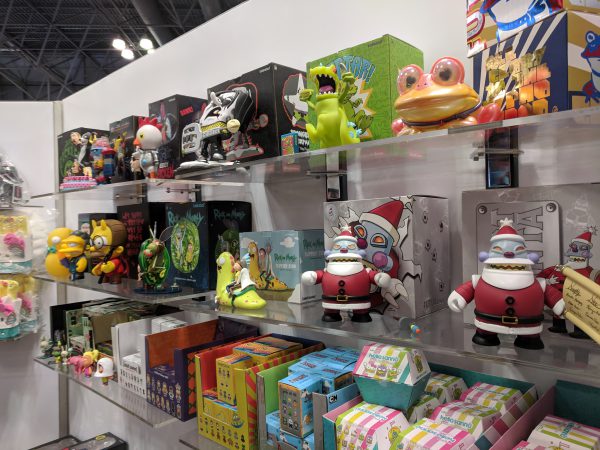 A number of video game producers debut the newest games at NYCC and if you have the time to wait in line you can get a chance to play the most popular games before they're released.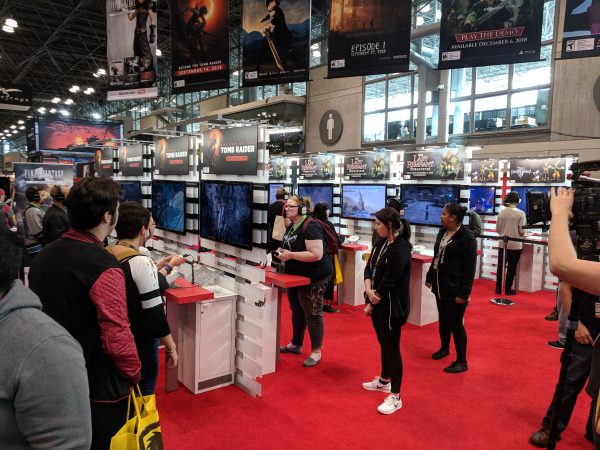 If there's a celebrity or artist even remotely connected to Science Fiction, Horror, or Fantasy entertainment, chances are you'll be able meet them at NYCC. There's a whole section of NYCC devoted to getting autographs and photos with popular stars if you have the money for it.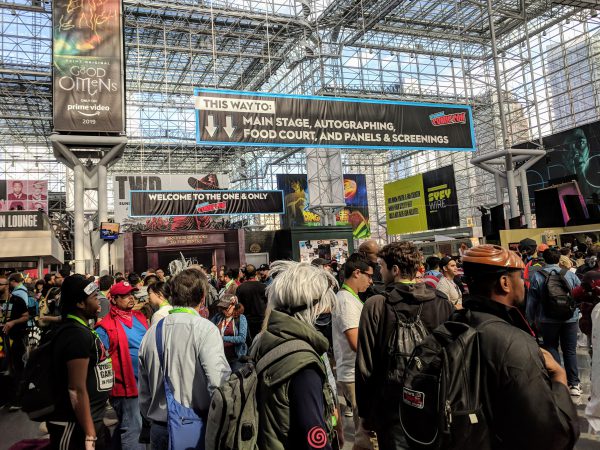 Some stars charge hundreds of dollars for the chances to take a photo with them and that's after you line up with tons of other fans for the opportunity.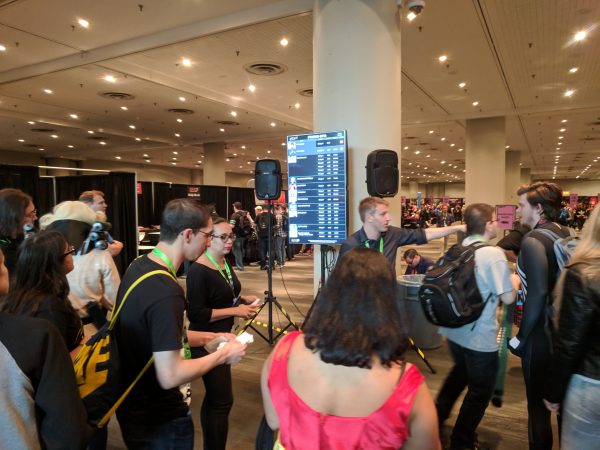 Lines, in general, are a big part of NYCC and since there are panels for just about every show and comic, if want to attend one you'll have to wait on some pretty serious lines. In general, the more popular the stars or property, the longer the lines, but, a true fan will persevere.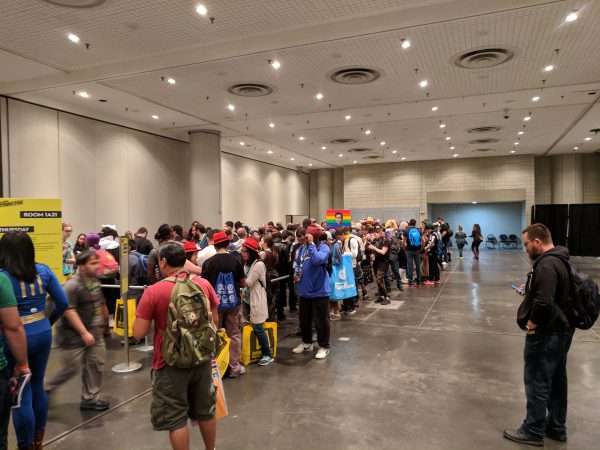 I usually reserve half a day for checking out Artist Alley. This is the section of NYCC reserved for comic artists and illustrator to sell their art, take commissions, and meet their fans. All of the biggest names in comics are here and sometimes the lines are just as long as the ones for the major panels.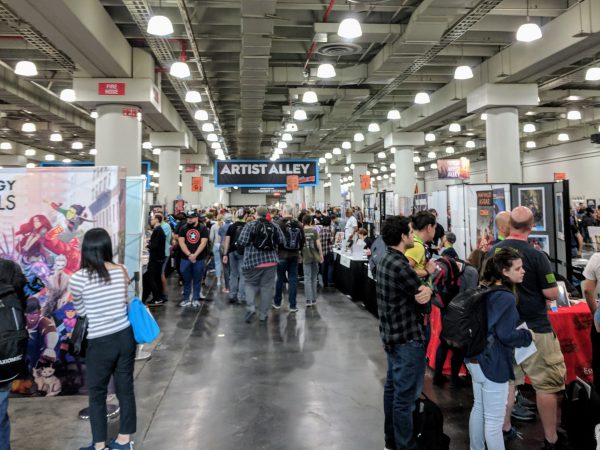 Commissions are your chance to have the artists create a one-of-a-kind piece of art just for you. My favorite this year was Cloverkin who specializes in making custom art of your pet in fantasy armor. She'll even help you determine what type of role-playing character your pet's personality reflects.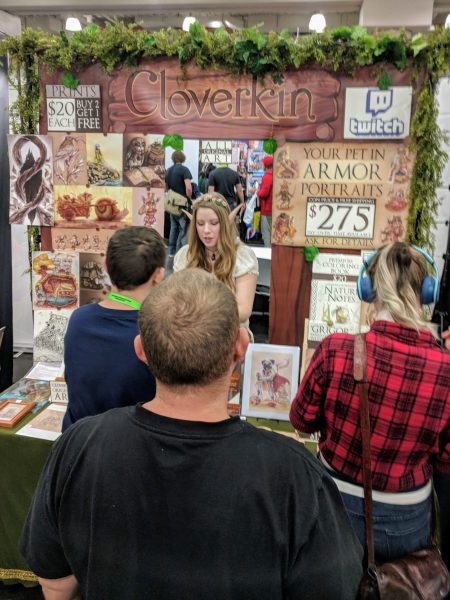 I spent a lot of time at NYCC this year making some great videos, seeing from very cool products and meeting some fun people, but it's never enough; I always leave NYCC feeling like there was something I missed. I take comfort in the fact that I know I'll be back for 2019!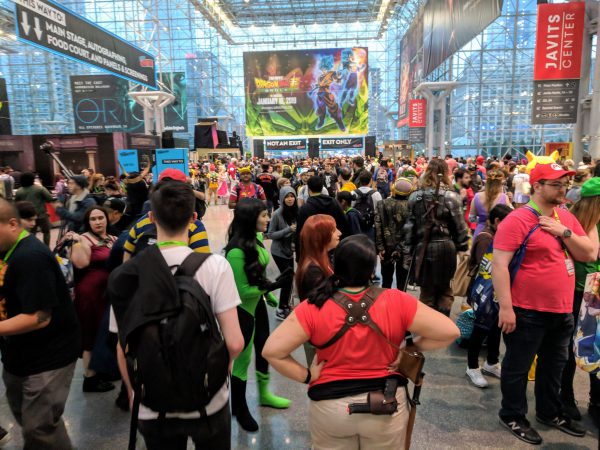 Be sure to check out my video updates from NYCC as well as a gallery of some of the best cosplayers of NYCC below.
Video Snippets
Enjoy video coverage of my three days at NYCC 2018 as I interview cool vendors, find excellent cosplayers, and explore some favorite mainstays of New York Comic Con.
Cosplay Gallery
Check out some of the more interesting Cosplayers I came across at NYCC 2018. Be sure to hit your browser 'Back' button to return to the gallery.