We use affiliate links. If you buy something through the links on this page, we may earn a commission at no cost to you. Learn more.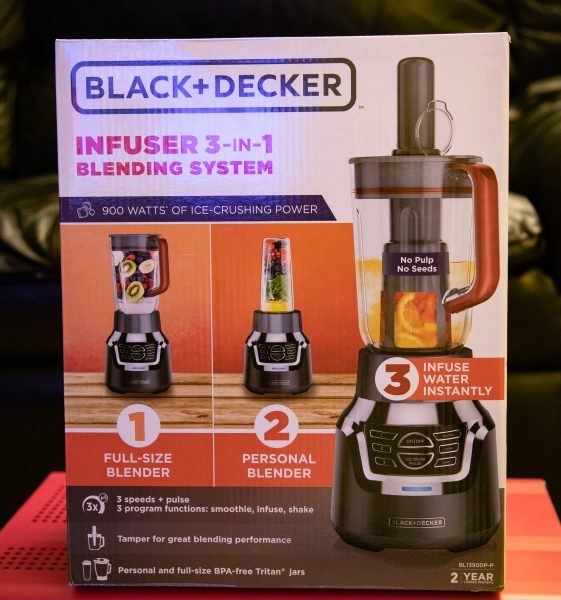 REVIEW – My family is one that is on a major healthy lifestyle journey, and we are always on the lookout for products that allow us to create nice variations of our specific diet. Some of the mandatory tools are a blender, a juicer, etc. When I got a chance to take a look at this 3 in 1 combination, I readily accepted. Let's see how it went.
What is it?
The Black & Decker Infuser 3-In-1 Digital PowerCrush Blending System combines a personal blender, and regular blender and an infusion blender in one device.
What's in the box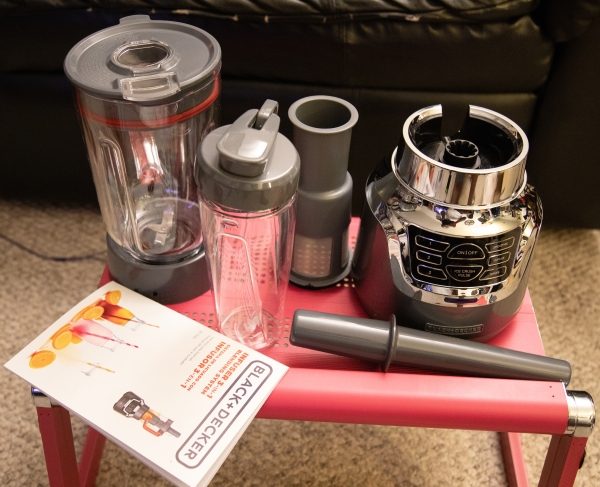 1 x 3-in-1 blender base unit
1 x 6-cup blending jar
1 x 18-oz. blending jar
1 x Infuser and infusion filter
1 x Instruction/recipe booklet
Design and features
The system is constructed of a metal base and plastic blending parts and combines three blending devices in one.  Its motor produces 900 watts of power that pulverizes even ice, with the use of its 4-tip QuadPro Stainless Steel Blades.
Here are some specs:
Parts material: Glass, Plastic
Dimensions (Overall): 9.88 inches (H) x 15.0 inches (W) x 7.88 inches (D)
Weight: 8.82 pounds
Finish: Baked-on Paint
Capacity (Volume): 48 ounces
Includes: Stainless steel multipurpose blade, Pouring Shield, Blending Cup with Lid (made of Tritan from Eastman), Glass Bowl, Rubber Seal, Instruction Manual, travel jar, infuser insert, tamper
Features: Pulse Feature, Pouring Spout, Hideaway Cord Wrap, Variable Speed, Stainless Steel Blades, Push Button Controls, Indicator Light
Base – Metal Finish: Stainless Steel
Appliance Capabilities: Blends, Crushes Ice, Mixes, Purees, Chops, infuses, emulsifies, Juices, Liquefy
Care and Cleaning: Dishwasher-safe Parts, spot or wipe clean
Number of Speeds: 3
Warranty: 2-year limited warranty
The personal blender includes an 18 oz jar that can be used on-the-go with the snap lid. It works much like every personal blender and creates a smoothly blended mixture.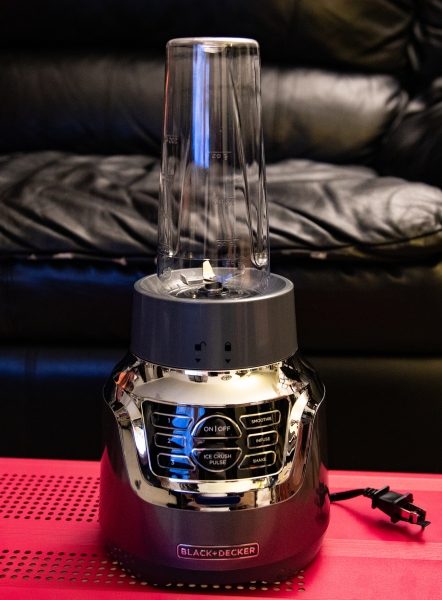 The picture below shows the system set up as a traditional blender. It functions well in this combination as well.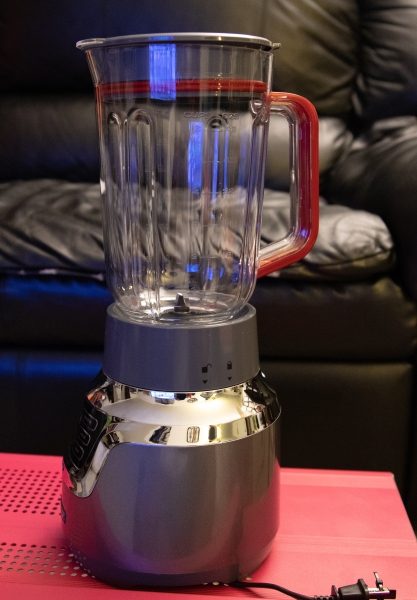 The infuser device basically uses an infusion filter with a "pusher". You place the ingredients in the inside of the filter and then use the "pusher" to apply pressure downwards onto the ingredients as the blade spins. The blade action starts off as a pulsating action to crush the ingredients and then a fast, free spinning action as the blades work to pulverize the ingredients while the juice escapes through the filter into the jar. As far as I know, the true concept of infusion does not involve a blade, but for my personal use, this is better because the resulting mix is very rich in flavor. "Infusion is the process of extracting chemical compounds or flavors from plant material in a solvent such as water, oil or alcohol, by allowing the material to remain suspended in the solvent over time (a process often called steeping)". – Wikipedia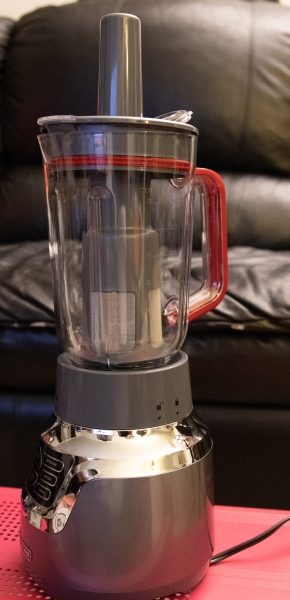 The base unit of this 3 in 1 infuser is made of plastic and metal and is sleek and shiny with a digital touchpad control interface. From left to right, there are 3 speeds controls: an on/off and ice crush control the uses a pulsing action, a smoothie selection that spins consistently to blend, an infuse control that is a pulsing and then free spinning action that is used for juicing, and a shake mode that is also a fast free spinning motion. Basically, they are intuitive controls for the three speeds, three programs, and a pulse function to provide the desired consistency.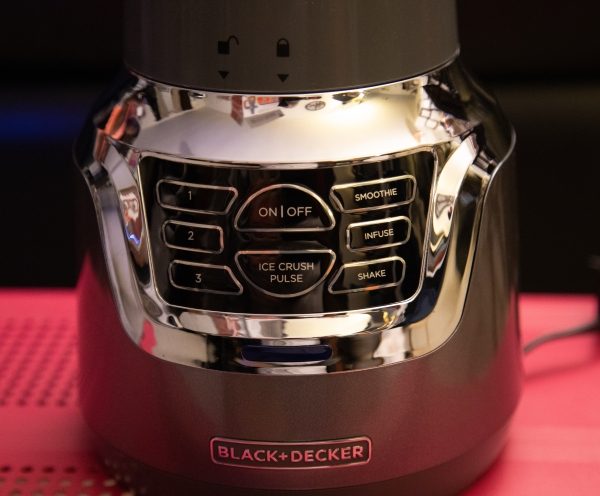 Performance
The personal blender use of this system works very well and produces a very smooth blend. I also actually have and have reviewed the Black & Decker personal blender as a separate device, so I was expecting the same great performance and it did not disappoint. While the base unit is slightly different for the separately sold personal blender, the performance is the same except that this system has 900 watts of power and does the job even faster and, slightly better.
Below is the mixture that is a result of the infusion/blending process. the ingredients were blueberries, raspberries, and blackberries. The flavor was smooth, rich, and tasty.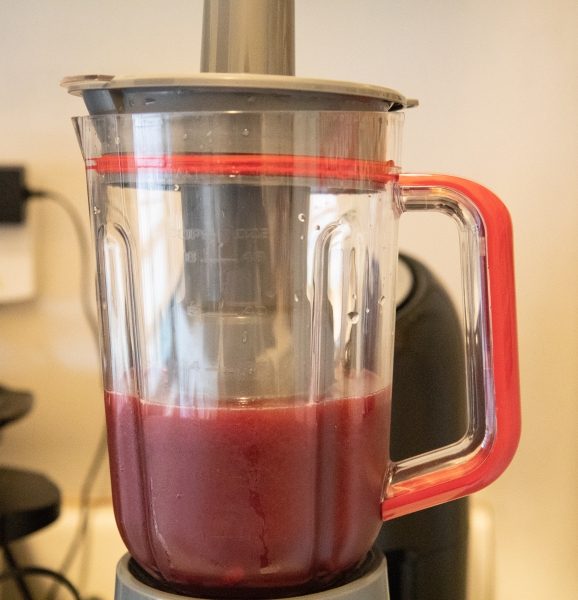 The pictures below show frozen Kale, frozen bananas, frozen strawberries, pineapple, almond milk and ice cubes in the blender and the resulting mixture that was very tasty. You can see in the middle picture that I have the ingredient "pusher" in the center hole in the blender cover as opposed to the attached hole cover that it comes with. This is because I had a minor accident with it and it broke off. (my fault). The blender action is a constant speed at either speed 1, 2 or 3.
The next set of pictures show a smoothie in the personal blender that was made from frozen bananas, kale, apple, peanut butter, and protein powder.  The smoothie action by the blender starts with an on/off cycle until the ingredients are pulverized, and then it changes to a constant speed to finish off mixing the smoothie. It makes an excellent and really smooth smoothie with no type of pulp.
What I like
The 3 in 1 feature
The blending results
The infuser/juicer
What can be improved
Less plastic for some of the parts. Maybe a glass jar for the blender?

 
Final thoughts
This 3 in 1 blender system is very convenient and a great use of precious countertop space. It is really nice to make one reasonably priced purchase and have all 3 systems in one. It works well, and we have been using it continuously for our fruit and vegetable shakes. While I am not necessarily a fan of all of the plastic parts that are a part of this system, so far it has held up well. As far as performance goes, I am happy. I will post an update should there be a need to. For now, I give the Black & Decker Infuser 3-In-1 Digital PowerCrush Blending System a thumbs up. (Still researching the whole Styrene issue and effect).
Price: $49.99
Where to buy: Target
Source: The sample for this review was provided by Black & Decker.