We use affiliate links. If you buy something through the links on this page, we may earn a commission at no cost to you. Learn more.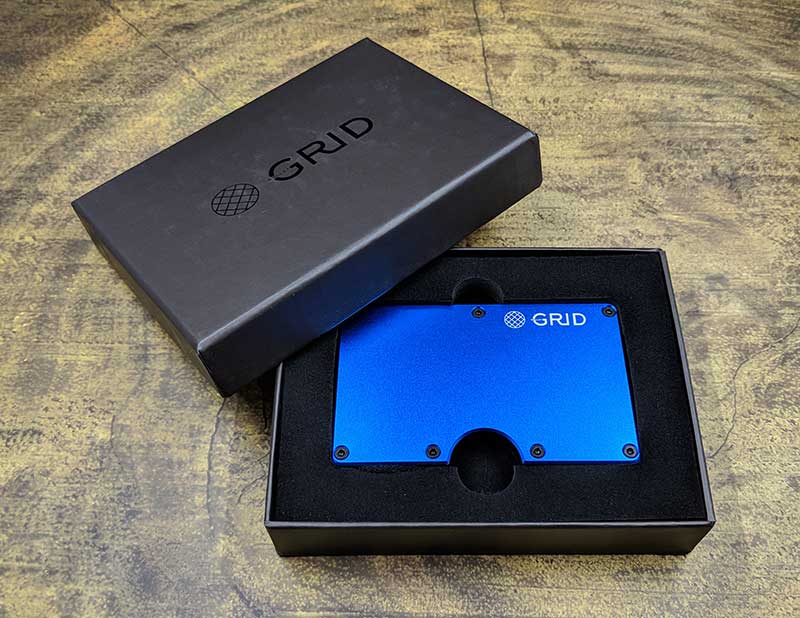 REVIEW – There are a few wallet junkies on the Gadgeteer team and I'm one of them. I'm probably the pickiest wallet person on the team because the wallet I use has to look a certain way, feel a certain way, and perform a certain way before it earns a spot in my pocket. In other words, it has to be just right. The latest wallet to be put through my testing is the GRID wallet. It looks great, but how does it feel and how does it perform? Let's find out.
What is it?
The GRID wallet is a minimalist RFID blocking wallet that can hold 1-12 credit cards and folded cash and is available in either anodized aluminum, carbon fiber, forged carbon, or titanium. I was sent the blue anodized aluminum GRID wallet that you see here.
Design and features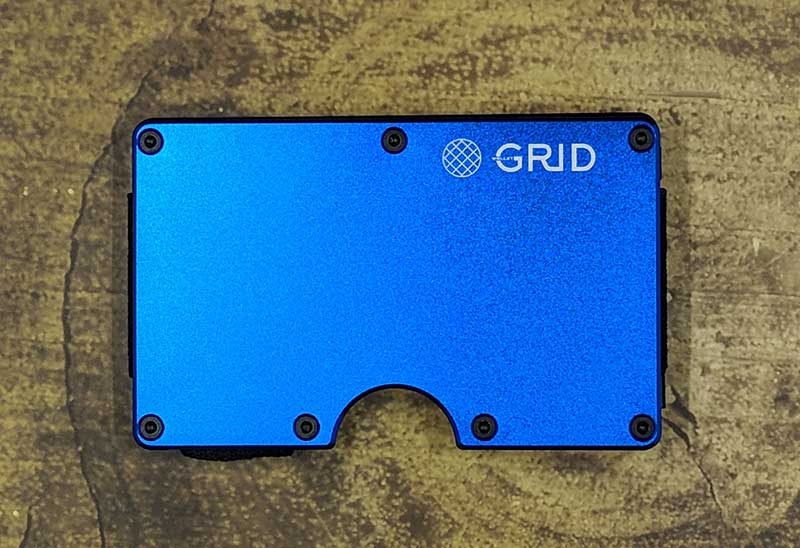 This wallet follows the minimalist design as it is made of two plates of anodized aluminum that are held together on three sides with strong elastic bands. If the GRID looks familiar to you, you might be thinking of another wallet review that we did about 5 years ago of the Ridge wallet. The GRID looks identical to the Ridge except that it has the card push slot in the center instead of off to one side.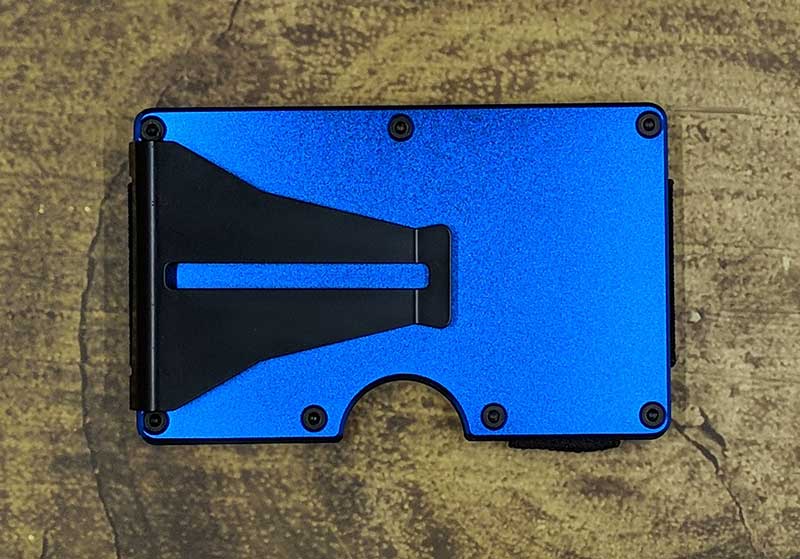 On the back of the GRID wallet, you will find a steel money clip that will hold a stack of folded dollar bills.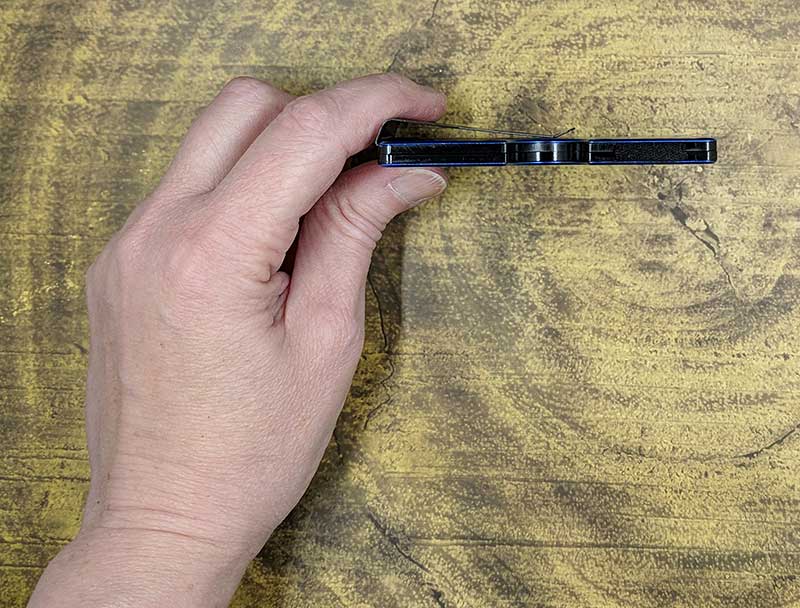 The GRID wallet is thin and lightweight when it's empty.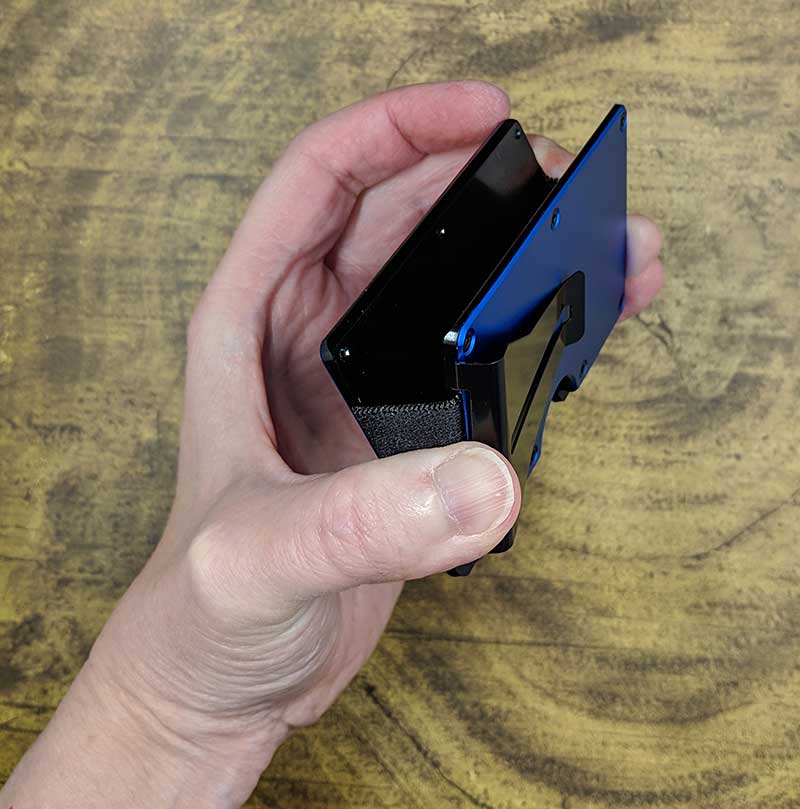 To load it with credit cards, you just pull the two plates apart and slide in a stack of cards or load each card one at a time by sliding it between the chamfered edges of the plates. The elastic on the sides and bottom will stretch or retract to accommodate a changing stack of 1-12 cards while holding them securely. There's no worry that the cards are going to fall out of this wallet.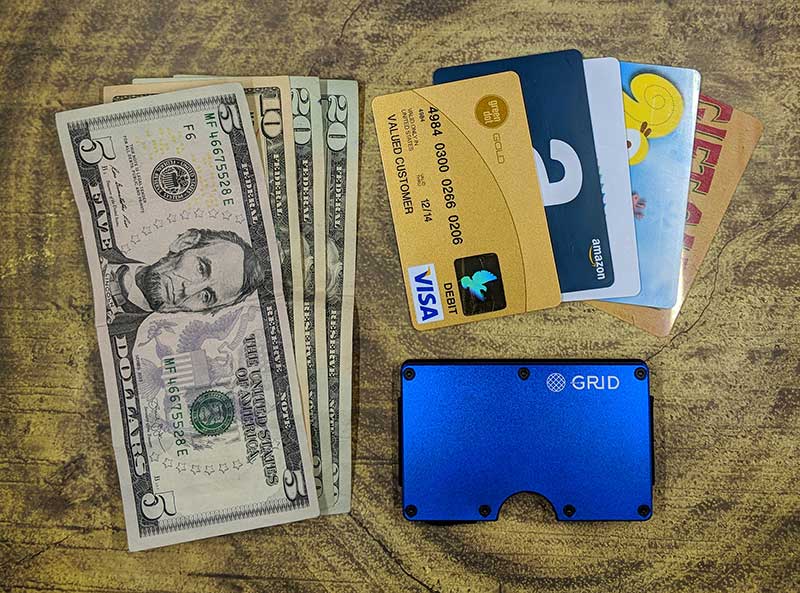 I started out testing the GRID with 5 standard sized plastic credit cards and 4 folded dollar bills.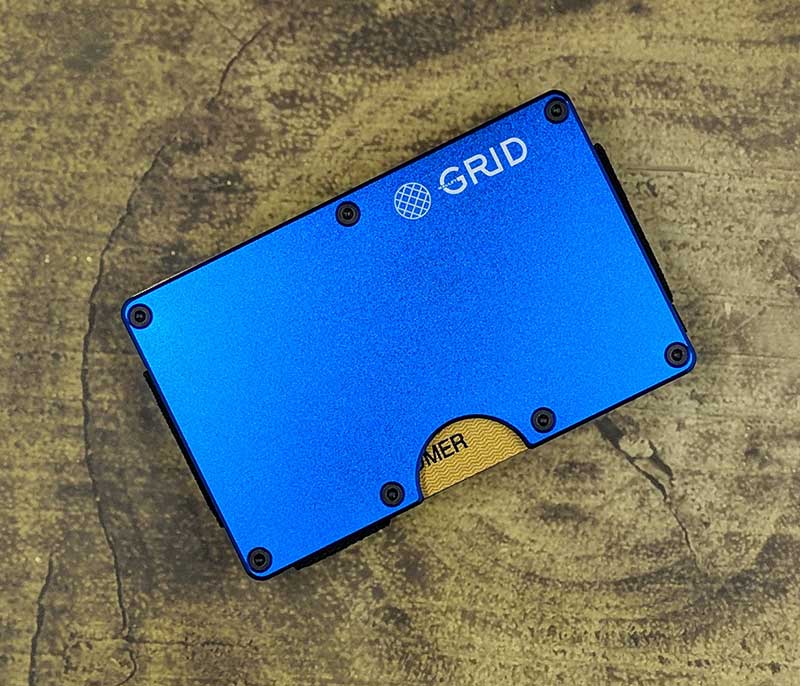 Loading the cards is easy as they just slide in between the front and back plates.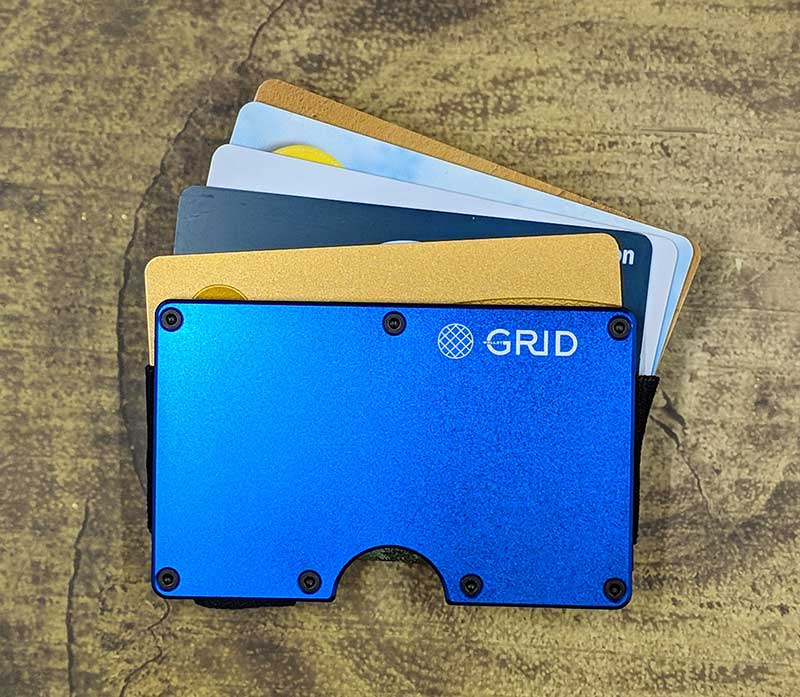 The wallet has the same form factor as a credit card, so it's compact and pocketable. You will notice the half-circle cutout along the bottom edge. This cutout helps you push the cards up so you can retrieve one of them when needed.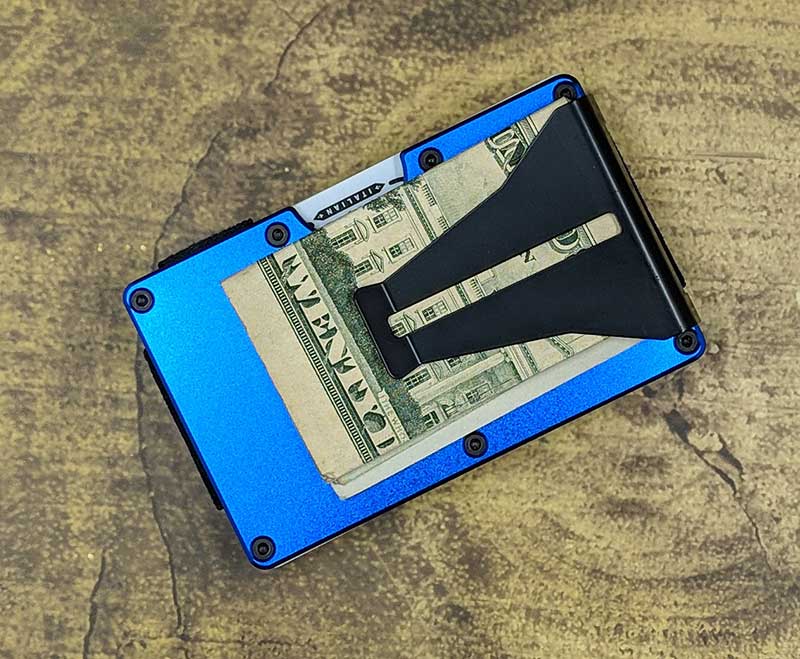 The money clip on the back of the GRID wallet is very strong so it will securely hold 1 dollar bill to 10 or more bills. I only had a few bills to test because I don't usually carry cash and I'm not Oprah.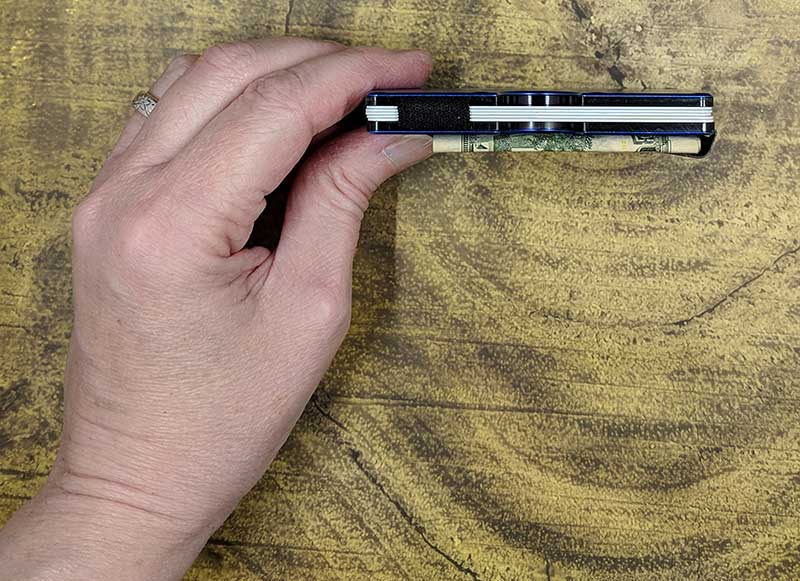 Here's a side view of the wallet with 5 credit cards and 4 folded dollar bills.
Does it pass the look and feel test?
When it comes to look and feel, I like the GRID quite a bit because it has a simple but attractive look and style. As far as the feel, it is lightweight, but I feel like it's slightly bulky due to the money clip. Since I don't usually carry cash, the money clip is just in the way for me and causes the wallet to get caught in my pocket. It would be nice if there was an easy way to remove the clip if it's not a feature that you need. As is, it appears that it might be possible to remove the clip if you have a hex driver that fits the screws used to assemble the wallet. I can't be 100% sure of this though as I've not tried it.
Does it pass the performance test?
I really wanted to love the GRID Wallet, but I found it awkward to use with one hand compared to my current favorite wallet (see my favorite gear page). The wallet is like a credit card sandwich. The elastic holds the front and back plates of the wallet/slices of bread around the credit card/meaty center. To remove a credit card from the stack, you need both hands. One hand to hold the wallet, and one hand to press slide the cards up. Then one hand to find and retrieve the desired card.
Removing the top or bottom card is semi-easy, but if you want a card in the center of the stack, it's a little more tedious. You can either slide the cards almost completely out of the wallet so you can fan them out to find the one you want, or you can also pinch the bottom of the wallet to let you flip through the cards like they are an accordion. The pinch feature isn't easy to do especially if you have dexterity problems with your hands. It felt like the process of removing a card took too long for my liking. Here's a quick video that demonstrates what I'm talking about.
What I like
RFID blocking
Expands and contracts to hold your credit cards
What needs to be improved
Not easy to remove a specific card from a stack
Final thoughts
The GRID wallet looks nice and is well made, but I think it's one of those products that you'll either love to use or you'll be looking for a refund. I won't say that I hate it, but it's just not a wallet that I personally would want to use on a daily basis because it feels too awkward and time-consuming to retrieve a card compared the wallet that I'm using now.
Price: $65.00
Where to buy: GRID
Source: The sample for this review was provided by GRID.