We use affiliate links. If you buy something through the links on this page, we may earn a commission at no cost to you. Learn more.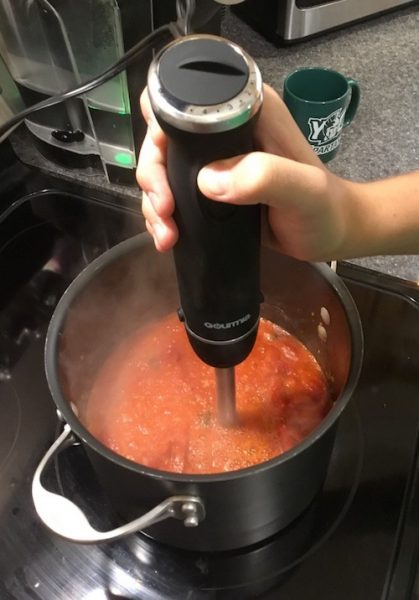 REVIEW – Here's a neat one for you. Today we're testing a combination immersion blender and smoothie maker from Gourmia, designed to make your life a wee bit easier. It's hand held. It multitasks. It has a Turbo button (heh-heh!). How does it go? Let's blend!
What is it?
It's a combination handheld blender with two attachments: one for an immersion blender, and one that enables you to blend a smoothie directly in the supplied sports bottle.
Hardware specs
3.5" by 2.5" by 18.5"
1.5 pounds
5 speed + turbo blending speeds
Stainless steel rod & blades
3 foot long power chord
120V-60Hz, 300 W
ETL Listed
What's in the box?
The package includes the base handheld unit, the immersion blender attachment, the smoothie maker attachment, and a BPA-free sports bottle with a lid.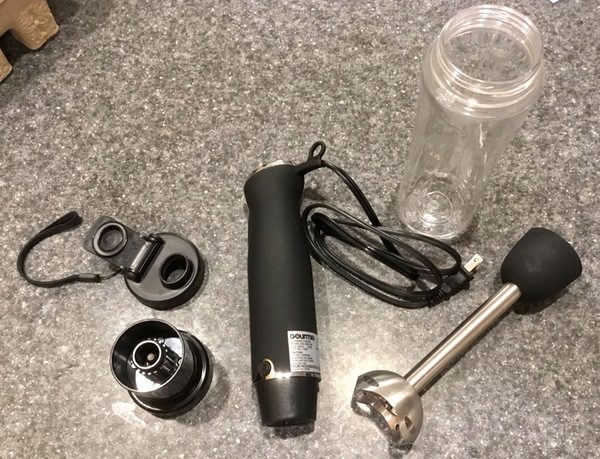 Design and features
The Gourmia Hand Held Immersion Blender and Smoothie Maker is a two-in-one device that, as the name implies, performs two common kitchen tasks in one handheld package. The base unit contains the motor, while supplied attachments execute blending operations.
The blender has some nice heft to it and integrates rubberized grips for confident handling. You'll find the power and turbo  (heh-heh!) buttons positioned on the barrel of the base with a speed setting dial on the end cap. Both the dial and buttons are big with soft-touch surfaces. It's very easy to manage even if you have wet hands.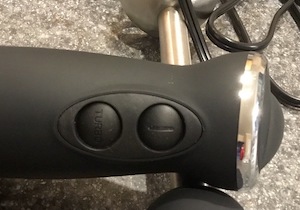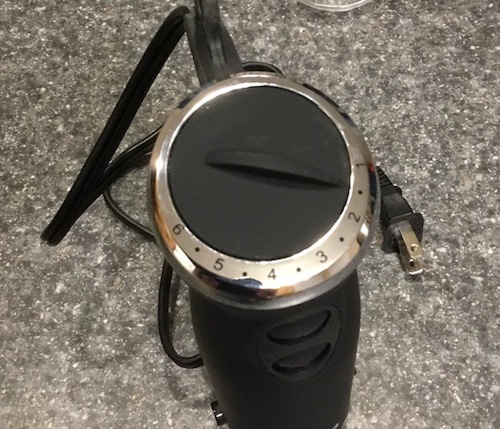 The immersion blender attachment is a one-piece stainless steel unit that snaps onto the base. Pop it in, and you're ready to reap havoc upon your soups and sauces. A wave pattern in the blade cover allows you to slide the unit across the bottom of the bowl without damaging your pan or bowl while enabling the free flow of material when you crank it up.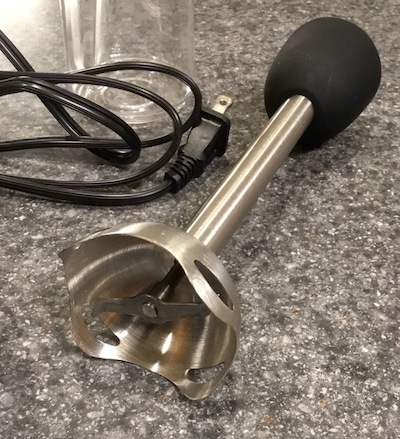 I put this blender to work on a pasta sauce I made last weekend. I sautéed onions and garlic in the pot first, the threw in a heaping helping of rough-cut tomatoes with some fresh basil from the garden… seeds, skins and all. After a few minutes of simmering, I put the beast to work. It obliterated the contents to a nice purée in about 90 seconds.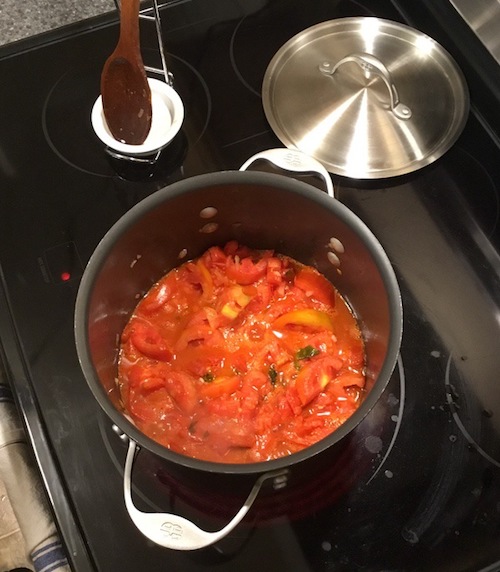 The wave pattern on the base does enable the blender to generate some liquid flow in the pot, but you'll need to plunge it a few times to get the bigger stuff churned up.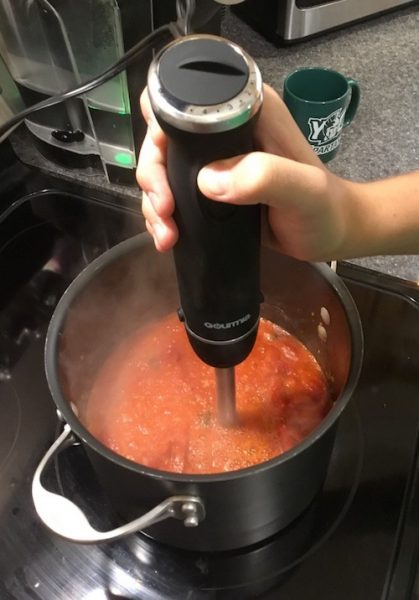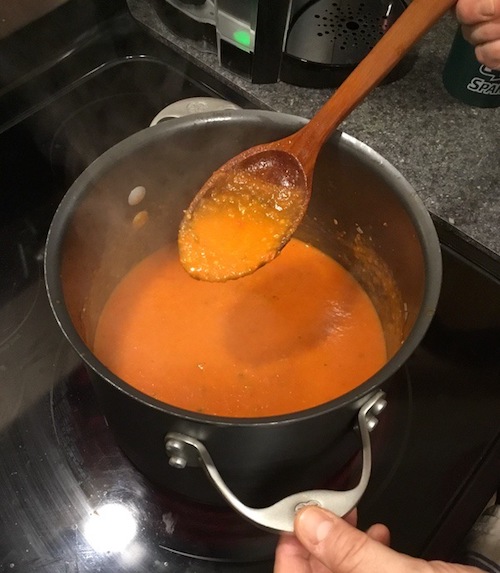 I was pretty impressed with the results. Everything was puréed to a nice even consistency, with no bits of tomato skin or partially-chewed basil leaves to be had. The placement of the dials at the top of the barrel makes it easy to adjust your controls in-flight. Nicely done.
Let's talk about the Turbo mode (heh-heh!) for a moment. When you run into something that is a mite too tough to blend with the six normal speeds, you pop the Turbo button. It's not just a little higher than the highest setting… it's like turning it up to 11 (the dial only goes to six). It's got mad power. I blasted it once or twice with the Turbo mode to eradicate offensive chunky bits. It does generate a lot of froth, but it's wonderfully satisfying and effective.
Cleaning is a snap. The attachments click into the base, and are released by pressing these stubs on either side of the unit: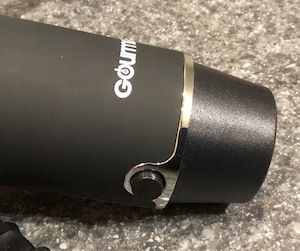 Because the immersion blender attachment is stainless steel, a quick rinse is pretty much all you'll need to get the job done. You can submerge the whole piece, and leave it out to dry.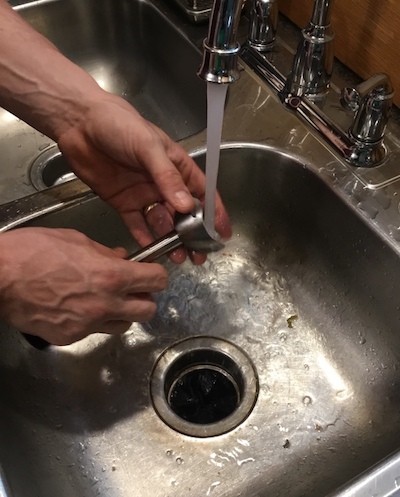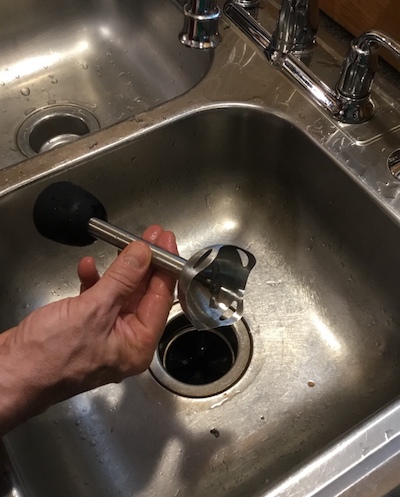 The smoothie attachment works kind of like a hand-held version of the Magic Bullet, if you're familiar with that blender. The blades are in the cap. You'll add your ingredients to the smoothie bottle, screw on the cap, then attach it to the blender base.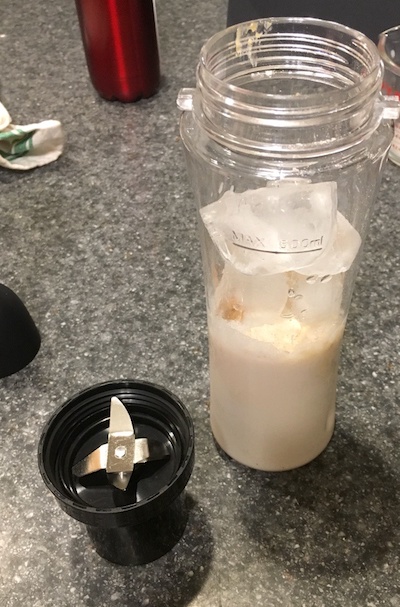 You'll then invert the whole thing, holding it like a torch, and fire it up. It's a bit tall and awkward, so you'll want to use both hands to keep it stable (and vertical) during operation: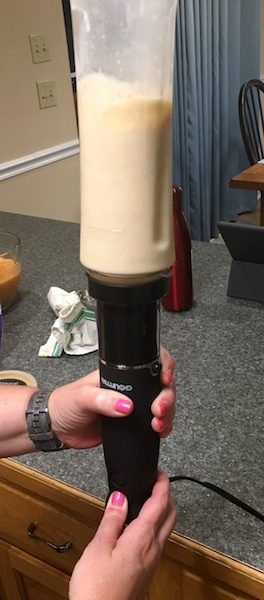 The Gourmia Hand Held Immersion Blender and Smoothie Maker motor is rated at 300 watts. Not huge power, but the blades sit almost flush against the base and have good speed. This means you'll get uniform blending for the most part. You'll find ice chips in your smoothie and some larger chunks of frozen stuff, but it's no worse than other blenders at this power level. Try the Turbo (heh-heh!) to zap those annoying bits.
The smoothie bottle comes with a cap (including a lanyard) so you can take your drink on the go. It's a solid if basic, bottle combination. If you're moving quickly to get out the door in the morning, you'll find this handy.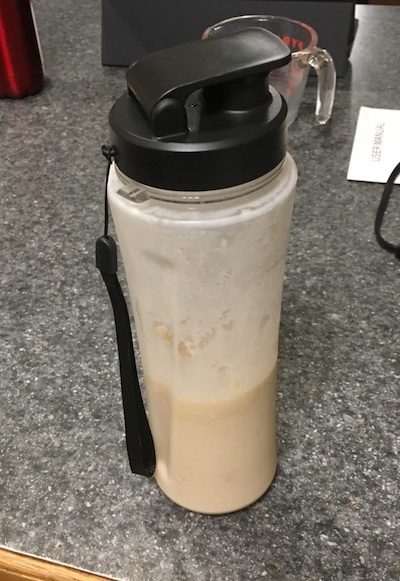 One huge benefit of the smoothie design, like the Magic Bullet, is that the blade is completely accessible and easy to clean. It's also easy to clean quickly, too, since you are blending into your to-go cup. Just rinse the cap and off you go. Nice convenience.
What I like
Immersion blender has good power and works smoothly
Simple operation
Easy to clean
Adjustable speeds plus Turbo mode obliterate most materials
Makes fine smoothies, even with ice cubes
What needs to be improved
Smoothie mode can be a bit awkward and requires both hands
Will leave some small chunks of ice or frozen fruit in your smoothie
Final thoughts
I think this is a smart multitasker. I'd buy it for the immersion blender alone, but you don't use that every day in the kitchen. The added smoothie maker brings a nice daily use to the device. The smoothie making method may be a bit awkward, but easy cleaning and blending right into your to-go cup are great convenience features. Construction looks solid. I'm also seeing pricing on Amazon as low as $29.99. It looks like a winning combo to me!
Price: $29.99
Where to buy: Get it on Amazon.
Source: The sample of this product was provided by Gourmia