We use affiliate links. If you buy something through the links on this page, we may earn a commission at no cost to you. Learn more.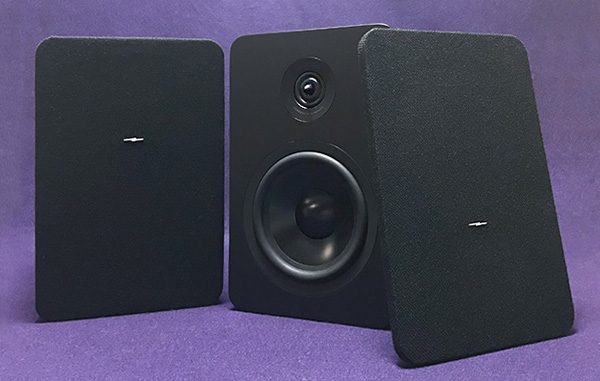 REVIEW – You gotta hand it to Shinola. This hometown Detroit company has shaken up the watch industry with their genuine American-made timepieces. They've also developed a slew of other products, from bicycles to leather goods. But it's Shinola's new Bookshelf Speakers that have attracted attention since their entrance into the extremely competitive audio arena. To get the sound they wanted, Shinola joined with one of the most respected names in the professional audio market—Barefoot Sound. But can a partnership between a lifestyle brand and a pro audio company produce a consumer speaker you would want to listen to every day?

What is it?
The Shinola Bookshelf Speakers are a pair of self-powered (no amplifier needed) Bluetooth and USB compatible speakers made in partnership with Barefoot Sound. They come in either a black or natural wood cabinet. They're built by Barefoot Sound in Portland, Oregon.

Specs
Enclosure: Hand finished oak composite cabinet
Power output: 100W RMS per channel (300 watts peak)
Inputs: 3.5mm Stereo Jack, RCA L/R, S/PDIF, USB Type-C, Bluetooth
Outputs: S/PDIF
Soft Dome Tweeter: 1 in.
Woofer: 6.5 in.
Impedance: 4ohms
Frequency Response: 48Hz – 22kHz
Amplifier: Class D
Dimensions: 8 in. x 9 in. x 12 in.

 

Weight" 17.55 lbs (active); 16.35 lbs (passive)
What's in the box
Two speakers
Power cable
Banana plug speaker cables
USB-C cable


Design and features
The Shinola Bookshelf Speakers are solid in both weight and build. The cabinet is made of an oak composite braced by medium-density fiberboard (MDF). This construction makes the speakers resistant to unwanted vibrations. The corners are rounded giving them a smooth, modern look. Magnetic speaker grills can be easily attached or left off—your choice. The heavy-duty "banana plug" cable and woven fabric covered power cord are a step up in quality one usually gets with speakers.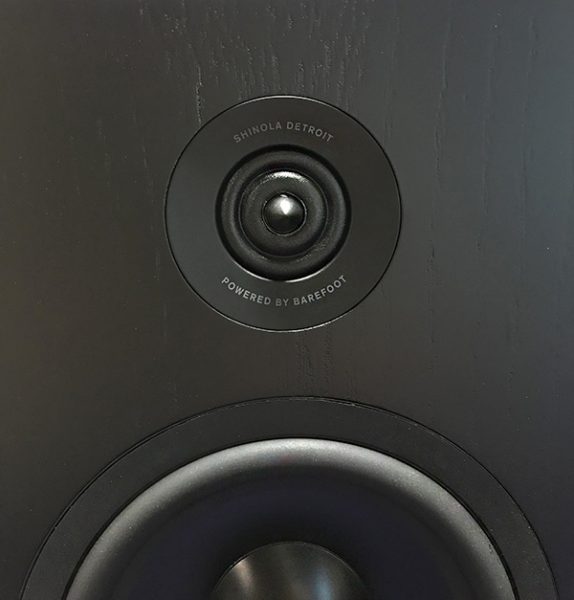 Each speaker has a 6.5 in. woofer and a 1 in. soft-dome dual ring radiator tweeter. This unusual tweeter design helps reduce distortion and is the same tweeter used in Barefoot Audio's own studio monitors costing thousands of dollars. The woofer was co-designed by Barefoot and Shinola. There's a bass port at the rear of each speaker which adds to the impact of lower frequency notes and allows air-movement for the woofer to operate freely within the cabinet.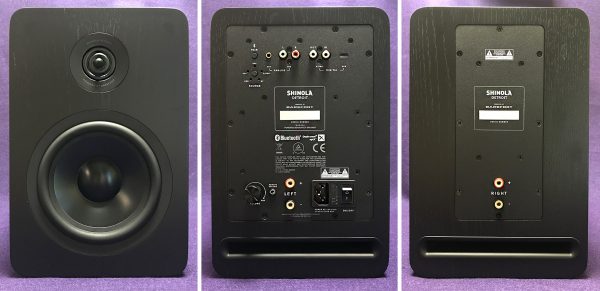 The speakers are powered by a 300 watt built-in amplifier—no receiver is needed. Music can be played from any source—from a turntable to a digital or analog computer connection to a smart device via Bluetooth. The rear panel on the left (powered) speaker has a variety of inputs and selections depending on what your music source is. Because of the button layout, input choices can be confusing at first and a bit annoying if you like to constantly switch from this to that source. 
My favored setup is a digital line from my iMac to the speakers. This way, I can rely on Shinola speaker's internal digital audio converter (DAC) which is better than my iMac's DAC. Unfortunately, it wasn't the cleanest of digital paths. Some computers (like my iMac) have what is called an optical digital connection (S/PDIF) which uses a fiber-optic cable that's compatible with standard 3.5mm audio jacks. In other words, I have digital coming out of the headphone port. However, the digital input on the Shinola speakers is not compatible with fiber optic cable. My workaround was a headphone amp (an extra expense) that unites the two incompatible digital methods. Confused? Me, too. I got it to work, but I shouldn't have had to go to this kind of trouble for what should have been a simple connection. (Note that Apple has removed the headphone port/optical digital connection on newer iMacs—thanks a lot, Apple)
Because of the digital connection issue, I could have said forget it and just used Bluetooth, headphone port to AUX, standard RCA cable or USB. However, Bluetooth doesn't sound quite as good as direct digital (but it does come close) and using the AUX route means that the iMac's DAC is used for converting audio to analog—not an option if I wanted the speakers to sound the best they could. It became a good news/bad news issue. The bad news is that I had to figure out how to make it work. The good news is that Shinola has built in many ways to connect the Bookshelf Speakers to various sources—and I'll take that over a limited selection any day.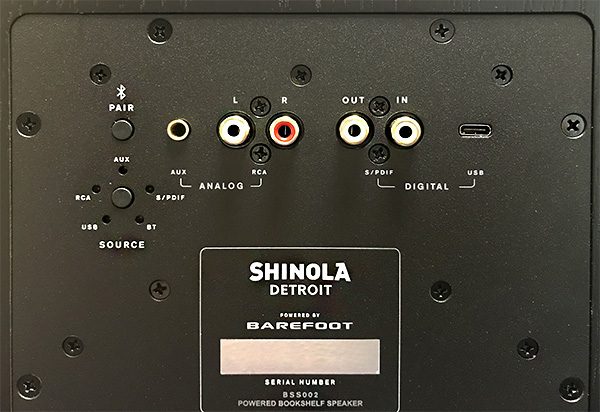 There are two slightly annoying anomalies regarding the Shinola Bookshelf Speakers: When powered on, they emit a loud and low bass thump. I'm told that Shinola has fixed this, but it's present on the speakers I have, so I point it out. Also, the speakers will go to sleep if quiet for a while and the only way to wake them is by pressing the small Source button on the rear panel. There is no remote or on/off button at the front of the speaker, so having to feel for the button at the rear of the speaker is not user friendly. Plus, the Source button is close to the Bluetooth Pairing button, making is easy to press the Pairing button by accident. 
Speaking of the Source button, it has to be pressed each time to switch among the five sources: AUX, S/PDIF (digital), Bluetooth, USB and RCA. Again, there is no remote, so you have to reach behind to select the source. Each choice has a matching indicator light, but the lights are also on the rear panel making it more difficult than it needs to be.
Bluetooth pairing with my iPhone was easy and straightforward. And boy, does Bluetooth from my overpriced Apple device sound good! After listening for some time, I can say that the Shinola Bookshelf Speakers offer the best sounding Bluetooth connection I've heard yet. In fact, Bluetooth coming from my iPhone sounds better than Bluetooth from my older iMac.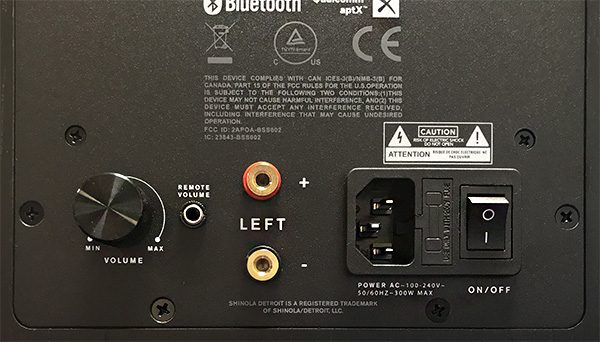 Many speakers may sound their best at either lower or louder volume, but the Shinola Bookshelf Speakers sound great at all volume levels. That unusual tweeter mentioned earlier produces all the necessary higher frequencies without being overly bright or harsh. There's no need for a subwoofer with these speakers. Bass produced is deep and impactful, giving music a fuller, more rounded sound.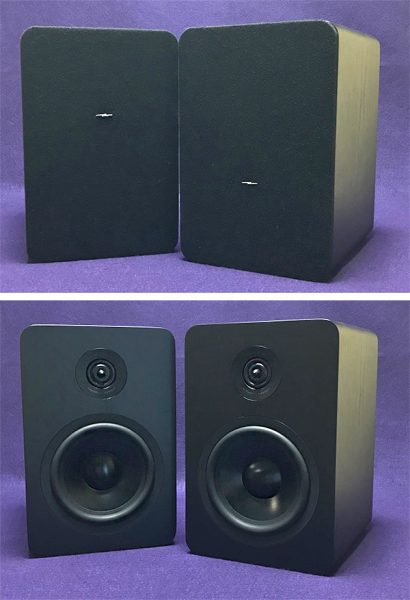 The Bookshelf Speakers have a relaxed sound quality and reproduce music with ease. Here's what this means: When you're sitting in front of the speakers, close your eyes and try to let the music take you places. If a speaker can do that, then it has achieved its goal. That may seem like a weird comment, but it's true. Music from some speakers will move me and (for whatever reason) music from other speakers is just sound. My music heard through the Shinola Bookshelf Speakers emotionally affects me in a very good way.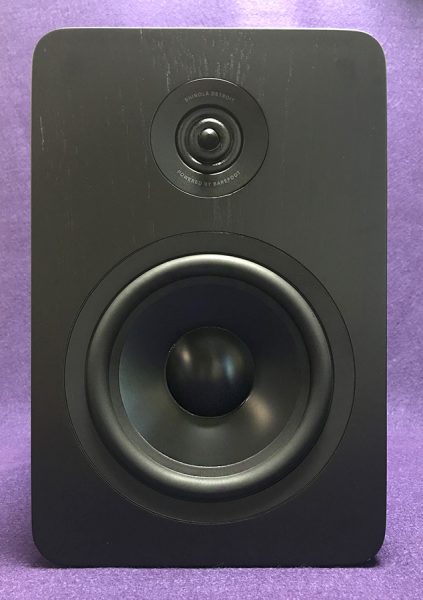 The human voice is always a good test of a speaker and when you combine many voices, it's better. Do you hear a wall of vocals or can you pick out distinct voices among the crowd?  Alan Parson's song, "Breakdown" ends with a choir contrasting the lead singer's urgent wailing. The effect—especially at higher volume—is spine tingling. The Shinola Bookshelf Speakers are able to pinpoint individual voices among the many. The same can be said for "Bless the Lord, O My Soul" by the Chamber Choir Kiev. This Rachmaninov masterpiece will make your hairs stand up. Once again, Shinola's speakers let you hear individuals from within the massive choir.
Johnny Cash released some of his most raw and uncompromising work shortly before he died. "The Man Comes Around" is delivered with the urgency of a country preacher backed by some excellent acoustic guitar and deep piano playing. The Shinola Bookshelf Speakers handle the low piano notes while also delivering higher frequencies from the guitar—all distinct but blended beautifully.
The sad Elton John classic, "Indian Sunset" from "Madman Across the Water" features elements of John singing alone, followed by a thunderous backing band fronted by violin and cello. The Shinola Bookshelf Speakers deliver all the power and pathos wrapped up together in this one song. The cellos go quite low but retain clarity with no hint of distortion.

What I like
Solidly built. The Shinola Bookshelf Speakers are that rare speaker that lets you get lost in your music. I could enjoy them all day.  
What needs to be improved
They're priced out of reach of many people. The back panel buttons are not user-friendly. Creating a remote would be helpful. 

Final Thoughts
The Shinola Bookshelf Speakers are most definitely expensive. But if you have the means and are looking for a pair of self-powered, wireless speakers that can blend into any decor and will help your music take you places, don't overlook them. 
Price: $1,500 US
Where to buy: www.shinola.com
Source: The review sample of this product was provided by Shinola. Visit www.shinola.com for more info.