We use affiliate links. If you buy something through the links on this page, we may earn a commission at no cost to you. Learn more.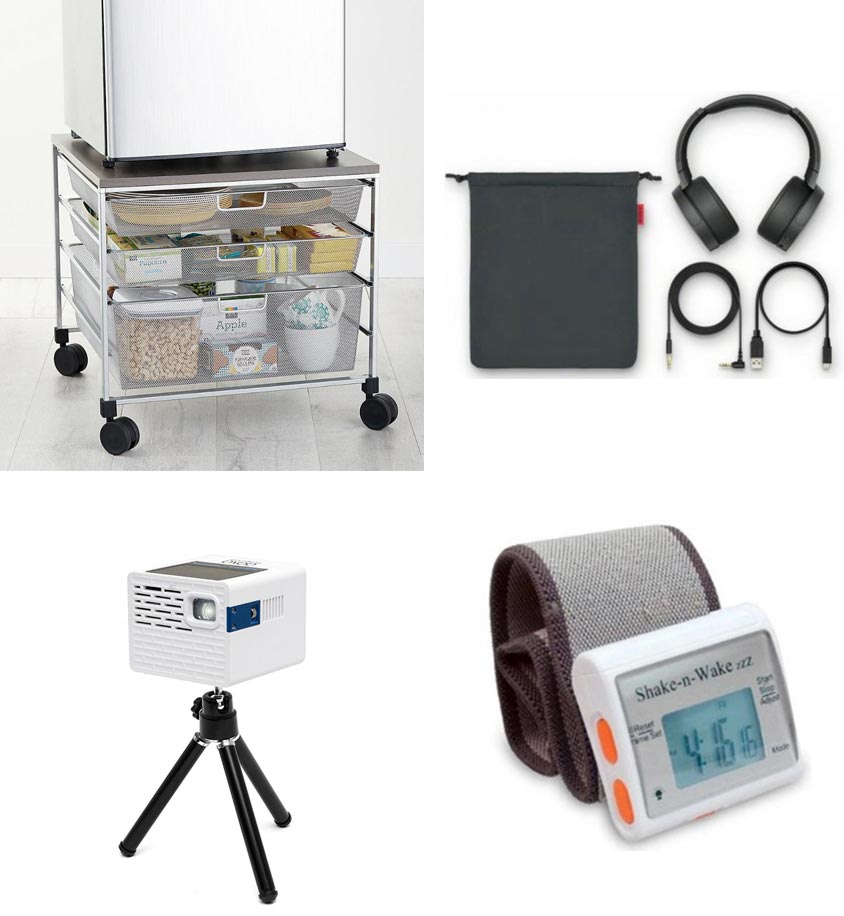 ARTICLE – While recently asking my daughter for recommendations of gear needed for college-bound students, she mentioned some things to make life easier while living in a dorm room.  In a separate post, I discussed her ideas for in-room food and beverage prep.  In this article, we'll talk about other gear that will give a little extra storage space, make movie nights more enjoyable, or make it easier to get some sleep and get up on time.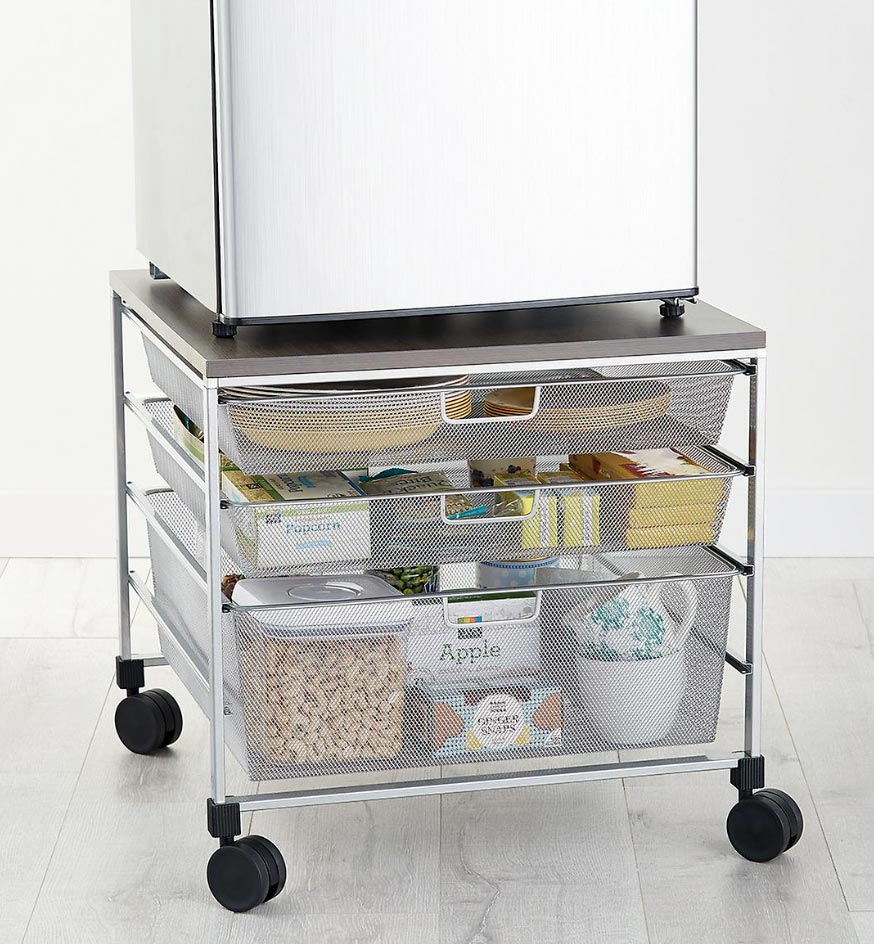 First up is a little pantry space for food.  The elfa Mesh Compact Fridge Cart fits under a dorm fridge and has three metal mesh drawers to store food, dishes, coffee, and the like.  It has a melamine top and four heavy-duty casters and is sturdy enough to hold most dorm fridges.  It adds storage space without taking up any extra floor space.  The elfa Mesh Compact Fridge Cart is available in platinum or white for $129.00, exclusively from The Container Store.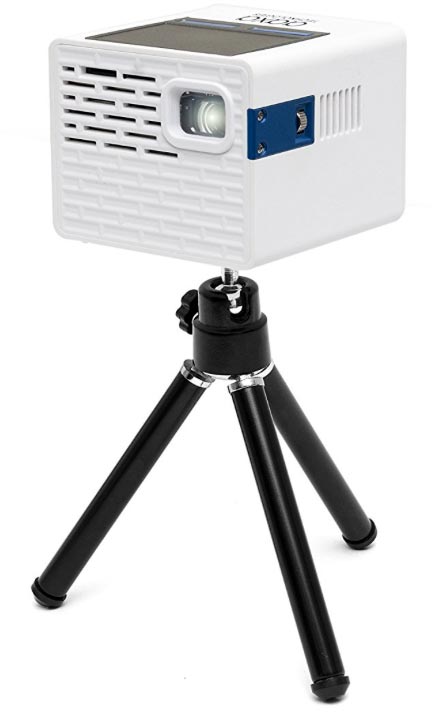 Rachel didn't have one of these of her own, but a friend had a small projector for movie nights.  This particular projector from Amazon gets good reviews and is reasonably priced.  The AAXA Technologies P2-A Android LED Pico Projector is compatible with all HDMI devices and iPhone/Android phones; you'll need to supply your own phone cables.  It has Bluetooth for external speakers, keyboard, and mouse and WiFi for streaming apps and smartphone/tablet mirroring.  It produces 130 LED Lumens and is rated for 30,000 hours.  It has Vibrant Color Technology and supports up to 1080p resolution; in low-light conditions, it can project up to a 100″ image.  The AAXA Technologies P2-A Android LED Pico Projector is $199.99 at Amazon.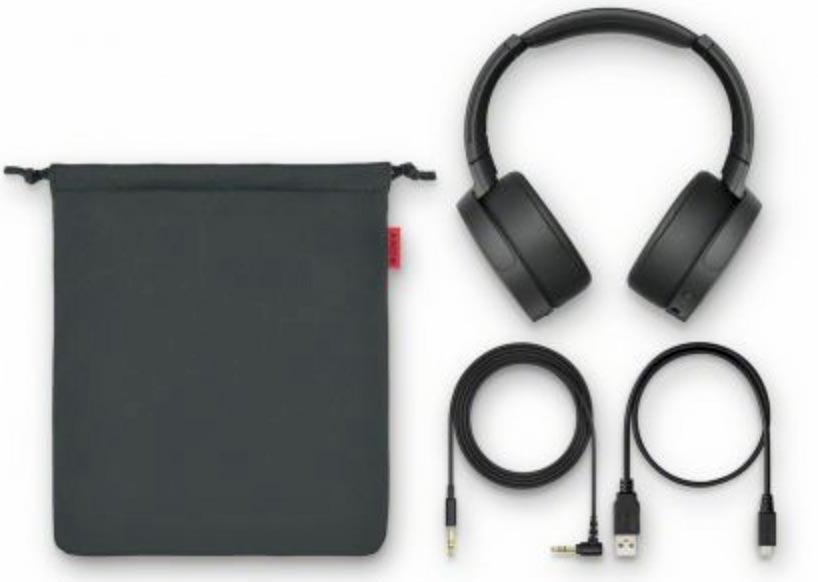 Headphones or earphones are vital for listening to music without disturbing your roommate.  Noise-canceling headphones are the best if you can swing them because they will also block out all the noise coming from the hall when you need to study or even try to get some sleep.  Rachel has the Sony 1000XM2 Premium wireless noise-canceling headphones (that Santa brought her from Best Buy), but the Sony MDRXB950N1/B black noise-canceling extra bass wireless over-ear headphones are well-rated and are only $123.00 (reduced from $249) right now at Abt.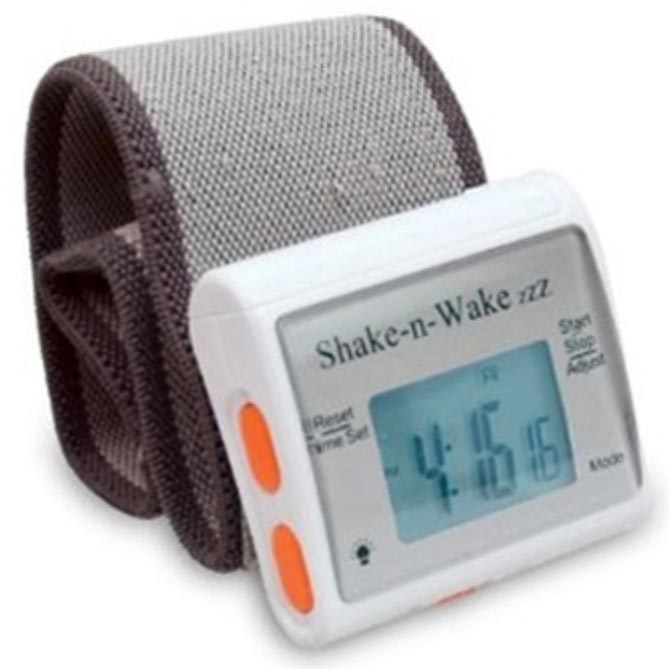 Rachel also recommended some sort of alarm clock.  She said she slept through the phone alarm a few times, so something that shook her awake might have been more successful.  The Shake N Wake vibrating alarm clock might have been more successful at waking her.  It's worn on the wrist, and it even looks a bit like those home blood pressure monitors that are worn on the wrist.  It wakes you with vibrations, so it won't disturb your roommate, or it would be good for grabbing a quick nap in the library or coffee shop.  If you need the sound, you can switch it to an audible alarm.  It's $19.94 at Dormco.