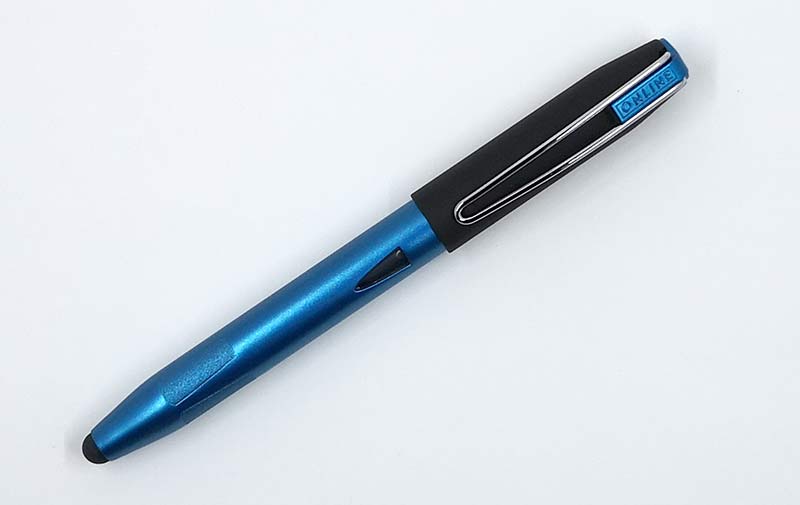 REVIEW – I've seen many ballpoint pens with a built-in stylus, but the Online Switch Plus Fountain Pen from JetPens just might be the first fountain pen I've seen that has a built-in stylus. It's like old world tech meets the tech of today with this pen. Let's take a look.
What is it?
The Online Switch Plus Fountain Pen is a lightweight plastic bodied fountain pen that is available in 5 colors and with nibs sizes from extra fine to medium. I was sent the Petrol Blue fountain pen with a fine nib and a blue ink cartridge.
Pen specs
Converter Included: No
Eyedropper Convertible: No
Filling Mechanism: Cartridge – Standard International Short, Converter
Diameter – Grip: 10.4 mm
Diameter – Max: 14.9 mm
Length – Capped: 15.0 cm / 5.9 inches
Length – Posted: 16.7 cm / 6.6 inches
Length – Uncapped: 13.9 cm / 5.5 inches
Weight – Whole Pen (Empty): 0.67 oz / 19 grams
Design and features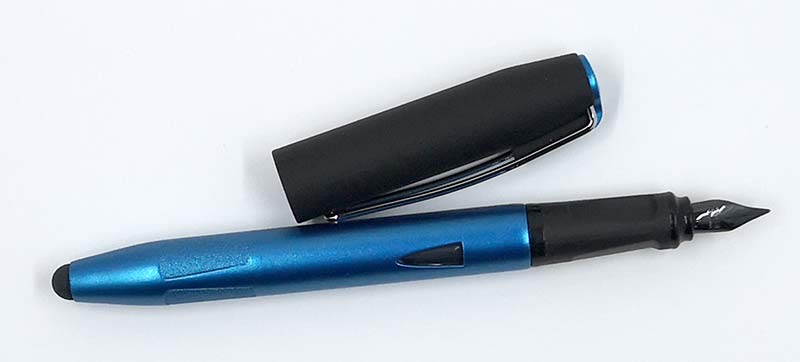 The Online Switch pen has a modern look with the two-color body and snap-on cap with a chrome pocket clip. The main barrel of the pen has a soft rubber coated area for fountain pen use and two small knurled grippy areas when the pen is flipped over for stylus use.
There's a window in the barrel so you'll know when it's time to replace the ink cartridge. I don't know how effective that window really is though as I can't see anything through the window and without a matching opening on the opposite side of the barrel, there's no light to help you see through the ink cartridge to see the ink level.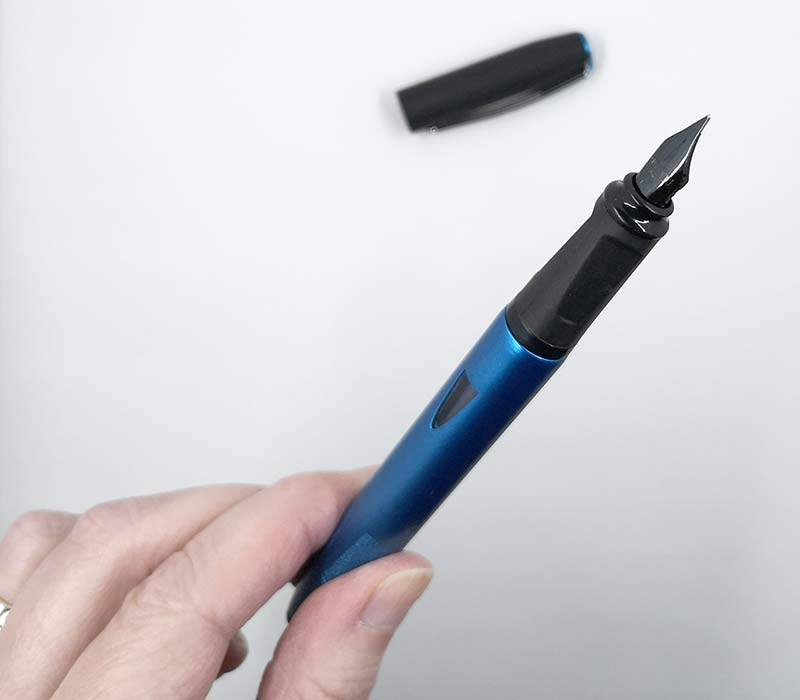 I'm not a fountain pen expert but the nib of the Online Switch looks like a typical fountain pen nib to me. The nib is made of steel that has been painted a glossy black and has a split ink channel.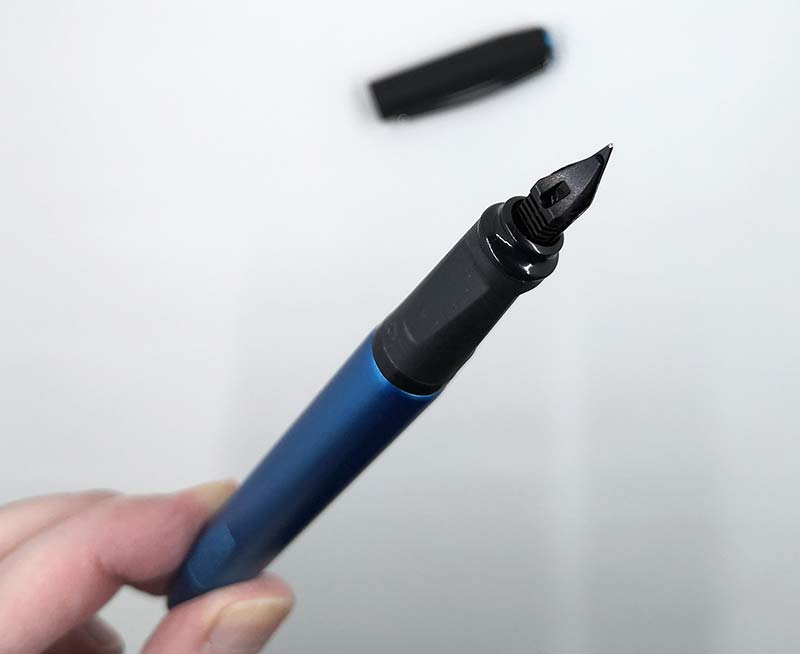 On the underside of the nib is the black plastic feeder channel. Note that the nib on the Online Switch fountain pen is a non-replaceable part.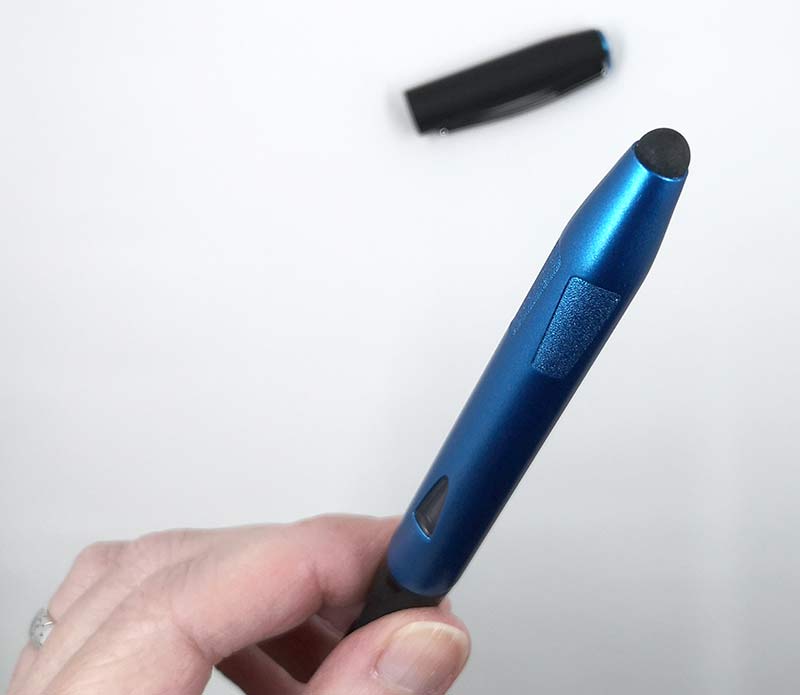 On the opposite side of the pen's barrel, you'll find a capacitive stylus tip. The stylus tip is a wide rubber style tip that doesn't lend itself well to precision writing or drawing, but it's just fine for scrolling through pages, tapping onscreen buttons, and icons.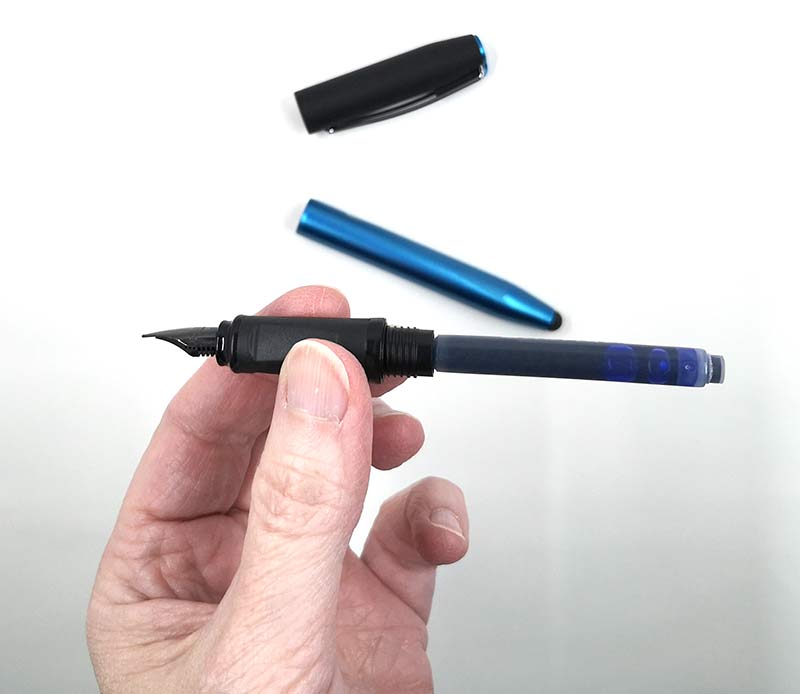 The Online Switch fountain pen uses ink cartridges like the one that you see in the image above. That's the blue ink cartridge that comes pre-installed. Jetpens sells a large variety of replacement ink cartridges in many colors.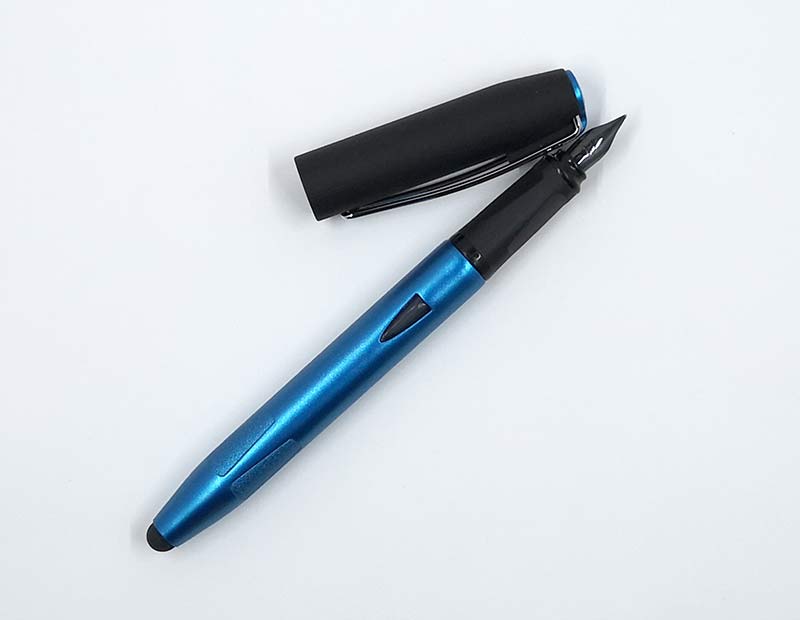 I mentioned earlier that I'm not a fountain pen expert. So I can only compare the feel to writing with this fountain pen to my favorite style regular pens that use the Pilot G2 refill. That said, the Online Switch fountain pen writing tip felt scratchy on all paper that I tried with it.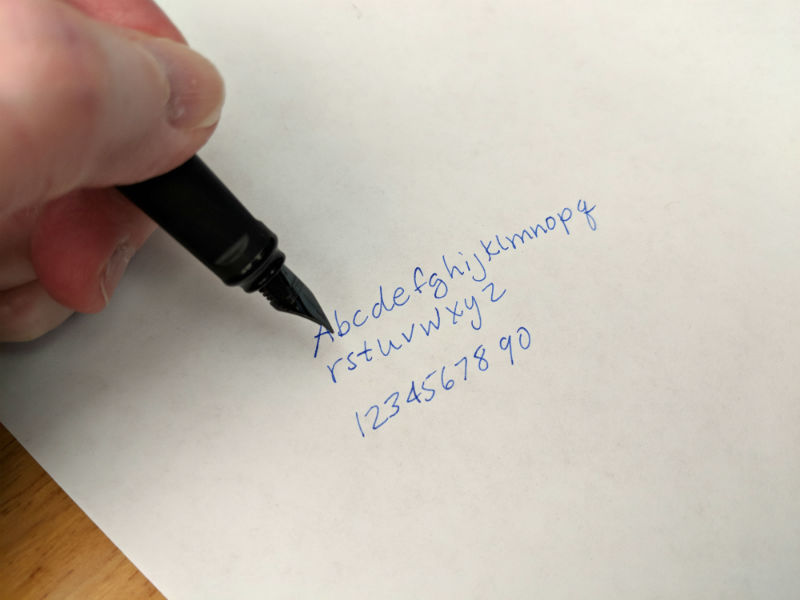 I think the main problem that I have with fountain pens is the fact that I'm left handed and find it hard to hold the pen so that the nib is at the optimal angle to the paper. There's also the fact that when you write with your left hand, you push the pen's tip across the paper instead of pulling it across the paper. When I tried using this pen in my right hand, the nib to paper feel was smoother. But still not as smooth as using a ballpoint pen.
What I like
Inexpensive
Built-in stylus
What needs to be improved
Final thoughts
The Online Switch fountain pen is a nice looking fountain pen that has the extra feature of a built-in stylus tip at an affordable price. I have a feeling that this pen isn't one that a fountain pen afficianado would choose, but for someone just starting out with fountain pens and who also likes to use a stylus with their mobile devices, the Online Switch is a fountain pen to consider.
Price: $21.50
Where to buy: Jetpens
Source: The sample for this review was provided by Jetpens.
Support The Gadgeteer
:
We may earn a small affiliate commission from purchases made from buying through links on our site. As an Amazon Associate I earn from qualifying purchases. Learn more.