We use affiliate links. If you buy something through the links on this page, we may earn a commission at no cost to you. Learn more.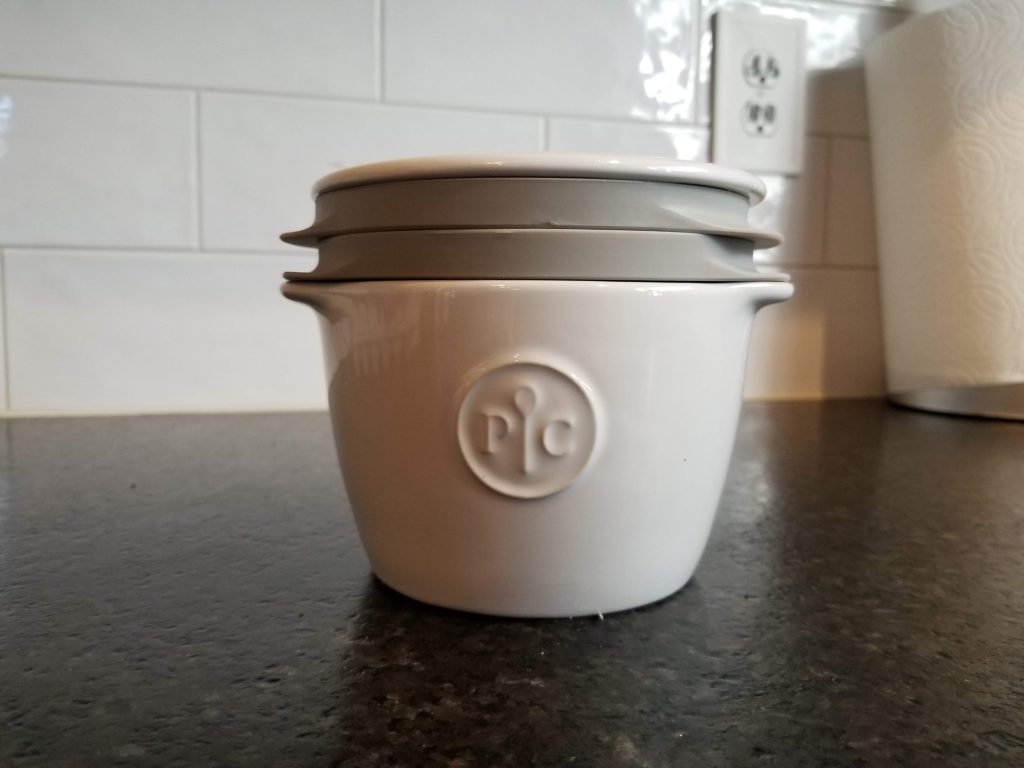 REVIEW – You've probably heard that breakfast is the most important meal of the day.  Given that, with our busy lifestyles we need a tool that can help us make quick, healthy choices for that most important meal.  The Pampered Chef Breakfast Sandwich Maker aims to do that by giving you a better, faster and more convenient choice than your local drive-through.  But can it live up to the expectation of a tasty breakfast sandwich?  That's what we are going to find out today…
What's in the box?
The Pampered Chef Breakfast Sandwich Maker consists of four parts: there is a ceramic deep bowl that is the base of the sandwich maker.  This is where you put the egg that is the centerpiece of your sandwich.  Next is a deep silicon tray where you can put any other sort of filling you want heated – Canadian bacon, a veggie patty or any other sort of pre-cooked item.  It is important to note that you cannot use frozen meats in the sandwich maker – all fillings need to be pre-cooked and at worst, refrigerated but not frozen.  After the filling insert is a shallow silicon tray for your bread.  An English muffin, a thin sandwich round or even a tortilla will work.  Finally there is a ceramic top.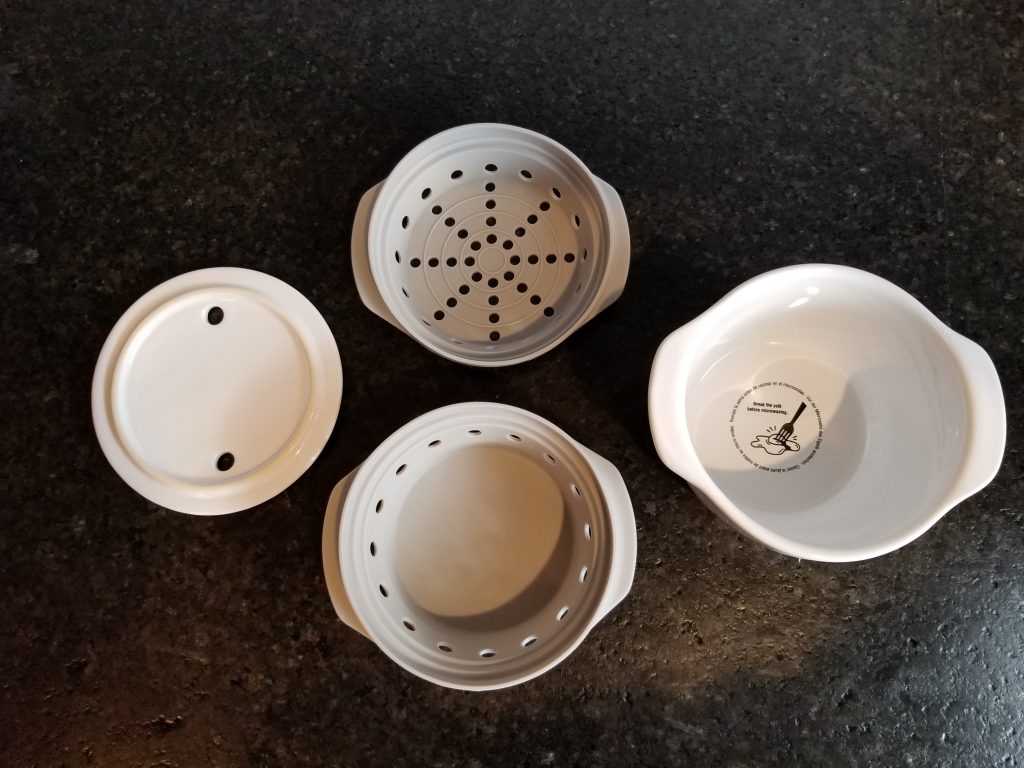 How does it work?
OK, so let's get started.  I love an over-medium egg sandwich, so that's what I will begin with.  After greasing the bottom of the ceramic bowl with butter as instructed, my lovely assistant is ready to crack a large egg into the bowl.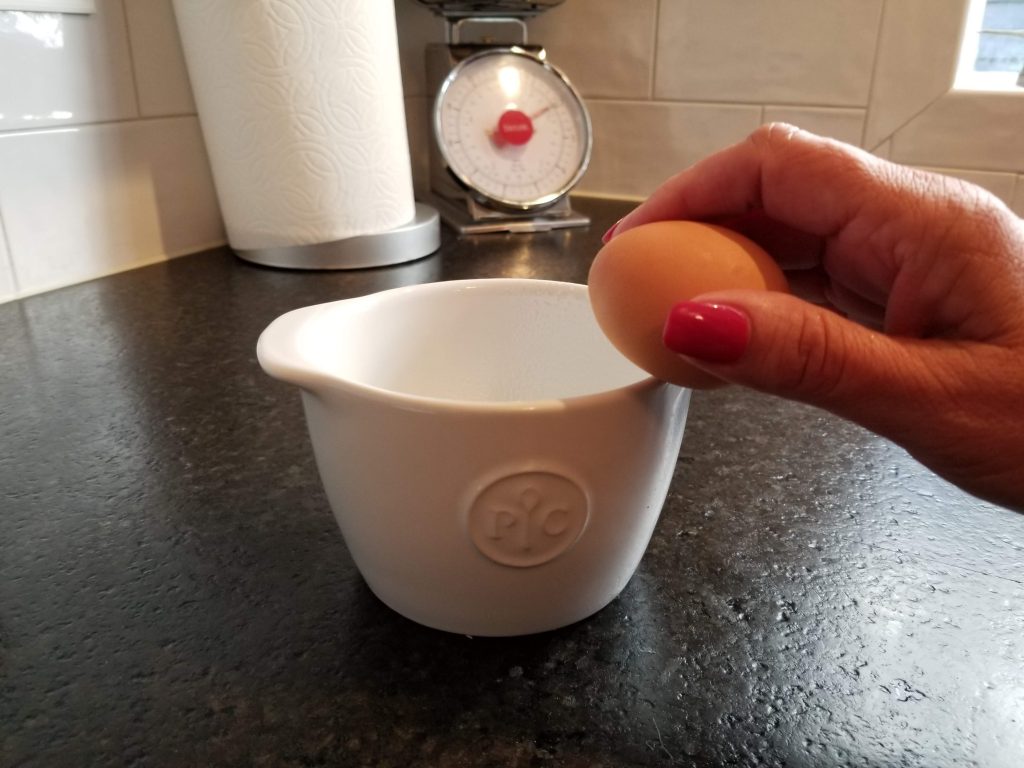 According to the instructions, if you are making an over-medium egg you should use only 1 egg.  If you are scrambling the egg, you can use 1-2 eggs.  One egg it is.  I also like Canadian bacon, so we add the deep silicon tray with a single slice.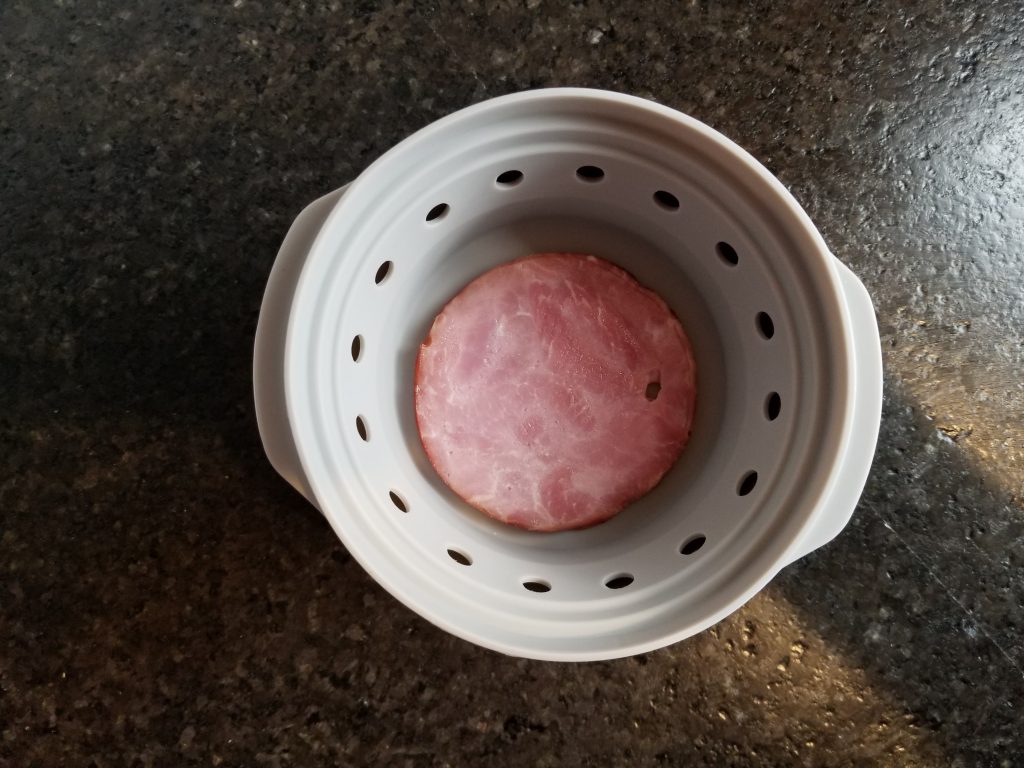 We are ready for stage 1 cooking.  I place the ceramic lid on the bowl, place it in the microwave and begin.  The instructions state that cooking times are calculated for a 1200 watt microwave, and as my microwave is a measly 1100 watts, I adjust up from the suggested 30 seconds cooking time to 40 seconds.  And so the interminable wait begins.
Visibly 30 seconds older, I remove the bowl from the microwave and the top from the bowl.  Adding the shallow insert and a sliced English muffin, I return the lid to the top.  Another 30 second eternity in the microwave.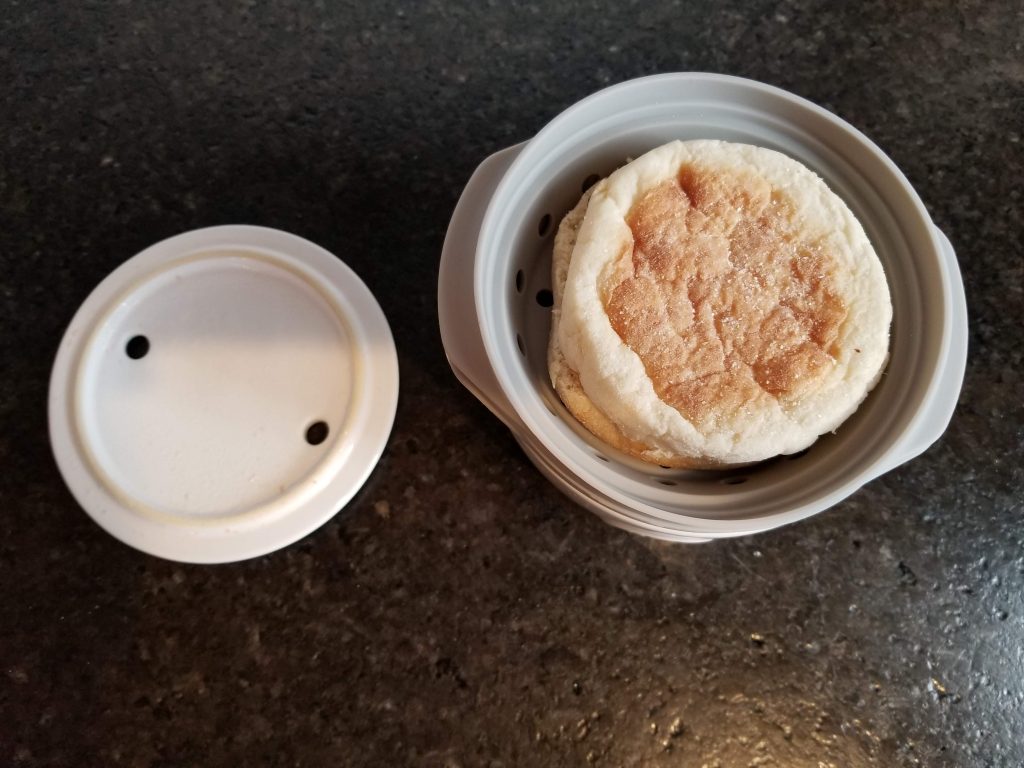 Now comes the hard part: removing from the microwave, I have to let the bowl rest for a whole minute before removing the trays and assembling my sandwich.  Patience is a virtue, just not one of my virtues.
A minute later, I open the container to…disappointment.  The egg is not cooked.  At all.  It is still a liquid mess.  The Canadian bacon, on the other hand, is dried out on the edges, a classic sign of over-cooking.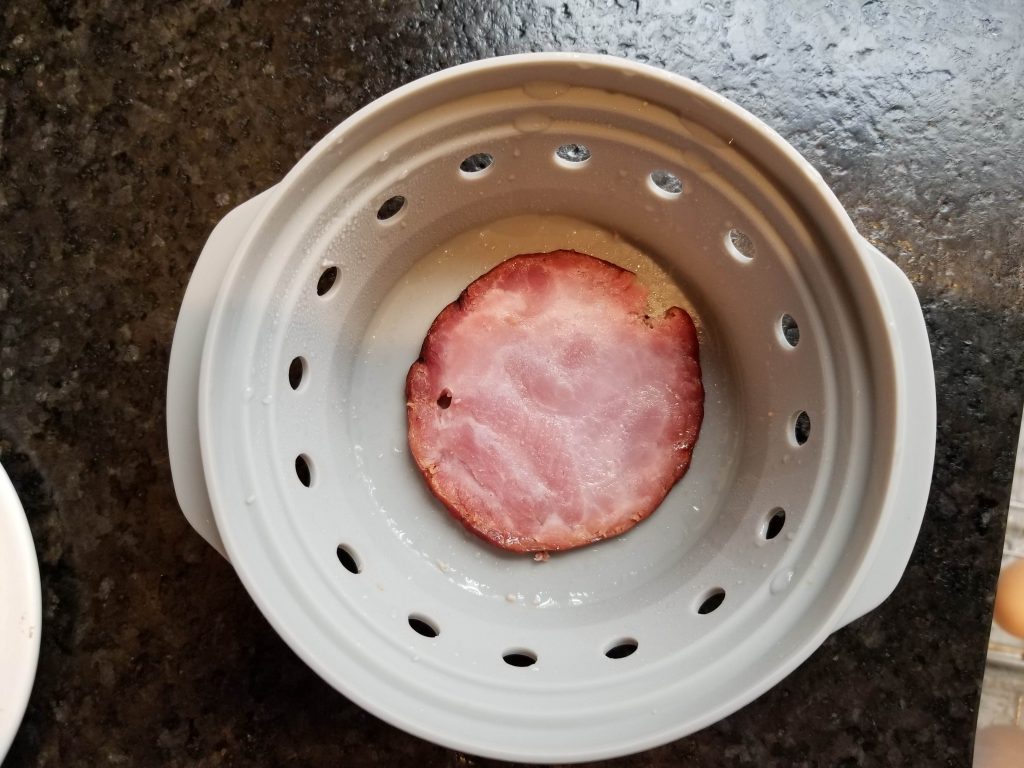 I replaced the lid on the pot and begin cooking the egg in 10 second bursts as instructed.  After an additional 30 seconds, the egg yolk is a hard mess but the white part is still mostly liquid.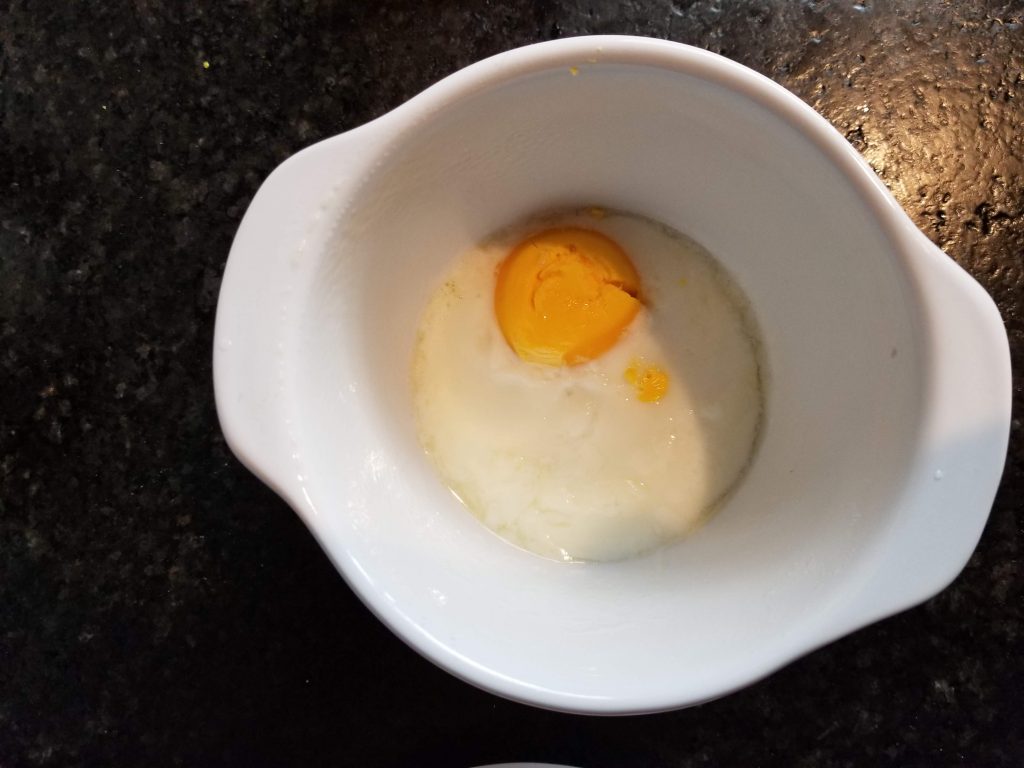 OK, so over medium is not going to work.  Did I mention that I love scrambled eggs?  After a thorough cleaning and then re-greasing the bottom of the bowl, my lovely assistant breaks a single egg into the bowl and we scramble it.  Despite what my high school guidance counselor said, I learned from my mistake last time.  This go-around I put the egg in the microwave by itself and cook for 30 seconds per the instructions for a single-egg scramble.  After 30 seconds, I remove the bowl, add the tray with another slice of Canadian bacon, and cook for 10 seconds.  Yes, I know, I am going off script here, but I am trying to reach the happy center of the experience – a fully cooked egg, Canadian bacon that does not look like it spent 6 months in the Sahara, and an English muffin.
After the initial 40 seconds, I add the muffin and cook for a final 30 seconds.  Another minute wait, and another disappointment.  While the Canadian bacon is fully cooked and in pretty decent shape, the egg is still mostly uncooked.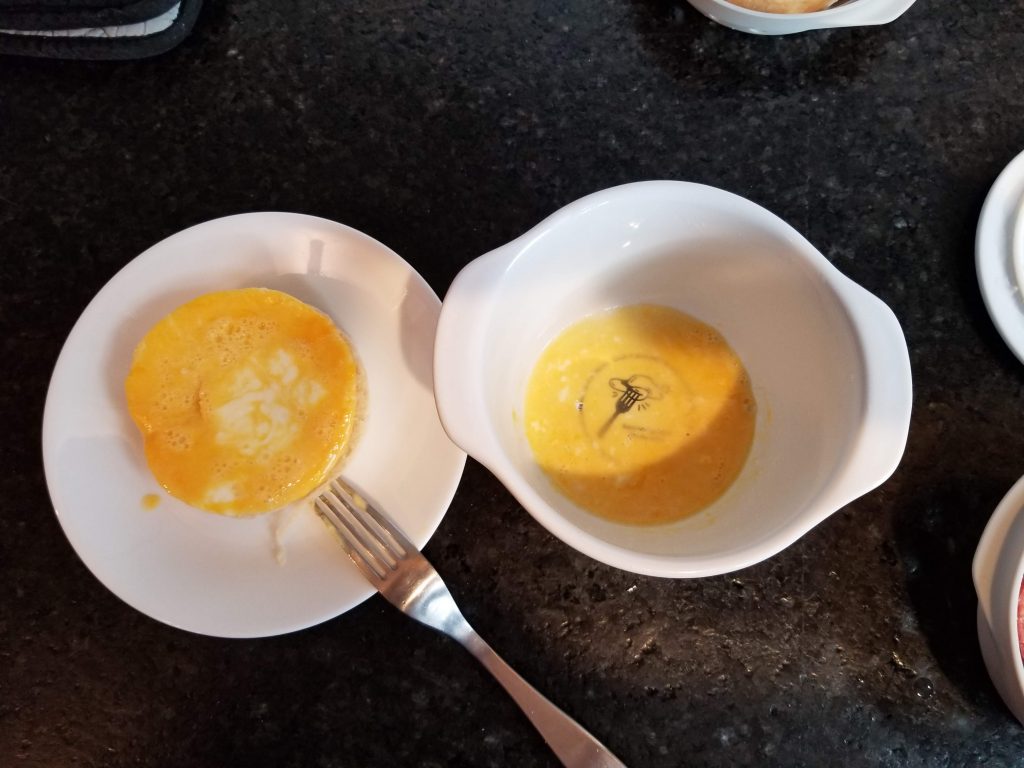 After two more tries making scrambled eggs, I am completely unable to get a nicely cooked egg.  Either it is horribly overdone or undercooked.
What I like
The Pampered Chef Breakfast Sandwich Maker is nicely made.  My wife loves the pieces and will re-purpose them for other uses.  Unfortunately, you just can't use it to make breakfast sandwiches.
What needs to be improved
I'm not sure – it seems to me that there are 2 issues at work here.  First is that a "one approach fits all" way just doesn't work.  There are too many variables, specifically in the microwave part of the equation.  The second is that in order to get past the first you have to have some sort of innate cooking skills, or the patience and time to go through many failed experiments to find the combination that works for your ingredients, your microwave and your time.  And with a limited selection of ingredients that are compatible with the sandwich maker (and the associated breakfast boredom that would set in with those choices), it seems like a lot of work for a very limited return.
All I know is that I have to go back to the old, less convenient way of making breakfast sandwiches.
Final thoughts
The Pampered Chef Breakfast Sandwich Maker seems to fail at its basic function: cooking an egg for a breakfast sandwich.  My microwave is as standard as they come, and no amount of tweaking the cooking time yielded a nicely cooked egg.  I suppose I could have used a pre-cooked scrambled egg patty, but then if I did why would I need the sandwich maker?
Another concern is the bread.  A good sandwich (in my humble opinion) has a toasted bread.  The sandwich maker gives you a steamed muffin.  Adding the muffin is a crucial part of the cook timing, so if you choose to toast and not use the sandwich maker for your bread, there is even more adjustment you need to do to ensure your ingredients are not overcooked.
Price: $29.95
Where to buy: The Pampered Chef web site
Source: The sample of this product was provided by The Pampered Chef.