We use affiliate links. If you buy something through the links on this page, we may earn a commission at no cost to you. Learn more.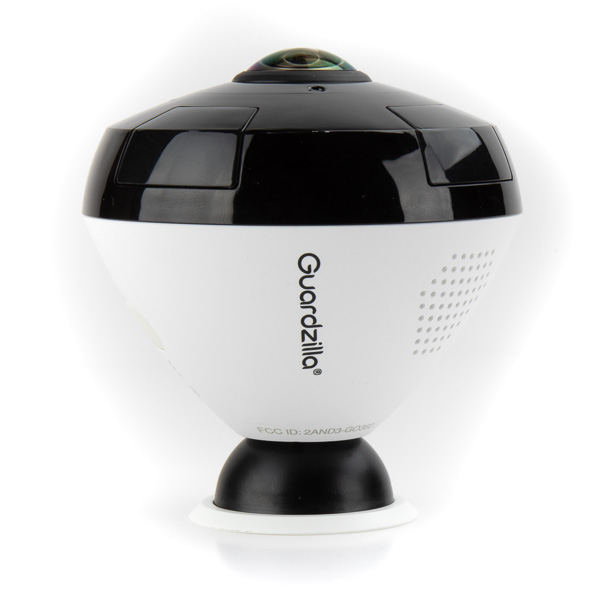 REVIEW – There is almost no end to the number of security cameras on the market today, which is one of the reasons I've put off buying one. When the chance to review the Guardzilla 360 security cam came along, I jumped at the opportunity to see just what it could do.
What is it?
The Guardzilla 360 Outdoor All-In-One HD Camera is weatherproof Wi-Fi enabled outdoor security camera capable of notifying you via your phone when motion is detected. It also has the ability to stream live video to your phone and much more.
What's in the box?
Guardzilla 360 Outdoor All-In-One HD Camera
Power adapter and 10′ power cord
Wall/ceiling mount
Desk stand
Window sticker
Setup Guide
Design and features
The Guardzilla 360 is designed to be able to see in all directions when mounted on a ceiling, wall, or table top. In effect, it's just half of a sphere and not a full 360 degrees like a 360 action camera. When used as a security camera, as it's designed, it's perfect. You can simply swipe your finger on your phone screen and view an entire room or look in every direction if mounted on a ceiling.
The Guardzilla 360 has versatile mounting options such as a stand for placing it on any flat surface and a magnetic mount for mounting it to a wall or suspending it from a ceiling or eave. The magnetic ball mount is not only fantastic for pointing the camera in any direction, but it's also extremely strong. I chose to mount it on my wall to monitor my office.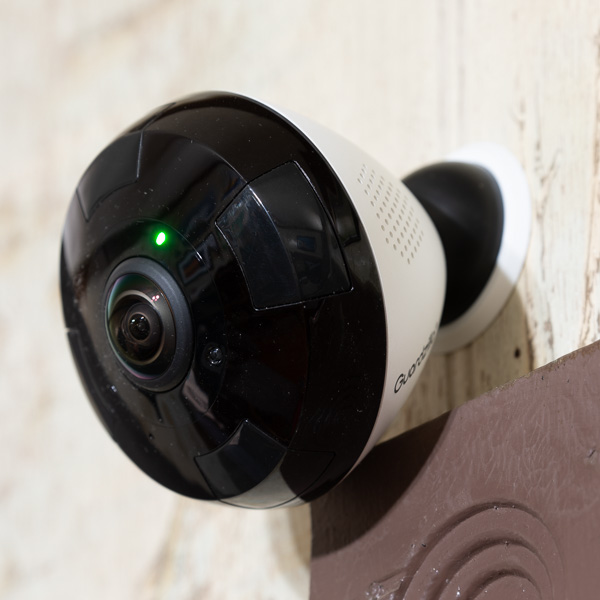 The Guardzilla 360 can run from both an AC power cord, or from the built-in rechargeable battery. The battery option is really nice in the case of a power outage or temporarily placing it somewhere.
The setup of the camera was pretty straightforward and easy. You can connect multiple cameras. I had only one camera, and each time I started the app it would automatically start with that camera selected.
Monitoring is as simple as tapping the "Monitor" button in the app. Once you're monitoring you can adjust the volume, brightness, contrast, point-of-view, and designate whether it is mounted on a wall, ceiling, or table top.
Rotating your phone also rotates the view to full screen: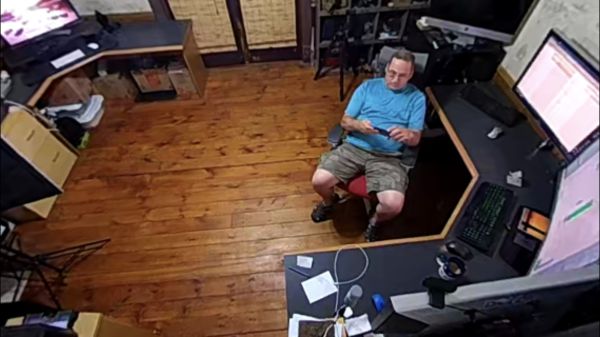 The night vision of the camera is good, however, sometimes there is a noticeable degradation in the picture quality, almost as though it's not focusing correctly. I didn't notice that before the last firmware update. The non-night vision mode actually performs pretty well in very low light.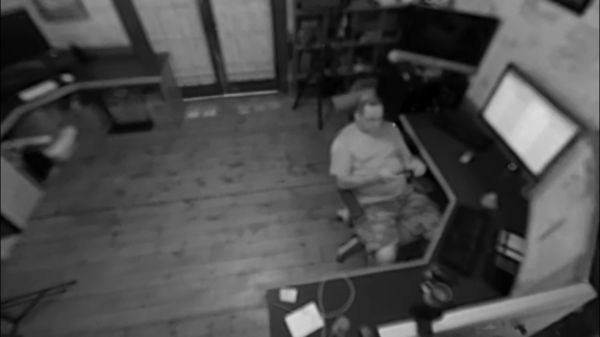 Saving a snapshot during monitoring saves the full 360 image to your camera roll: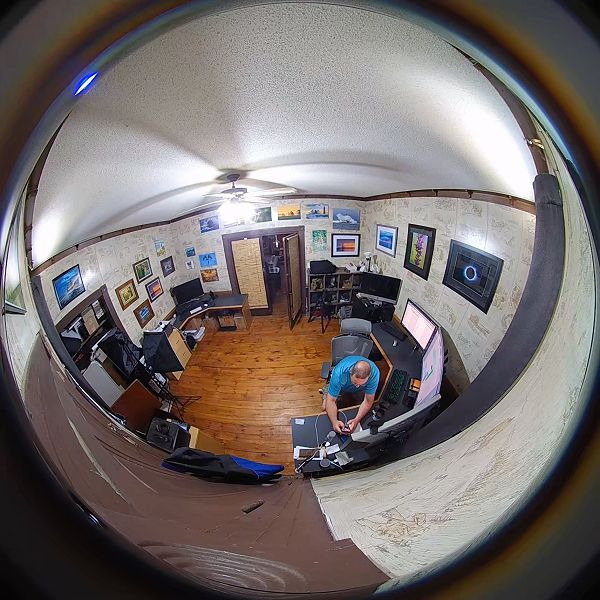 I found that the 90dB Siren just didn't seem to be very loud. I'm not sure if it's just me but I expected it to be much louder. My iPhone app showed it to be about 70dB at about 6 feet away, which is just over a regular speaking volume. There's also no way to manually trigger the siren, it's only set off when the motion detection is on. There is a setting for how long it plays though: 5, 15, 30, 60 or 120 seconds.
The motion sensors worked very well. Motion detection can be set to low, medium, and high. I set mine to low to avoid picking up my pets as often, but it would still pick up a person walking into the room. When the camera is "armed", it can send an e-mail, text, and phone push notifications when motion is detected. Notifications were very quick and often arrived within 3 seconds. There is an event history list in the app where you can view events such as alarm set, alarm disarmed, motion events, images taken manually, etc. All motion events are captured in 8-second video clips and retained for two days for free. Cloud storage options provide longer video retention options. There's even a setting to automatically arm and disarm the camera when you're away by using your phone's GPS location.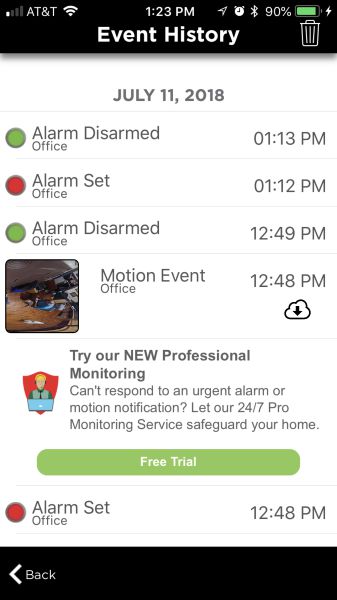 There is a listen feature that lets you hear what happens around the camera as well as a two-way talk feature that allows you to have two-way conversations through the camera's speaker and mic.
The Guardzilla 360 can also integrate with other devices and services such as Nest, IFTTT applets, Alexa, and Google Assistant.
Guardzilla also offers professional 24/7 security monitoring for only $9.99 a month.
The one thing I would really like to be able to do is view the camera via a desktop browser. I work from home, and there are times I would like to monitor the front of my house when I'm expecting a delivery. Browser-based monitoring would be much easier than trying to do that via my phone.
There are quite a few settings for the app, but they aren't all on one screen. If I had to choose something that I would like to see changed, I would prefer if they were organized differently, and showed the current setting value without having to tap on it. Here are a just some of the setting screens in the app:
What I like
No blind spots in camera coverage
Very good motion detection
Built-in rechargeable battery
Magnetic ball mount
Phone software automatically updates the camera firmware
What needs to be improved
The monitor view slowly creeps to the left (could be an issue with my phone)
A desktop browser-based viewer would be nice
Louder siren
Manually triggerable siren
Better indication of what video is saved in the cloud
Final thoughts
Overall I really like the Guardzilla 360 camera, and almost all of the things I would like to see improved could probably be addressed in future app updates. Guardzilla really seems to be on top of things also as they updated the app a couple of times while I was doing this review.
Updates 09/01/18
My Guardzilla 360 camera has begun to act oddly. It occasionally reconnects or reboots and issues its voice announcement that it has reconnected – multiple times per hour. It seems to only do this in the evenings, or has something to do with the light in the room, as it has only done it once when I was actually in the room. It also has been having issues where the video monitoring sends a still image from the past, often in a hideous purple hue. This is really bad since once I thought I was viewing a live feed when I wasn't. I've contacted support twice and have received only a mention that a firmware update was coming out in a couple of days, but that was over a week ago. I would steer clear of this device until these issues are worked out.
Updates 09/11/18
I received a new unit from Guardzilla and so far it seems to be operating properly.
Price: $199.99
Where to buy: BestBuy
Source: The sample of this product was provided by Guardzilla