We use affiliate links. If you buy something through the links on this page, we may earn a commission at no cost to you. Learn more.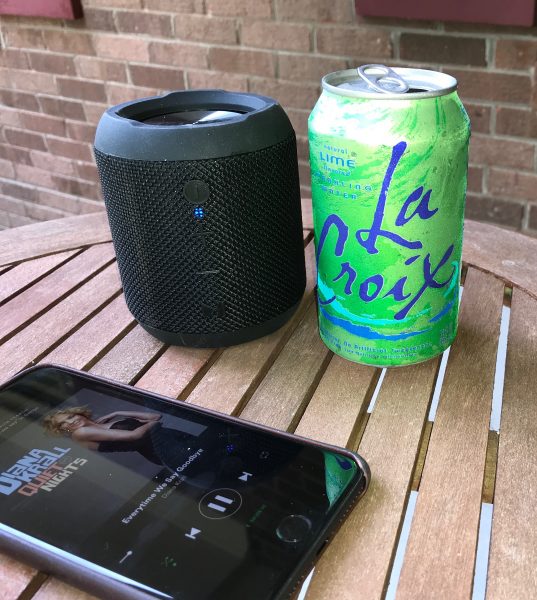 REVIEW – The world of Bluetooth speakers continues to grow. With summer weather, there are more opportunities that ever to venture outside and take your tunes or podcasts with you. Sbode has created another in the endless list of portable Bluetooth speakers. What can they possibly add to the device to make it stand out? Read on to find out.
Note: Photos may be tapped or clicked for a larger image.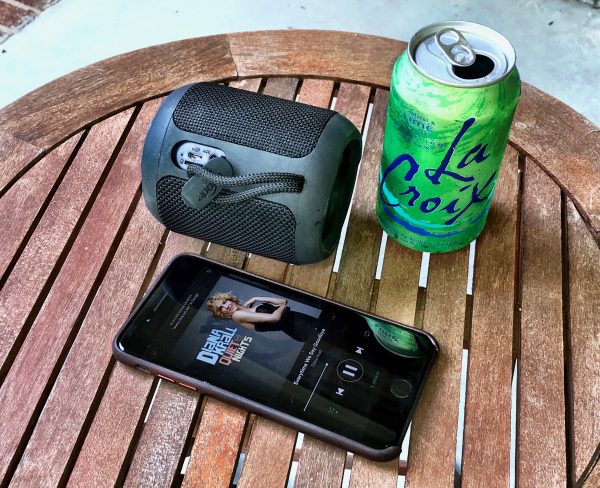 What is it?
This 11 ounce, 4+" high 3" cylinder can handle sound from your Bluetooth or AUX stereo devices. With a speakerphone, FM Radio and memory card support, as well as the option for stereo linking with another speaker, it's a weatherproof can of fun.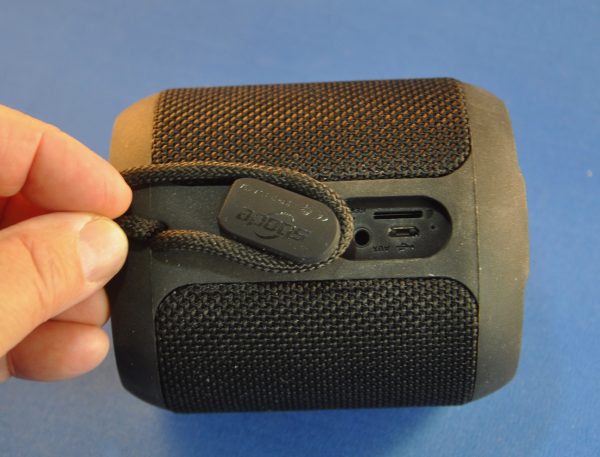 Hardware specs
(from product website)
Crystal Clear Bass Sound
True Wireless Stereo Function
Durable & Portable & Waterproof
Hands-Free Calling
FM Radio
Micro TF/SD card supported
Aux line-in
What's in the box?
Speaker cylinder
USB-A to microUSB cable for charging
Instruction folder
The Sbode Bluetooth speaker (that's really the official name, even on the product box!) is a black cylinder with a rubbery, wavy black rim on both ends. The wavy ridges allow sound to eek out from the underside if you happen to set it down on a flat surface. The rubbery texture prevents scratches to delicate surfaces and adds a touch of grippiness. If you set it down beside your plate at lunch, however, expect to accidentally try to drink out of it at least twice.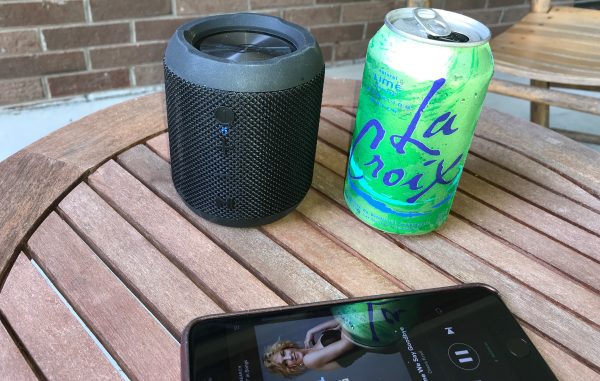 The surface of the outside, where you'd print the label for a soda can, is a woven fabric with a single row of rubberized buttons down in one place. They cover the basics – volume + or -, play/pause, or pairing – or so one would think. Turns out, the + and – take you forward and back in your playlist, but the play/pause and on/off toggles work as expected. The only control over volume comes from the device you're playing from. On the opposite side of the top rim, there is a braided cord lanyard 3" long. Below that is the covered input inset.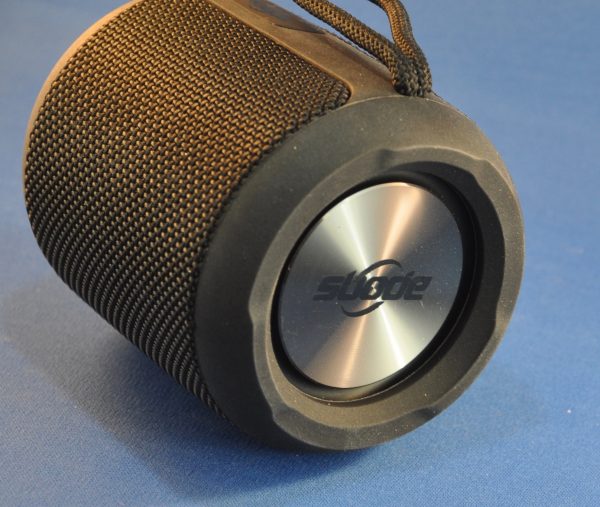 By far the most noticeable feature is the center metalized plate in the center of each end. They're speakers, but they don't resemble the usual cone we're used to seeing. Also, since this is a sealed, IPx6 system, there's no ingress point for sand or water. It's not submersible, but camping or poolside activities should pose no threat. I feel a bit like Monk when I look at these flat, slightly vibrating discs, though. I just wanna poke them.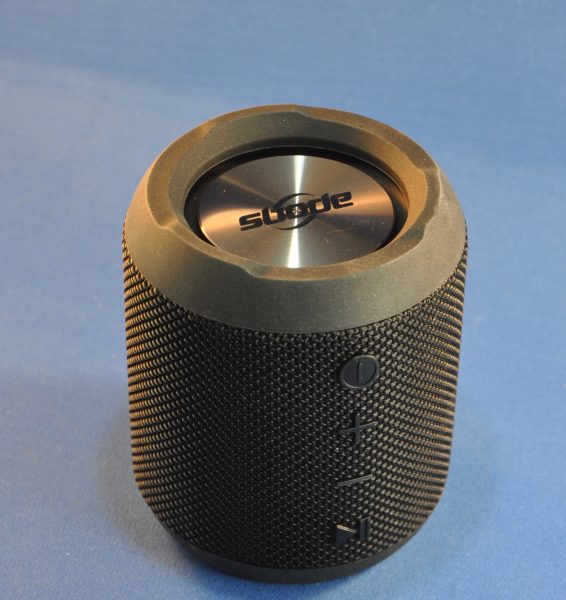 The AUX in and charging port are under an easily opened silicon seal, along with a reset pinhole and a TF/SD card slot. There is also an FM radio tuner built-in, in case you don't have any tunes on a card or your device is otherwise in use. Simply press the power-on/pairing button, and the friendly voice announces "FM Radio Mode." In FM mode, the "+" and "-" buttons take you through a group of scanned presets of stations. Holding down the play/pause button will initiate scanning of local stations. The instructions weren't clear on how to stop scanning on a station you like or add it to the presets. And I was never able to figure out how to control volume.
The weight and size of the unit are perfect for the use cases suggested: taking along everywhere, either in your cup-holder, bike water-bottle cage, or hanging from a carabiner from a branch or equipment of some sort. It sits easily on any remotely flat surface and the sound will radiate from whichever end happens to be up. If you have two (and, at $36 each, it wouldn't break the bank), you can pair both of them and there is some circuitry inside that handles audio channel separation. (I'm perfectly willing for Sbode to send me a second review unit to give this feature a try.)
For what it is, the sound and durability is quite a nice bundle for the price. There are many better-sounding speakers units on the market, but most are gonna cost a good bit more than this one. I found the sound could not get as loud as I would like, for one thing. Not that I want my music blasting, mind you, but I never felt I was going to hurt my hearing with it all the way up. And often, other things in the environment (oven timers, cars driving by while on the porch, lawn mowers a few yards over) could not be overcome. By contrast, most of the other speakers I've tested have had a good deal more volume headroom. The sound is uniform in all directions around when it's firing upwards. I did find that sitting it on the side gave a little better sound, but I never heard the "crystal clear bass sound" mentioned in the website verbiage listed above.
What I Like
Easy pairing and use
Integrated carrying loop
Weatherproof
What needs to be improved
Cannot adjust volume, except on device
No way to adjust volume in FM mode
Volume is never really "loud"
Final thoughts
If you're someone who likes to have music, podcasts or even sports coverage with you, having a speaker you can carry along usually enhances the experience, and allows you to share your audio with those you are with. If you want to hear details and "get into" the music, this speaker, while functional, is not going to fill a room or deck or campsite with sound. If your needs are a quiet podcast by your chair on the porch, you'll probably be OK, unless someone starts up a leafblower closer than 3-4 houses away. There are better options out there for the same or maybe a little more money.
Price: $35.49
Where to buy: Amazon
Source: The sample of this product was provided by Sbode.