The Gadgeteer is supported by readers like you! If you buy something through links on our site, we may earn an affiliate commission at no cost to you. Thank you! Learn more.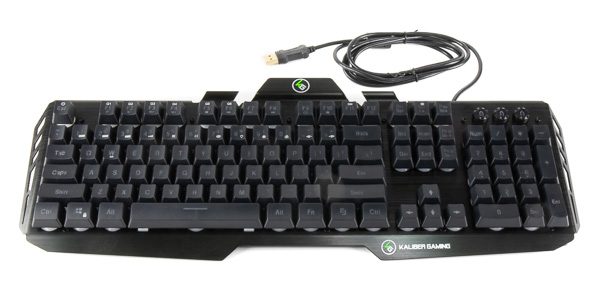 I've been a gadget geek all my life, and a computer gadget geek for over 36 years. I've had so many gadgets that I'm pretty used to everything from the mediocre to the fabulous. I have boxes of old keyboards, and I'm very picky about the kind I like – mechanical clicky of course! It's not that often that I'm surprised with a gadget being of a very poor quality, but the IOGEAR HVER RGB Aluminum Gaming Keyboard succeeded in doing just that.
What is it?
The IOGEAR HVER RGB Aluminum Gaming Keyboard is an RGB multi-zone backlit keyboard with a brushed aluminum chassis and the ability for 3 user profiles and programmable keys.
What's in the box?
IOGEAR HVER RGB Aluminum Gaming Keyboard
Quick Start Guide
Warranty Card
Design and features
The HVER keyboard has an open frame design with elevated keys that appear to "hover" above the brushed aluminum chassis. In addition to the standard HVER features like 26 anti-ghosting keys, Windows key lockout, and heavy-weight gaming base, the HVER RGB also adds the ability to program individual keys as macros for in-game use or shortcuts to system controls, PC functions, etc.
When I first plugged in this keyboard I wanted to see what I could do before I installed any of their software. Surprisingly all of the special function (FN) key options worked, except for the programmable keys of course. I was able to change all 13 of the backlighting effects. The backlighting was fairly good. I really liked the various options for the lighting:
Multicolor light dance
Multicolor breathing
Multicolor techno beat
Solid color fixed (7 colors)
Solid color rotation breathing
Solid color techno beat
Multicolor fixed
The lighting can be turned off, or set to one of three levels of brightness.
Then I installed the software. This is where everything went downhill.
First, neither the installer nor the app itself is digitally signed. On Windows, this causes windows to display the "Unknown Publisher" warning when launching, and for limited users, it can even prevent the software from running at all. In this day and age, signed installers and executable programs are a must.
With no instructions on how to use the software, it took me a few minutes to learn that you click on a function, then click on a key to assign it. That worked great. Then it took me a while to figure out how to undo that assignment. Turns out that you have to select Default, then the Default effect, and assign that to the key to restore the original keys function.
I didn't notice exactly when, but I think when I clicked Apply, the app applied the settings (which is odd, since the changes already worked), but the backlighting on the keyboard stopped working. No amount of unplugging, restoring, rebooting, or resetting made it work again. The backlighting does flash when changing profiles, but it doesn't stay on.
To make matters worse, the lettering on the keys are barely visible without the backlighting.
What I like
Function keys for lighting works without installing software
Windows Key Lockout feature
What needs to be improved
Software seems broken
Uneven key lettering backlighting on some keys
Final thoughts
This is a definite "don't buy" unless you don't want to customize any of the keys.
Price: $42.97
Where to buy: Amazon
Source: The sample of this product was provided by IOGEAR