The Gadgeteer is supported by readers like you! If you buy something through links on our site, we may earn an affiliate commission at no cost to you. Thank you! Learn more.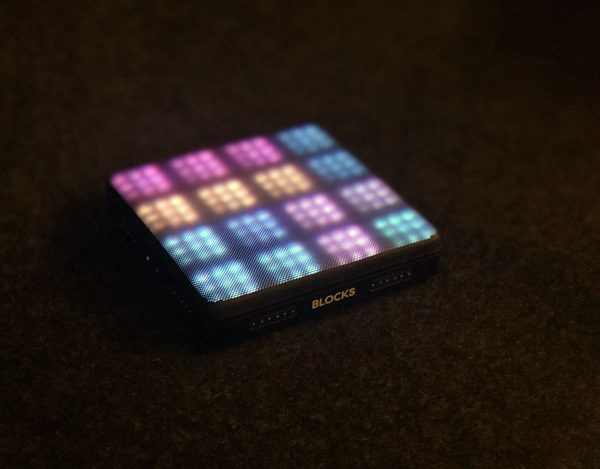 What is it?
Roli's Lightpad Block M is a touchpad for musicians that attempts to and mostly succeeds in removing restrictions and enabling musical discovery. With their Lightpad, all you need is a mobile phone or tablet and your fingers. What you do or create beyond that is completely up to you.
Hardware specs
Dimensions: 94 x 94 x 21.8mm
Weight: 260g
Connectivity: USB-C, Bluetooth LE, 8 DNA connectors
Battery: 4 hour battery life / 2 hour charge time
Bluetooth: 15 meter range
System Requirements: iPhone 6, 6 Plus or newer | iPad Air 2 or newer | iOS 9.0 or above |Google Pixel or Pixel 2 | Mac OSX 10.10+ / Windows 7 / Windows 10
What's in the box?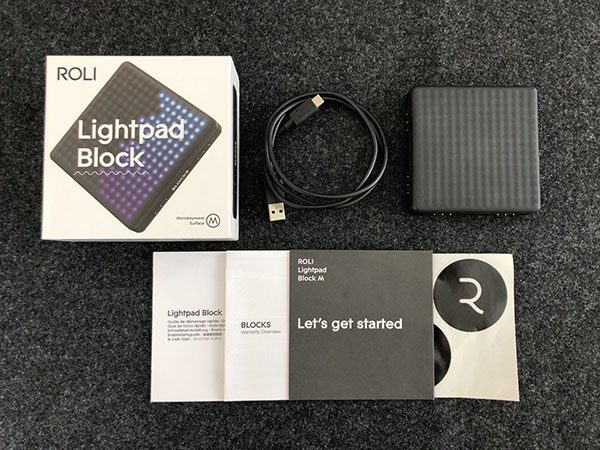 Lightpad Block
USB-C to USB-A cable
Quick start guide
Software through registration: Ableton Lite, Equator Player, Strobe2 Player, Tracktion Waveform 8, Blocks Dashboard, Max MSP (3mo. license)
Design and features
The design of the Roli Lightpad Block M is relatively unassuming at first. It's square with gently rounded corners and a little under an inch thick. Looking closely at the top surface however you start to uncover what makes the unit (and a lot of Roli's products) special. It has a dimpled grid formed into the top of a silicon material with a silky texture that your fingers want to slide across.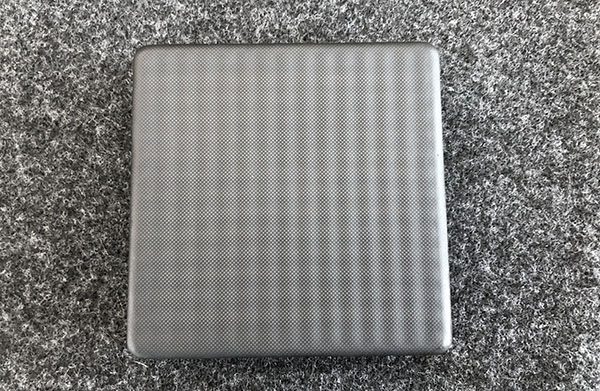 It almost has a memory foam kind of feel to it but satisfyingly firmer. It's this surface that allows Roli to not only tell where you are touching the block, but also how hard and with what velocity. But, I'm getting ahead of myself. Let's look at some of the other features.
All four sides of the LightPad have a pair of their DNA connectors that allows you to connect other modules from Roli including another Lightpad, their Live or Loop blocks or their Seaboard which applies that same top surface to piano keys. Three of the sides have an additional feature between the DNA connectors. They are a USB-C port for charging or connecting to a computer, a battery status button, and a power/BT pairing button. The bottom of the device has a non-slip foot with identifying logos for each of those features.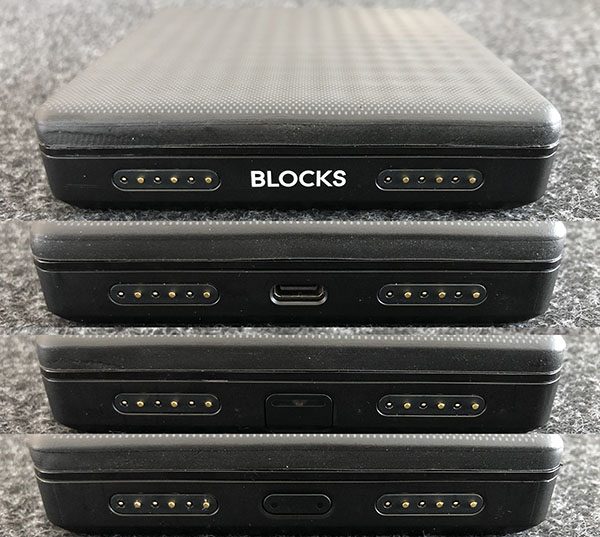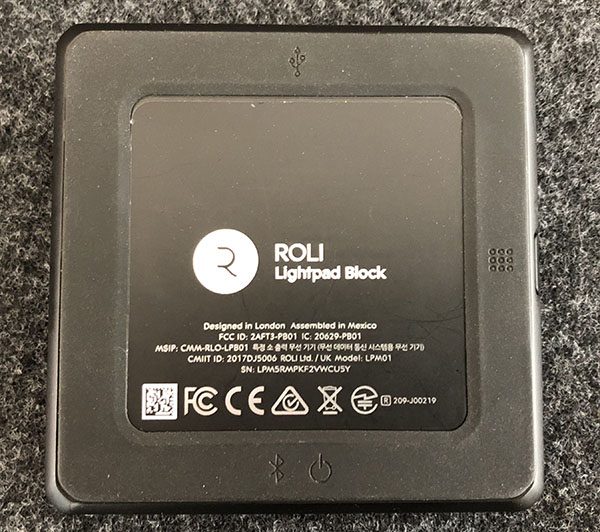 As with most connected devices, the Lightpad requires the use of an app, or a computer. The app is the easiest entry point, but also one of the most flexible. The packaging and manuals that came with the Lightpad all refer to their Noise app. Roli has another app called Play which I'd recommend starting with as it has a great introduction to the different movements you can employ while playing. They are Strike, Glide, Slide, Press and Lift. The Noise app is super fun and really gives you a huge sandbox to start creating but it can feel a little overwhelming if you aren't yet familiar with the surface mechanics of playing. In this review I have not explored much beyond use with an iPhone, so look for an update in the near future with some additional info on use with a computer including some of their other software. All that said, there's really no wrong way to play this thing. Let's set it up.
Setup
Getting started is pretty easy.
Plug the USB-C end of the cable into the Block and the other end into a USB power adapter or computer to charge the battery fully. This block had almost a full charge on receipt.
Download and install the App on your device. I'll use the Play App for this walkthrough.
Launch the app and it will tell you to press the power button which is the first time you'll see the lights fly across the surface.
On the app, press Connect now and then choose Lightpad Block XXXX from the list. This one said CU5Y instead of XXXX. I'm assuming that changes per block.
From there, your Block and phone should connect and you'll see the Block change to a 3×3 grid of color and the app will give you 5 options where you'll want to start with Learn 5D Touch.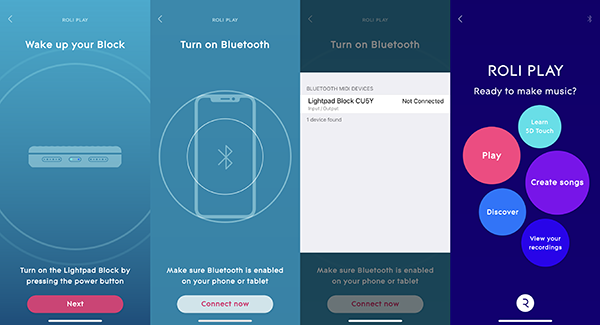 Performance
As I mentioned before, there's no right or wrong way to use the Lightpad Block. The app will walk you through learning the gestures and how it's quite different than striking a key on a piano or even a drum pad. You can strike and hold, and wiggle, and slide or glide as well as use multiple fingers. It gets really fun as you get into using the Noise app as that lets you create loops and melodies and layer tracks. Their Learn section has short videos on how to use all those functions which will help your learning curve significantly. Additionally, there's the main area for your projects, an area for discovering what other users have created and a store where you can purchase additional bundles and packs of sounds and effects.
The learning curve is actually pretty quick and the hardest part is just getting past that your first couple experiments won't sound that great. Using the Noise app I was able to quickly lay down a beat and then start layering sounds. I'd get a couple then botch something, but it's super easy to go back in and remove a layer. The app shows you where you are in the count and helps you align your next layer's start and stop. You can literally lose an hour to messing around and then find that there's a whole additional section of sounds or features you didn't see on first glance.
Tapping and sliding on the surface is really fun. If you've ever messed around with a guitar you know that your fingers can hurt a lot until you get used to the pressure of strings and fret positions. Similarly, if you've played an action game on your phone for too long, your thumbs or fingers can get pretty sore. It's possible that can happen here too, but the silicon surface feels wonderful and the interaction with lights showing you where you're pressing and how you're moving is really quite something.
Here's a video of my son using the Lightblock without layering sounds, just having fun with the Happy Drum Kit that's available for free through the integrated store in the app. As you'll see the interaction between the Lightblock and the app is pretty important. It shows what you're doing on the Lightpad but also provides additional controls and settings.
Now here's a series of videos where he's exploring layering. You'll see that it's easy to get something looping and then experiment on top of that while you find something you like. Then you can record and repeat until you're happy with the output.
In that second video, he's layering on top of what he did in the prior vid. There's also a subtle reminder in this one that you want to turn off alerts and notices when you're recording as it can totally disrupt the flow. It won't affect the actual music you're recording but certainly can knock you off your groove. You can also see that he starts messing with the levels on each layer to help balance and get to the feel he's looking for.
In this third video, he records another layer, messes with the levels and then changes the layer he just recorded from Darkmass Bass to Guitar Overdrive Lead to get something that stands out more. We both liked that you aren't stuck with the sound that you recorded. You're able to go to those individual loops and switch the sound to something new and Roli just makes it work. From that layers screen, you can then turn them on or off one at a time and play the song the way you want to hear it.
What I like
The solid build quality and inviting nature of the product
Flexibility of what you can do with it
Portability. It can go anywhere you want to take it
Creative potential. Liberating and malleable in its playability
What needs to be improved
Better compatibility with other music programs (like Reason for example)
Some areas of the pad seemed to be less consistent than others
Interesting and fun, but not precise enough as a midi controller
Final thoughts
As a tool for creation and developing musical ideas it's a great piece of equipment. It packs a huge punch in terms of it's size and capability. As a recording tool, the precision can be frustrating as it doesn't always register touches the way you expect. I do think that Roli has a gateway product here as we both want to see how it works in conjunction with the other blocks that Roli makes. If you're looking for something that can help with rhythmic and musical discovery, this may be the very thing you're looking for.
Price: $199
Where to buy: roli.com and Amazon
Source: The sample of this product was provided by Roli.