We use affiliate links. If you buy something through the links on this page, we may earn a commission at no cost to you. Learn more.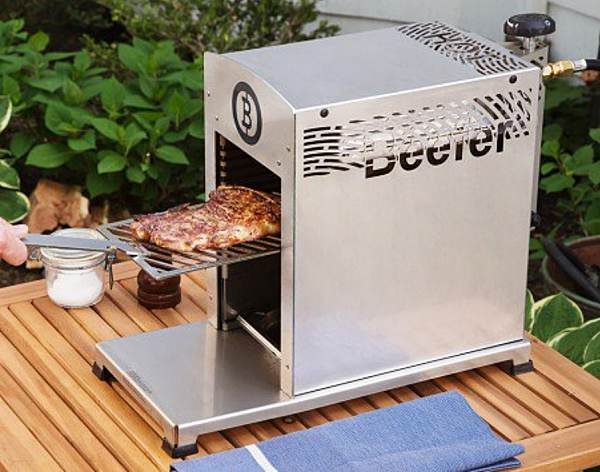 Usually, in order to get restaurant quality steak, you had to take a trip to your local steakhouse, not anymore. Now you can have steakhouse quality steak right in your own backyard. Beefer is a small stainless steel high heat grill that cooks at a whopping 1,500 degrees.
The magic temperature for restaurant-quality results when grilling protein like steak.
Bring the heat
The infrared grill uses top mounted ceramic burners that heat up quickly. The high heat sears flavors in and creates a crispy, caramelized crust on meat in seconds. The grill is not only for steak it's also perfect for things like chicken, fish, flatbread pizzas and even your favorite veggies.
Cooking in the grill is done from the top down so all the juices from the meat drip down into a pan at the bottom. Perfect for making delicious sauces.
The grill runs on propane and is sized to fit any outdoor space. And because of its size, it's easy to move around.
Beefer is made in Germany and comes with everything you need to get started. Along with the grill, you get two drip-catching trays, one pair of grill gloves, two grill grates, one handle for moving grates, and a 39" long gas hose.
The cost of bringing the steakhouse to your backyard isn't cheap. Beefer costs $899 and is available on The Grommet.