We use affiliate links. If you buy something through the links on this page, we may earn a commission at no cost to you. Learn more.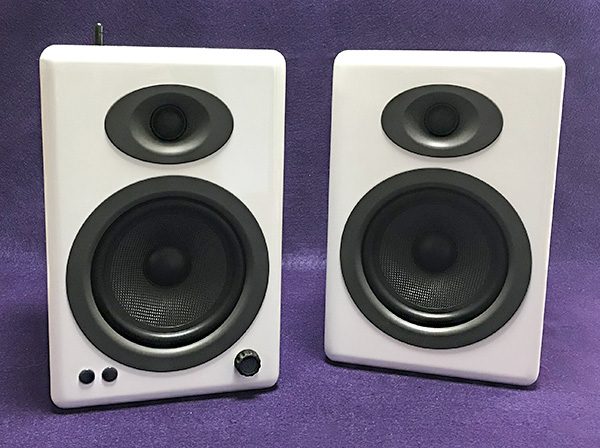 I'm fortunate to have been able to review each version of Audioengine's A5 speaker series. The original was (and still is) a powerhouse of a speaker that sounds much better than its cost. Heck, all of Audioengine's speakers fall into that category. Later, their A5+ speaker improved on a good thing—a larger, more efficient heat sink, a remote control and better audio inputs, just to name a few. However, it's a rapidly evolving audio world and Audioengine's latest response to fans of the A5 is the new A5+ Wireless speaker.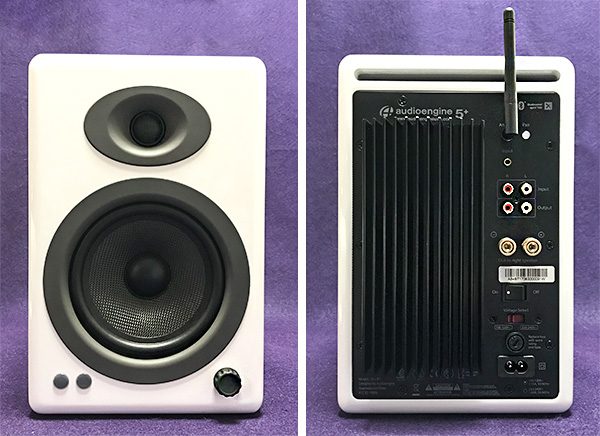 What is it?
The A5+ Wireless speakers are a large(ish) pair of bookshelf speakers that work as well—if not better—as computer speakers.  I've used the various A5 speakers hardwired to my iMac, connected via USB to my iPod (and later, iPhone) and even wirelessly using Audioengine's own W3 audio adaptors (a not inexpensive add on). Now with the huge advancements made to to Bluetooth, Audioengine is offering all that is good with the A5+ in a newer Bluetooth wireless version.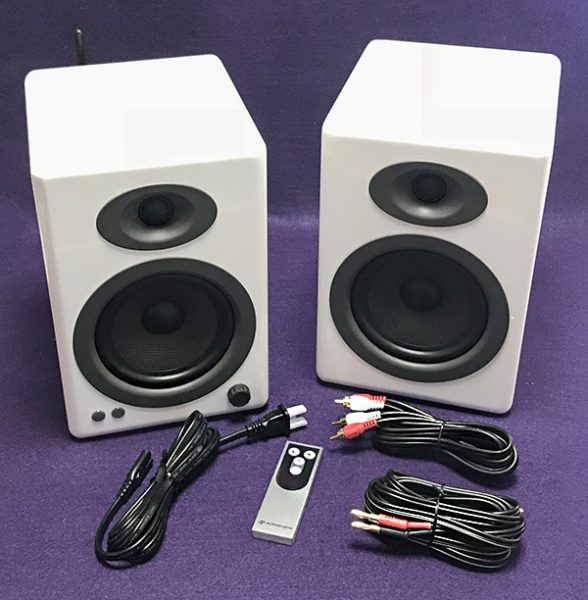 Specs
The A5+ Wireless speakers are identical to the A5+ speakers in size, weight and specs. Two notable changes are that the 3/4″ silk tweeters are now centered above the 5″ Kevlar woofers—the original 5+ tweeters were off-centered. Also, a powered USB port at the rear of the A5+ speaker has been replaced with a Bluetooth pairing button on the wireless version.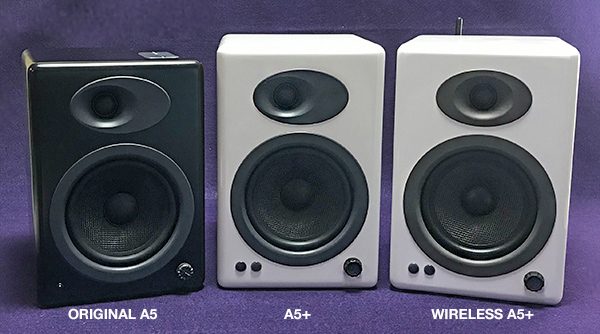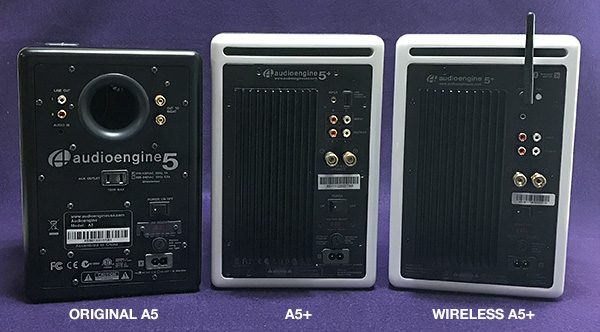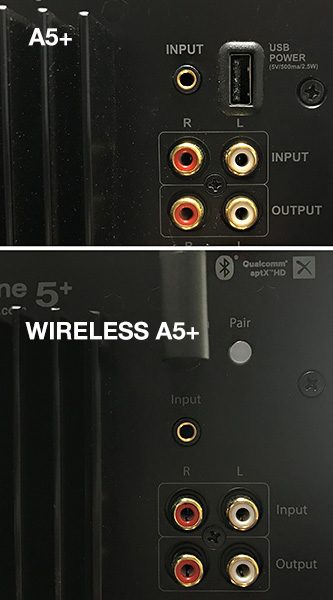 For those interested in such things, here are some specs:
Power Output: 150W peak power total
3.5mm stereo mini-jack
115/240V, 50/60Hz manually switchable
Amplifier Type: Dual Class AB monolithic

 

Drivers: 5″ Kevlar woofers, 3/4″ silk dome tweeters
SNR: >95dB (typical A-weighted)
THD+N: <0.05% at all power settings
Crosstalk: -50dB
Frequency response: 50Hz-22kHz ±1.5dB
Input impedance: 10K ohms unbalanced
Protection: Output current limiting, thermal over-temperature, power on/off transient protection, replaceable external main fuse
Power Consumption:
Idle: 10W
Mute: 6W
Sleep: 4W
Bluetooth specs:
Internal D/A converter: AKM AK4396
Input bit depth: 24-bits upsampled
Bluetooth: 4.0 audio
Supported codecs: aptX, AAC, SBC
Wireless operation range: Up to 100ft
Dimensions:
Left speaker: 10.75″H x 7″W x 9″D
Right – 10.75″H x 7″W x 7.75″D
Weight (LEFT): 15.4 lbs
Weight (RIGHT): 9.6 lbs
Colors:
Satin Black
Hi-Gloss White
Solid Carbonized Bamboo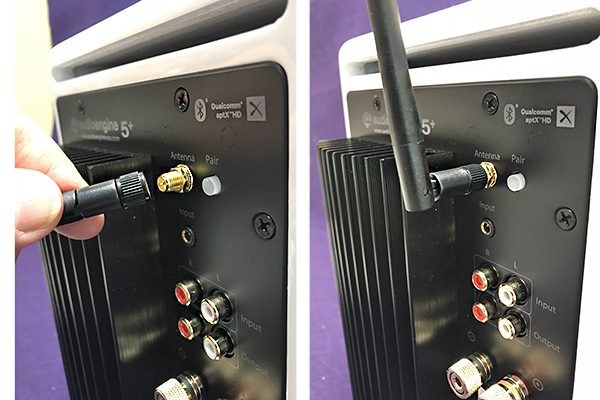 Design and features
First, let's get this out of the way: The addition of Bluetooth adds $100 to the price of the wired A5+ speakers. You might think a hundred bucks is a lot for a Bluetooth option, but there's more to it than that. Because of Bluetooth, the A5+ wireless has a built in 24-bit upsampling digital audio convertor (DAC)—which isn't cheap. Without this DAC, the A5+ Wireless speaker would just be a—well, a regular A5+ speaker! Let me explain the path that audio takes from your source (smartphone for example) to the A5+ Wireless: Smartphone converts music to a Bluetooth codex—sends Bluetooth signal to speaker DAC—DAC receives Bluetooth signal and converts digital signal to analog—analog signal is sent to speakers and then you hear your music. This is overly simplified, but you get the idea. The A5+ Wireless speaker is doing quite a bit of work that the regular A5+ speakers can't do.
Connecting and pairing the A5+ wireless speakers is straightforward. The left speaker contains all the important stuff. Simply connect the left speaker to either a receiver or computer and then wire the right speaker to the left and music happens. However, now you don't even need anything more than a smartphone to enjoy what the A5+ can do. Just press the pairing button on the rear of the left speaker and pair with your smartphone. Pairing only takes a few seconds.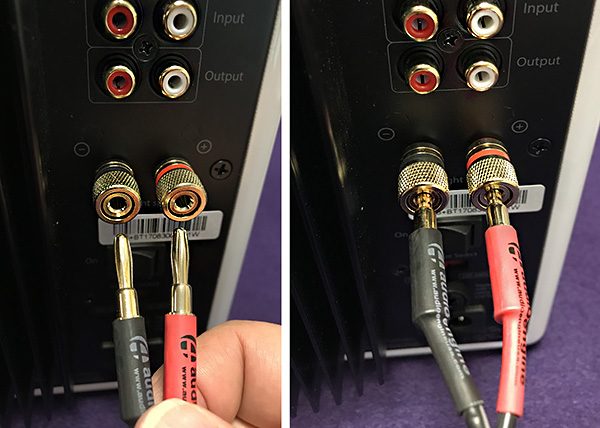 So how does Bluetooth compare to hard wiring? There are no surprises here. Bluetooth connection is rock solid. I have not had any dropouts (admittedly, the speakers are no more than 12 inches from the source). Even though audio quality is slightly lower when compared to wired, I could only discern any differences by turning Bluetooth on and off. But seriously, only weird testers like me will do that kind of thing. Otherwise, the only other noticeable difference was volume. Bluetooth needed to be turned up to match the same loudness as wired. Keep in mind that this is true of many wireless speakers, not just these. Trust me, you won't have any sound quality complaints using Bluetooth.
Along with the pairing button on the left speaker's rear panel are the power switch, a mini plug input and RCA inputs and outputs. The RCA outputs allow a subwoofer to be connected if desired. A screw-in external Bluetooth antenna is included.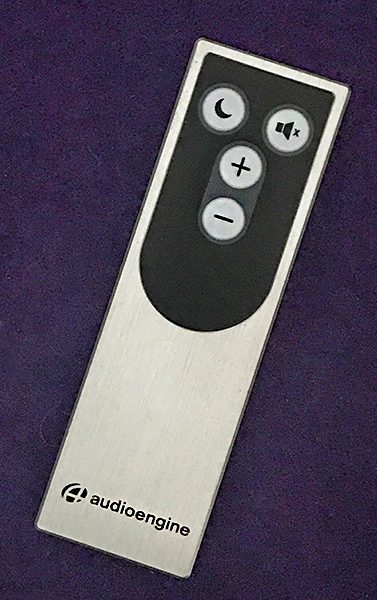 The front of the left speaker has a Bluetooth pairing indicator light as well as a volume knob. The A5+ wireless speakers include a remote that's identical to the remote included with the more expensive Audioengine HD6 speakers. This remote handles the basics: Volume, mute and sleep. I've don't see the advantage of a sleep button over the simple mute. The two buttons seem a bit redundant. I would have preferred an on/off button instead. 
The A5+ wireless speakers are powered by a built-in 150 watt (75 watt per channel) class A/B amplifier. Because of the amp, a turntable can be directly attached to the speakers without the need of a receiver.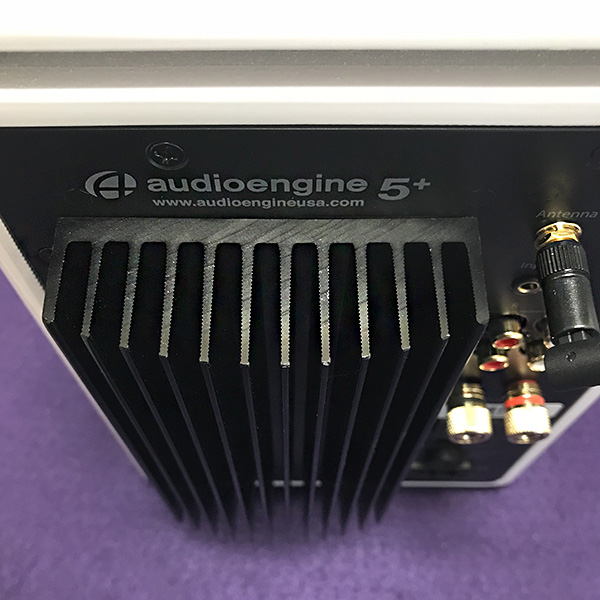 The back of the left speaker has a large and heavy metal heatsink to dissipate the heat generated by the amp. Each speaker box is made of softly round-edged 1/2″ thick MDR board that's either lacquered white gloss, black matte or real (extra cost) bamboo. There are no protective speaker grills, so the exposed and delicate silk tweeters should be kept out of reach from little poking fingers.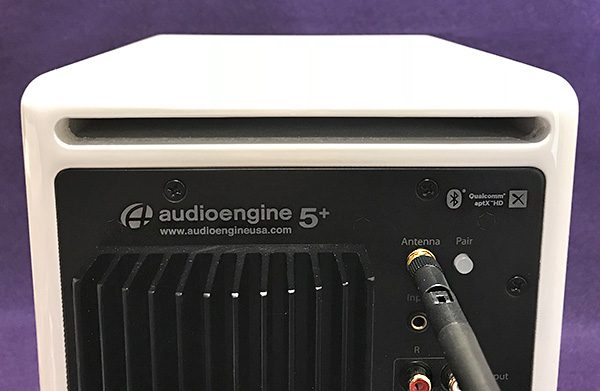 The A5+ Wireless speakers don't noticeably add to or detract from any audio frequency. Thanks to some wide bass ports, they can go deep, but even so, they might disappoint some bass heads. The A5+ Wireless speakers can handle plenty of bass—they just don't add to it unnecessarily making music more bass heavy than it already is. In fact, on some of my 60s classic rock recordings (the debut Jimi Hendrix Experience album, for instance), I wish the A5+ Wireless speakers actually added more bass because some of those albums could certainly use a boost. However, I blame the recordings and not the speaker. Likewise, the speakers are not overly bright sounding or overly mid-centric on vocals. Their frequency balance is pretty darn good!
The A5+ Wireless speakers are also up to the task of reproducing excessive bass found in many modern albums—especially at max volume. Bryan Ferry's "Kiss & Tell" from "Bête Noire" has plenty of bass kick. When called on, the 5″ Kevlar woofers are capable of some serious bottom.
Since bass on the speakers themselves is more than adequate, I was curious what would happen if I connected a floor subwoofer to the mix. While I was impressed with the enhanced and revealing lower frequencies previously unheard (or felt), it was obvious that it's not absolutely necessary to add a sub right away. It can always be added later if warranted. 
What I like
The audio is balanced, yet offers a decent bass kick when required. Setup couldn't be easier—Bluetooth pairing was successful on the first try and has remained flawless since. The subdued and elegant design looks good on any desktop or in any living room setting. 
What needs to be improved
The remote should have an on/off button.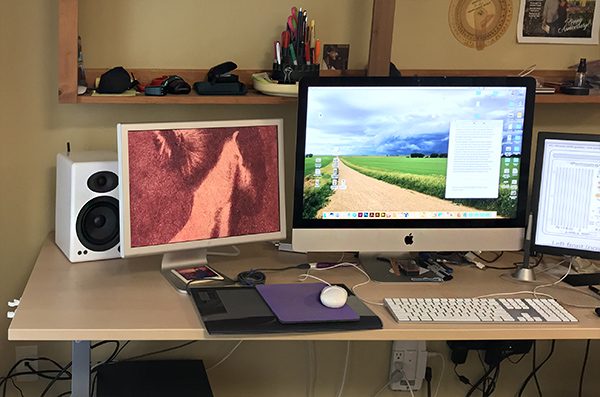 Final Thoughts
The A5+ Wireless speakers have always been a bargain when you consider how good they perform. The added convenience of Bluetooth only sweetens the deal—even at a $100 premium. You can find better sounding and better made speakers, but not at this price.
Price: $499 US ($569 for bamboo)
Where to buy: Audioengine and Amazon
Source: The sample of this product was provided by Audioengine. Visit www.audioengine.com for more information.