We use affiliate links. If you buy something through the links on this page, we may earn a commission at no cost to you. Learn more.

What is it?
OMICAM is a versatile wearable VR action camera with built-in auto horizon and image stabilization, along with supporting features that include editing and streaming.
What's in the box

Package contents:
1x OMI Camera
1x OMI Stand with Quick Release
1x 360 degree Quick Release Clip
1x Quick Release Set (Flat Mount, Screw Mount, 3x Tape)
1x Carrying Bag
1x Micro USC Charging Cable
1x Screw Driver
1 x Instruction booklet
Design and features
The OMICAM VR action camera is a small, compact, water resistant action camera that records video in 4K, and has the ability to provide stabilization on both horizontal and vertical planes even with rigorous movement. At the top of the camera, there is the lens in a circular encasement, and on the front, there is a shutter button.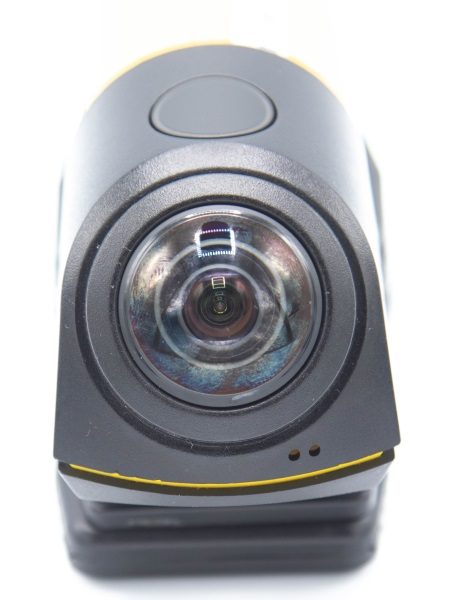 On the bottom there is a ¼"-20 female threaded mount.

On the left is the power button and Wi-Fi button as one button, the micro SD card port, and the USB port.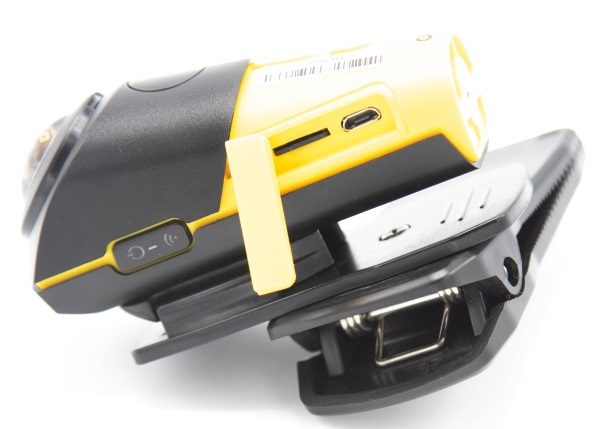 On the top at the back there is the Lifelog button which allows you to switch the selection between photo and video. The camera and video icons light green when the camera is on and in ready mode, and the video icon lights red when recording video. The camera icon flashes blue when the shutter button is depressed to take a picture.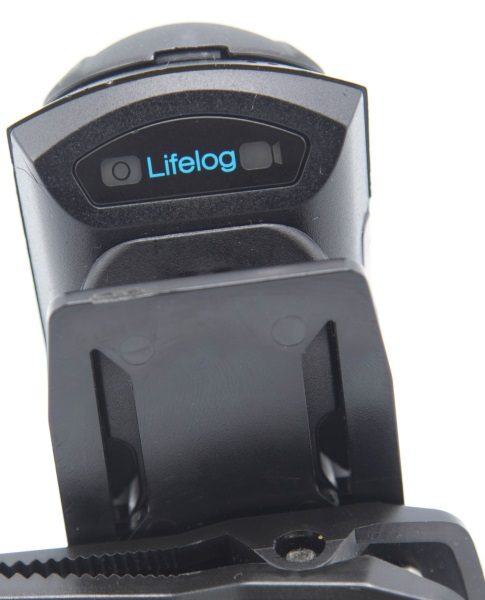 The rest of the back has the mounting holes for the various mounts.
This action camera has a lens that is able to capture footage at a 240 degree angle, which provides a nice perspective when moving up or down or side to side. When I viewed the video, looking at the footage from that VR 240 degree perspective was strange. The camera recorded both video and audio, and for every one minute, it took up 108MB of space on my micro SD card. It has a 12 Megapixel Sensor for capturing great images,  records up to 80 minutes in continuous video mode,  2 1/2 hours of video in lifelog mode, and 15 hours of video when filming in long period Lifelog mode. It records 4K video at 30 frames per second. In Lifelog mode, the OMI Camera uses a smart algorithm to record up to 15 hours of film. It does this by turning off for 3 minutes and then waking up for 5 seconds to record video. It continuously repeats the cycle. It can also take snapshots/photos at intervals.
Once you download the app, it connects to the OMI Camera via the Wi-Fi built in to the camera. When you open the app you see the main screen.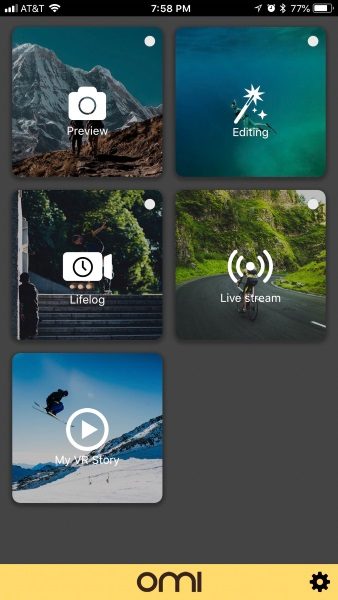 From the app you can go into the recording screen and choose photo mode or video mode, and either take a picture or start and stop the video recording. The camera records in one minute files that are 108MB in size. When you are done with your recordings, they can be viewed and edited by going to the edit tab.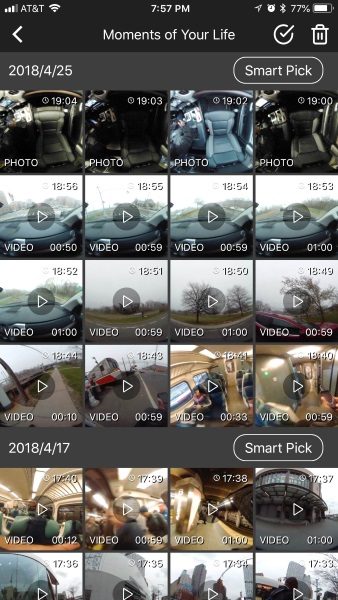 Once you select a video to edit, you can play it, choose to add or remove stabilization, and/or make a square video for mobile upload or sharing. You can also save it to an album. You can also take snapshots with this camera and process them via the mobile or desktop app.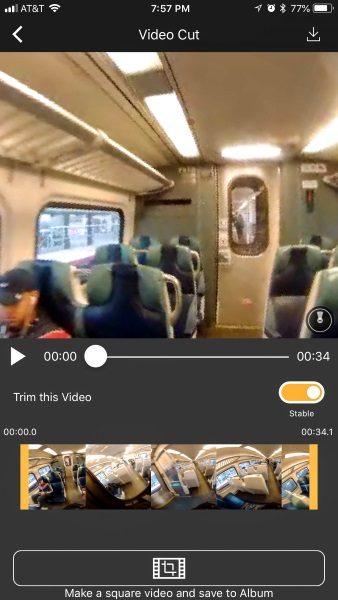 On the top right hand corner, there is an icon to download the video. When that icon is selected, the next screen gives you the option to download as a VR story in different resolutions, or save as the original video.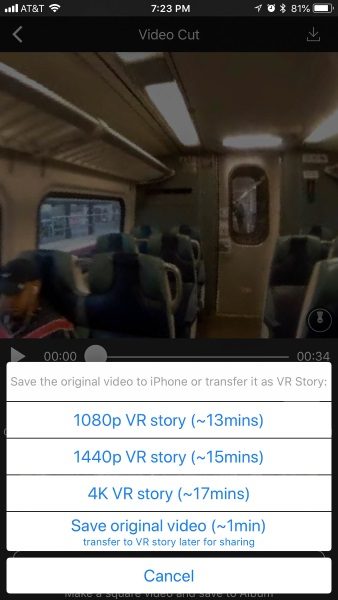 There is also a settings screen that allows you to set up the operational basics of the camera. This screen also has a link to FAQs, the Privacy Policy, the Terms of Service, and the usual "About" information.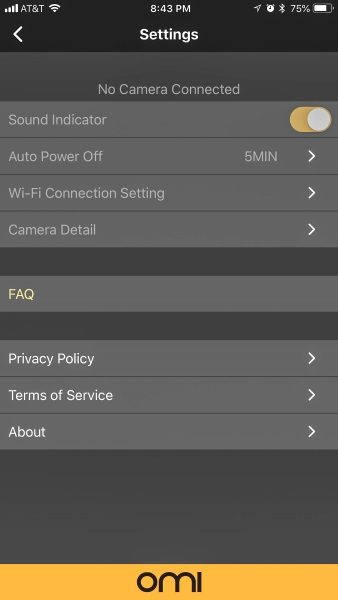 There is also a desktop version of the software for both PC and MAC. Once downloaded and installed, you can create a VR Story, or process a single video, or batch them together.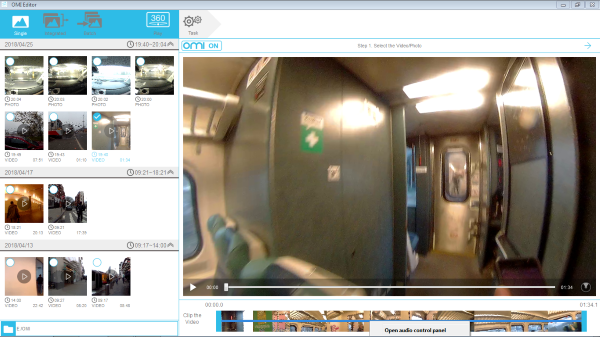 The following are links to 2 videos that I recorded with the OMICAM during my daily commute:
Here is a snapshot that I  took from above in my truck: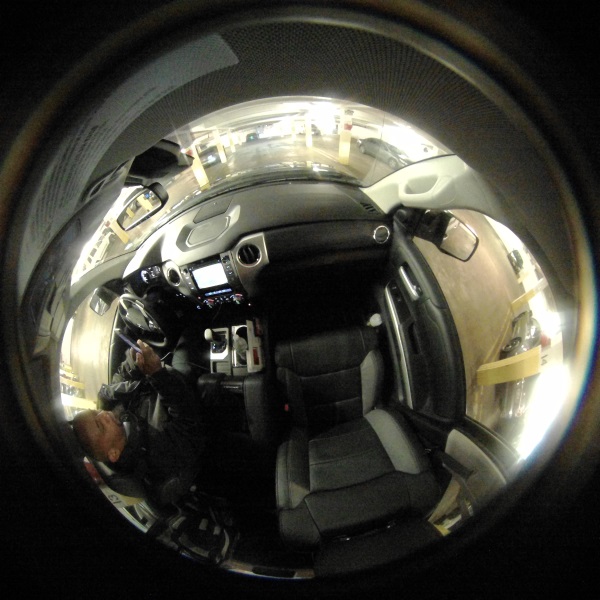 What I like
I like that this action camera can capture clean video footage in 4K and that it has versatile mounting capabilities. It also includes the ability to mount a tripod plate, or the numerous other ¼"-20 available rig options. The audio is also quite clear for anything audible in relatively close proximity.
What can be improved
The two major aspects that can be improved are the access to the micro SD card slot, and the cover that slides on to protect the ports and the front bottom half of the camera. The micro SD slot is indented and I guess because of my "big" fingers, I had to use a paper clip to fully insert the card. To remove the card, I once again had to use a paper clip to press it in to engage the spring loaded mechanism, and once it popped out, I was still unable to pull it out by hand. I had to use tweezers squeezed tightly to get the card out the rest of the way.
When I first examined the front cover that protects the ports, I felt that it did not click into place securely, and that it could be easily lost. Sometime during my third recording outing and just as I suspected, it fell off and was lost.
Final Thoughts
The Omicam 4k VR action camera is a nice action camera for someone that enjoys capturing and watching footage from that 240 degree perspective. It is quite different from a conventional video camera, and even different from the famous GoPro action camera. Whatever footage that you capture with this camera will be very good. I do believe that in scenes such as kayaking through waves that pass over you, or in adventurous places like caves in mountains, etc, it would provide amazing footage. In my opinion, while it is unlikely to be an everyday mainstream action camera for many, it will be very popular for people seeking the specific perspective that it offers. On the other hand, the very effective built-in horizontal and vertical stabilization may very well make it a major contender against some of the more popular action cameras on the market today, as long as the front cover issue is resolved.
Update 5/30/19
OmiCam, the outdoor wearable VR camera, has improved its firmware and software for better VR content producing. Download OMI Studio (MAC/ Windows) for free to add the new Lifelog setting and Instant sharing which provides the advanced function for sharing OMI stories on your Instagram.
Price: $249.99
Where to buy: Omicam and Amazon
Source: The sample for this review was provided by Omicam.