We use affiliate links. If you buy something through the links on this page, we may earn a commission at no cost to you. Learn more.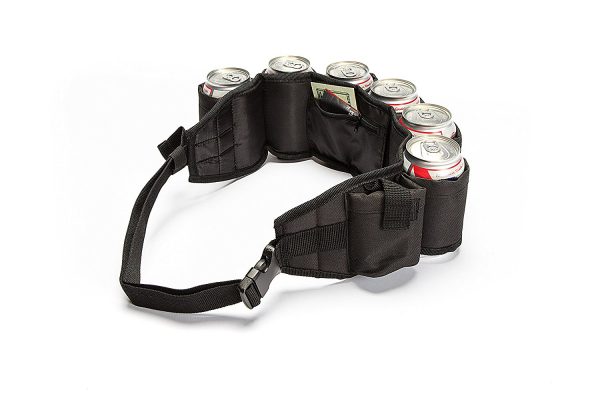 Most of us are used to carrying our wireless gadgets around on our hips by now, but did you ever think there would come a time that you could carry around six beers, your phone/wallet, a pack of smokes, and still be handsfree? That time is here and that time is now; it's  2018, people.
You'll no longer need to tell your friends, "hold my beer" before you do something stupid because BeerBong.com is introducing a product we've all been drunkenly waiting for: the beer belt.
Don't worry, this beer belt is made from waterproof ballistic nylon, so it's durable enough to withstand the hardest of parties and it's insulated so your beers or sodas won't get cold too quickly.
It is adjustable to fit people of almost all sizes (up to a 58-inch waist) and comes in six colors to satisfy all types of tipsy people including black, blue, pink, red, and even camouflage and leopard print!
It has a velcro side pocket to hold your cell phone, a pack of cigarettes, tootsie pops or whatever else you carry around drunk. There's also a zipper pocket in the front to hold smaller items of importance like your money, ID, credit card, a stick of gum, and that Wendy's coupon you found on the floor.
Calling all party animals! This is the perfect weapon for sporting events, fishing, camping, and college students.
BeerBong.com is selling them now for $19.99 and they are also available on Amazon.