We use affiliate links. If you buy something through the links on this page, we may earn a commission at no cost to you. Learn more.

What is it?
The Aicook 15-Piece Blender is a portable blender that is designed to blend fruits, and vegetables, and many other ingredients that are used to create smoothies or health drinks, etc.
What's in the box

Package contents:
1 x High torque power (Base unit)
1 x Stainless steel flat blade
1 x Stainless steel cross blade
1 x Tall Cup
2 x Short Cup
1 x Shake and take Cup
1 x Sip & seal lid
2 x Stay fresh re-sealable lid
2 x Handled lip ring
1 x Recipe guide
1 x Instruction manual
1 x Service card attachment
Design and features
The first thing that I noticed about Aicook Blender is its similarity to the Nutribullet Blender. The base unit is the same in size (circumference), height, and weight, and almost identical in design.
The cups are also very similar and of the same material, but my Nutribullet did not come with a stainless steel flat blade. The blades and housing are almost identical as well, with the exception of their weight and how solid they feel. The Aicook blades and housings feel much lighter and not as well built.
On to testing:
In my household, eating healthy is an everyday endeavor, so ingredients are always readily available. We started with the cross blade and a fruit combination of watermelons, and bananas, and within seconds the Aicook pulverized the fruit into a just about perfect drink, and it did so in a third of the time that it takes the Nutribullet to do the same job.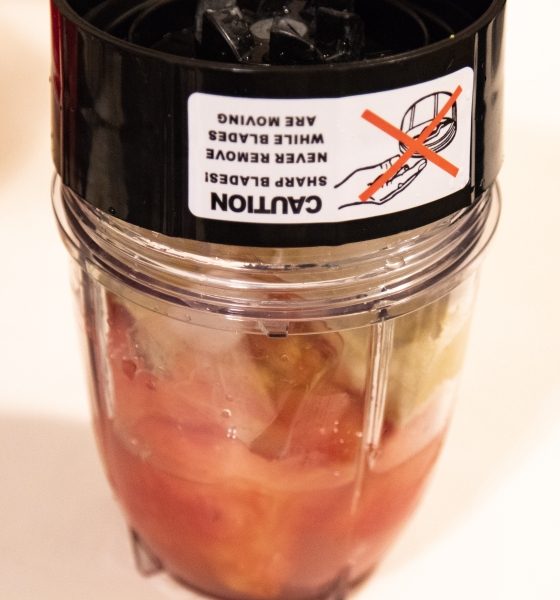 This was really exciting since it did the job in about 30 seconds and there was no undesired pulp to strain. We tried the same blend again with additional fruit and milk to make a milkshake, but since there is only one speed, we were unable to get the thick milkshake texture. It was either it needed to be blended more because chunks of fruit still remained, or a few seconds later, it was complete liquid.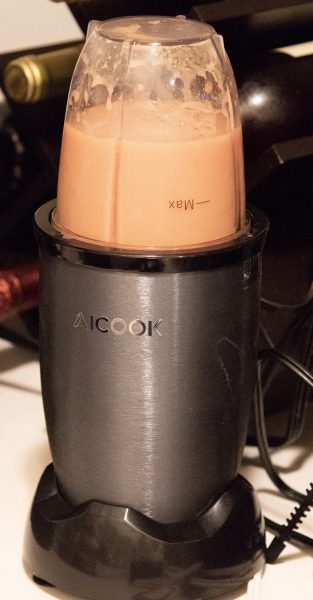 Nevertheless, we were very happy with the way it blended our health drink mixtures.
We use a lot of almond products in our health food creations, and in many cases, we use the Nutribullet to blend almond nuts into a flour type mix, that we then use to make various dishes.
Since this was a test, we used just a small amount of almonds with the flat blade.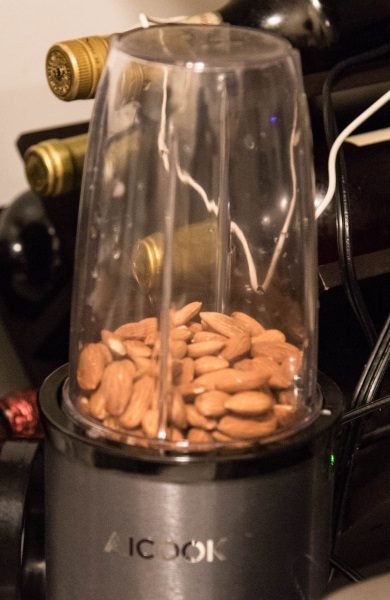 We blended them for about 30 seconds, and we could see the almonds being blended into a nice texture, of what we call our version of almond flour or meal. After checking the texture, we blended for 30 more seconds and it was just about done with the exception for a few almonds.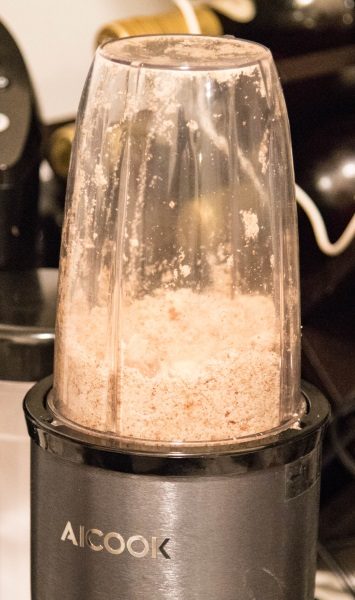 We were very happy with the mixture and we figured that it only needed about 15 more seconds of blending. We put it back on and started to blend but in about 10 seconds we heard a pop and there was a strong smell of burning rubber. Lo and behold, when we took off the cup, the rubber gear (or what seems to possibly be some composition of rubber and/or plastic) that engages to perform the blending had broken apart. This was very disappointing since otherwise, the blender performed amazingly well and handled tasks much faster than the Nutribullet.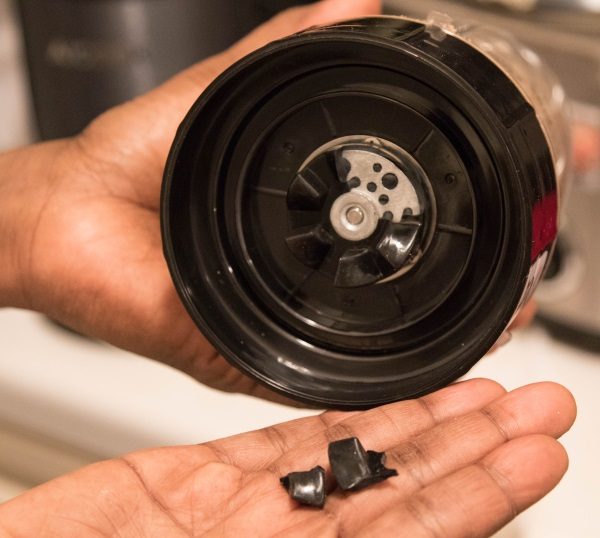 Based on this issue, we decided not to risk any further testing.
What I like
Despite the failure of the flat blade and its housing, I really like this blender. It works at a great speed that does the blending job very quickly, and it blends to liquid form very quickly and effectively. The base unit is solid, and the set comes with all of the accessories that anyone would need.
What needs to be improved
The only complaint that I have about this blender, and it is a major one, is the quality of the blades and their supporting housings. Not only does the quality need to be better, but if it is the case that the part I received was simply defective and not a good representation of the usual quality, then the quality control needs to be much better. And, since the blender is capable of such great speeds, the ability to have a speed selector would be a plus.
Final Thoughts
The Aicook Blender has all of the potential to be a great product, and at its price point it is very competitive. While the base unit is well built, it seems that they skimped on the build quality of some of the other parts, possibly to keep the cost down. While I had the unfortunate experience of the equipment failure, I still like this blender and I may purchase a replacement flat blade (if available), and try it again.
Price: $65.99
Where to buy: Amazon
Source: The sample for this review was provided by Aicook.