We use affiliate links. If you buy something through the links on this page, we may earn a commission at no cost to you. Learn more.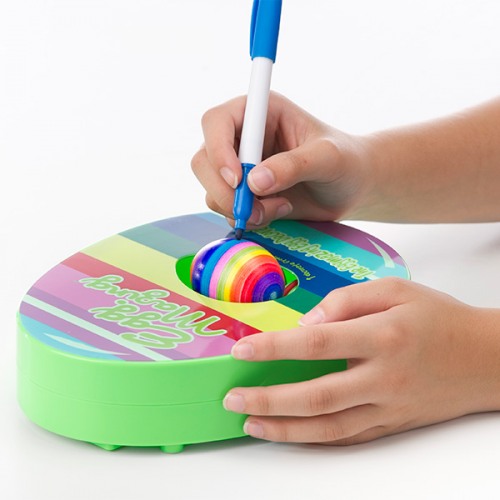 While coloring Easter eggs this year, don't scramble! The Eggmazing Egg Decorator will make all your worries and messes disappear, leaving you feeling sunny side up!
This new gadget is likely to enhance your child's creativity, intelligence, and curiosity. To use the Eggmazing Egg Decorator, simply put the hard boiled egg into the machine and turn it on. Similar to the artistic technique used in making pottery, the egg will start to spin, and from there the egg is your canvas. All you need to do is press the marker to the egg, and the machine spins to make the stripes and design your one of a kind masterpiece. It comes with 8 non-toxic markers, but feel free to use other forms of coloring utensils.
To get the best results, use large Grade A eggs and make sure the hard-boiled eggs are completely dry before decorating them. This toy requires 4 AA Batteries. You'll be able to reuse the Eggmazing Egg Decorator for years, and the best part is, it's only $29.99 from Amazon!