We use affiliate links. If you buy something through the links on this page, we may earn a commission at no cost to you. Learn more.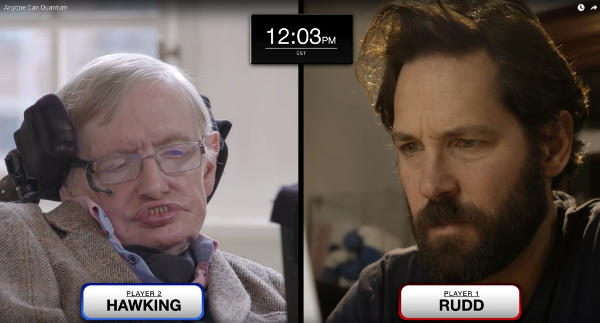 Stephen Hawking, a renowned theoretical physicist, and well-known author passed away on March 14, 2018. He may have been one of the more famous and brilliant scientists of our time, but isn't it wonderful to know that he had a fabulous sense of humor? It makes him a bit more human to the rest of us.
I thought it would be nice to celebrate him and his humor by sharing a video released two years ago of the epic Quantum Chess match between him and Ant Man's Paul Rudd. The video is narrated by Keanu Reeves and directed by Alex Winter (from Bill & Ted's Excellent Adventure). Whether you are seeing it for the first time or this is your umpteenth time, it is thoroughly entertaining.
Quantum Chess is a real game and was created by Chris Cantwell, a University of Southern California graduate student. He created a Kickstarter campaign back in early 2016 to help get Quantum Chess out to the public to encourage people everywhere that "anyone can quantum". Read his story here. You can find out more about Quantum Chess and get early access to the game ($9.99) by clicking on this link.
There also appears to be a couple of other Quantum Chess games available through Apple's App Store and Google Play, just in case you want to check them out…