We use affiliate links. If you buy something through the links on this page, we may earn a commission at no cost to you. Learn more.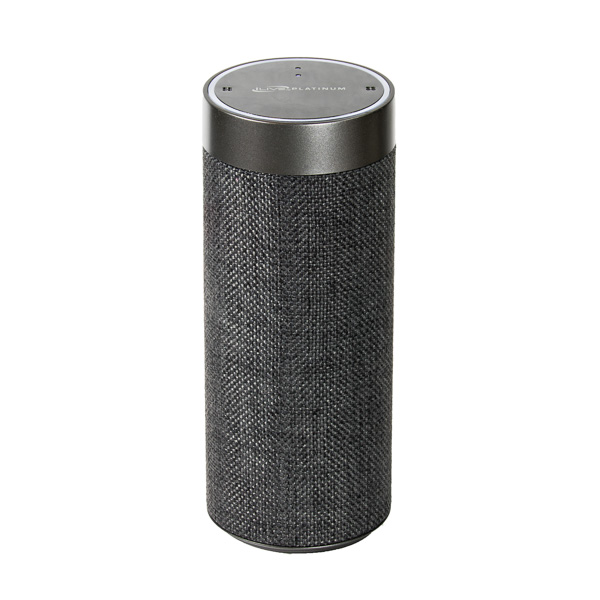 As smartphones have become more prevalent, people have become used to having all of their information and entertainment with them 24/7. That growth has sparked a surge in portable wireless speakers. I always found these wireless speakers to be a bit too "single use". If I'm going to haul around a device, I prefer to have it able to do more than just one thing. The iLive Voice Activated Amazon Alexa Portable Wireless Fabric Speaker is just such a device.
What is it?
The iLive Voice Activated Amazon Alexa Portable Wireless Fabric Speaker is a wireless speaker that implements Amazon Alexa and several other streaming services to provide a very well rounded listening experience. The rechargeable battery allows for portability at home or on-the-go.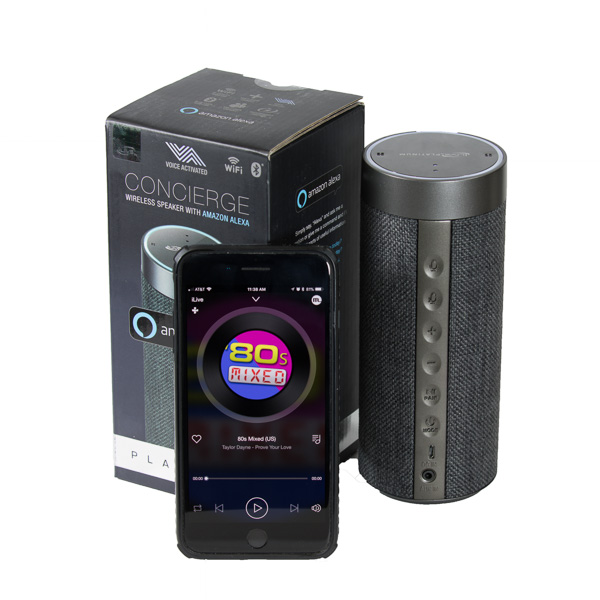 What's in the box?
Concierge Speaker
Micro-USB to USB cable
3.5mm Audio cable
User's Guide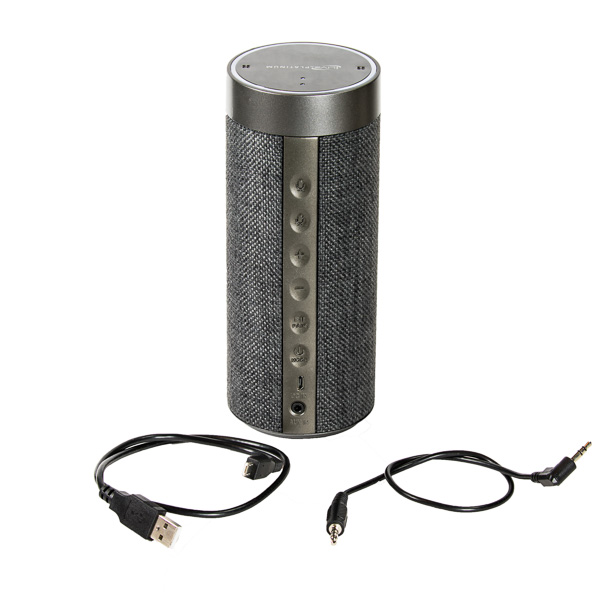 Design and features
One of the main features of this speaker is that it can connect to your the internet via WiFi. The free iLive app is then used to control the device over WiFi instead of using Bluetooth, which provides for much more range than Bluetooth.
The iLive Voice Activated Amazon Alexa Portable Wireless Fabric Speaker can also play music from your phone music library and also has a 3.5mm auxiliary audio input jack that can play audio from just about any source.
If you are away from home or don't have access to WiFi, the speaker can connect to your devices via Bluetooth.
The iLive Voice Activated Amazon Alexa Portable Wireless Fabric Speaker looks and feels like a quality product. It features a nice tweed speaker grill over much of the speaker, indicator LED's and ring, as well as well understood rubberized buttons and a non-slip foam base.
The full feature list is well rounded:
Wireless speaker
Voice-activated Amazon Alexa
Bluetooth wireless
Built-in Wi-Fi, Wi-Fi Direct & multi-room play
Multi-user capable
Aux in (3.5mm audio input)
Stream from iHeartRadio, TIDAL, or audio stored directly on your device
Built-in microphone
Micro-USB port for battery recharge
Play/pause/pairing button
On/off switch
Digital volume control
LED light ring
LED function indicator
Charge indicator
Wireless range: Bluetooth – 33 feet, Wi-Fi – 98 feet
Cloth speaker grill
DC battery power: built-in rechargeable lithium ion battery
Battery life using WiFi: ~1-2 hours at 50% volume
Battery life using Bluetooth: ~5 hours at 50% volume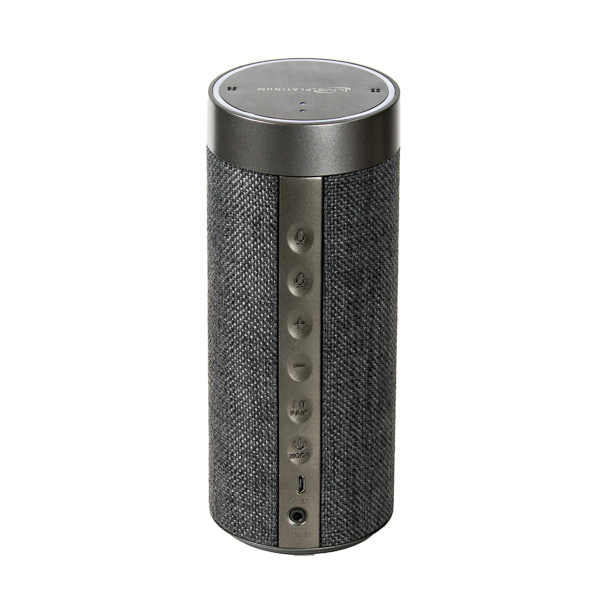 The Amazon Alexa service is voice controlled, and all of the other services are controlled through the iLive app on your smartphone, however, Amazon Alexa does play the music on your phone.
As a software developer, I'm pretty particular when it comes to apps. If there's one thing I can do that would be finding bugs and user interface discrepancies in apps. I've been writing commercial software for over 20 years so I have seen my share of bad software. This is where the iLive app really impressed me. Starting from the step-by-step setup all the way through to the main operation of the app, the iLive app was easy to use and understand.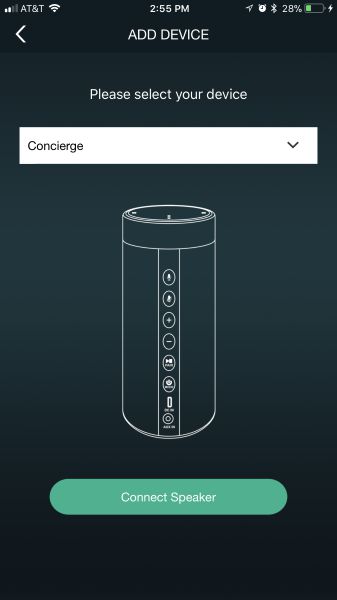 Perhaps one of the most intriguing features of this speaker is the ability to pair up to 6 of these speakers together and have them all play simultaneously and synchronized. However, when they are paired only the primary speaker can be used to control Amazon Alexa. To add or pair more speakers you simply slide left to reveal the Device List tab, then tap the plus icon and follow the on-screen prompts, just like setting up a device for the first time.
Once the device is added it can be controlled separately, or you can simply drag the device in the list onto another device to pair it. Once it is paired you can select which speaker is the left channel, right channel, or have each speaker play the same. If you don't remember how to do this, simple tap the "How to switch between solo and multi mode?" text and you'll get an instruction screen.
I really like the fact that the iLive app also has the ability to update the firmware in the speaker – wirelessly. Normally most devices require you to use a USB connection with a desktop computer to update the firmware.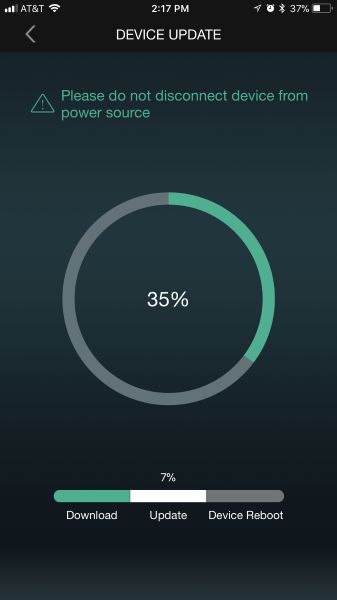 Initially, Amazon Alexa had an almost unbearable 8-second delay in providing answers or responding, which was quite a bit more than other Amazon Alexa devices, but an update for the iLive speaker firmware fixed that so it's now only about 2 seconds or less which is right on par with Amazon's own devices.
Verbal requests to Amazon Alexa are handled seamlessly, muting what ever audio is playing while Alexa responds to your requests.
Another thing that really impressed me was that the specifications state 1 to 2 hours of battery life on WiFi, but I found that it operated much longer than that. For example, after four and half  hours of streaming music and podcasts via WiFi at 50% volume the app showed that the battery level was still at 64% – wow!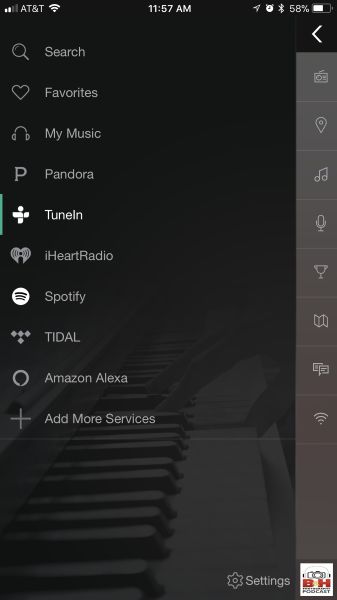 What I like
Excellent Printed Quick Start Manual
Surprisingly good smartphone app
Very nice FAQ guide
Rechargeable battery, I can carry the speaker to another room with me and not have to pause music or miss what I'm listening to on live radio.
Longer than advertised battery life.
Built-in services within the iLive App: Amazon Alexa, Spotify, Pandora, iHeartRadio, TuneIn, TIDAL, plus all of the music on your phone.
You can search for stuff in the other services (like TuneIn) while your previous audio continues to play.
Responsive customer support. I contacted iLive with a question in the late afternoon about the different models and received an e-mail response in less than 20 hours.
The Bluetooth mode is extremely useful for playing audio through the speaker while watching video on my phone. I often find myself in a room other than my office watching and listening to a video while doing something else and the phone speaker is not loud enough. This speaker is definitely loud enough.
What needs to be improved
Although not a big issue, it would be nice if there was a desktop version of the app.
Audiophiles may not like the quality of the sound on the device. For me, it sounds good enough, although it could use a little more bass. It's extremely good for listening to podcasts and talk radio.
There's a device tab in the app, but there's no indicator that it's there. Swiping left reveals the Device List, which shows all of your devices (speakers) and for each one you can see what's playing, pause, play, pause all, play all, and access the settings for that device as well as view the battery level. If you have multiple devices, this is where you can select the device then go to the services list and choose audio to play on it.
Final thoughts
I've seen many devices in my time that were great on the hardware side but severely lacking on the software side of things. This iLive speaker excels at providing a great app that makes operating the device simply a joy.
Price: $65.00
Where to buy: iLive Electronics and Amazon
Source: The sample of this product was provided by iLive Electronics.