We use affiliate links. If you buy something through the links on this page, we may earn a commission at no cost to you. Learn more.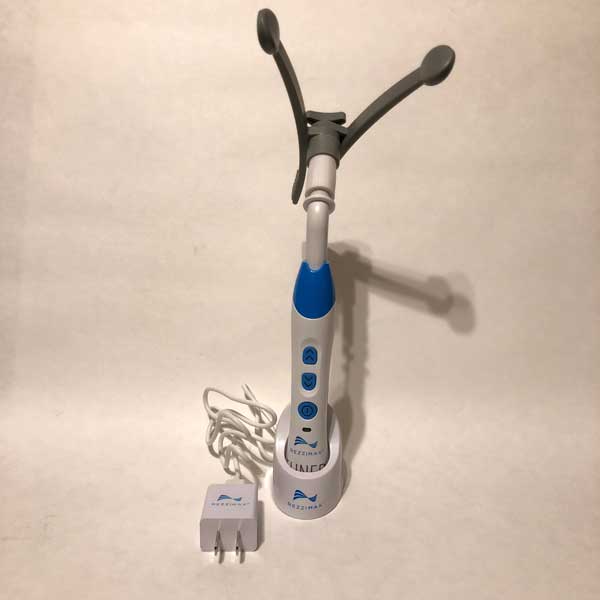 A few years ago I took a pretty bad fall while skiing and injured my neck and suffered a concussion, which has had lasting effects to this day.  I was interested in the Tuner from Rezzimax because it offers multiple applications for high frequency massage of your neck, shoulders, face or anywhere else you may need a little relief.
What is it?
The Rezzimax Tuner is a compact yet powerful personal massager that is aimed to assist people with migraines, neck pain, jaw pain (TMJ), sinus pain and other ailments.  In a few minutes of use the user can experience substantial relief if not total resolution of the pain they are experiencing.  The Tuner is portable, wireless and easily fits in your hand.  It utilizes adjustable high frequency vibrations to massage your problem area and bring relief in a short time.
Hardware Specs
The Tuner weighs two pounds and is 10 x 6 x 2.5 inches (about the size of an electric toothbrush when the massaging head is not attached).  I couldn't find any information about the battery but I have been able to get many sessions with this out of one charge so battery life isn't a concern for me.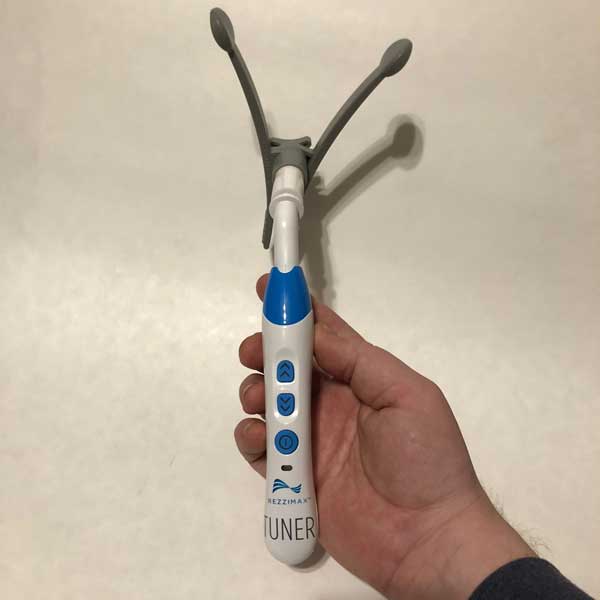 What's in the box?
When you purchase a Tuner, you receive a hard sided carrying/travel case with a sturdy sipper closure.  Inside the case you will find the Tuner base, adjustable massaging head attachment, a charging base, USB/micro USB power cable and a wall adapter that is similar in size to an iPhone power cube.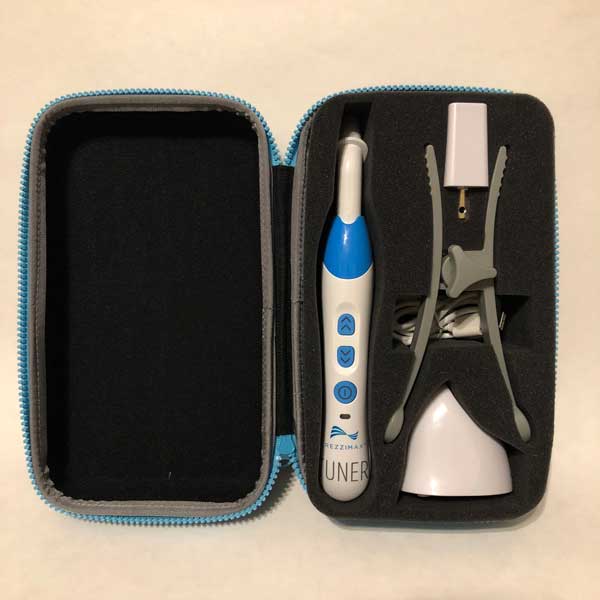 Designs and features
The first thing I noticed about the Tuner compared to other massagers I have seen or used was the compact size.  With the sturdy, hard-sided carrying case I have been able to pack this in my briefcase or suitcase to go to the office or on a trip without taking up much room.  Once I began using it I instantly was aware of the resonance technology that they discuss on their website.  This massager vibrates at a much higher frequency than other products on the market.  At first I didn't know if this would make a difference but after a few sessions with it I really noticed a difference in my neck pain, sinus pressure and overall stress level.  It has a way of humming you into a very relaxed state while your trouble area is worked on.
The battery life has not been an issue for me.  I have used it multiple times on a single charge, and while I cannot find information on the battery capacity or battery life, I am not concerned with running out of juice once charged.  The unit charges wirelessly in the base so all you have to do is set the Tuner base in the charging cradle and it begins the charging cycle automatically.  I love this feature as I'm sure anyone with anything that charges wirelessly does.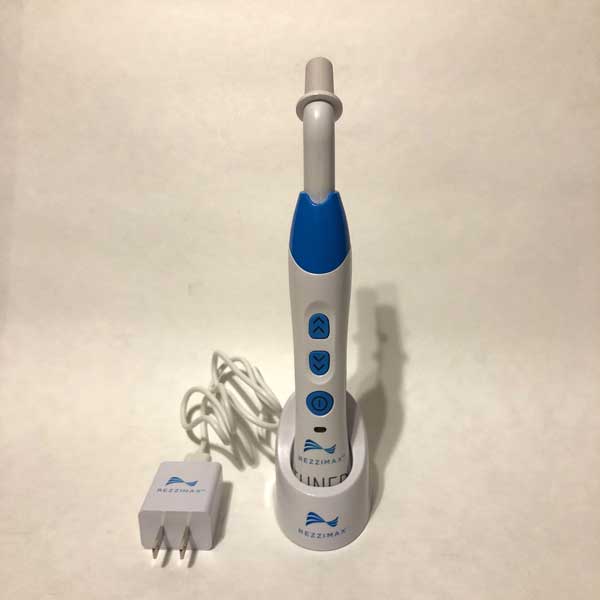 The dark grey adjustable massaging head can open or close to fit most of your needs.  I say "most" because I have a slightly larger than average head and the arms do not open wide enough for me to massage moth of my temples at once, which is a big drawback for me as that was a feature I was really looking forward to.  I do use the adjustable head to massage my neck, face and head and it honestly feels AMAZING!   In one of their videos they even show putting the massager in your mouth in between your cheeks and upper gums to relieve TMJ pain.  I have yet to try this as I don't have TMJ issues but I can imaging it would provide relief just like it has for my headaches, neck pain and sinus pressure.  You can also use the tuner without the grey attachment for a more precise and intense massage.  I usually go without the attachment for my neck where I can really get into those tight muscles that cause my headaches and where I hold my stress.
What I like
It works!
7 levels of vibration to dial in the treatment you like best
Results in minutes
Compact size/carrying case
Wireless charging
Long battery life
Natural alternative to pain management through medication
Attractive and high quality design
What needs to be improved
Wider messaging head to fit more people to massage temples
At $249, it comes in at the higher end of personal massagers.
Final thoughts
Since receiving the Tuner, I have been hooked.  I have used it when I am in pain or had sinus pressure but have also used it just to relax at the end of the day.  I keep it in my briefcase so I can use it at the office or at home and find myself reaching for it instead of the bottle of Advil.  If you suffer from any of the issues I have mentioned here or that are listed on the website, or just carry a lot of stress and get relief from massage, I can confidently recommend this product.  I think the price tag of $249 is a little high but can't argue much since I have seen results and it has relieved my pain.  From that perspective, I think it is worth it.
Price: $249
Where to buy: Rezzimax
Source: The sample of this product was provided by Rezzimax.