We use affiliate links. If you buy something through the links on this page, we may earn a commission at no cost to you. Learn more.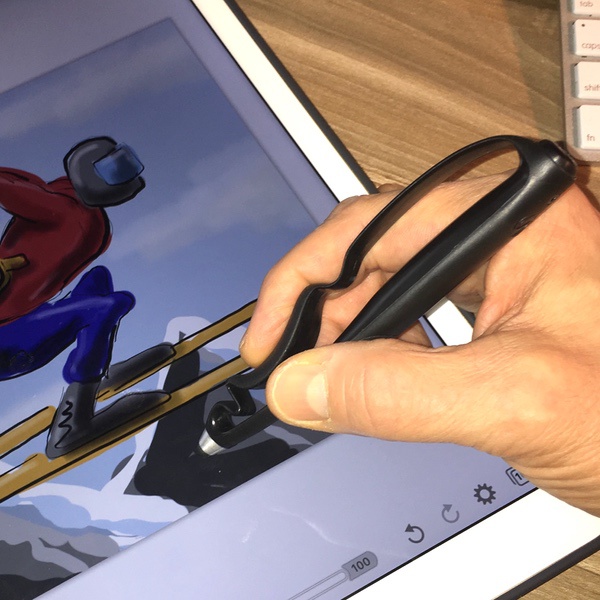 The digital stylus, reimagined. That's what Scriba did, investing an impressive amount of research and design into building a stylus for creatives that's not quite like anything else I've played with before. It's definitely innovative, and there's a lot to like. How does it work? Let me draw you a picture… or two… or three…
What is it?
It's a Bluetooth-enabled stylus for your mobile devices that's been  features a unique ergonomic design, "squeeze motion" technology instead of buttons, and haptic (vibration) feedback.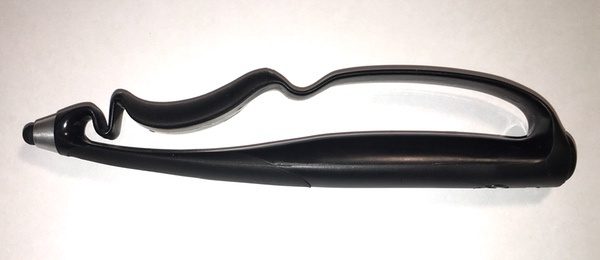 Hardware specs
Stylus weight: 16 grams
200 hours of rechargeable battery life
Charges via micro-USB cable
Dynamic "squeeze motion" technology for extended app interactions
Haptic (vibration) app support for tactile feedback
What's in the box?
The Scriba stylus
Micro-USB charging cable
3 additional replacement silicone tips
Design and features
About Scriba
I spent some time talking to David Craig, Scriba's founder, to learn more about the origins of the product. Based in Dublin, Ireland, the Scriba team set out on a mission to rethink the concept of the digital stylus from the ground up. It's an impressive story that involves rigorous usability testing, industrial design, and the development of 136 different prototypes (136!) that resulted in a product that has since received numerous prestigious design and innovation awards. Check out the full story on their web site, which details their long journey. It's a good read.
Overview and Walkaround
The Scriba is is based an open-framed, ergonomic layout that's designed around the shape and movement of your hand. The barrel of the stylus is straight and rests along your thumb line, while the body is contoured to create a natural grip point for your pointer finger. The primary contact points for your thumb and pointer finger are enhanced with a rubberized surface to improve control.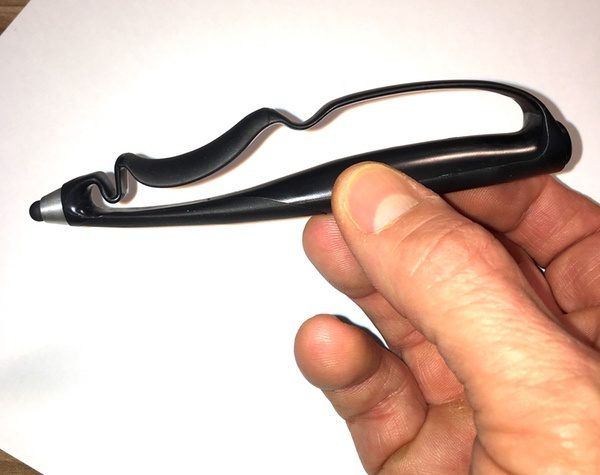 You won't find any buttons on the Scriba. The body of the stylus is flexible, and responds to squeezing/pinching between your thumb and forefinger. This enables what Scriba refers to as "squeeze motion" pressure-responsive technology, which provides airbrush-like control of stroke widths in drawing/painting apps. The Scriba stylus also utilizes haptic feedback, which uses a vibration in the pen to confirm other squeeze-based actions or alerts in compatible apps.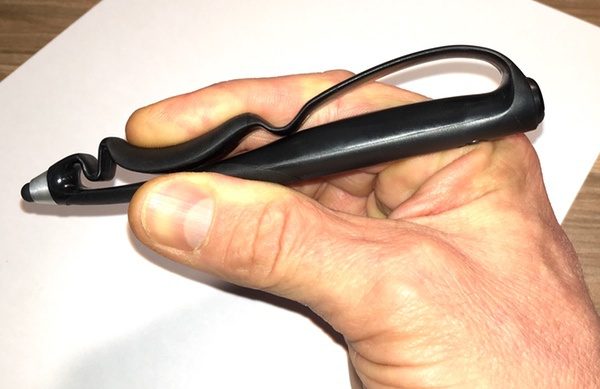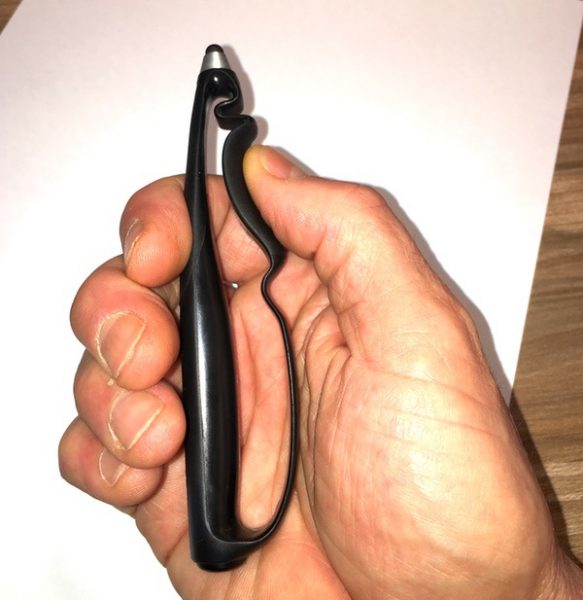 To charge the Scriba, unscrew the cap on the base of the pen and plugging in the micro-USB cable. You won't need to do that too often, though: the Scriba stylus can go for an outrageous 200 hours of continuous use between charges  and 6 months of standby mode! Considering that the whole device barely tips the scales at a feather-like 16 grams, this is really impressive. The unit can be recharged in about two hours.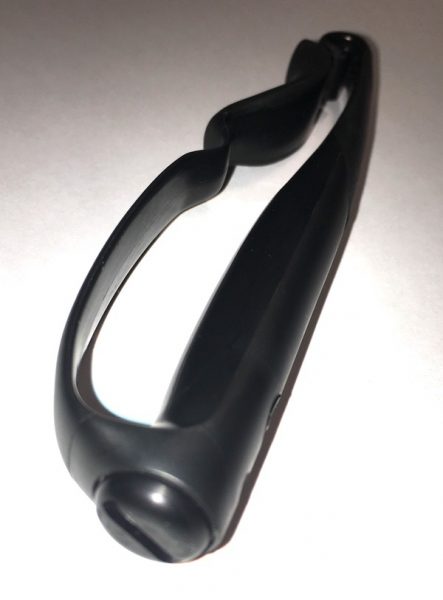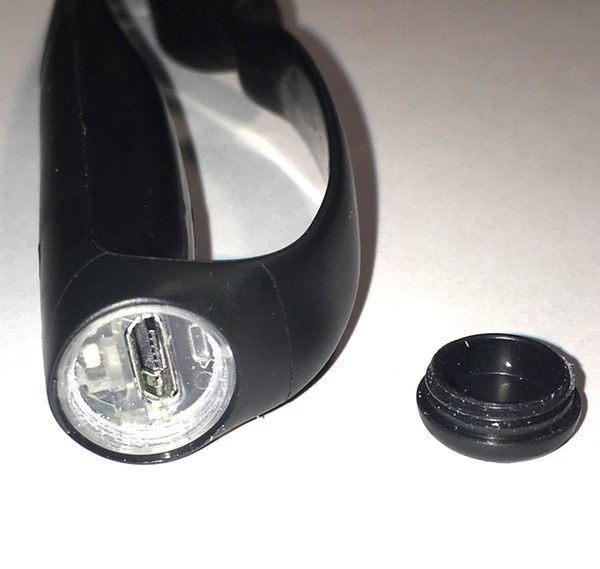 The Scriba utilizes standard silicone tips on the business end. The top is secured by a screw-on aluminum cap to keep it tightly in place, which is nice to keep the tip from popping off in the middle of a drawing session.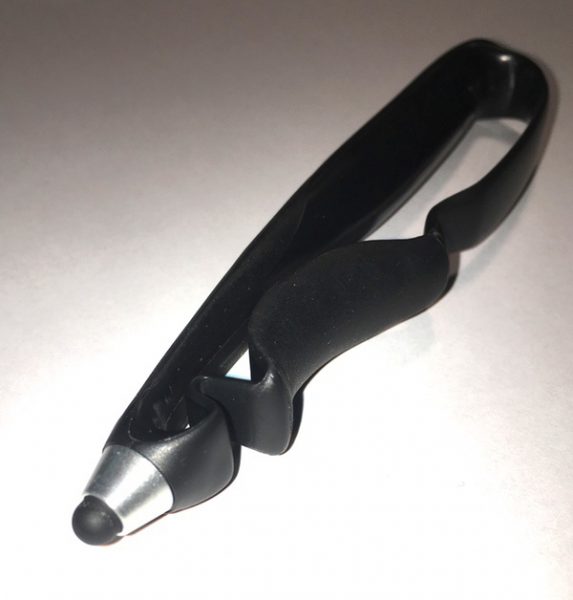 Apps and Compatibility
It's important to note that the advanced features of the Scriba are dependent on using Scriba-enabled apps. A list of iOS-compatible creative and productivity apps are listed on their web site (Android and Surface compatibility are in development). Scriba is continuing to partner with app developers to expand their compatibility, so it's worth watching their site for updates if you're looking for specific app pairings.
Scriba also produces their own apps that fully leverage the features of the stylus including a paint program, photo app, and slide presentation tool. I'll touch on these in the performance review below.
Performance
My weapon of choice for drawing is the Apple Pencil, which I consider the gold standard for creative pursuits. It sets a really high bar for control, intuitive use, and natural feel. After a month with the Scriba, I'm impressed with what it has to offer. There's a lot to like about the Scriba's innovative design, and a ton of potential in the future.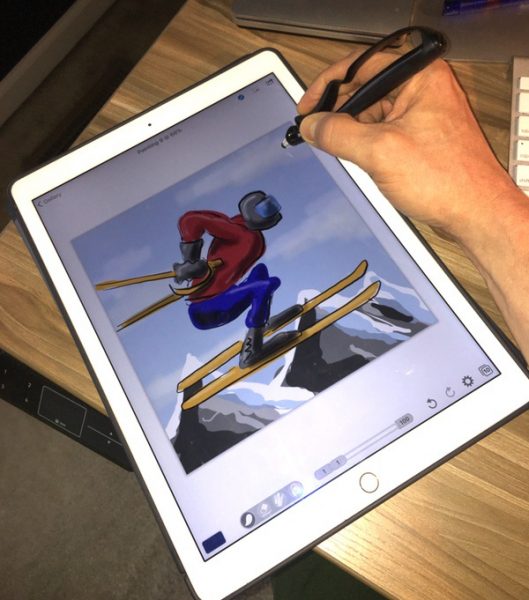 From an ergonomics perspective, the form factor of the Scriba is marvelous. It sits naturally in your hand, requiring less pressure than typical-pen style designs to maintain constant control while writing or drawing. It also feels great when engaged in free-flowing hand/wrist movements you'll use for drawing or painting. It's so light that you are barely conscious of the weight of the device. And boy, is it comfortable… I was really surprised at how comfortable it is for extended drawing sessions.
I took the Scriba for a spin in my favorite drawing package (Procreate), to see how it would work. While pressure sensitive control is not available at this time, the control and precision for general work (sketching, inking, and linear airbrush effects) is excellent. The silicone tips provide the same challenges as other similar styli with respect to ultra-fine detail, but the fine point helps to overcome this issue. Here's a sample piece I did that I was very happy with: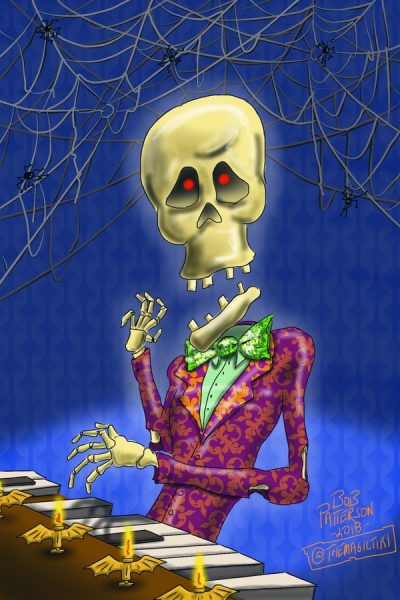 Taking the Scriba to work with Brushes4Scriba, Scriba's paint program, shows the potential of the squeeze motion technology. If you've ever worked with an airbrush, this will be a natural fit for you. Here's a sample shot of me playing with stroke weights in the Brushes4Scriba app: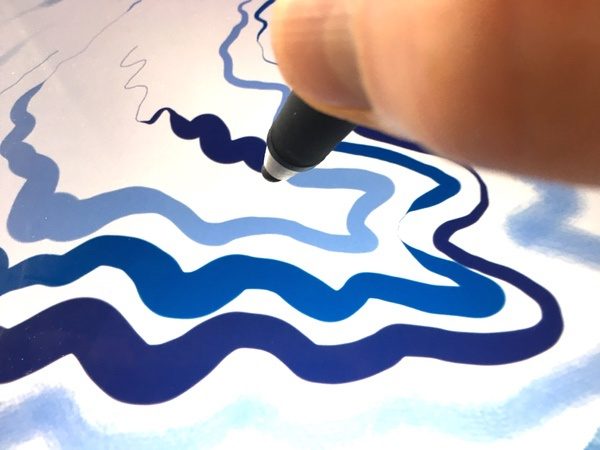 You can set limits on the minimum/maximum brush widths variations and levels of transparency to create variations in stroke types for graphic-style illustration, like so: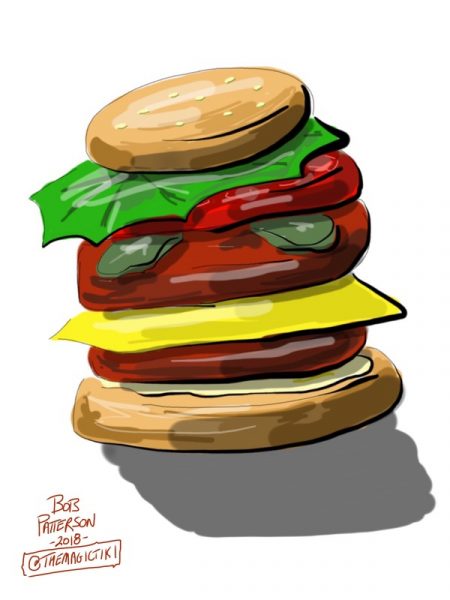 You also have a variety of patterns to choose from that you can apply to brush strokes to give texture to your work: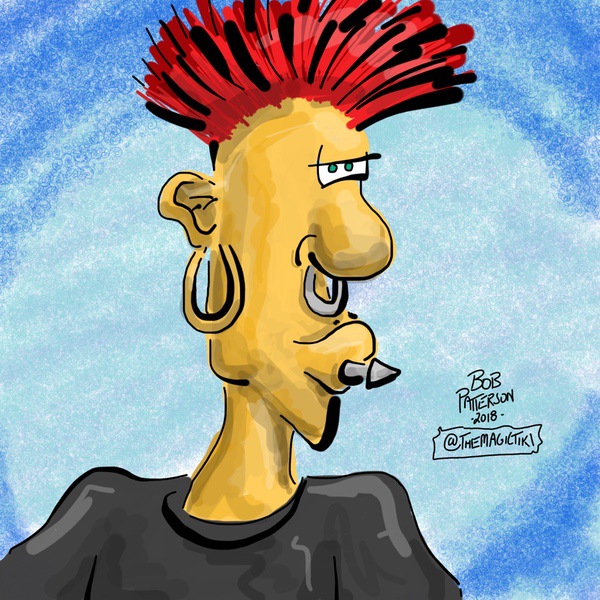 I'm still getting used to the airbrush-style controls… here's one I did after a bit more practice: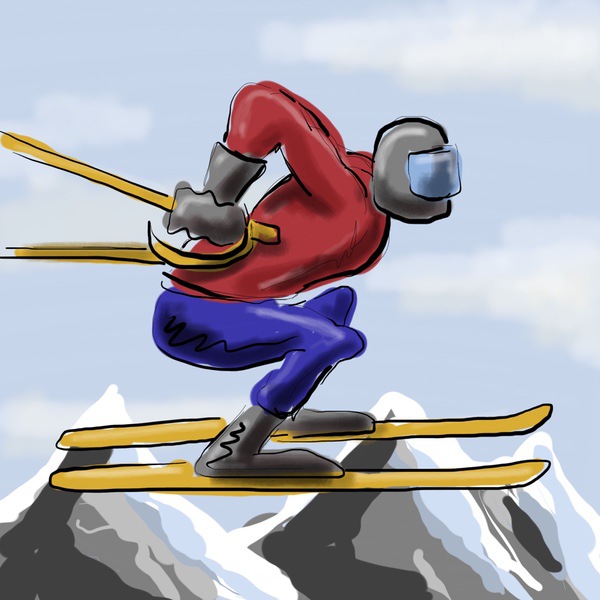 The squeeze motion technology, coupled with the haptic feedback, enable additional extensibility depending on the app you are using. All Scriba-enabled apps pair with the device by squeezing the stylus. Then you can use a "hard squeeze" to enable toggling between functions, moving between slides in a presentation, or as a remote to snap pictures (when using Scriba's custom apps). Haptic feedback compliments the functions by delivering a vibration when these functions are used.
I also tested the Scriba in ZoomNotes to get a feel for how it works for general writing. Handwriting note apps are very dependent on software, of course, but I found the Scriba to be very comfortable and more than capable of performing general writing functions comfortable and effectively.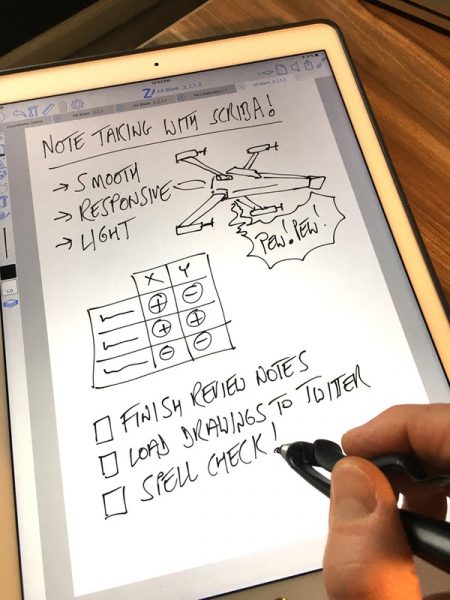 Here's where we get to the greatest area of potential improvement for the Scriba stylus: app compatibility. You can use the Scriba like you would any silicone-tipped stylus in most drawing/writing programs and get all the benefits of the ergonomic form factor. The bluetooth-enabled squeeze-motion technology and haptic feedback, however, are only available in a limited set of apps at this time. I like where Scriba is going with their own apps, especially the Brushes4Scriba app, but they could use some refinement and are not available outside of the iOS yet. In speaking with David, this is the next hurdle for the Scriba team. I'm really looking forward to seeing where they go as their own apps evolve and we get more compatibility in the future. In the meanwhile, you'll want to check the compatibility against any tools you intend to use.
If there is one other area that I would nitpick, it's in the silicone tip. Silicone tips can sometimes get a bit dodgy when playing with ultra-fine details, like dotting your "I's" in a note taking app. I'm also spoiled by my Apple Pencil, however. Compared to other styli I have used that are on the market, however, it's got great detail control.
And that battery life? 200 hours of continuous use? I haven't charged it since I got it. Amazing.
What I like
Wonderful, natural ergonomics.
Excellent control for free-flowing wrist/hand movements.
Absurdly light and comfortable for all-day use.
200 hour battery life.
High potential in the squeeze motion technology for airbrush-style painting.
What needs to be improved
Mainstream app compatibility is limited but in development.
No support for Android or Surface devices (yet).
Native Scriba apps could use some refinement.
Silicone-style tip does have some issues with fine detail (typical for this type of stylus).
Final thoughts
I really like the Scriba Stylus. For creatives and digital note takers, there's a lot to like in the ergonomics, control, and comfort that this design brings. Battery life is off the charts. There's also a ton of potential in the squeeze motion technology, especially for those who are familiar with airbrush-style tools. I'm looking forward to seeing where Scriba goes as they evolve their own toolset and extend compatibility with other platforms beyond the iOS and other drawing, painting, and writing apps. It's going to be fun!
Price: 65 Euros (About $80 US), with 8 Euros for shipping to the US ($90 US in total)
Where to buy: Scriba and WIP Labs
Source: The sample of this product was provided by Scriba.