We use affiliate links. If you buy something through the links on this page, we may earn a commission at no cost to you. Learn more.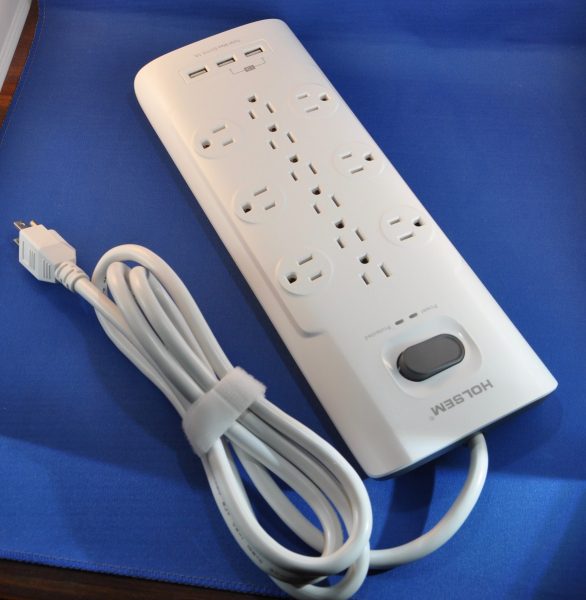 As Gadgeteers, what if I told you that there is one single item that all of us have, or will have, in the next year or two? What would you guess it to be? You may already have multiple of these. But, if you don't (yet), the offerings are becoming too interesting to pass up. I speak, of course, of the combined power outlet and USB charging port. (OK, if you guessed flying car, I am really proud of you. But, sadly, not yet!)  I was recently sent an extension power tap from Holsem that has 12 regular 12V power outlets, and three 5v 3.1A USB A ports, 2 of which are IQ ports. I had to fight with my Lovely Bride because she wanted to spirit it away to her annual sewing camp where it would have served as a base station for loads of sewers, crafters, and electric embroiderers. Actually, that's a pretty good use case and proves my point: having one of these in your home, family room or office is an inevitability, and it's not just geeky Gadget lovers who need them. In her sewing room, she has a sewing machine, serger, iron, steamer, her laptop on occasion, an iPad and her phone. Maybe she would be better served by Holsem's 8-port model, but it's still a valid idea.
Note: Photos may be tapped or clicked for a larger image.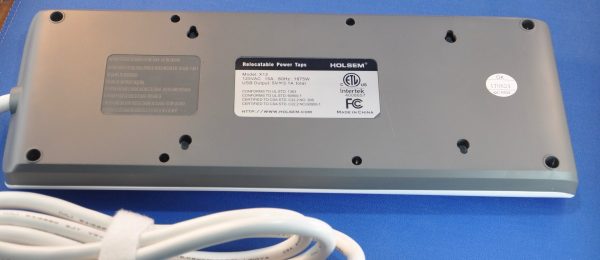 What is it?
The unit is called a Model X12, for obvious reasons. It measures 13" x 4.5" x 1.5", which means it is roughly the shape of an aircraft carrier. Fortunately, the designers didn't just expect it to sit on your work surface. There are 4 keyhole slots so that you can mount it to a vertical surface (like under the backside of your desk or on a baseboard). The keyholes are molded so that only two of them can be used at a time, and can only position it horizontally, with the power cord at either end, but that does give you easy options for which way to orient the unit. I think having a vertical option might have been a nice touch.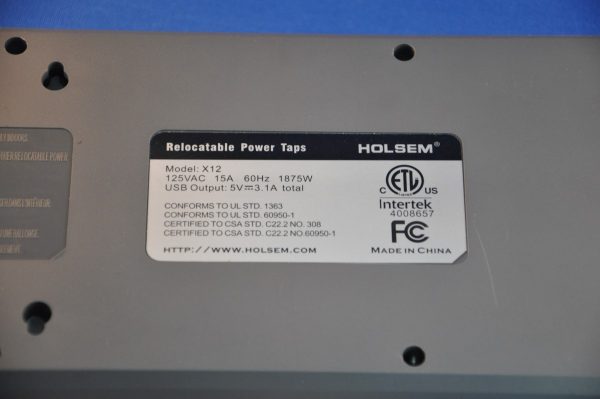 Design and features
The upper deck has the classic power adapter layout: cord on one narrow (top) end, power/circuit breaker reset switch, a row of power taps, then the USB ports in a line across the bottom. With 12 ports, Holsem took the interesting step of putting 6 power outlets straight down the center at standard 1.24" spacing, and the remaining 6 oriented 90º away, three on each side, on 2.125" centers. That means 6 wall warts and 6 normal plugs can fit without getting in each other's way. Pretty nice! The USB ports are a bit tighter, just under an inch between centers. The power cord is 6 feet long, with no visible strain relief on the outlet side, but heavy molding around the straight plug. The plug will require at least three or four inches from the outlet to prevent compromising the molding of the plug, so this is not meant to go behind furniture.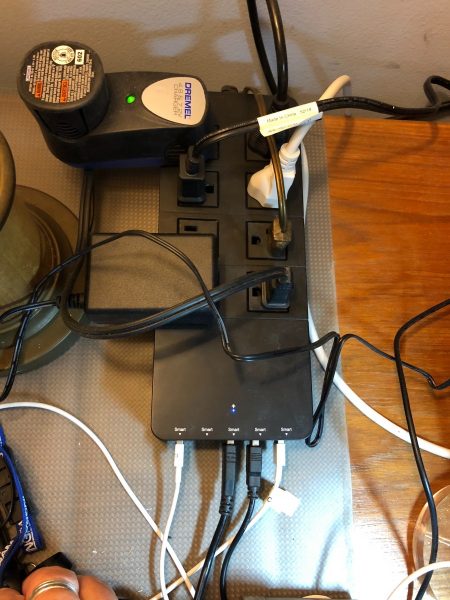 I have replaced the power drop on my desk no fewer than 4 times since we've been in this house – four years. (See the "before" image above with no available 12V outlets on an 8 outlet/5 USB power adapter.) But with each new iteration of this type product, I see more benefit. (See same plugs as above moved to Holsen 12x.)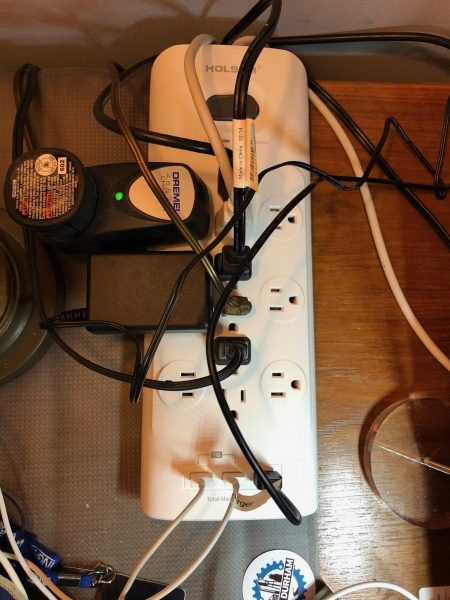 Hardware specs
Their website lists the features like so:
6 compactly allocated sockets: ideal for regular plugs
6 widely spaced sockets: enable you to manage with bulky plugs easily
2 Smart USB Ports and 1 Common USB Port: The 2 built-in Smart IC technology USB ports detect your devices automatically and deliver the fastest possible charge speed up to 5V/2.4 A per port
24-month Warranty and lifetime technical support
Safety:
Surge Protection: Fully built-in 3-line surge protection safeguards your devices from voltage fluctuations, surges, and spikes. The green LED light makes the surge protection function visible and more reliable.
Overload Protection: In the event of power overload, the reliable Double-Break safety switch will trip off automatically to protect your devices and your home. After one year's testing and several adjustments by our dedicated engineers, we've found the ideal force level for our Double-Break safety switch, and make sure it won't get stuck after a long term of use.
Heavy-duty power cord: premium protection for your electronic devices and your home/office
Convenient:
Keyhole slots on the back: Keyhole slots on the back allow you to easily mount it to a wall or baseboard.
Flame Retardant Material:
The flame retardant material is able to withstand temperature up to 1,380℉(750℃).
Warranty:
Worry-free 24-month warranty
30-day no-hassle return & refund guarantee
Friendly customer service team
What's in the box?
The unit and a warranty statement. No plastic, no foam, just paper, cardboard, and the power tap. Nice!
Positives
Wide, sleek styling doesn't need to be hidden
6 power outlets spaced for "wall warts"
Strain relief on plug
Negatives
Only 2 of the attachment points can be used at a time
Attachment points give no vertical options
Only 3 USB ports? Really?
Final thoughts
I had not planned for the Holsem Model x12 to stay topside on my main desk because I am overly dependent on USB charging. But I do have a Dremel battery charger, two hard drive adapters, and the occasional need to charge my LED photo lights, which use a wide charger. It would be nice to have a ton of USB connectors built in, rather than have to fill up 12-volt slots with power adapters, but we'll see how it goes. I really do like the smooth lines and the two-tone look of the white top and the grey underside.
Price: $31.99
Where to buy: It is available from many stores online, including Amazon.
Source: The sample of this product was provided by Holsem.