We use affiliate links. If you buy something through the links on this page, we may earn a commission at no cost to you. Learn more.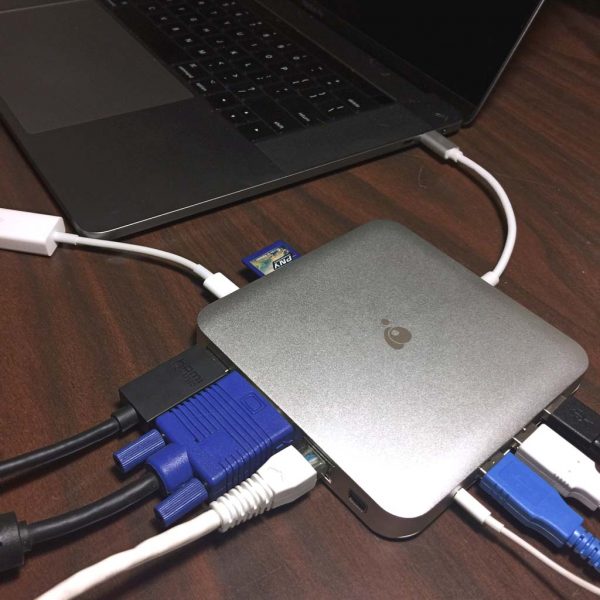 We recently bought a new Apple MacBook Pro for my wife.  It's a fantastic device, but one of its limitations (I'm sure Apple would say advantages) is that basically the only ports on it are four USB-C ports.  I do like USB-C and I'm looking forward to the day when old-school USB is phased out of devices far and wide in favor of USB-C, but until then I thought it would be useful to have a way to connect non-USB-C-cable based peripherals to our new MacBook Pro.  The IOGEAR Compact USB-C Docking Station with PD Pass-Thru is one way to address this. Let's check it out!  Gadget on!
What is it?
IOGEAR Compact USB-C Docking Station with PD Pass-Thru is a compact docking station that is intended to effectively turn your laptop into a full-functioning desktop workstation.  It includes a total of 10 ports and slots for various cable an memory card types and can also perform pass-through charging of your laptop.
Design and Features
As mentioned above, the IOGEAR Compact USB-C Docking Station with PD Pass-Thru includes the following ports:
USB-C
Memory Card Reader for SD or MicroSD cards
USB 3.0 (Type A)
USB 3.0 (Type A)
USB 3.0 (Type A)
Gigabit Ethernet LAN
HDMI video
Mini DisplayPort video
VGA video
Headset/Microphone jack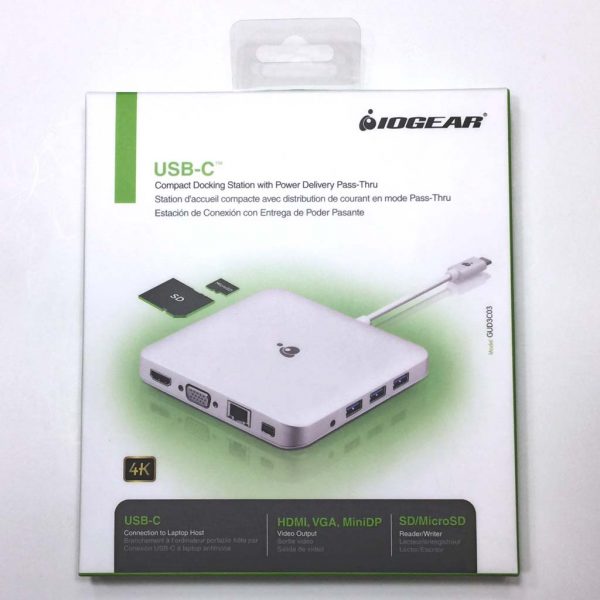 Above, the front of the IOGEAR Compact USB-C Docking Station's packaging.  It includes an accurate photo of the product contained inside.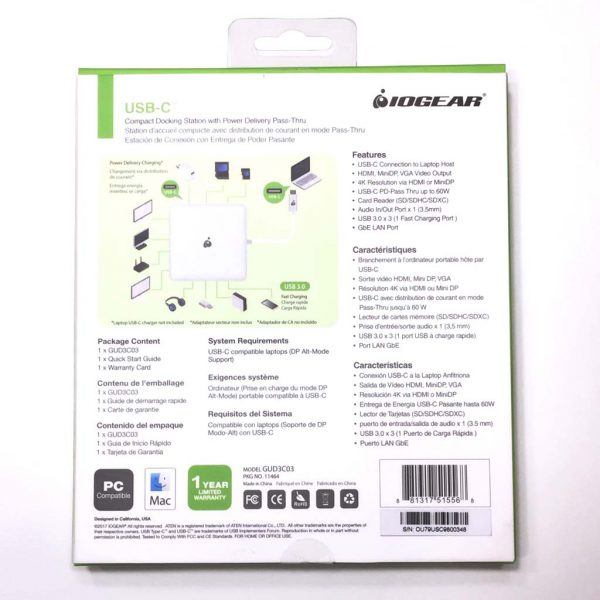 The rear of the IOGEAR Compact USB-C Docking Station's package includes a detailed list of features include a list of all ports.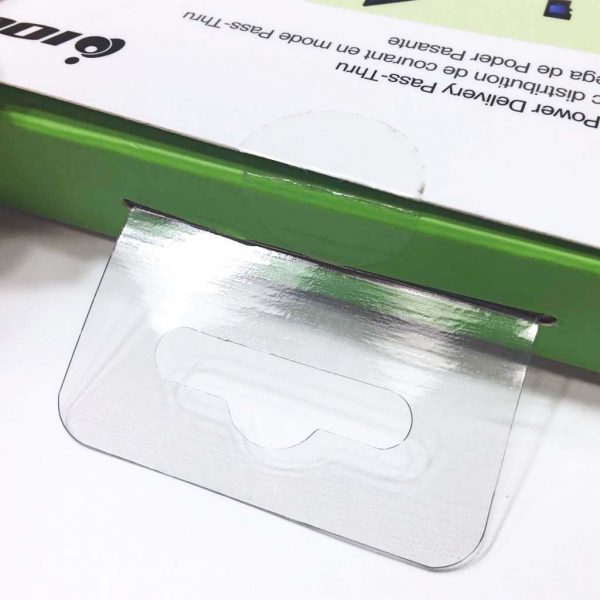 One thing I noticed when unboxing the Dock was that the tape seal had already been cut.  I wondered if this was evidence that I had not received a new device as a review sample.  I wondered this further when the Dock itself seemed to have some cosmetic scuffs on its exterior.  In any case, it seemed to function just fine.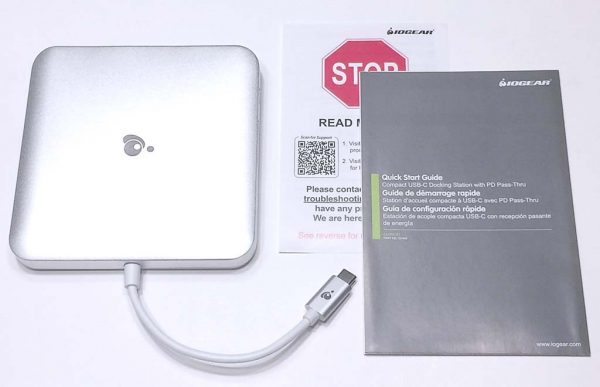 Above are the contents of the package, which are also listed below:
IOGEAR Compact USB-C Docking Station

Quick Start Guide booklet
Troubleshooting card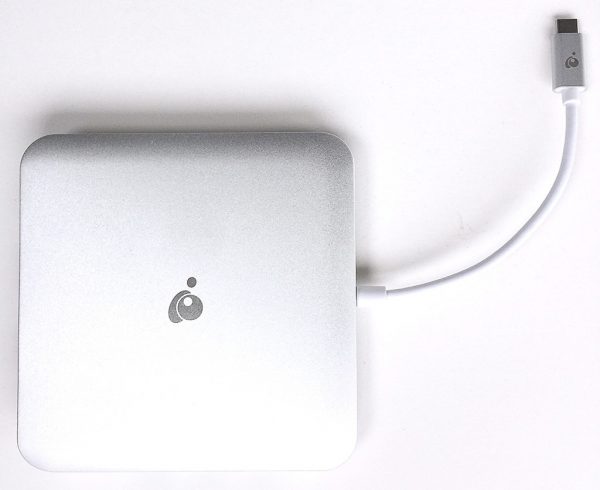 My initial impression of the Dock was that its aluminum case had a look and feel quite similar to an Apple MacBook laptop with its silver, matte-type texture.  More detailed on this below.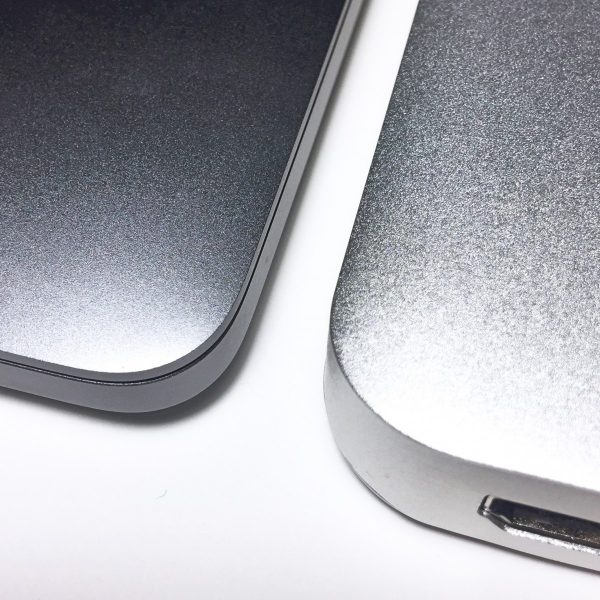 In the closeup photo above, my wife's new Apple MacBook Pro is on the left, and the Dock is on the right.  As mentioned, both aluminum surfaces are very similar in appearance and texture, though I would note that the MacBook Pro is Space Gray in color; were it the Silver version, I think it would appear to match the Dock almost identically.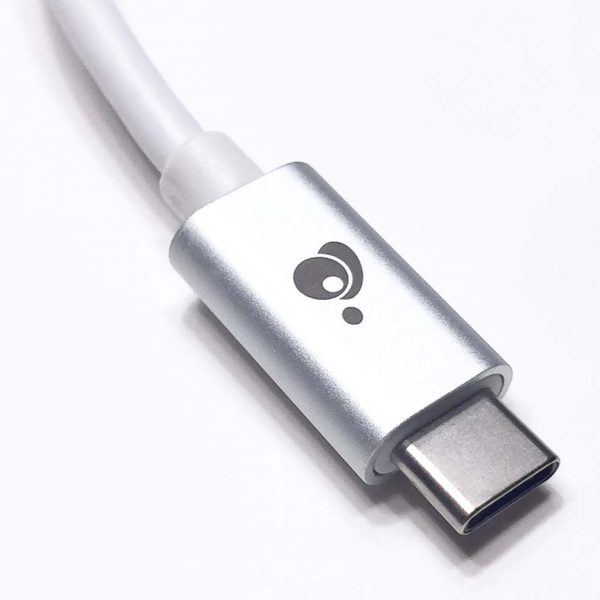 Above is a closeup of the USB-C docking interface cable that is intended to be plugged into your laptop.  This single cable provides all of the port replication of all peripherals plugged into the Dock.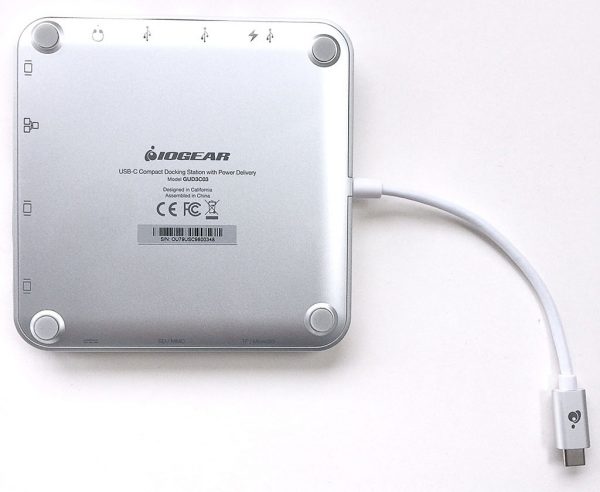 As seen above, the underside of the Dock includes symbols adjacent to each of the ports to indicate their compatibility.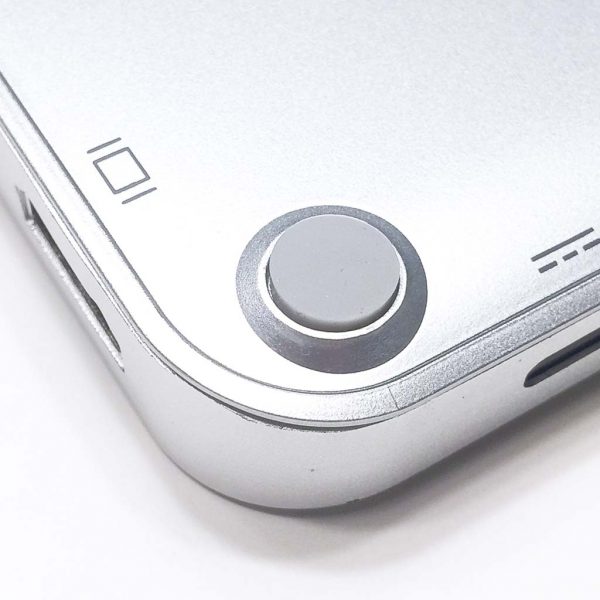 The underside of the Dock also has a silicone foot at each corner, as shown above, to keep it from sliding around while sitting on your desk or another surface.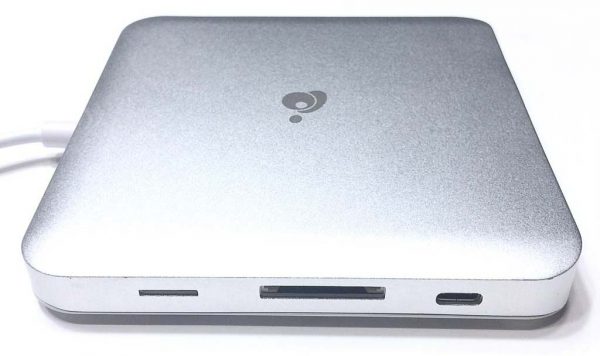 The Dock has ports on three sides (the USB-C docking interface cable that plugs into the laptop protrudes from the fourth side).  The side depicted above has, from left to right, MicroSD card slot, standard SD card slot, and USB-C port.  This single USB-C port is intended to plug your laptop's power supply into, to enable Power Delivery Charging (PD Pass-Thru) while the Dock is connected to your laptop and in use, with up to 60W of charging power.  Also, when you are away from home, the bus-powered Dock does not need a power supply to connect your devices.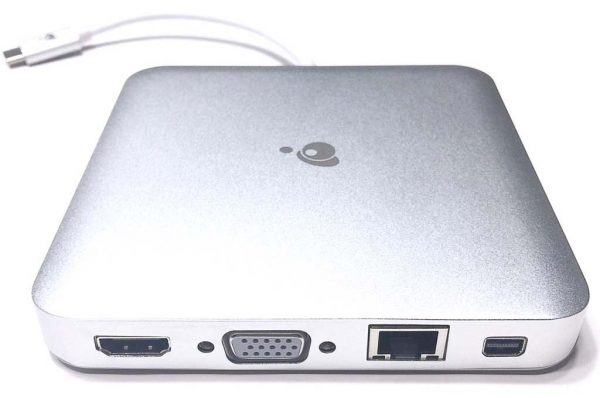 The next side of the Dock includes the ports shown above: HDMI video, VGA video, Ethernet LAN and Mini DisplayPort video.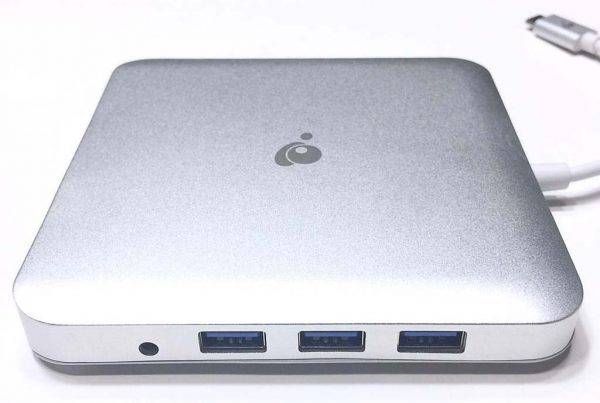 The final side of the Dock includes a headphone/microphone port and three USB 3.0 (Type A) ports.  Per the port symbols on the underside of the Dock, the USB 3.0 port to the far right also has a small lightning bolt near the USB port symbol, indicating that this USB port can be used for fast charging of phone, tablet or another device.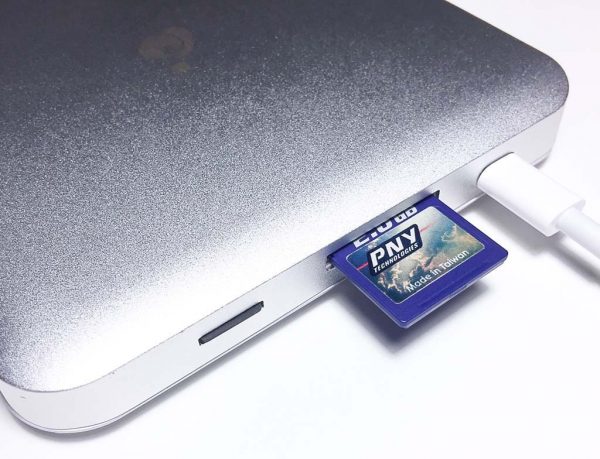 Above, from left to right I've placed a MicroSD memory card, a standard SD memory card, and the laptop's power supply USB-C cable into the Dock.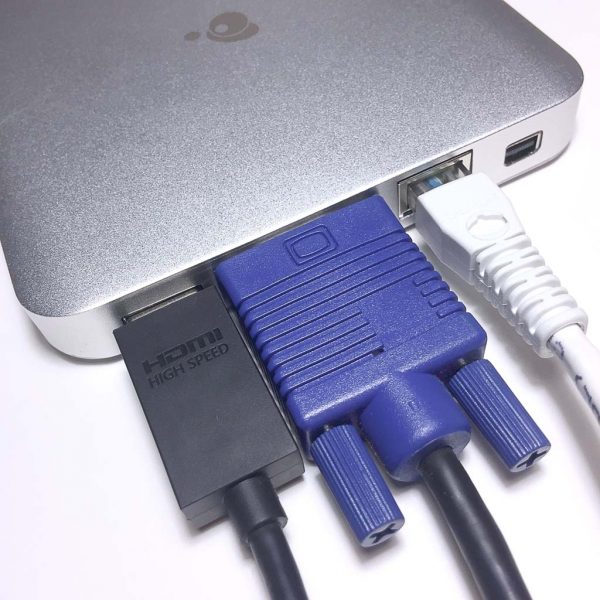 Next up, I've inserted, from left to right, an HDMI video, a VGA video cable, and an Ethernet LAB cable.  The fourth port is a Mini DisplayPort, but I don't own such a cable to illustrate this, so you'll have to use your imagination here.  The Dock gives the ability to connect two additional monitors (both at 1080p resolution) alongside your laptop's monitor if using a Windows laptop, or a single additional monitor (at 4k Ultra HD resolution) alongside your laptop's monitor if using an Apple laptop.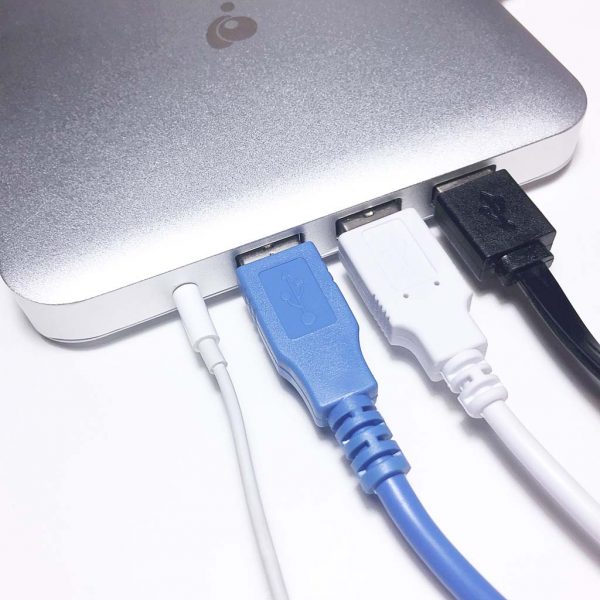 Finally, in the photo above, I've inserted an Apple Earpods cable and three old-style USB cables: one for an external hard drive running Apple's Time Capsule backup software, one for a keyboard and one for an iPhone.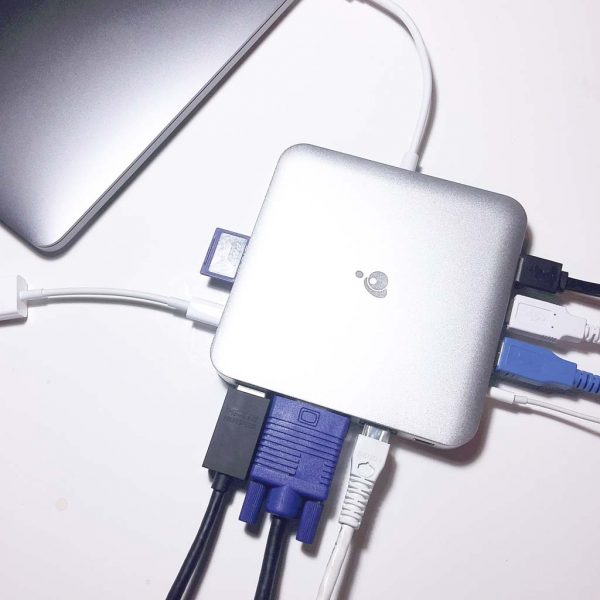 Above, a photo of the Dock connected to our MacBook Pro, and with multiple devices connected to the Dock.  The Dock is very compact and easy to use; once all of your peripherals are plugged into the Dock, the Dock's single USB-C cable is all that is needed to quickly add a significant amount of desktop-like capability to your laptop.
Positives
10 ports and slots allow a variety of peripherals to be connected to your laptop quickly and easily
Pass-through charging allows your laptop to be charged while still utilizing any of the connected peripherals
Slim, compact design that mimics the Apple MacBook in appearance and style
Negatives
Final Thoughts
We found the IOGEAR Compact USB-C Docking Station with PD Pass-Thru to be quite useful alongside my wife's new Apple MacBook Pro.  It provides a quick and easy way to attach multiple peripherals with a single USB-C docking interface connection.  We were able to routinely connect an external backup hard drive as well as an HD TV as an external monitor and a keyboard on occasion, and all while continuing to charge the laptop's battery.  At around $100, this dock isn't necessarily cheap, but compared to other, similar docks, it seems to give a lot of features for the price.
Update 5/24/20
My wife occasionally uses the IOGEAR Compact USB-C Docking Station with her MacBook Pro. It's a stout, durable item and has withstood quite a bit of abuse at our house, which is pretty commendable.
Price: $99.99 MSRP
Where to Buy: Amazon
Source: The sample of this product was provided by IOGEAR.