We use affiliate links. If you buy something through the links on this page, we may earn a commission at no cost to you. Learn more.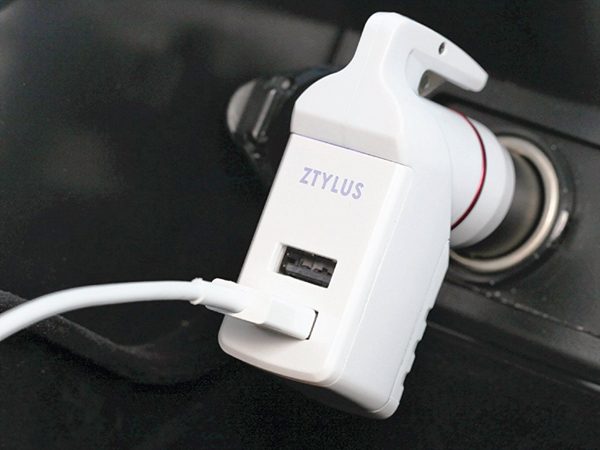 We've told you about a variety of emergency escape kits to keep in your car to help you escape quickly if you're ever trapped in the car after an accident.  Some of them hang on your keychain, others are larger and are kept in the map pocket on the door or in the glove compartment.  Some of them might be hard to find or to reach after an accident, but you'll not lose sight of the Ztylus Stinger Car Charger Emergency Tool.  This tool incorporates the window-breaking, spring-loaded punch and a blade to cut through a seatbelt into a USB charger that plugs into the car's power outlet.
There are two USB outlets, each capable of a maximum of 2.4A; a Plus version has a maximum output of 3.1A per outlet.  You can use it daily to charge your phone or even a tablet.  Hopefully, you'll never need it to escape a damaged or submerged car, but you'll be able to easily see it and reach it if you ever have the need.  The Ztylus Stinger Car Charger Emergency Tool is available in black or white for $14.95 each for the standard or $24 each for the Plus version, or get two standards for about $28 or two Plus for $40 from Amazon.