We use affiliate links. If you buy something through the links on this page, we may earn a commission at no cost to you. Learn more.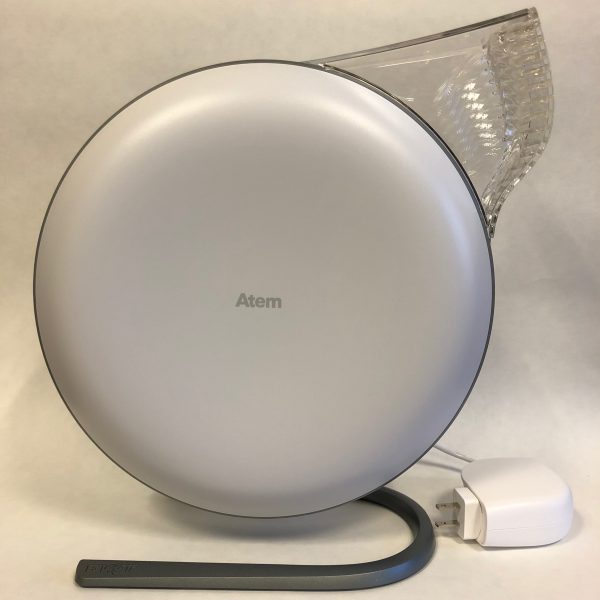 I suffer from seasonal allergies and live in an area where avoiding the trees and grasses that are the catalyst for my symptoms is impossible.  The dry air in Colorado also makes for a very dusty indoor environment so between the great outdoors and the dusty indoors, my stuffiness and irritated eyes are on round the clock.
The purifiers I have owned in the past have been bulky and loud and didn't offer many choices in fan speed.  Many on the market are either on or off and others offer 3 different speeds, all noisy.  I honestly just thought that's the way it was.  Admittedly I didn't spend a lot of time researching and testing different air purifiers because my ignorance of these products was pretty robust as it turns out.  I haven't bought an air purifier in the last 5 or so years but the last one I bought was a little unit that was about the size of a clock radio and sat on my nightstand.  I was truly amazed by the amount of noise something so small could generate, hence I no longer use that product.
The Atem from IQAir has been a wonderful addition to my life and I have really been enjoying all of the customization and technology that is packed into this beautiful product.  Set up was simple.  The unboxing and set up time took about a minute.  You only have to attach the power cable to the base then attach the base to the purifier then plug it in.  There are no buttons or switches on the Atem.  The power and fan speed are controlled by simply touching the Atem logo in the middle of the purifier.  You can cycle between low, medium, high and off.  Each setting is paired with a light under the air output vent.  Red is off, and the blue light extends as you go from low to medium to high (see pictures later in this review).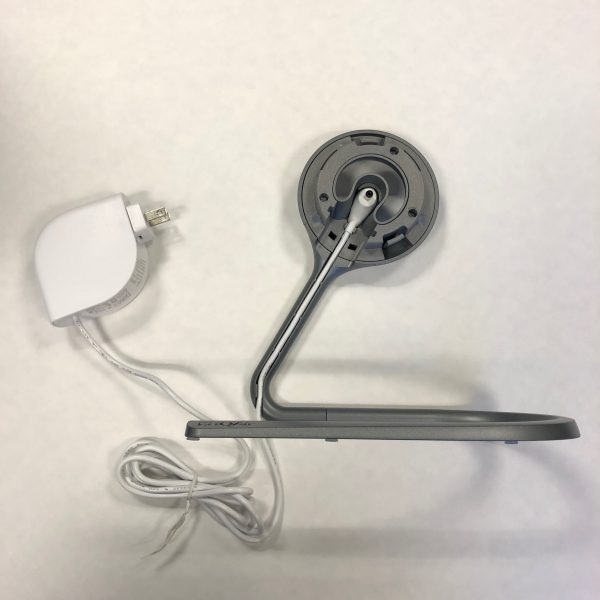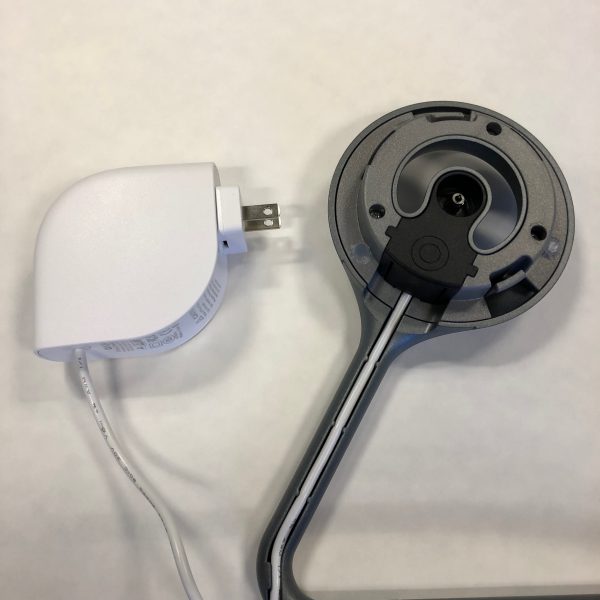 My absolute favorite part of this product is the Bluetooth pairing to my smartphone.  The IQAir Atem app allows for full customization of the device and also can be a remote control for it if you like.  When I was first exploring the device I had not downloaded the app yet and thought that while very sleek and attractive, it was just another regular purifier with nothing other than the cool look to distinguish it.  How wrong I was.  After downloading the app and easily pairing it with the purifier using the code on the Atem, it took a few minutes to update the firmware.  After that was done, my app was showing me what was going on with the purifier and in the surrounding environment and allowed me to control the unit from my phone.  Once paired the app will show you the current status of the fan, ambient temperature and humidity and the remaining filter life.  That really impressed me! Here is a screenshot of my phone while using the app.  To adjust the fan speed between your presets or to turn it off using the app, just touch the screen where it says "low".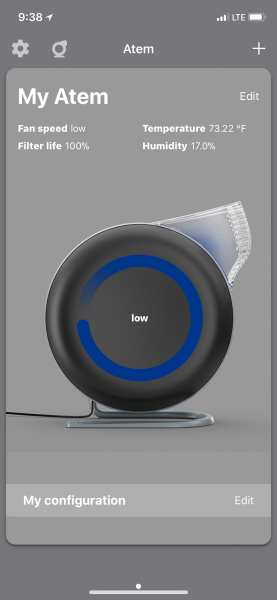 When I went into the configuration menu I saw that I had full control of what fan speed was associated with the low, medium and high settings.  Each setting could be programmed with a fan speed between 5-100%.  There is also a "Smart on/off" feature, which when activated will turn off/on your Atem at your customized period of time when your phone leaves or enters the Bluetooth range of the unit.  This is a great way to save power and filter life without even thinking about it.  The unit rotates on the solid metal stand to direct air in any direction you want.  The following screenshots are the options you have to configure the unit to your specific needs.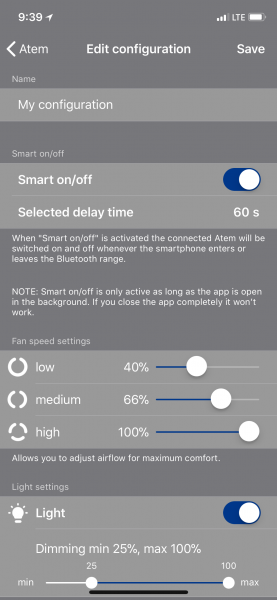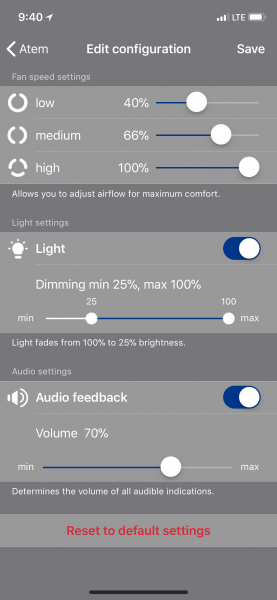 Currently, I have the Atem on my desk in my office.  It sits right next to my computer monitors so it is relatively close to me when I am working.  I have set my fan speeds at 40, 66 and 100%.  I find myself using the low and medium speeds most of the time.  When I use the 100% speed when my office is warm or I want to move some air, I am amazed by the output of this relatively small device.  When set to the upper limits of the fan speed it is no longer whisper quiet but with the volume of air it is moving, I would never expect it to be.  At the 40-66% range where I have it set nearly all of the time I can barely notice any sound, which is a great improvement over previous purifiers I have owned.
Here are some pictures showing the lighting when the unit is off and on the three preset fan speeds:
Off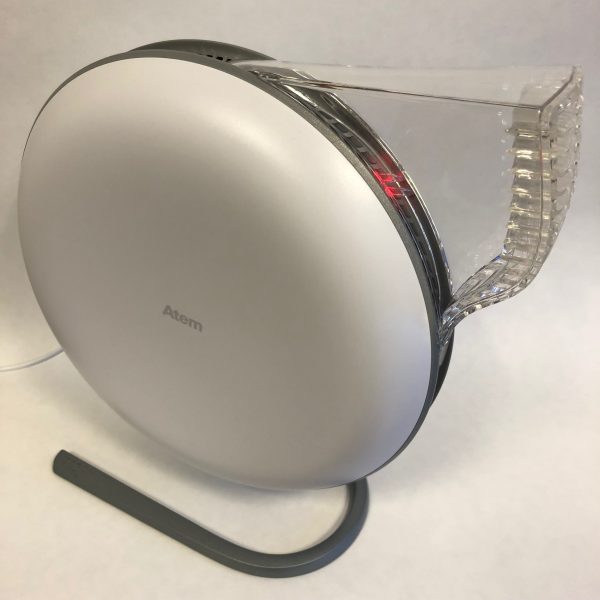 Low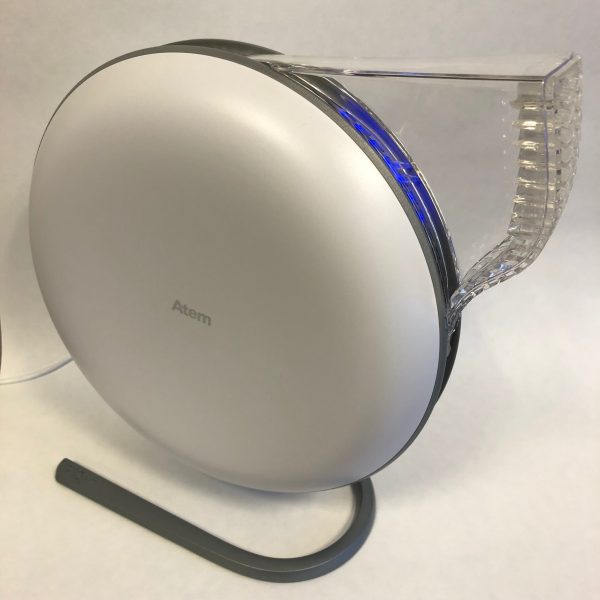 Medium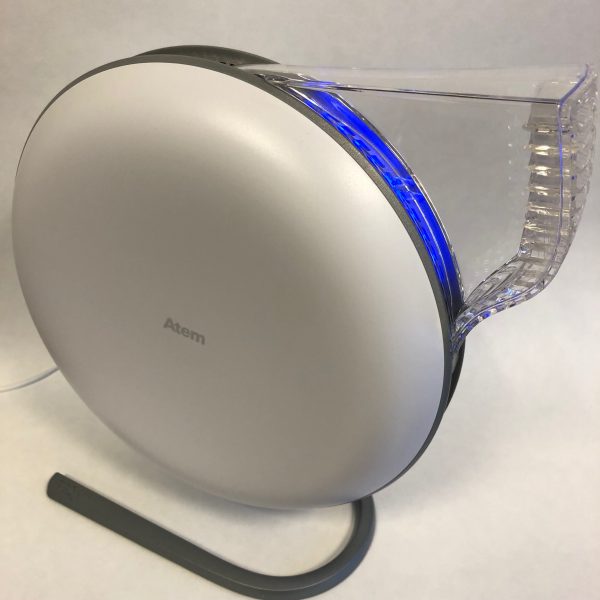 High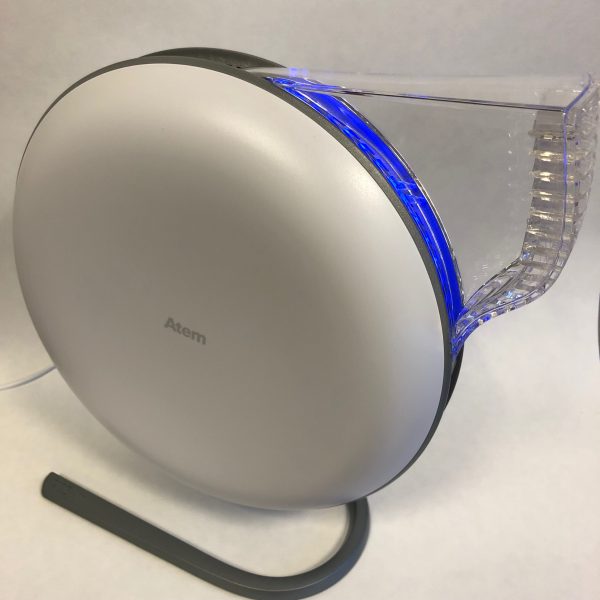 With the stand and power cord, the Atem weighs in at 6.26 pounds and is 12.44″ H x 5.51″ W x 11.77″ D.  It is offered in white or black, both come with grey trim.  It uses a HyperHEPA filter and the Atem will notify you when the filter needs to be changed on both the app and with the onboard lights.  They say that the average filter life is approximately 1 year assuming 10 hours/day at the default level 3 fan speed.
Now all of these great features come with a hefty price tag.  At $399, this is pushed into a different league than many of the other small area purifiers that you would find at your big box stores or online.  I truly believe that your money is well spent if you want to clean the air around your office, kitchen or bedroom and want the functionality that is unlocked when you pair this with your smartphone.  If you don't think the capabilities provided by the smartphone interface are important or necessary then this product may not be for you as that is where much of the value is in my opinion. I didn't know how much I would use an app to control my air purifier until I received this product though.  Now I don't even touch the purifier, I just use my phone.
Positives
Wide range of customizable settings using the app
Extremely quiet when running in the middle and low ranges of air output
Can move high volumes of air if you set it to 100%
Beautiful sleek design that will look great on a desk, shelf or table
Sturdy construction and easy to set up
Long filter life; automatic on/off when your phone is in or out of Bluetooth range
Negatives
Expensive, but for good reason given the functionality of full customization and ambient conditions via the smartphone app
Final thoughts
I could not be happier with the IQAir Atem Personal Air Purifier.  I love having it in my office where I sit/stand at my desk for most of the day and having a little personal area of clean air has been very nice.  I have not brought this home to sit on my nightstand yet but I plan to do so soon or whenever I am willing to let it go from my office.  I can also see this being a great addition to the kitchen while cooking to keep the air clean and circulating so you aren't left with the leftover smell of sautéed mushrooms or fried bacon for hours after cooking.  The customizability, style, functionality when used with the app and overall extremely high build quality are the main reasons I will highly recommend this product.
IQAir also offers a wide range of air filtration products to fit nearly any space.  I have been so impressed with this smaller unit that I am looking at larger ones for my home.
Price: $399.00
Where to buy: IQAir and Amazon
Source: The sample for this review was provided by IQAir.