We use affiliate links. If you buy something through the links on this page, we may earn a commission at no cost to you. Learn more.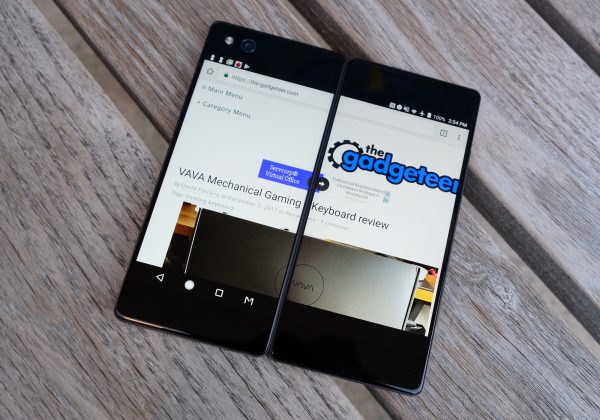 ZTE's Axon M is one of the devices that threw us for a loop in 2017. The company managed to the be the first to come out with a foldable smartphone with two screens. A multitaskers dream, the displays on the Axon M are each a 5.2-inch 1080p IPS display. Together they combine to form a 6.75″ tablet-like display with a somewhat distracting seam running down the middle.
Unsurprisingly, weighing 8.1 ounces and measuring 5.9 x 2.8 x 0.5 inches the ZTE Axon M is heavier and bulkier than your typical smartphone, but that's the price you pay for getting 2 displays. Fortunately, it's still somewhat pocket friendly. Because it has its hinge on the right side, it houses most of its buttons on the left side. Running along the left side of the device, ZTE has placed a fingerprint reader that doubles as a power button, a volume button, and a third somewhat programmable button. The programmable button lets you quickly launch TV mode which in turn lets you load the YouTube or DirecTV app. That said, we'd like to have the option to program that button with whatever app we choose.
But what is especially awkward in the design is the camera placement. The Axon M houses a single 20MP camera. Taking regular non-selfie photos with the camera is an awkward experience because you have to flip the phone around.  The camera itself takes ok photos. In daylight, the photos offer pretty accurate colors and visuals are pretty sharp. But the phone struggles with autofocus and in low light, photos tend to be noisy and often blurry, probably due to the lack of optical image stabilization.
The displays on the Axon M are not flagship level displays, but they are solid displays with sharp visuals and accurate colors, we just wish they could reach higher brightness levels. The bigger issue for some may be the seam running down the middle in Extended (tablet) mode. Personally, we adjusted to it after a few days and eventually forgot it was there. It's not that different to the notch on the iPhone X, which is also distracting at first, but you're able to adjust to it over time.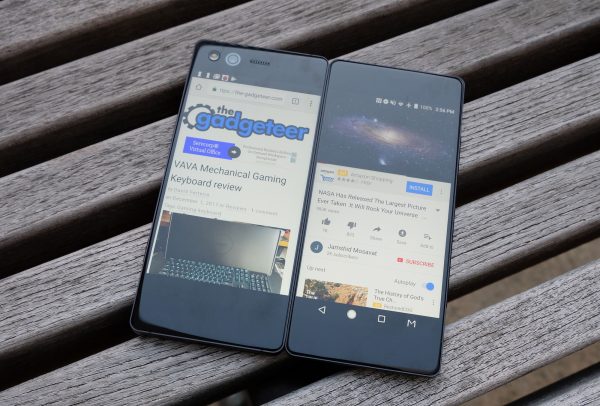 Besides single screen mode, there is Mirror Mode, Extended Mode, and Dual (multitasking) mode. Mirror mode is useful for two people watching movies on either side or playing a game like Battleship. Extended mode takes a single app and extends it across the two displays. For example, that means you get double the real estate for your web browser or Facebook feed. Mirror mode is useful for two people watching movies on either side or playing a game like Battleship, especially if the device is folded like a tent.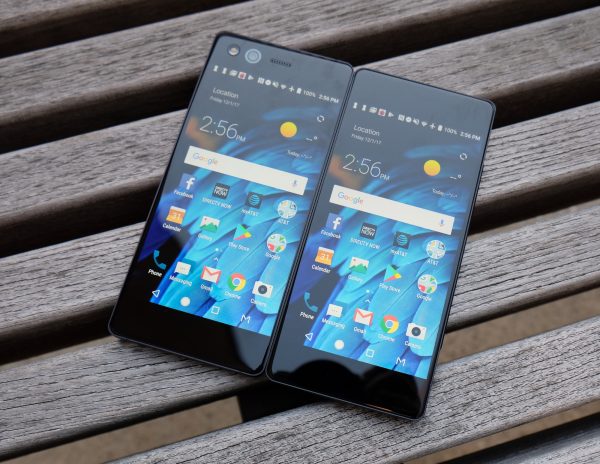 Last but not least, Dual (multitasking) mode lets you run a different application on each screen – so you can have Twitter opened on one display while watching YouTube on the other. This set up is pretty much a multitasker's dream, and so much better than using a split screen window mode on a single cramped smartphone display.
When you start up the phone, you'll go through an easy tutorial which shows you how to switch between different modes. A 3 finger swipe moves an application over to the opposite display.  Switching between modes is easy and generally works well, but we often ran into some slowdowns when switching between modes, as well as some app crashes. We hope that ZTE will push out an update that addresses these bugs soon. ZTE has said that they are committed to frequently updating the Axon M and that they will be updating it to Android Oreo.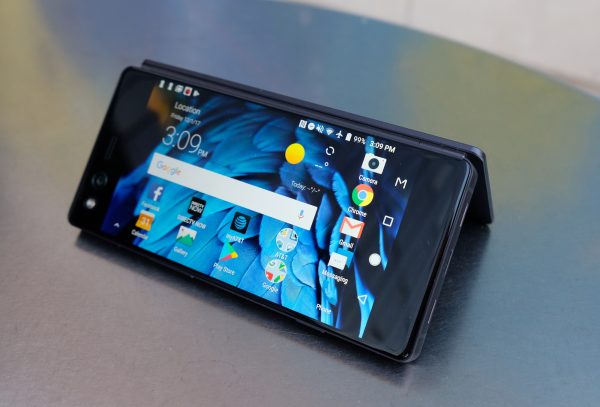 AT&T picked up the ZTE Axon M because it's the perfect device for a DirecTV user. After all, you can be watching DirecTV on one display while checking your email or Tweeting on the other. We showed the device to a DirecTV user and they got really excited about it, but they actually assumed it was a tablet before we explained to them that it was a phone. Speaking of DirecTV, the Axon M comes preloaded with the DirectTV app, along with lots of AT&T bloatware apps, all running along side Android 7.1.2 Nougat.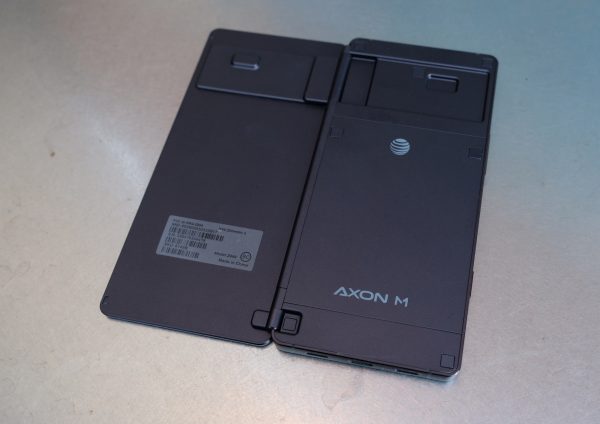 The phone is powered by a capable Qualcomm Snapdragon 821 processor with 4GB of Ram. When we tested the phone with AnTuTu, it scored a benchmark of 128845. That indicates that it's a capable, fast performer, though not nearly as fast as flagships like Huawei Mate 10 Pro and Note 8, and its performance is more in line with the Galaxy S7. In general, even in Dual mode with two apps running in tandem, performance is good and the phone is able to handle running two apps without issue. However, it's switching between modes that can be a buggy experience sometimes.
The 3,180 mAh battery provides solid battery life, especially for a device with two displays! We were able to get a full day of use on a charge.
Final Thoughts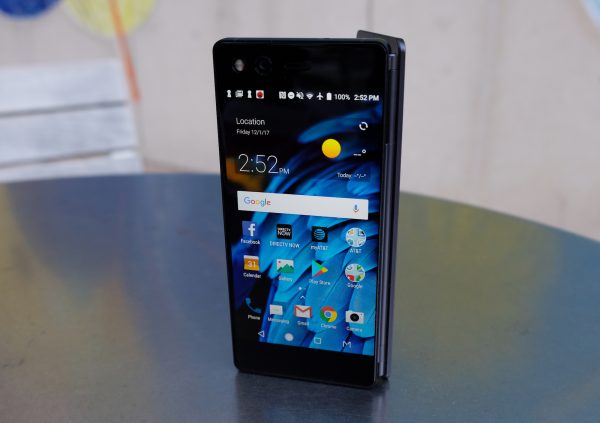 We have to give ZTE tons of credit for taking the plunge and innovating in the smartphone category. One thing is for sure, the ZTE Axon M is a vision of the future. There are already
rumors
swirling that both Samsung and Apple are coming out with foldable smartphones, so we expect to see more competing foldable phones in the not too distant future. Overall, ZTE has done an admirable job with the Axon M, especially for a first gen device. But we're even more excited for a second gen Axon M which we hope will be thinner, sporting a better camera, rocking borderless displays and running less buggy software.
The ZTE Axon M is an AT&T exclusive and it retails for $724.99 off contract. The phone comes standard with an extensive (and above average) 2 year warranty that includes a free premium protection plan.
Source:
The sample for this review was provided by
ZTE and AT&T
. Please visit their site for more info.