We use affiliate links. If you buy something through the links on this page, we may earn a commission at no cost to you. Learn more.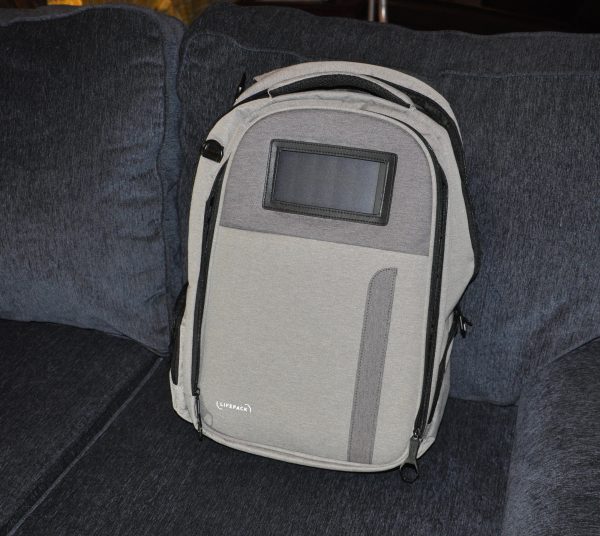 Backpacks come in a variety of sizes, styles, and designs. Some are meant to serve students, some are more for photographers or commuting information workers, and some are designed more for travel. As much as I like satchel bags or messenger-style bags, there's sometimes nothing like a backpack when traveling. On my last vacation, I didn't take one, and my shoulders regretted it every day. I was happy, then, when SolGaard offered us their LifePack for testing, and I was given the opportunity to use it. There are a couple of superpowers in this traditional looking bag that are great for travelers.
Note: Photos may be tapped or clicked for a larger image.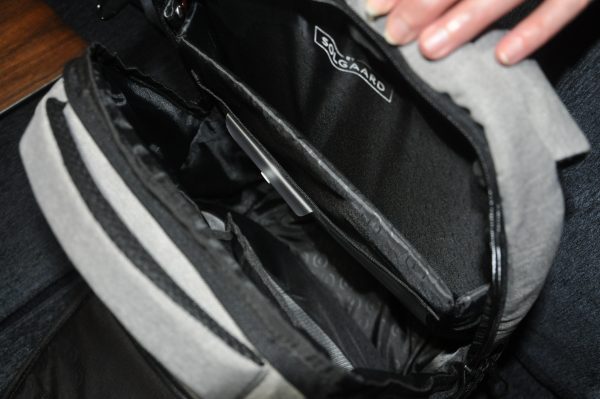 First things first: The bag is a traditional one, with permanently attached shoulder straps in a cushioned yoke at the top, and adjustable webbing at the base. At the ends of the padded area, just before the webbing, there are hidden zippered pockets that will hold travel documents, cash, passports, or treasure maps.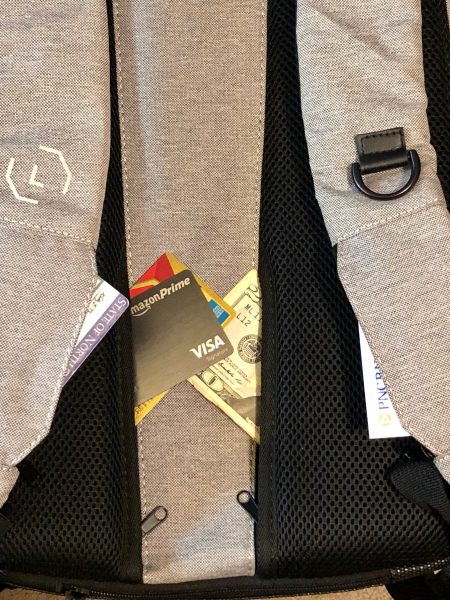 At the top of the bag is a wide, cushioned haul loop. This is not just seatbelt webbing with some foam over it – this is a purpose-built, multi-piece handle with the same breathable fabric that covered the underside of the straps and the pack of the pack. On either side of this haul loop, there is a cavernous pocket accessed through a dual-pull metal zipper. The zipper pulls are 2" long and have a .75" hexagonal loop at the tip. You can thread any lock or cable you want through these things! And, being dual pull, you can put the opening just where you want it. The front-most section is gusseted at the bottom, so it won't easily open and spill out all the little stuff that settles down to the bottom. In the pocket against your back, there is a padded laptop sleeve that dwarfs my iPad Pro (12.9") or my 15" MacBookPro. Your gaming rig is gonna love this bag! On the inner side of this is a letter-paper-sized pocket that is translucent, perfect for tossing in receipts, maps, brochures, etc. There's also a snap-closed business card pocket of the same material on the front of that pocket. Since I rarely deal with paper, I use this sheath for my iPad Pro 10.5". It's totally covered in there.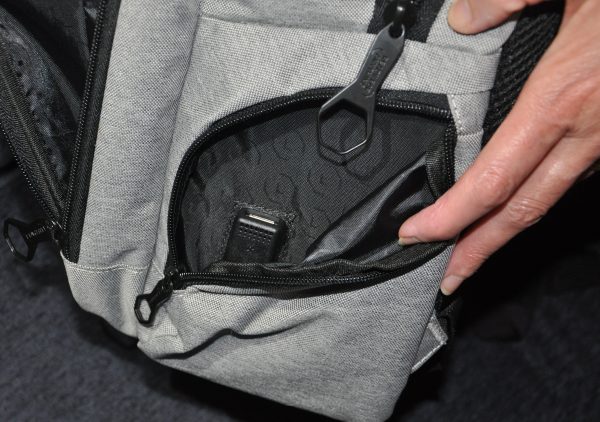 On the opposite side are two mesh zippered pockets roughly passport-sized, a credit-card sized gusseted pocket about .5" thick, and 3 pen silos. The space at the bottom is wide enough that I can lay my iPhone 8 Plus flat on the bottom, with an inch or two top and bottom, and it doesn't quite hit the sides. While it's not protected, you could fit a drone or headphones or even a DSLR in here with no problem. Sneaks or textbooks as well, but I don't think a rigid cycling helmet would go.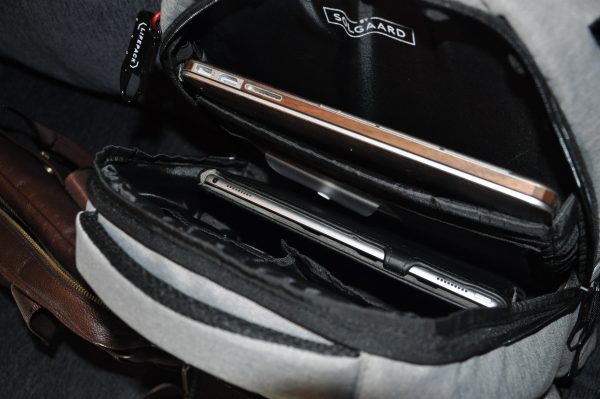 The outside pocket has a notable feature showing through on the outside: a 5" x 2.25" window allows the sun to reveal a solar charger for an 11,000 mAh battery pack! It is housed in its own Velcro-and-snap secured holder, perfectly centered over this window.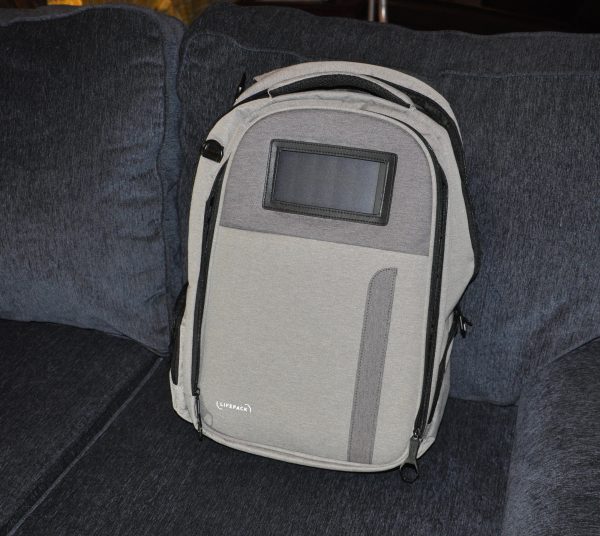 Inside, you'll find access to the two USB charging ports. There's even a cable built into the bag, which routes the power from one of those ports down to a small pocket on the corner, down where the straps connect!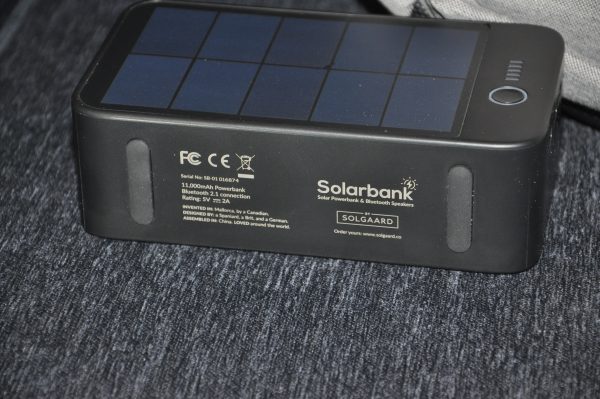 You can keep a cable in there, pull it out and top up your phone or iPad between flights, without ever opening your bag. When you remove this battery pack, you also find that the reverse side is a very powerful Bluetooth speaker!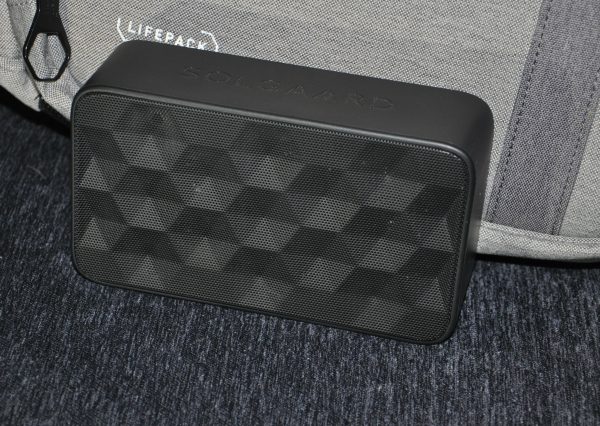 While it's in your bag, the sound is a bit muffled, but pull it out, and you've got an instant party! There's also AUX input and a micro USB charging port for the battery pack. Five "gas-gauge" LEDs tell you the amount of charge left with a quick push of the adjacent button.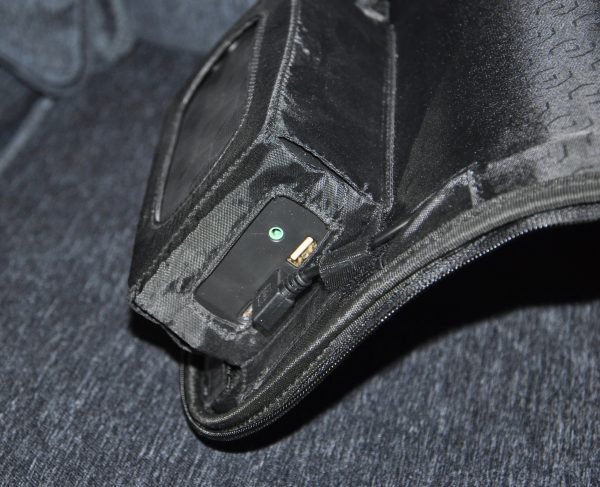 The power bank is rated to have 96 hours of non-stop listening or 6 smartphone charges. When it's flat out of juice, 4 hours in the sun will bring in enough power to charge a smartphone completely, or play music for 8 hours. You can also charge two devices at once, while still playing music. Below this specialized holder in that front-most pocket, there's open space to the bottom of the bag. The pocket is about an inch thick, so an iPad, pico projector, or novel for in-flight reading would be right at home. There are a few more card pockets and pen silos in that back panel as well. Sewn into this seam is a key holder with a cap lifter attached.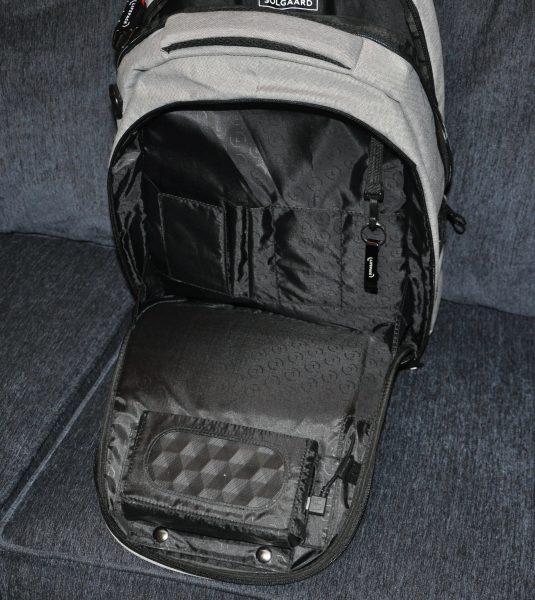 Coming back to the outside of the bag, remember that small pocket by the right strap that has the USB cord socket? There's one on the opposite side that has a shock-corded holder for a water bottle. And, up above that left corner pocket, what's that black clip peeking out? It's a 3-digit combo locking carabiner with a 9" length of red-insulated steel aircraft cable attached!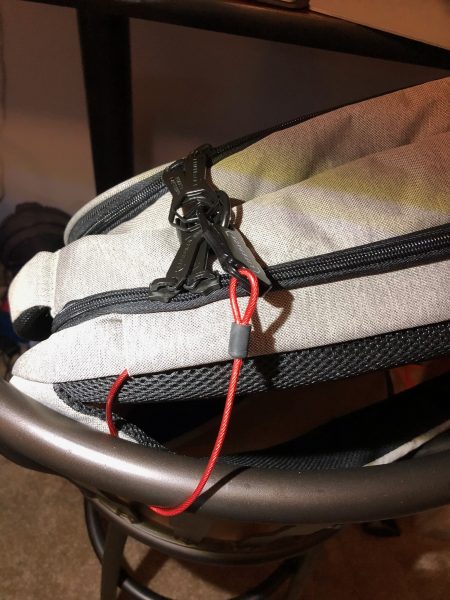 This cable is bolted to the bag and allows you to tether the bag to a post, chair, or another object to avoid snatch & dash thieves. Or you could lock the four dual pull tabs together with the cord around a chair arm, and no one can get into the bag or remove it from where you place it, as in the photo above. Wish I'd have had this when I was doing trade shows!
There is still one last trick in the LifePack – to make up for a dark day when you can't charge your battery, in the bottom, there is a zippered pocket that contains a full-sized waterproof cover.
All in all, this full-sized backpack can handle quite a lot of travel needs, from full-sized laptops to a variety of smaller gadgets. The safety and security features don't really have the usual cost of added weight: I can tell no difference between this and 2-3 other full-sized packs in my collection. It was actually lighter than most. The handles and yoke where the straps attach are very comfortable, great for a full day of museums, travel, or classes.
Source: The sample for this review was provided by SolGaard. Please visit for more info and Amazon to order.

Product Information
Price:
$269.00 MSRP
Manufacturer:
Solgaard
Retailer:
Amazon
Requirements:
Pros:

Solar charging battery pack
built-in wiring
good organizational pockets

Cons:

window through front pocket for solar panel - can't be used without power bank inserted
only one "outlet" for power routed outside of main compartment
speaker plays into pack