We use affiliate links. If you buy something through the links on this page, we may earn a commission at no cost to you. Learn more.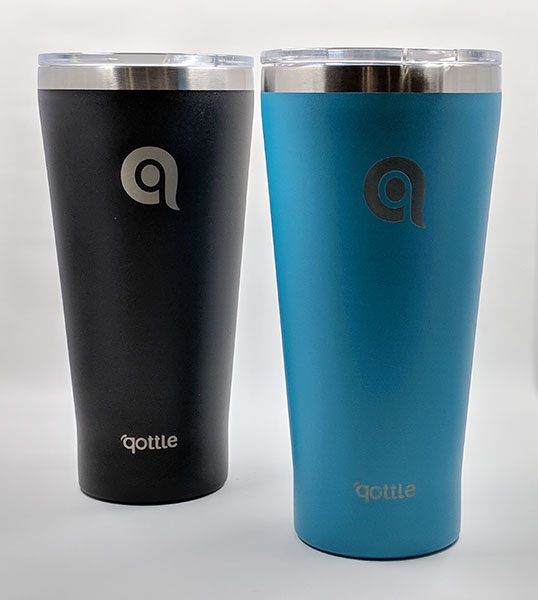 The often referenced requirement of eight glasses of water a day may not be based in pure medical fact, but I know that if I don't drink enough during the day, I feel sluggish and blah. Any product that can help me want to drink water and tea is worth a look in my opinion. So let's take a look and a sip from a qottle insulated tumbler.

What is it?
qottles are 30oz/878ml drink tumblers that are double-wall vacuum insulated stainless steel BPA free, sweat proof beverage holders.
Design and features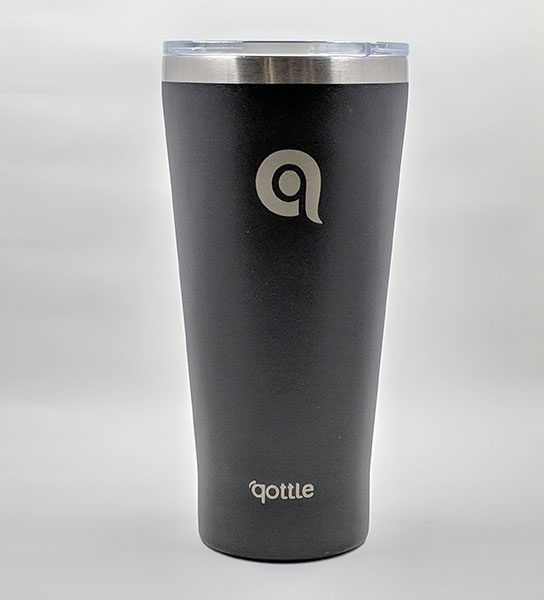 qottle tumblers (just typing that makes me smile) both look and feel nice in hand. First of all, they have a tapered shape that allows smaller hands to grip the approximately 3-inch base. The powder coded exterior adds to the ability to grip the tumbler.
qottles are available in black, blue, red, and white. I was sent a black and a blue version of the 30 ounce tumbler.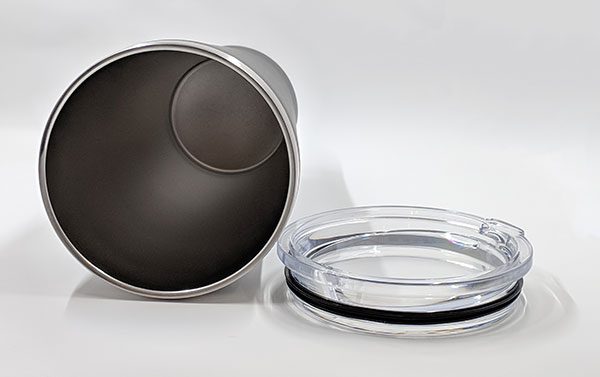 The 30 ounce tumbler is lined with BPA-Free, 18/8 Stainless Steel.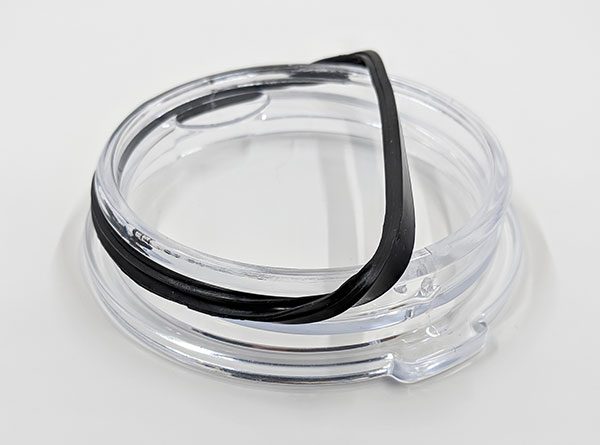 The clear plastic lid has an opening that allows you to drink from the tumbler or use a straw.
Around the edge of the lid is a thick black silicone seal that is designed to keep liquids from leaking out of the tumbler when you drink from it.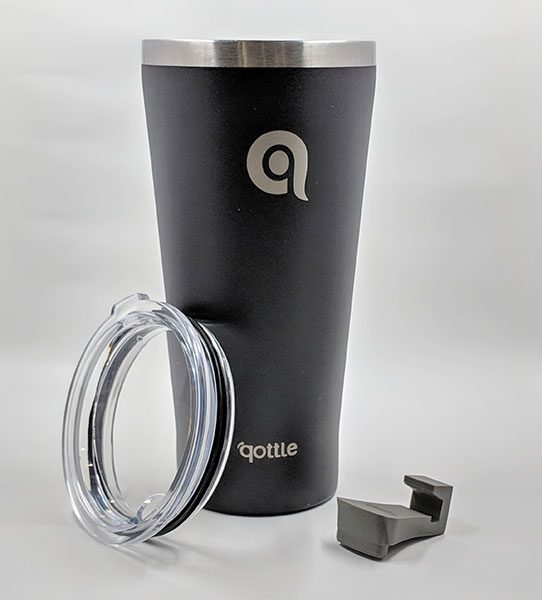 Also included with each qottle is a rubber stopper that you can use to plug the opening in the lid.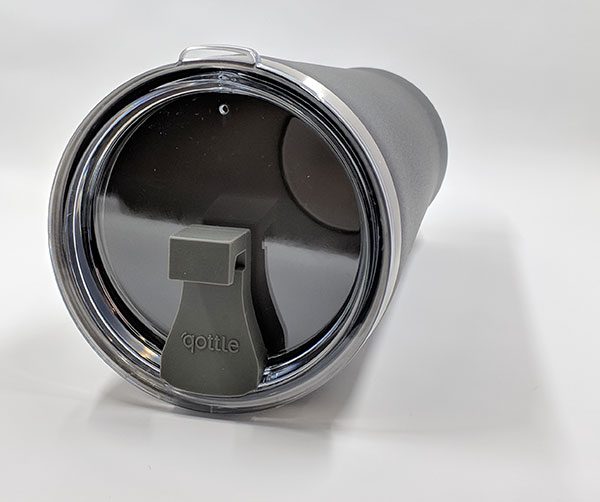 I guess the idea is that you plug the lid when you have the qottle in the cup holder in your car or in the bottle holder in your backpack, to keep the contents of the bottle from leaking if the bottle tips over.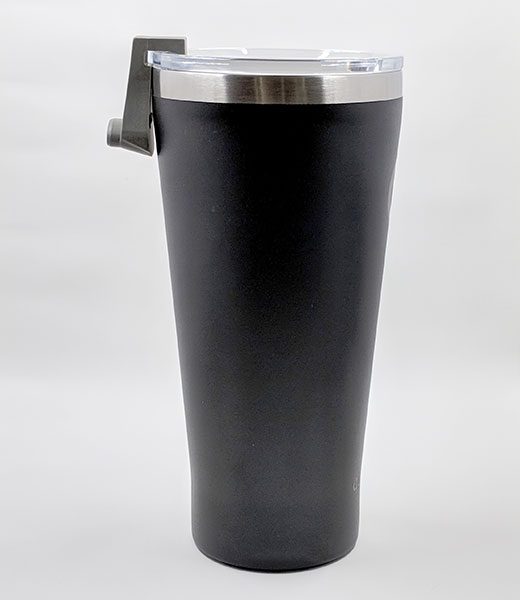 When you're ready to drink, you can remove the stopper and hang it over the edge of the tumbler. Yeah, I think this is a weird design too. I'd much rather have a better lid that has a spring loaded opening than a stopper that will get misplaced within a day or less.
Keeping cold things cold and hot things hot
qottle tumblers are double wall vacuum insulated and are able to keep liquids cold for up to 24 hrs and hot liquids hot for up to 6 hours. That sounds impressive and I wasn't sure I believed the claims till I tried it myself and sure enough, I was able to fill the tumbler with water and ice cubes and there was still ice in the tumbler the next day with no condensation on the outside of the tumbler.
And for hot liquids, ooooh boy, you have to be really careful if you fill the qottle with boiling water to make tea and then try to drink it. The outside of the tumbler only becomes very slightly warm, so it tricks you into thinking that you can safely drink from it. Trust me, this tumbler will keep hot liquids hot for hours and hours. I made a tumbler of tea and wasn't able to take a drink without burning myself for about 45 minutes after I filled the tumbler. And that was after I removed the lid for about 20 minutes.
I'm also happy to report that the stainless steel tumbler does not impart any flavor to your beverage.
What I like
I like the look of the qottle tumbler and the powder coated exterior that makes it easy to grip.
I also like that it delivers on the claims that it will keep your cold beverages cold and your hot beverages hot for many hours.
What needs improvement
The qottle tumblers need a better lid with a spring-loaded drink opening because that plug thing is pretty lame.
Update: qottle wanted me to let you know that they offer an alternative lid for $10.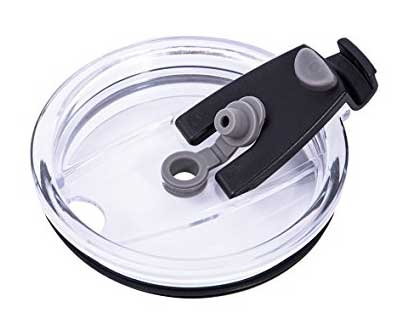 You can buy this lid for $10 on Amazon.
It would also be nice if the tumbler came with a removable handle.
Final thoughts
Stop refilling your old plastic water bottles and get a stainless steel tumbler. It will keep your beverage cold (or hot) and is better for the environment. You can make the switch easily with a qottle tumbler because it's nicely designed and doesn't have an outrageous price tag.
Source: The sample for this review was provided by qottle. Please visit their site for more info and Amazon to order.