We use affiliate links. If you buy something through the links on this page, we may earn a commission at no cost to you. Learn more.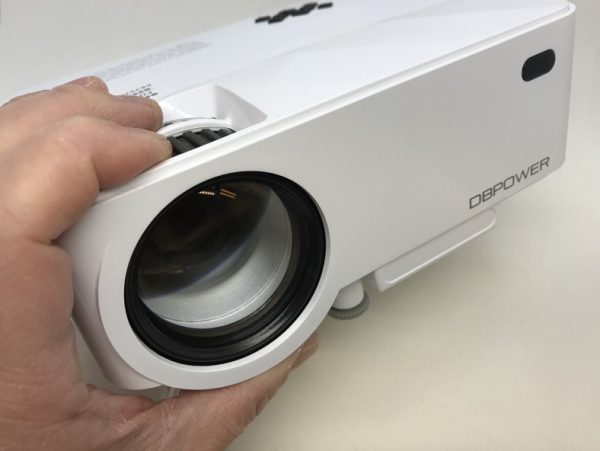 It seems that inexpensive projectors are everywhere. Today we're going to look at an LED-based projector in the $100 range, the DBPOWER T21 1800 lumen LED projector.
Imaging technology: TFT LCD, Brightness: 1800 lumens
Contrast: 1000:1
Aspect ratio: 16:10
Projection ratio: 1.4:1
Native resolution: 800×480 pixels
Supported resolution: 1920×1080 pixels
Keystone: Manual correction 15°
Throw distance: 1.5-5M
Screen size: 32-176 inches
The kit came with an HDMI cable, composite video cable, power cord, height screw, remote and manual. A lens cap was already attached to the projector.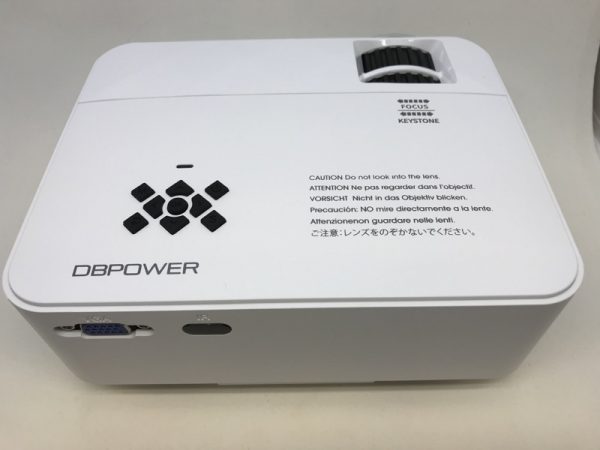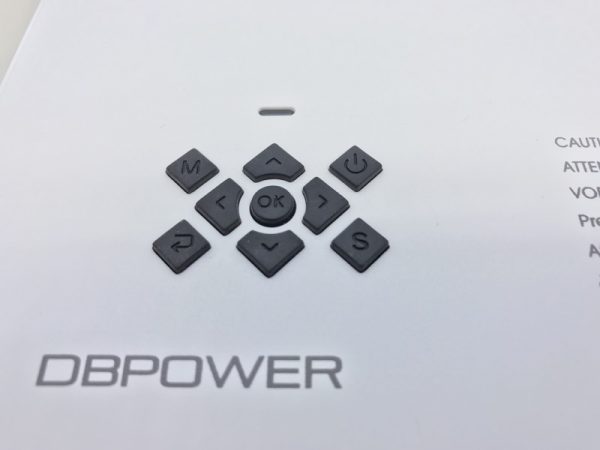 The top side has the focus and keystone correction dials, as well as 9 push buttons if you can't find the remote.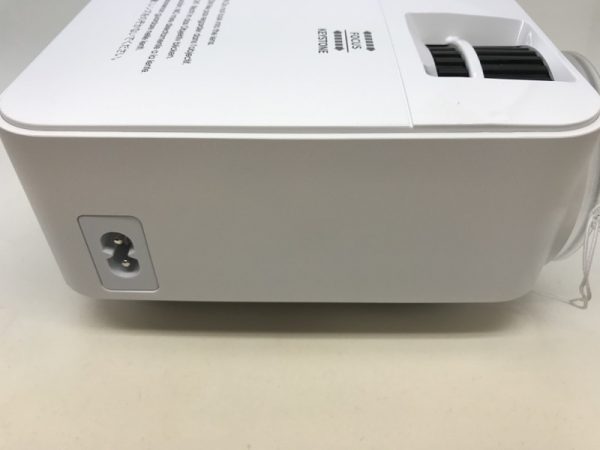 Note the power plug on the side.  The AC cord goes directly here. No external power "brick".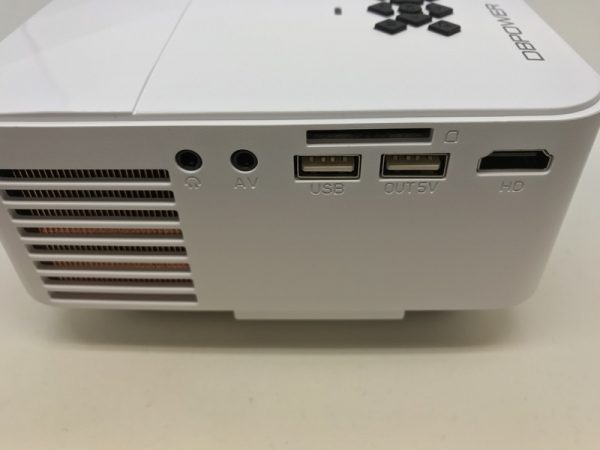 From left to right: Headphone output, composite video input, SD card slot, USB port, USB charging port, and HDMI port.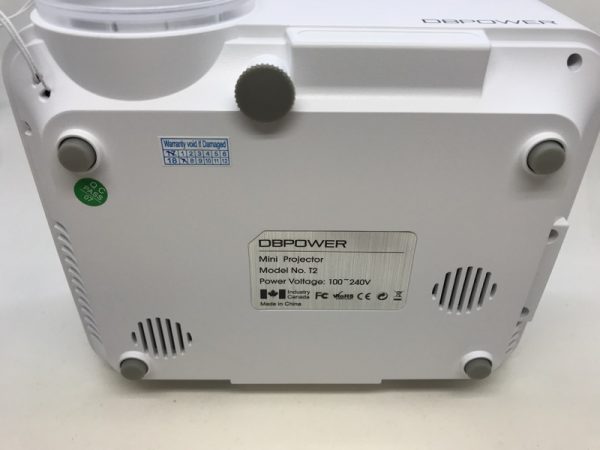 The bottom, with the height-adjustment screw in place.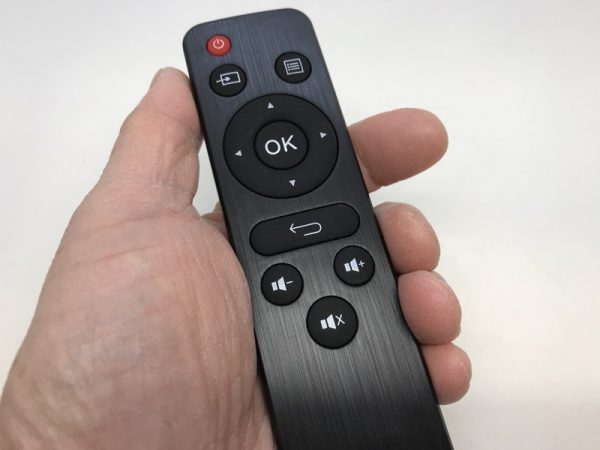 The handheld remote duplicates the functions of the control panel.  Batteries not included.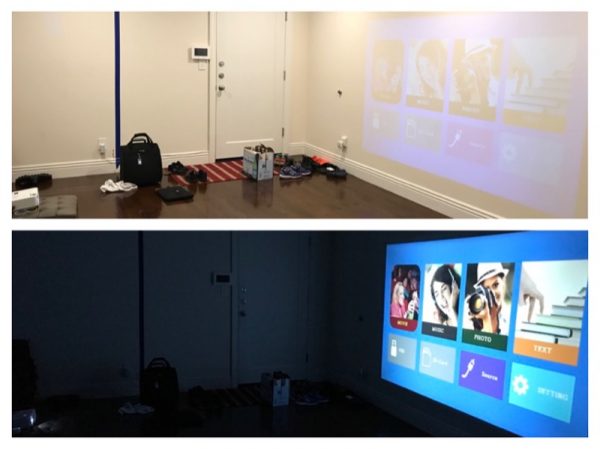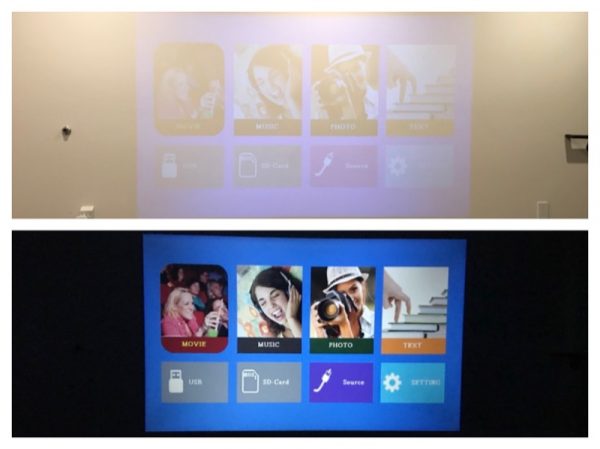 We just finished repairing our floors in our downstairs room (note the tape on the walls), so I had a clear space to set up the projector.  As you can see, the image is easily washed out from the ceiling lights.  Turn the lights off, and the image becomes much clearer.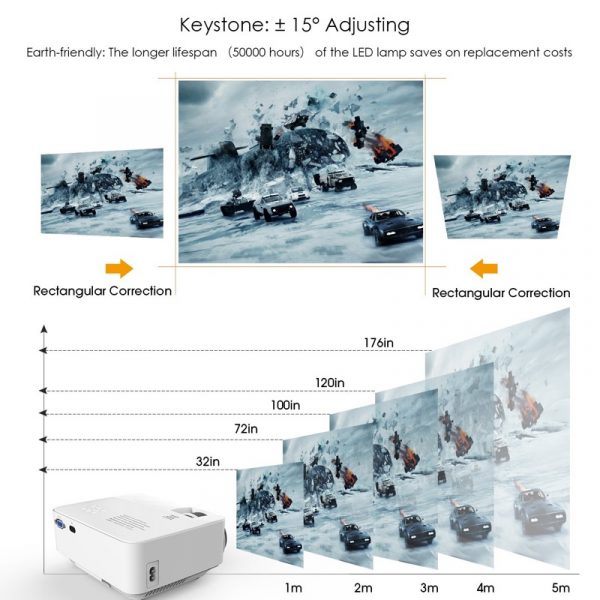 This table should give you a pretty good idea on the scaling.  I found the keystone correction dial to be quick and easy to use since it's a physical adjustment, not pixel tweaking.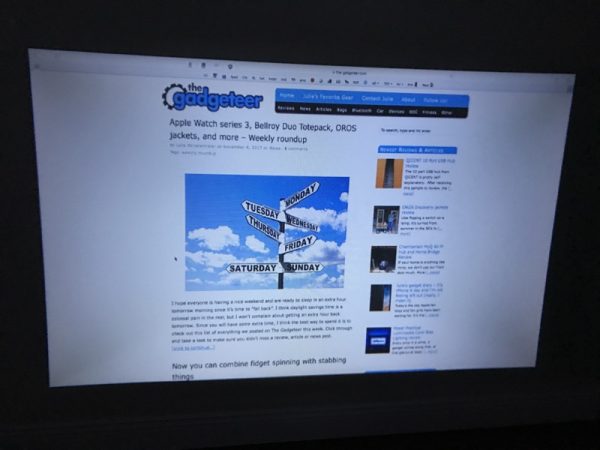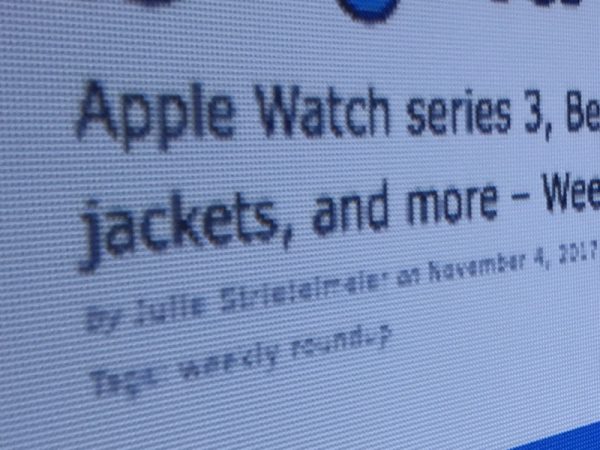 Since the native resolution of the projector is only 800×480, expect some strange scaling artifacts to happen. Here I've connected my laptop to the projector via HDMI, and you can see the "jagged" effects of scaling.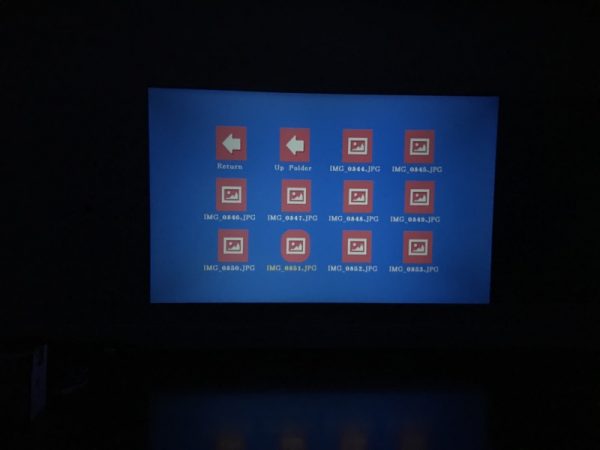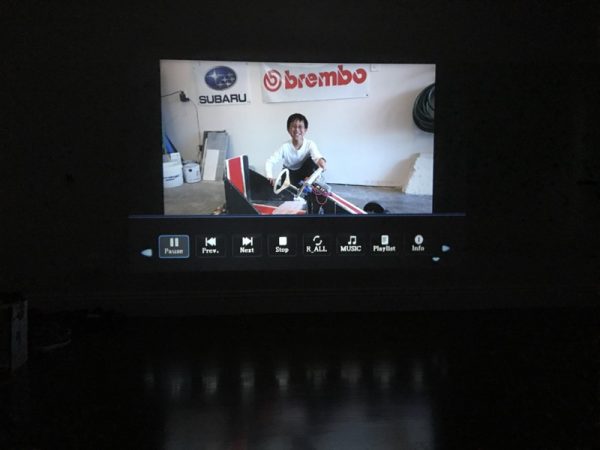 The projector also accepts SD card and USB to playback images and video.  Since you're not reading text, the results are much more pleasant.
I would probably not use the DBPOWER T21 projector for projecting web page text or Powerpoint presentations from a laptop since the native resolution of the projector is only 800×480. In fact, the Amazon page "reminders" even indicates "Not recommended for PPT, word, excel or business presentations."  I have no way to verify if the projector puts out 1800 lumens, so you need to be able to dim the room completely for best results.  If you can control your ambient lighting and you just need simple video, the DBPOWER T21 is an inexpensive, simple to use projector.
Source: The sample for this review was provided by DBPOWER. Please visit their site for more info and Amazon to order one and read other reviews.