We use affiliate links. If you buy something through the links on this page, we may earn a commission at no cost to you. Learn more.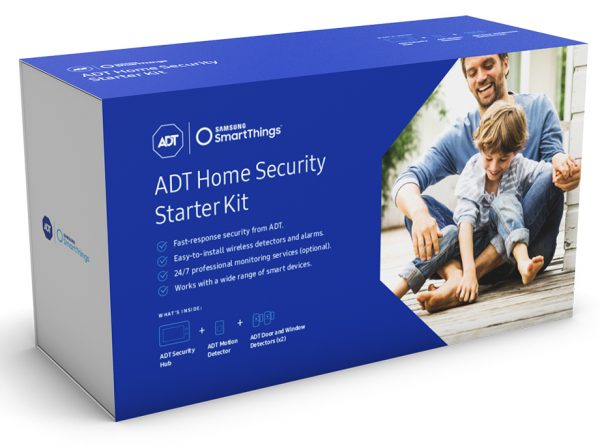 Samsung and ADT have partnered to come out with an ADT-Monitored DIY Security and Home Automation Solution. The partnership brings together the best of both worlds – Samsung's robust SmartThings smart home eco-system with ADT's expertise in home security monitoring. Unlike ADT's previous offerings, this new system is designed to be an easy DIY system that you can set up all on your own. 
In the box, you get the ADT Security Hub with its 7-inch touchscreen control panel and built-in siren, along with easy to install wireless detectors and alarms that can be used on doors and windows. The system also works as a SmartThings Hub, which means that it's compatible with hundreds of compatible devices like lights, cameras, doorbells, door locks, thermostats, sensors, voice assistants, and more. Integration with SmartThings means that the SmartThings app can be used to control not only your smart home system but your home security system too. So in addition to getting security alerts, you can use the app to do things like unlocking the door remotely and watch video through your web camera.
A monthly fee is required for the ADT monitoring service, and it will cost $24.99 for security monitoring and an additional $14.99 for life safety monitoring, which includes more extensive monitoring for things like carbon monoxide detection. And while ADT is notorious for their contract commitments, for the first time ever, there will be no contract involved or any sort of commitment. Instead, customers can subscribe to the ADT monitoring service on a month-to-month basis, and they can even sign up for it right from within the SmartThings app, without ever making a phone call.
It's worth noting that the Security hub operates over wi-fi by default, but it has an LTE connection integrated as a backup. ADT says that unlike most other security monitoring solutions, they are not charging extra for the LTE service.
The ADT Home Security Starter Kit retails for $549.99, with an expansion pack retailing for $199. The expansion pack includes smoke, water leak, and carbon monoxide detectors.
Fun fact: ADT is older than the automobile.
Update 11/14/2018: We've added some photos of the actual equipment that is included inside of the box.