We use affiliate links. If you buy something through the links on this page, we may earn a commission at no cost to you. Learn more.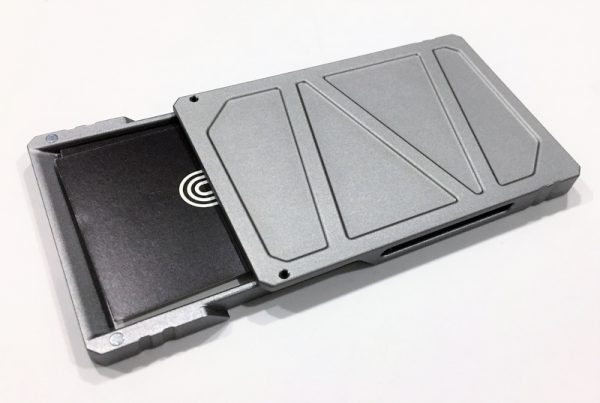 Having a good business card holder is a necessity to make a proper business introduction. While carrying a card loose in a pocket or wallet may at the onset seem sufficient, there are a number of drawbacks to this approach. The cards often become tattered and worn or dirtied in a pocket. This is unacceptable because a business card is a reminder of your first impression and should be presented to the business contact in pristine condition; an example of your own professionalism. Another downfall of a loose card is that it may become easily mixed with another person's information. Having to sort through bunch of cards in front of a new contact is a bad first impression because 1) it distracts you from the conversation 2) It shows a lack of organization 3) it implies, by your collection of other cards, that the current contact is potentially not the most important meeting you are having. One option for carrying your cards is The Lioe Titan card holder. Read on to see what I think!
The Lioe Titan business card holder comes in a black box with an outer sleeve. The sleeve can be removed and the box offers a nice presentation for gift giving.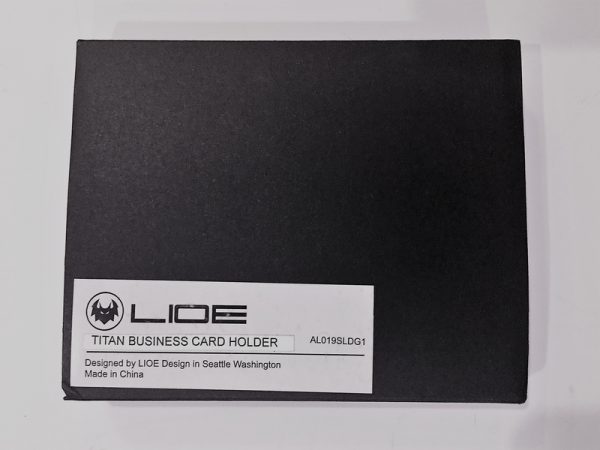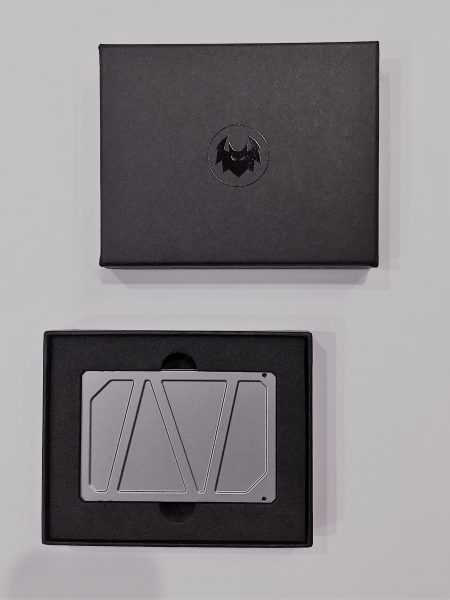 The first impression is that the holder is extremely well designed. There are many aluminum shell style wallets that imitate the style and design of Rimowa luggage but are flimsy sheets of aluminum that bend and dent with the slightest pressure. The Aluminum pieces used to fabricate the Titan are not stamped – they are machined – and they are at least 2 mm thick. Because the holder is made from Aluminum it is lightweight and only weighs 90 gram when empty. The case is 66 mm wide, 99 mm long and a little less than 9 mm tall.
There are lots of stylistic cues on the Titan that makes it an attractive and yet still functional gadget. The top has a truss pattern that the manufacturer says was inspired by the nose of the B-29 Superfortress but it reminds me more of The John Hancock Center. The sides and bottom are detailed with flutes which make it easy to hold, open and close.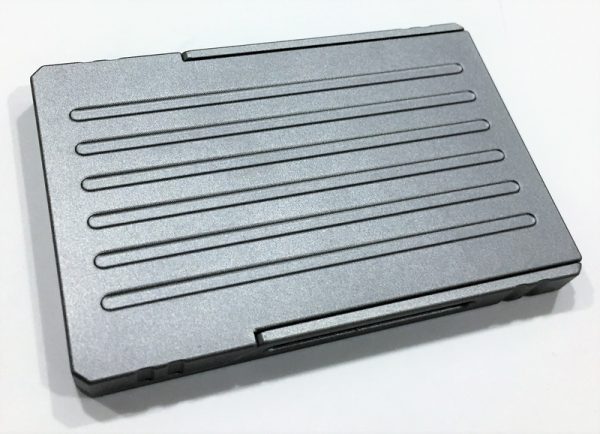 The picture below is a view of the bottom when open. You can see here that all parts are bead blasted and anodized for a uniform gunmetal grey finish.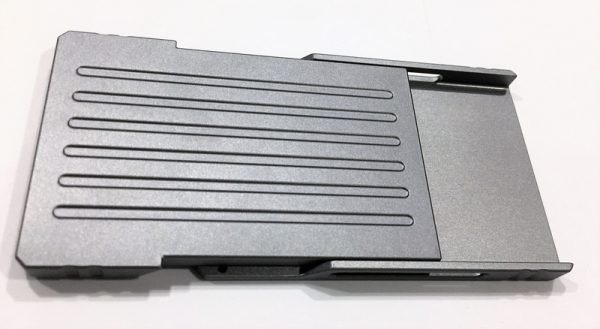 The sides have some flutes as well and an opening which shows the cap screw that keeps the top and bottom halves attached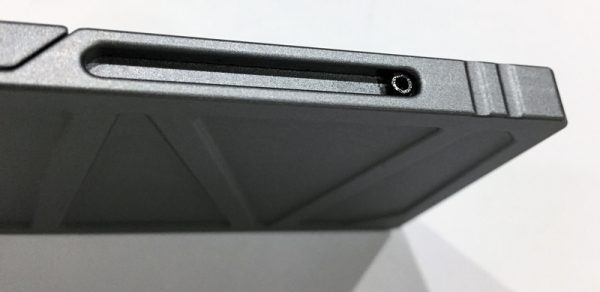 The front is etched with the Lioe brand

The inside bottom edge has a 45 degree slope at the front which makes it easier to get cards out of the inside. In the picture below you can see a Western European sized business card fits within the 55 mm interior. Apparently, Egyptian cards can be up to 57 mm wide, but all other sizes should fit within this holder. Nine standard thickness cards will fit in the holder, or 2 embossed credit cards and 1 laser engraved card. Credit cards inside the case should be shielded from RFID since the metal enclosure acts as a Faraday Shield. If the case is open like below it may be possible to read the RFID information.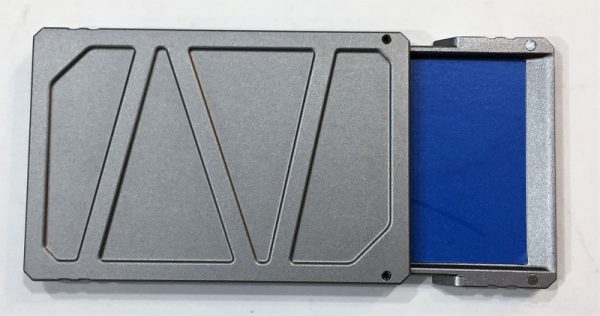 The Titan has press fit magnets in the base and a steel set screw in the top which acts as a magnetic closure. The closure is enough to keep the unit from opening during normal handling but will not keep it closed if it is jostled in a pocket or stored loosely in a bag.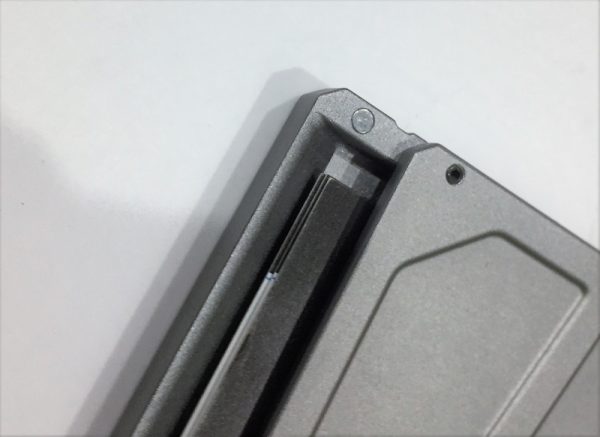 One last thing I noticed is that the Titan can be bit loud when opening and closing. It registered 57 dB on Decibel X when measured about 3 feet away. That's not really loud if your having a conversation, but will be noticeable if you are trying to keep quiet during a presentation. I made a movie demonstrating the noise below.
In conclusion, the Lioe Titan has plenty of style. The metal design and finish, construction and operating mechanism set it apart from other holders. The Aluminum parts are thick and resilient and will last a lot longer than a stamped sheet metal alternative. However, The closure may open unexpectedly and the operation of the holder may be a distraction if it is meant to be done discreetly during a meeting or presentation. Lastly, the Titan retails for $70, which is almost three times the cost of a hinged door design or leather folding design. If you're looking for a conventional design to store business cards look elsewhere, but if you want a unique and durable holder the titan may be just what you're looking for.
Source: The sample for this review was provided by Lioe Designs. Visit their website for more information or to order.

Product Information
Price:
$70
Manufacturer:
Lioe Design
Requirements:

Conventional style business cards

Pros:

unique design
durable
style

Cons:

price
closure may not remain closed
may be noisey