We use affiliate links. If you buy something through the links on this page, we may earn a commission at no cost to you. Learn more.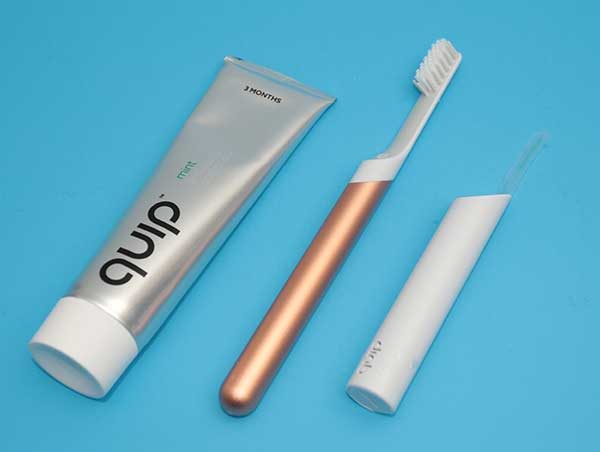 Do you brush your teeth at least two times a day, preferably right after you wake up in the morning and before you go to bed at night? If you answered yes, good for you. If you answered no, I foresee dentures in your future. Seriously though, how do you make dental hygiene a habit and can the right toothbrush be the answer? I've been testing a quip electric toothbrush for the last couple of weeks. Let's see if it has made brushing is my new favorite hobby.
What is it?
quip is a compact electric toothbrush that has been designed to ditch gimmicks like Bluetooth connectivity, USB charging, reminder LEDs to change the heads, etc., in favor of creating an easy to use toothbrush that will help keep your teeth and gums healthy.
What's in the package?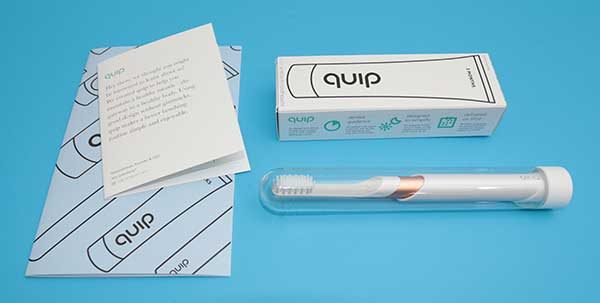 You can purchase a quip toothbrush with or without quip toothpaste. quip sent me a kit with the brush and a tube of their mint toothpaste paste.
The toothbrush is available in six colors. I was sent the copper version.
Design and features

The quip toothbrush is very compact for an electric toothbrush. It's barely larger than a traditional plastic handled toothbrush.
The quip brush has a CNC'd aluminum handle with a bead-blasted matte finish. Quip also offers a less expensive plastic handled version of the toothbrush.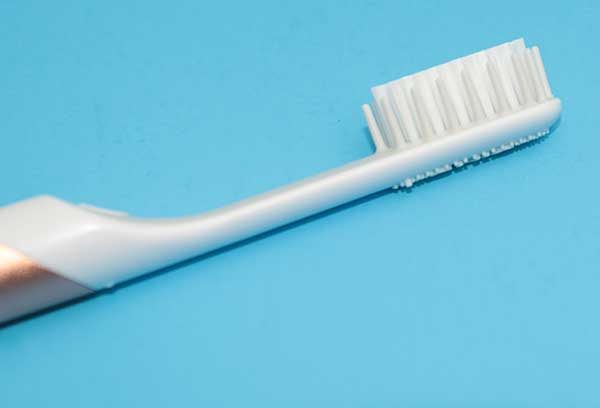 The brush is made of plastic with a small flat brush head at the end of the handle, that has soft rounded DuPont nylon bristles that are surrounded by a row of rubber "fingers".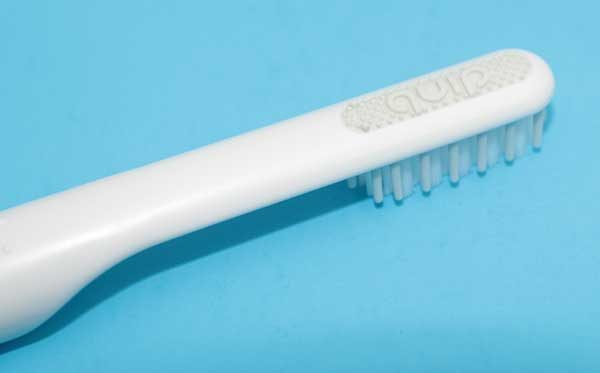 The back of the brush head has a rubber covering with the quip logo and short nubs that can be used to clean your tongue.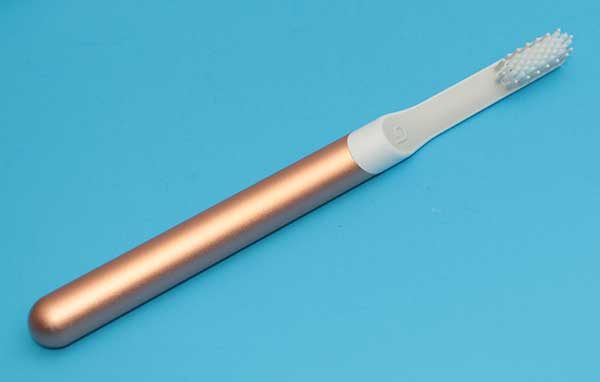 As you will notice, there isn't an obvious charging socket or USB connector built into the handle of the quip toothbrush. You might notice the power button though. It's built into the white part of the brush head where you see the q. Pressing this button turns on a 2-minute brushing timer.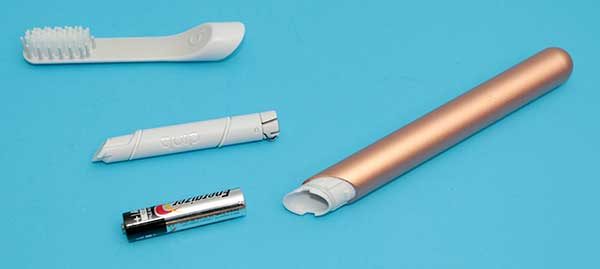 The brush head can be removed when it needs to be replaced after 3 months. It can also be removed if the AAA battery in the handle needs to be replaced. Rubber O-rings keep the mechanism water-tight.

A toothbrush holder is included with the quip. This holder has an adhesive strip on the side so it can be attached to your bathroom mirror or wall. It can also be used as a travel cover like you see above.
Let's brush!
Since the quip toothbrush runs on one AAA ordinary alkaline battery, you don't have to worry about charging it up for your first brushing session. All you need to do is remove it from the package, rinse the bristles, add a pea-sized blob of toothpaste, press the q button on the handle and brush your teeth.
If you've used other electric toothbrushes, you won't be impressed with the way the quip feels against your teeth. Although you can feel the vibration in the handle, the bristles don't spin or even move at all.
The vibration sensation might cause people to think that they can just hold the bristles against their teeth to clean them without actually moving the brush back and forth across their teeth and gums.
Even though the brush bristles don't move, the vibration feature is useful because the toothbrush pulses every 30 seconds to prompt you to move to the next quadrant of your mouth. After 2 minutes, the brush pulses twice and stops vibrating to let you know that the brushing session has ended.
One thing I noticed about the quip's aluminum handle is that it gets slippery after toothpaste and spit start running down your hand.
The toothpaste
I was also sent a tube of quip mint toothpaste. I normally use Sensodyne Pronamel toothpaste and found the quip toothpaste to have more grit than what I'm used to but the taste of the paste was just fine and it cleaned my teeth fine as well.
Final thoughts
Do I think that the quip toothbrush cleaned my teeth better than a manual toothbrush? No, not really. But I do think the quip helped me brush longer than a manual toothbrush? Yes, the 30 seconds per quadrant pulsing feature really does help you do a more thorough job of cleaning your teeth and gums.
But here's the thing. You can go to Walgreens, Walmart, CVS, or one of many other stores and buy a manual toothbrush (with a small head and soft bristles – because that's the best for your teeth and gums) in a pack of 4 toothbrushes for only $5 or so. That's much less than what you will pay for the quip toothbrush and one year of brush head refills.
The aluminum handled quip toothbrush starter set without the toothpaste costs $45 and then you'll be billed $5 every three months to receive a replacement head. That works out to $60 for the first year. You can save $5 if you prepay $55 up front for that first year. The starter set with the plastic handled version of the quip is priced at $25. That means the quip toothbrush with one year of refills will cost you$40 – $50 more a year more than buying a 4 pack of manual toothbrushes for $5 at a local retail store. The only features missing when you go with a manual toothbrush are the holder/travel cover and the 2-minute brushing timer.
While I like the look and feel of the quip, I don't see it as a better value than a traditional toothbrush.
Source: The sample for this review was provided by quip. Please visit their site for more info.

Product Information
Price:
Starts at $40 for a set, $5 - $10 every 3 months
Manufacturer:
quip
Pros:

Built-in 2 minute cleaning timer
Compact and comes with a travel cover
Powered by a replaceable AAA battery
Replaceable head

Cons:

Not convinced that the vibration contributes to better cleaning