We use affiliate links. If you buy something through the links on this page, we may earn a commission at no cost to you. Learn more.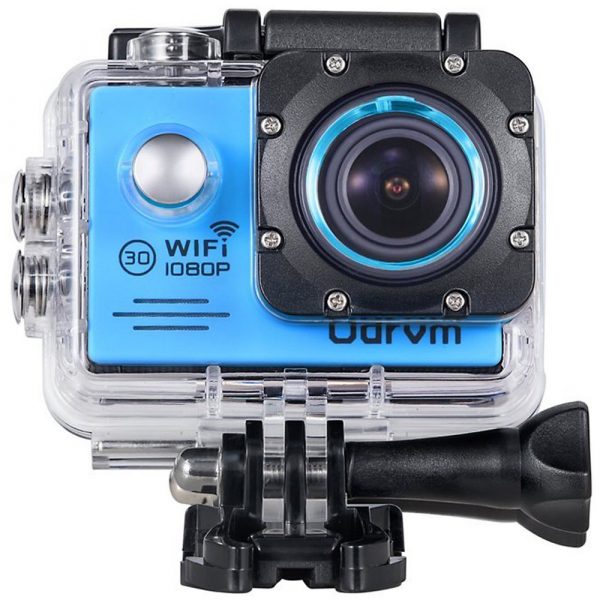 I wouldn't describe my family as overly adventurous, but we do participate in our share of outdoor activities. We enjoy trips to the beach, water parks, and amusement parks. We also enjoy riding our bikes and we're hoping to get our children into snowboarding this winter.
For these reasons, I've been toying with the idea of purchasing an action camera.
Fortunately for me, I was offered the chance to review the ODRVM action camera. It's a 1080p waterproof camera that can be connected to your smartphone via Wi-Fi.
I'm hoping this is the perfect camera to catch my families outdoor moments.
Specifications
Lens – 170 degree wide-angle
Video Resolution – 1080P (30FPS) / 720P (60FPS) / VGA (60FPS) / QVGA (60FPS)
Video Format – MOV
Photo Resolution – 12MP/8MP/5MP
Battery Capacity – 900 mAh
Waterproof Depth – 30M (100 ft)
Memory – supports up to 32GB class 10 micro SD
Design
I've never used an action camera before, but I've seen others use them; as far as I can tell this camera looks similar to every other action camera I've seen.
The front of the camera contains the lens and the power/mode button. On the back is the display and two LED indicators. The top of the camera has an "OK" button and another LED indicator. One side of the camera contains an HDMI port, USB port, Micro SD slot, and the mic opening, while the other side contains the Wi-Fi button and up/down selectors. Finally, the bottom of the camera is where you insert the battery.
As the title of the review implies, the camera is waterproof; however, you have to insert the camera into a waterproof case first.
There isn't much to the case; it fully encloses the camera, while still allowing you to access all of its buttons.
When the camera is inside the case you can use it with a variety of different mounting options.
Finally, everything can be stored in the included carrying case.
You have to position all the accessories like you're playing a game of Tetris, but they're all able to fit inside.
Performance
The action camera is capable of taking both videos and photographs; it's incredibly easy to use.
When you're in video mode, you can start and stop recording by pressing the "OK" button.
I first tested the camera by taking a quick movie in my parent's yard.

I was very impressed with the video; I've previously reviewed devices that claimed to record HD video but found the video dark and grainy. This camera's video was very clear; if you pause the video you can make out fine details.
The part of the camera I was most excited about was its ability to function up to 30 meters (100 feet) underwater.
To test this feature, I literally jumped into my parent's pool and began to record.

The video was a bit darker but just as clear as before; you can actually make out wrinkles in the pool's liner.
After testing the recording capabilities, I decided to leave the camera in my bathing suit pocket so it would remain submerged for an extended period. After approximately 15 minutes I removed the camera from my pocket and found it worked perfectly fine.
I next decided to take a few pictures with the camera.
As with the videos, I found the photos to be very clear.
I was pleasantly surprised with this camera. It produces quality photos and videos, something I can't say about every High-Def device I've reviewed.
App
The camera also works with an app, ZSANYCAM, which is available for Android and iOS.
I didn't find the app particularly useful; it connects to the camera via Wi-Fi and allows you view a live feed, the videos/photos that have been recorded, and change some camera settings.
I tested it for a few minutes and never found the need to access it again.
Conclusion
I was really impressed with the action camera. It was very easy to use and took really good quality videos and photos.
The camera is waterproof and comes with a variety of accessories so you can use it for a variety of reasons. I plan on bringing it to every vacation and outdoor family adventure.
Along with all the camera's great features, it's also incredibly affordable at $49.99.
If you're into outdoor activities and want to capture some great moments, I can't think of a reason not to purchase this action camera.
Source: The sample for this review was provided by Odrvm. Please visit their site for more information and Amazon to order.