We use affiliate links. If you buy something through the links on this page, we may earn a commission at no cost to you. Learn more.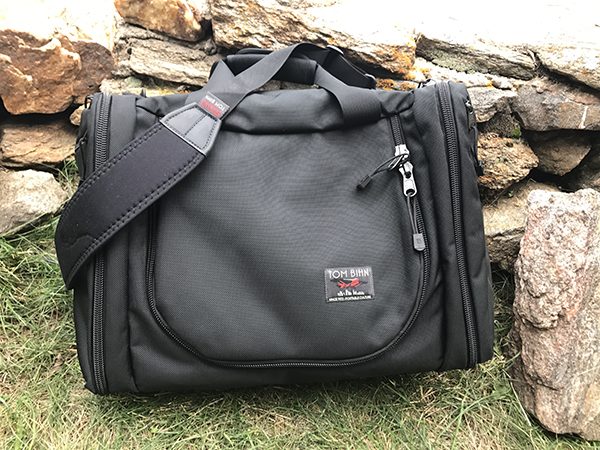 If you are a frequent traveler like I am, you probably have a pretty high standard for your suitcases and travel gear.  I am no different.  I travel 25-50% of my time for my job and finding that perfect bag for those 2-4 day trips has been an ongoing quest.  I have quite a collection of different duffels, suitcases, roller bags, etc. and each has had their benefits but also their drawbacks, leaving me searching for that ultimate bag for my work trips.
When I had the opportunity to review the Tom Bihn Aeronaut 45 travel bag, I was excited to have another option for my travel needs but managed my expectations because I have yet to find the perfect bag and there is always something that just isn't quite right for my needs.  I can say right now that  I am more impressed with this bag and accessory system than I have been with ANY other product I have used since becoming such a frequent flyer.
The size of the Aeronaut 45 is designed to meet the maximum carry-on dimensions for your major airlines (22″ x 14″ x 9″) but maximizes the space and can be internally modified to fit your exact needs.  "(T)he Aeronaut is at once soft luggage, a duffel bag, and a backpack" as described in the product description.  the backpack straps can be completely hidden, allowing you to use the top handle or the optional shoulder strap should you want to carry it over the shoulder or cross body.  The Aeronaut is not a roller bag and that is fine by me!
Many duffel bags are simply a sack with no compartmentalization or have a tiny pocket that serves little purpose for actually organizing your clothes/equipment.  The Aeronaut 45 is smartly divided into three compartments, a main/center compartment where most of your clothing will go, which is flanked by two large end compartments on each side that will actually hold a lot.  I wear a size 14 shoe and I was able to fit a pair of my bulky clodhoppers in one of the side compartments (the website says they can accommodate a size 12 running shoe so I am guessing nobody there had a size 14 to test but mine fit like a glove).  This is the first time I have had a carry-on sized bag that I was able to keep a pair of my pontoon sized shoes in anything other than the main storage compartment.  This was the first thing I tested when I received the bag and when I discovered that both shoes would fit in one pocket, I was ready to call it a victory and write this review, but there is so much more to the bag and the accessories, I might as well earn my keep and look into the rest of it.
The bag is offered in a myriad of external and internal color combinations with more on the way.  Constructed ballistic ripstop nylon, this bag will have no issues being used regularly and being thrown in overhead bins or in the seat in front of you.  The materials feel thick and sturdy yet lightweight and flexible at the same time.  All zippers are YKK and any external zippers are also YKK Aquagaurd Coil Zippers.  Everything on this bag looks and feels like it was designed with longevity in mind and to be a piece you will use for years.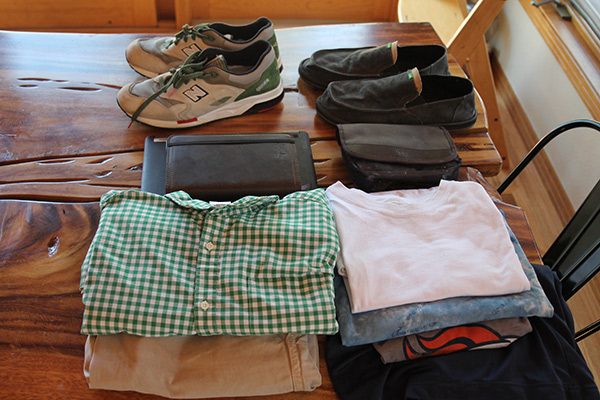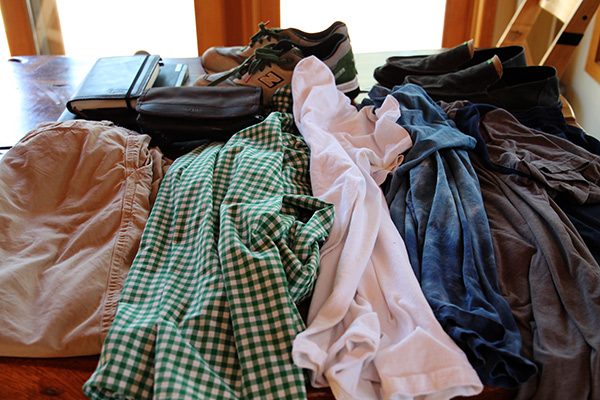 The main compartment is the perfect size for folded pants or dress shirts and work perfectly with their optional packing cube accessories or with many of the packing accessories you might already own.  I have a couple sets of organizing cubes from other manufacturers and they fit quite well but I really like the ones from Tom Bihn because of their clear intent to be used with this product.  There are so many little conveniences that have been so thoughtfully designed into this bag it is difficult to list them all but everything on the bag is there for a reason and you will find that you will miss them if you go back to using another bag after this.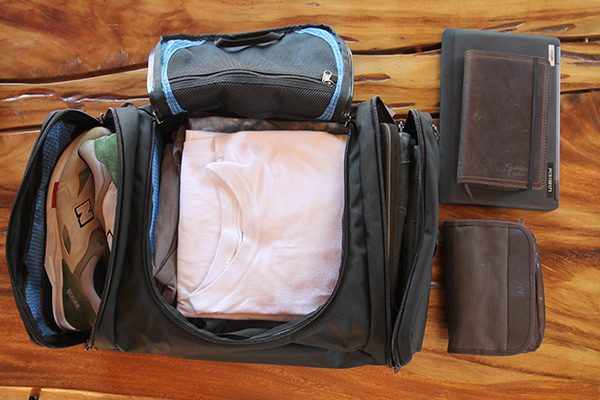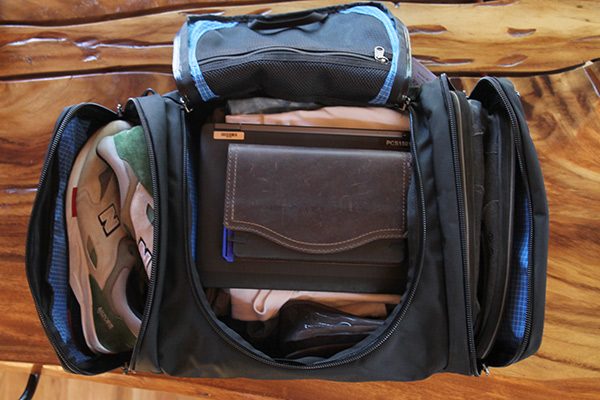 I am a bigger guy (6'1″, 230#) and the bag fit me perfectly in backpack mode but also adjusted to fit my wife who is much more petite than I am.  I usually prefer a shoulder strap and was fortunate to receive one of those as well but I can see myself using the backpack mode as often or more often than the shoulder strap because of how comfortable it is and how well the straps and back are padded to make for a comfortable carry over long distances.
The offer a comprehensive range of travel accessories, which can be ordered to match your Aeronaut bag.  I received a couple of large packing cubes for organizing pants and shirts inside the Aeronaut; some of the travel stuff sacks, which can be used as compression sacks for lightweight jackets, socks/underwear, dirty clothes or just anything you want to keep separate and tuck into nooks and crannies in the bag; a 3D Clear Organizing Cube for holding my toiletries and can be easily taken out at airport security if it is holding liquid; and the shoulder strap, which gives me an additional option for how to carry the bag.  The shoulder strap is the most comfortable strap I have ever had on any bag.  It is constructed from soft neoprene with a stretch backing, which makes the bag feel 50% lighter on your shoulder and cuts down on the pressure point on your shoulder or collarbone.  The all-metal hardware on the shoulder strap is another sign of quality and assures me that I won't have to deal with a broken plastic buckle at an inopportune time.  With a retail price of $295, I think this bag is a bargain.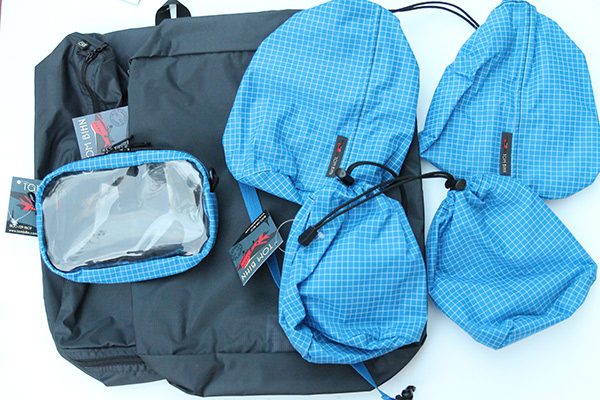 Overall I think Tom Bihn hit a home run with this product.  I have recommended it to people in my office when we talk about our travel and the gear we use.  I highly recommend this bag and strongly encourage you to look into their accessories to help organize your packing.  I have actually been using the pouches on their own to carry small items to my kid's soccer games and also to keep things organized in my car.  the versatility offered by all of these products is one of the reasons it is my new go-to for my short business trips.
Source: The sample for this review was provided by Tom Bihn.  For more information please visit their website.
Product Information
| | |
| --- | --- |
| Price: | $295.00 |
| Manufacturer: | Tom Bihn |
| Pros: | Extremely well engineered and constructed bag that has the traveler in mind; very competitively priced for the quality, versatility, and functionality of this bag; best shoulder strap I have ever had on any bag; the backpack straps are completely hidden when not in use. |
| Cons: | I am actually at a loss here.  I have no complaints, which is a first for me with bags and travel gear. |