We use affiliate links. If you buy something through the links on this page, we may earn a commission at no cost to you. Learn more.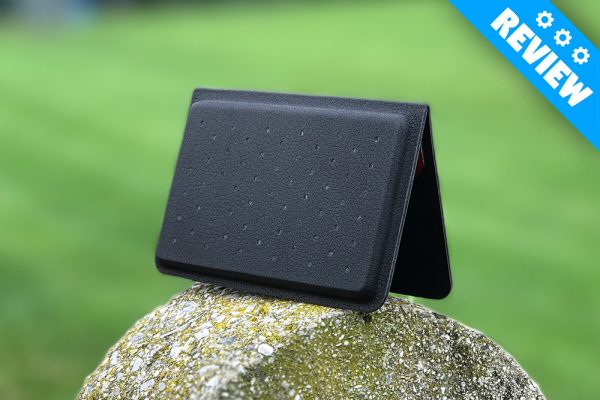 The Card Wallet from Discommon Goods is about as minimal as you can get while still being able to call it a wallet, and personally, I love that about it. I have a deep appreciation for clean aesthetics and simplicity, and this feels like the distillation of what one would need from a wallet — basic function of holding a few credit cards and some folded bills while looking smooth and handsome.
This wallet is the sharply-dressed bartender in a small, upscale club who mixes you a perfect gimlet with a curl of lime balanced on the rim of the glass and slides it over to you with a nod. He gave you what you wanted, did exactly what you expected, but all the same it was really damn impressive.
In my testing, I found I could fit about at max 4 cards in both sides and still have it close almost perfectly flush. Anything more than that is simply too much for the thermoformed pockets to handle and the wallet doesn't quite close all the way. In fact, I wouldn't even go as far as 3 cards in both sides. It sort of ruins the appeal of the formed shape, setting it down and seeing it propped open a bit.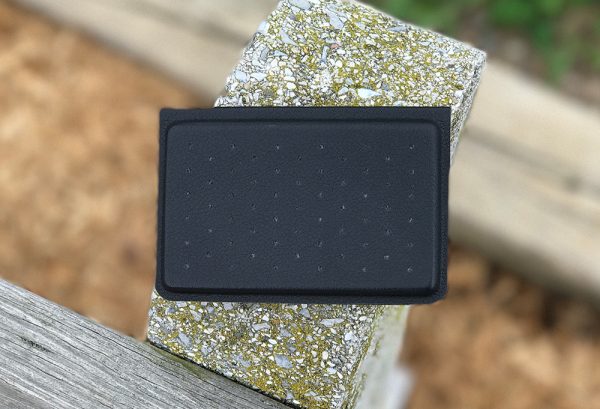 Fortunately, I typically only carry a few cards with me, so I kept my license, a thin insurance card, a couple business cards and a debit card in one side. I left the other pocket empty in the event I had some cash I wanted to place in that side. Even with a small wad of bills, the wallet sat closed, flat and flush.
And did I mention how small it is? The area of the wallet is only a few fractions of an inch larger than a credit card. The manufacturing process forms the leather into what looks like a slim, rectangular clamshell, with v-cut pockets on the inside, revealing soft gray tweed.
This might be an introduction to con #1… the wallet is so small, scarcely larger than a credit card, that you have to fold a dollar bill twice to fit it into the pockets. I don't mind that, personally, because I don't often have to deal with cash, but anyone who does might get a bit annoyed at having to unfold a wad of bills twice and smooth them out to hand to the cashier. Naturally, you could carry a billfold in addition to the card wallet, but it begins to undermine the simplicity of a piece like this. Why carry two things? You'd be better off with a larger bifold wallet at that point.
The wallet's design is impeccable. There isn't a hint of stitching anywhere thanks to the thermoformed lamination process, seamlessly binding the soft leather and blended tweed materials. It reminds me of the seamless look of today's modern cell phones, where different textures and materials are combined and appear unbroken and natural. It feels good in your hand, looks great, and seems plenty durable.
Never miss one of our posts again. Sent MON, WED, and FRI with the latest gadget reviews and news!
The only other quibble I could mention is with the top lip of the pockets. Since the card cutouts are so precise, it only leaves a tiny bit of wiggle room for the cards.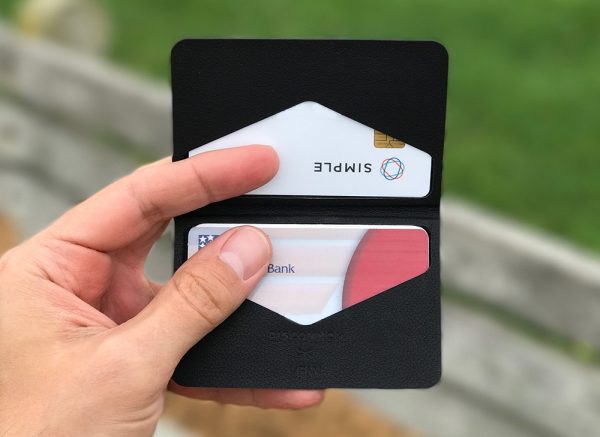 The top of the pockets running along the spine aren't tapered and make it hard to easily slip a card out of the pocket. I found that when I tried to remove the top card, it would push against this lip until I used my other hand to push the leather down out of the way of the card. It was irritating until I got used to it. I don't know that there could have been a way to fix this, though. Maybe by continuing the pocket cutout all the way to the center spine of the wallet? It might have weakened the fold, made it too floppy.
Outside of those couple points, the card wallet is a quality piece. It looks expensive, and feels expensive. Which is good, because it also *is* expensive. At $125, it's definitely reserved for a certain type of individual, like someone who has high expectations in their accessories and is really into the everyday carry scene and has no problem dropping a money on watches, pocketknives, key fobs and things that you use every day that are clearly worth that *investment*.
The company offering this wallet, Discommon Goods, seems to specialize in this very thing, touting high-end items such as a $230 Damascus steel bottle opener and a $1,200 carbon straight razor. Definitely a step up from your local Target aisle.
Don't let that stop you, though. The things you use every day are worth the extra investment if you enjoy them, and if they make you feel like a globetrotting spy every time you pull it out at a bar, all the better.
The Card Wallet is available now from Discommon Goods for $125.
Source: The sample for this review was provided by Discommon Goods. Please visit their site for more info and to order.
Product Information
Price:
$125
Manufacturer:
Discommon Goods
Pros:

- Clean, minimal design
- Seamless, luxurious leather material
- Small enough to carry in a front or shirt pocket

Cons:

- Limited carry capacity
- Card cutouts impede easy removal
- Expensive