We use affiliate links. If you buy something through the links on this page, we may earn a commission at no cost to you. Learn more.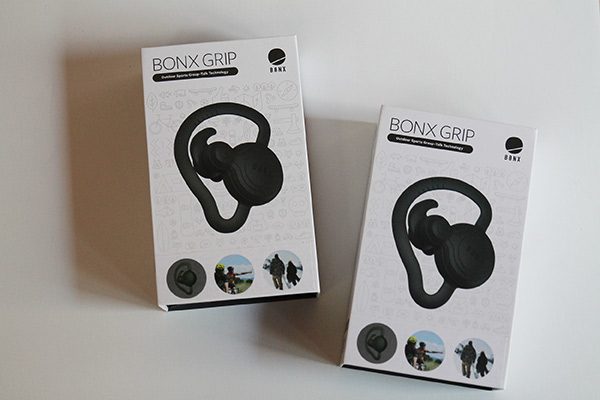 For the outdoor loving readers out there who are looking for a way to stay in touch without having to pull out your phone, the BONX Grip just may be the solution you have been looking for.  At first, I wasn't quite sure how functional this would be for me because it seems to fill a very narrow niche in the communication universe but that all changed when I paired a couple of them to my and my wife's phones and began talking.  All you have to do to get going is download their free app, pair the device like any other Bluetooth device, follow a couple simple instructions and you are off and running. 
BONX explains that this is not a phone or a walkie-talkie.  From a technological standpoint and how data (your voice) is relayed anywhere on the globe, that is absolutely correct even though it applies the functionality of both, and quite well from my experience.  You need your paired phone with you and it must have a signal in order for this device to work.  In addition to having all the functionality of a common Bluetooth headset (answering calls, listening to music…) it uses its software to create a private call room that supports between two and ten BONX, meaning you and your group can all be on one call together, sharing your experiences as they happen.  And because it's not a walkie-talkie with limited range, you can connect with other BONX devices no matter where they are in the world, as long as your phone has a signal.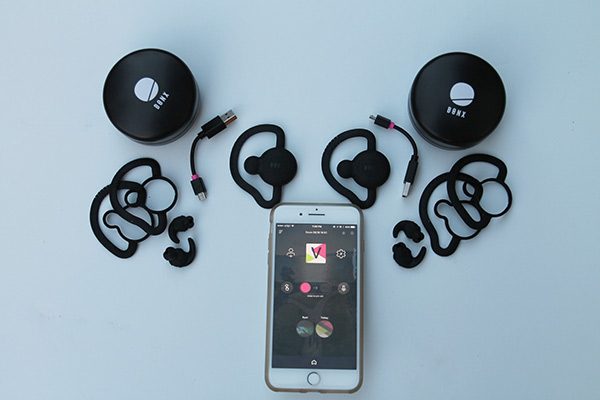 The device relies on the data provided by your phone and supports 3G, 4G and Wi-Fi.  When I tested this with my wife, we first started at our house and progressed to her being at home and me in my office 30 miles away, to out on a trail in the foothills of the Rockies.  I also tested the device when my wife was on Wi-Fi and I had one bar of 4G service.  This caused some gaps in our conversation, much like it would if you were on a phone call with a weak signal.  One nice function of this device is that if you totally lose your signal and then come back into an area of service, you will be automatically reconnected to your call and don't have to dig your phone out to reconnect.  This feature would be very handy if you are skiing, hiking, fishing, etc. and don't have easy access to your phone.
The noise canceling and voice recognition features are as advertised.  Other voices around me were not transmitted and I could hear the person on the other end of the line no matter where each of us was calling from.  I didn't test the water and shock resistance but the rubber coatings and housing around the earpiece leaves little doubt that I will be safe in the rain or tumbling down the next ski slope that was too advanced for me to attempt.
BONX has two buttons on the outside of it that are easy to find with your hand.  The larger button answers and hangs up calls and acts as the push to talk button should you want to enable that feature and not be on an open line with your friends and the smaller button is a mute button if you need a little privacy during a call.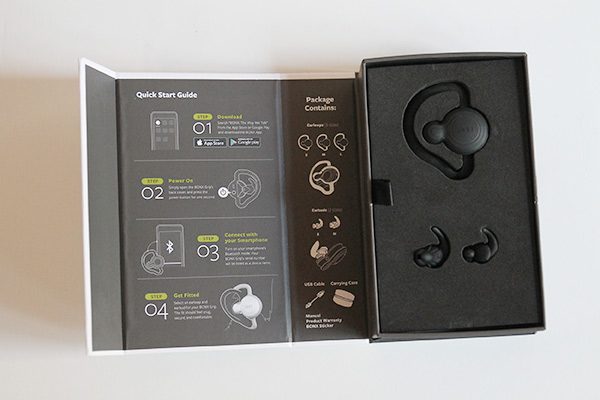 It is comfortable on your ear and has a loop that holds it in place, making for a good fit that shouldn't fall off.  It comes with three different sized ear loops and 2 different in ear attachments to customize the best fit for you.  I found a perfect fitting loop for me but the two in ear attachments were a little small for me so I didn't get as tight of a seal as I would have hoped.  My wife had no issue with finding the right combination of attachments to tailor the fit to her perfectly.  I was able to get my ski helmet over this earpiece but it took a little adjusting and maneuvering for it to be a comfortable fit.  I still have a few months before I can get it on the slopes and test it there but I expect that it will perform as advertised as long as I have cell service.
The sound provided by the device for voice calls is similar to what you expect coming directly from a mobile phone or another Bluetooth device.  Don't expect Bose or Bang and Olufsen sound quality if you are streaming music through it but that's not why a person buys this device.  It is made to be a multi-function Bluetooth headset that supports voice calls with multiple people using multiple calling modes.  BONX is available in four colors: black, white, green and pink, and retails for $139.95
Pros: Multiple functions that go beyond your regular Bluetooth headset; easy to pair to your phone and set up call rooms to talk with multiple people; picks up your call if you lose then regain service; good voice recognition and noise cancellation; works as a regular Bluetooth earpiece if you aren't connected with other BONX.
Cons:  Some of the places you might want to take BONX may have spotty cell service and no Wi-Fi so don't expect uninterrupted calls if have one bar of service; to get the full use of BONX you will need to buy at least two of them or a friend/family member will need to buy one – it would be great if they offered to sell them as single units or in pairs but I'm just being picky.  Ear loops come in small, medium and large but the in-ear piece only comes in small and medium, leaving me with a slightly loose fit in my ear (the ear loop holds it securely in place though).
This device isn't going to be for everyone but for those people who want to stay connected during outdoor activities, vacations, concerts or just out and about town and are looking for a rugged ear piece that will go where you need it to go, I would recommend checking out BONX.  I really look forward to using it this ski season and staying connected with friends when we are making our way down the hill.
Source: The sample for this review was provided by BONX.  For more info visit their website and Amazon to order.
Product Information
| | |
| --- | --- |
| Price: | $139.95 |
| Manufacturer: | BONX |
| Retailer: | Amazon |
| Pros: | Multiple functions that go beyond your regular Bluetooth headset; easy to pair to your phone and set up call rooms to talk with multiple people; picks up your call if you lose then regain service; good voice recognition and noise cancellation; works as a regular Bluetooth earpiece if you aren't connected with other BONX. |
| Cons: | Some of the places you might want to take BONX may have spotty cell service and no Wi-Fi so don't expect uninterrupted calls if have one bar of service; to get the full use of BONX you will need to buy at least two of them or a friend/family member will need to buy one - it would be great if they offered selling them as single units or in pairs but I'm just being picky.  Ear loops come in small, medium and large but the in-ear piece only comes in small and medium, leaving me with a slightly loose fit in my ear (the ear loop holds it securely in place though). |