We use affiliate links. If you buy something through the links on this page, we may earn a commission at no cost to you. Learn more.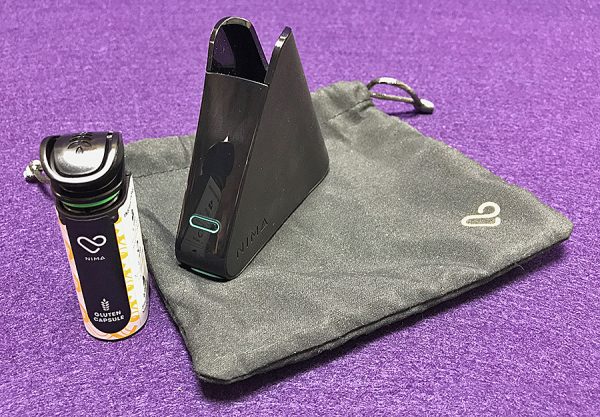 I have celiac disease, an inherited autoimmune condition that affects about one in every 100 people. When I eat gluten – think pizza, pasta, bread, cake and cookies – my body revolts against the enemy intruder and starts attacking itself, resulting in a number of seemingly unrelated and ugly reactions from which I'll spare you a description. But let's just say some involve the gut.
People will sometimes offer me food they insist is safe for me (which, according to the FDA, is less than 20 parts per million), and sometimes I end up experiencing a variety of effects – some immediate, some less so, but all unpleasant and potentially contributing to premature mortality. This can happen at a get-together or at a restaurant.
So I was thrilled to be able to review the Nima Portable Gluten Sensor, a compact device that allows you to test for gluten. The unit, which retails for $279, comes with three test vials, a micro-USB recharging cable and a carrying pouch, which fits in a purse or pocket. I was given an extra 12 vials for review purposes.
The unit measures 3.5 inches wide and 3.1 inches high and has Bluetooth connectivity so it can sync to your smartphone. Users can contribute their test results to the Nima community using a free Nima app, which also provides a list of Nima-tested restaurants. That all was great when I paired my Nima with the phone I had initially, but the unit would not pair with my replacement phone a couple of weeks later, greatly limiting my ability to be part of the online Nima community where test results are shared.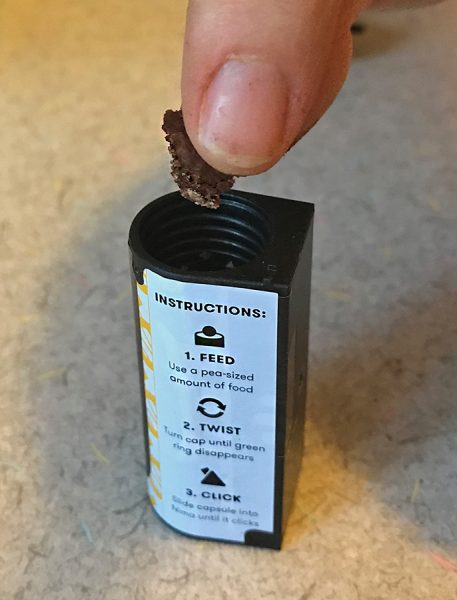 To test for the presence of gluten, users put a tiny sample of food – liquid or solid – into a vial and insert the vial into the device. In three minutes – a theoretical estimation because my test times amounted to more like five minutes – a wheat icon and a "gluten detected" warning will warn users if their food is not safe to consume; a smile icon gives diners the go-ahead.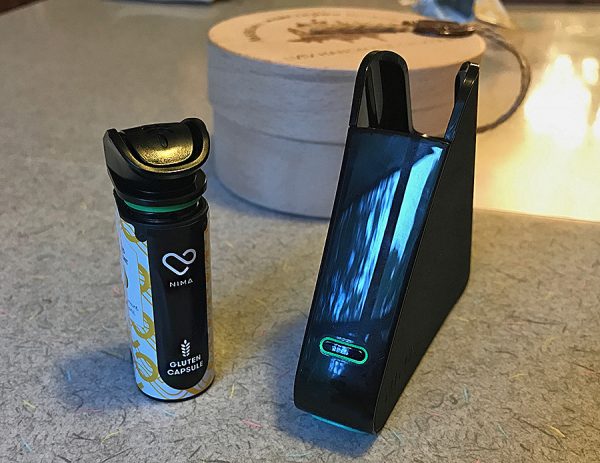 The unit and single-use vials use a combination of chemistry and sensors. Subscriptions are available for $59.95 per month for 12 capsules or $61.95 for 12 vials every other month. Those who eat restaurant or processed food often can opt for the $116.94, 24-capsule plan per month, trusting if they can afford to eat out all the time, they can afford the subscription cost. Some foods – soy sauce, pure vinegar, beer, or alcohol – cannot be tested, leaving diners to make educated judgment calls before consumption. The unit also is glitchy with frozen foods such as ice cream, but we'll get to that in a bit.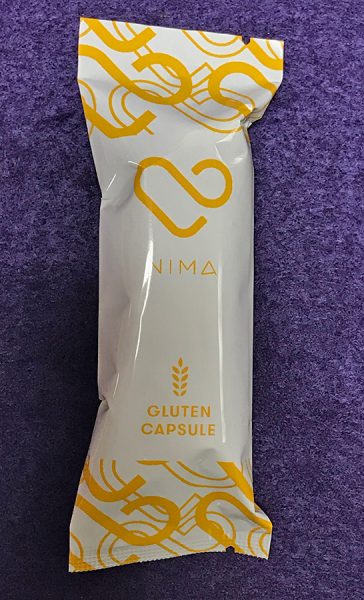 For those who are pretty good at math, the ongoing cost comes out to roughly $5 a vial. That $5 vial allows you to test a sample about half the size of a pea. So forget the notion of trying to test a mixture of your entrée and sides. You'll do well to fit a whole grain of rice in the vial, which means you could go through three vials to test an entire plate of food at a restaurant. Don't even consider testing your way through a buffet line unless you have very deep pockets and a whole lot of time.
I also discovered the device is very sensitive and prone to capsule errors. My first test was a gluten-free roll at Cooper's Hawk Winery, one of my favorite restaurants for its extensive and delicious gluten-free menu. I have never reacted to anything I've eaten there, but I decided to test the roll as an academic exercise. I only had one capsule with me, and I got a "capsule error" warning. I ate the roll anyway and didn't get sick.
A couple of days later, I made my homemade cornbread using Quaker yellow cornmeal. (The only other ingredients are oil, salt, baking powder, baking soda, buttermilk and egg.) I successfully tested the finished product and got a smiley face icon. And I happily ate.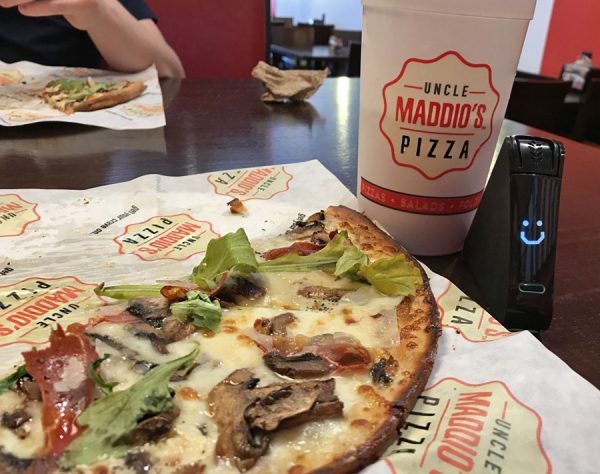 However, I received another capsule error when I tried to test my steak salad at Longhorn Steakhouse. This might have been a result of the difficulty in reducing my salad to a half-pea-sized test sample. Fortunately, I had better luck at Bonefish Grill, where my Chilean sea bass with mango salsa tested safe. My birthday dinner at PF Changs – the gluten-free Hokkien Street Noodles – also earned a smiley face from my Nima unit and my belly, as did my mushroom truffle pizza at Uncle Maddio's Pizza during the continuation of my birthday celebration.
My husband had bought me a strawberry birthday cake made by Inspired by Happiness. Though that was marked gluten-free, I tested it anyway and was happy to learn it was safe. I also tested the Talenti double dark chocolate gelato he bought for me, only to receive a capsule error after waiting five minutes for results – longer than it actually took me to eat the gelato.
However, a few days later – or a few days too late, depending on your perspective – an email from Nima addressed the capsule errors that were occurring when testing ice cream. The company suggested a smaller sample size with a drop of water. I realized it would have to be a very small sample and a very small drop.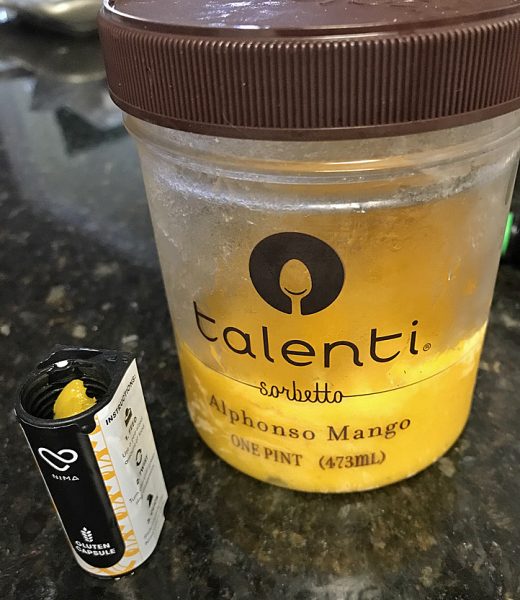 So I decided to test Talenti's mango gelato (because the chocolate had inexplicably disappeared) using the updated testing parameters. I even waited a couple of minutes to begin the test while I photographed what the sample looked like. But this time I got no results whatsoever. Crickets. And when I pushed the start button a second time, I, of course, got a capsule error.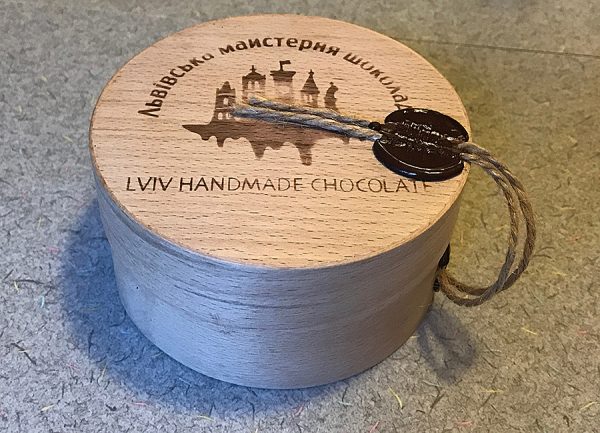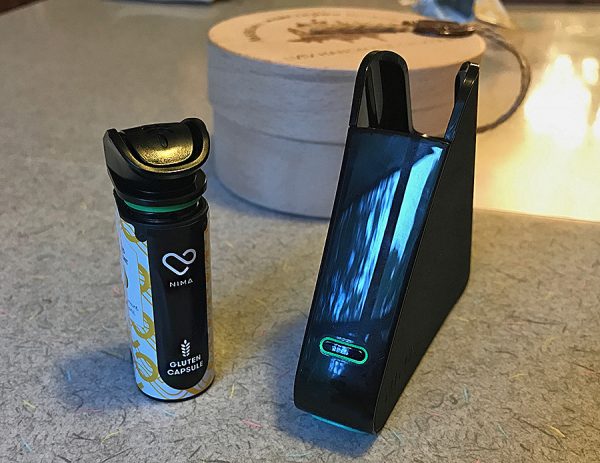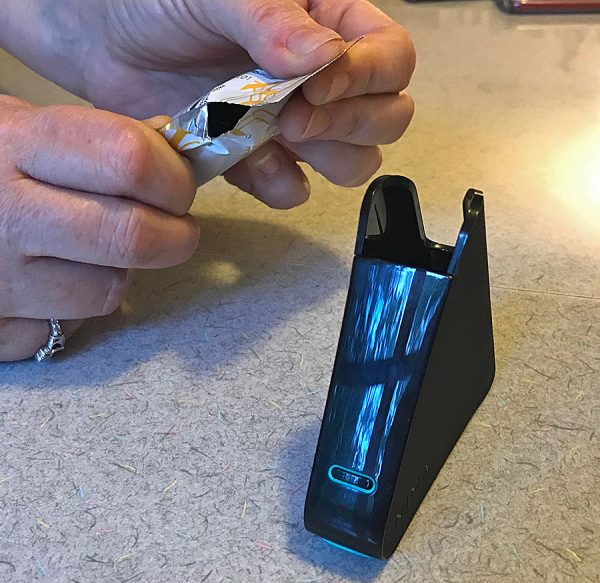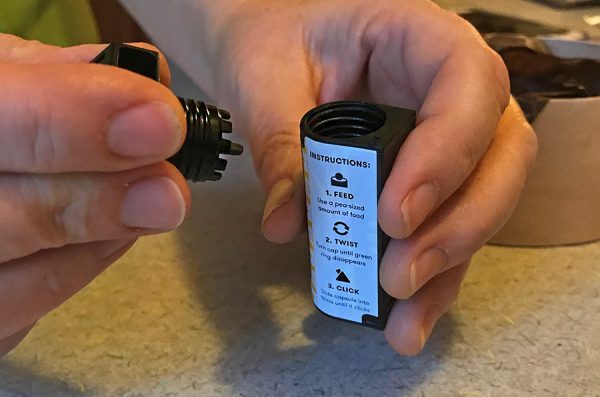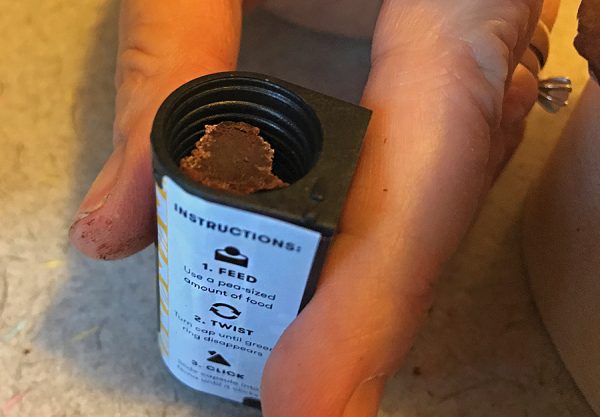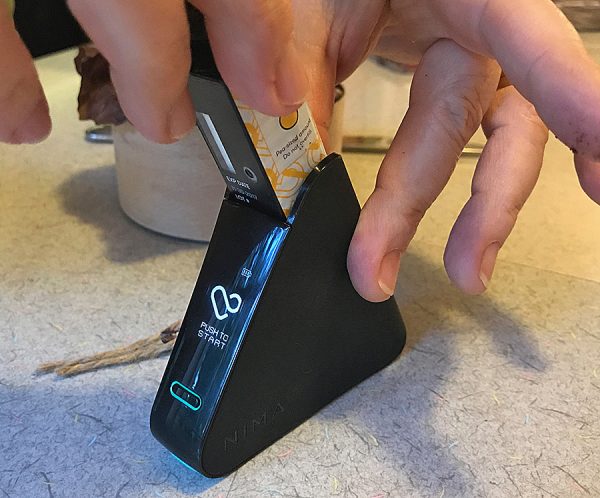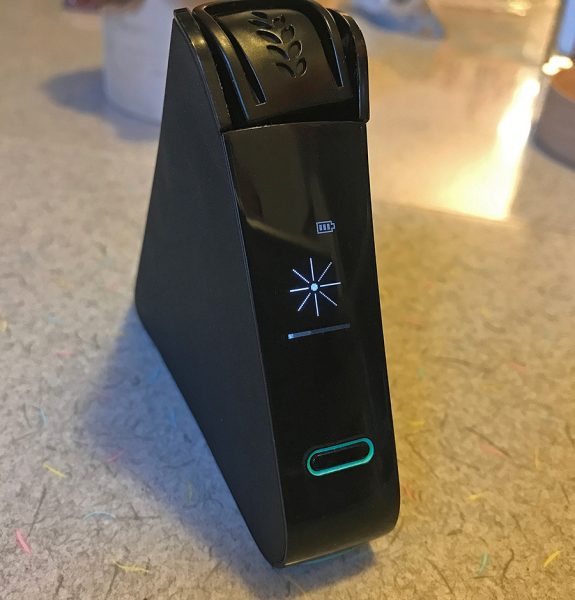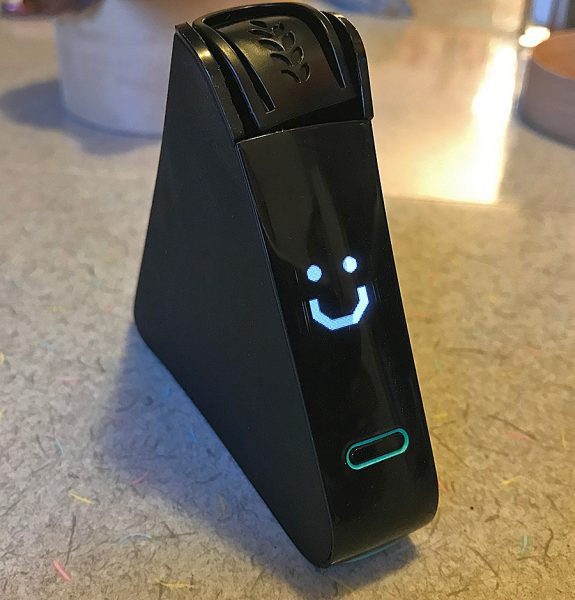 Here's a case in which my Nima saved the day. One of my husband's coworkers sent him home with a box of dark chocolate truffles from a Ukrainian company called LVIV Handmade Chocolates. I'm all about dark chocolate all day long (and this may incriminate me regarding the chocolate gelato), but I don't speak or read Ukrainian and couldn't decipher the ingredients list. I cut a sliver of truffle and put it into my Nima. Five minutes later, the smiley face icon told me my pig-out session was about to begin. Sometimes it's the little things.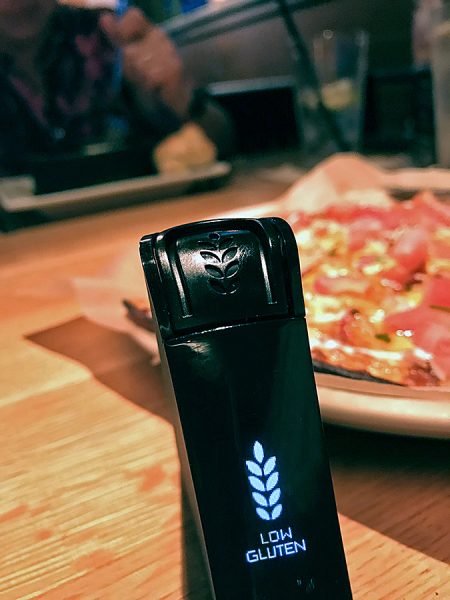 But let's talk about a case in which my Nima truly saved the day. I met some ladies at a local BJ's Restaurant & Brewhouse to celebrate a friend's birthday. My friends had me choose the restaurant so I could be ensured a wide variety of selections. I ordered a gluten-free chicken-bacon-ranch pizza, which looked and tasted amazing. But I began to notice my mouth, which is prone to blisters when exposed to gluten, began feeling weird, so I pulled out my Nima and tested a piece of the cheese-covered crust. A few minutes later, I got a new icon: low gluten with a wheat stalk. In my hunger and impatience, I had already eaten one piece of the pizza. The rest went back to the kitchen and was replaced with salad.
The technology has tremendous applications and promise, but it's still glitchy, and the cost is burdensome. It also can be difficult to get food into the capsule. Including tiny disposable tweezers or a sample-sized scoop would help, but that, no doubt, would only add to the cost.
As one who cooks from scratch and typically doesn't eat out a ton, I will not become a monthly subscriber just yet, but I will pack my Nima with me when I travel, particularly in unfamiliar areas or overseas. I commend the company's efforts, and I anxiously await improvements to the technology and reductions in the cost. Nima is a great beginning to addressing a serious health and quality-of-life issue for people like me for whom gluten-free isn't a fad but a necessity. For the time being, it's a valuable, somewhat fickle and costly ally for celiacs.
Source: The sample for this review was provided by Nima. Please visit their site for more info.
Product Information
Price:
$199 US (was $279); 12 capsules $72.95 US (subscriptions available)
Manufacturer:
Nima
Pros:

Works as advertised
Can save you from much unpleasantness
Simple to use

Cons:

Prone to errors
Unit expensive
One-time use capsules expensive