We use affiliate links. If you buy something through the links on this page, we may earn a commission at no cost to you. Learn more.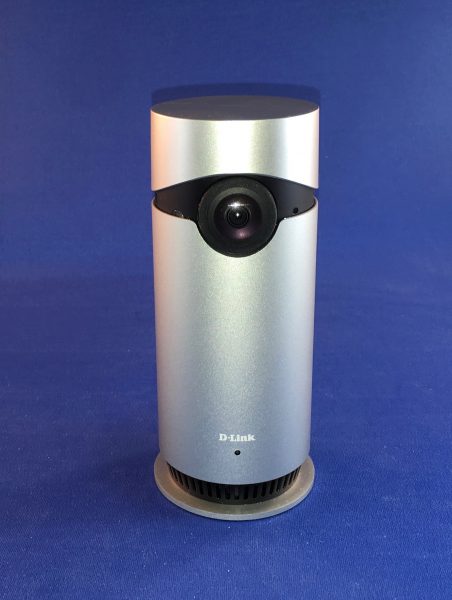 Security cameras and nanny cams have become a huge market. Even baby monitors have added night vision capabilities, so you can just grab your phone from your pocket, desk, or nightstand and check on anything you've decided to secure at a moment's notice. D-Link, a longtime maker of routers and wireless equipment, recently sent The Gadgeteer one of their OMNA 180 CAM HD's for review. I've been working with it for a few weeks now.
Note: Photos may be tapped or clicked for a larger image.
The unit itself is a smooth column 5.125″ high and just over 2″ in diameter. It weighs 8.1 oz (230 g). There is a lens near the top and a microphone opening just to the side of that. Around the bottom, there are openings for the speaker. The single port is a fitted microUSB connection. On the bottom, there is a micro SD card slot and a reset button. At a half-pound, the whole unit feels hefty and doesn't slide on the table, due to a rubberized gasket around the bottom.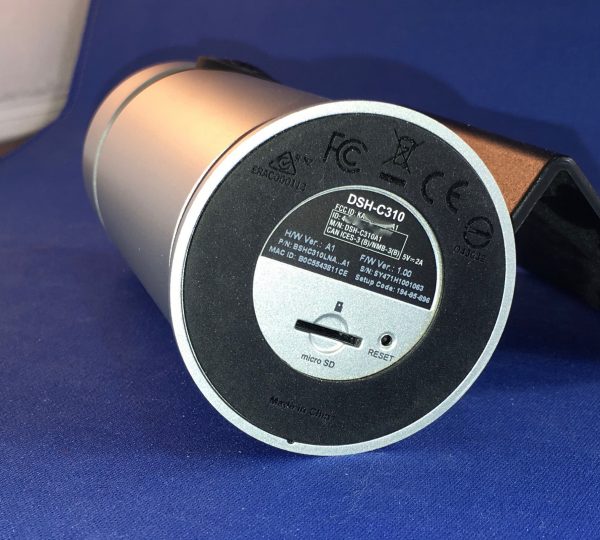 Setup was pretty straightforward. I downloaded the Omna app, created a "Home" (you can have multiple) by connecting to my wifi network.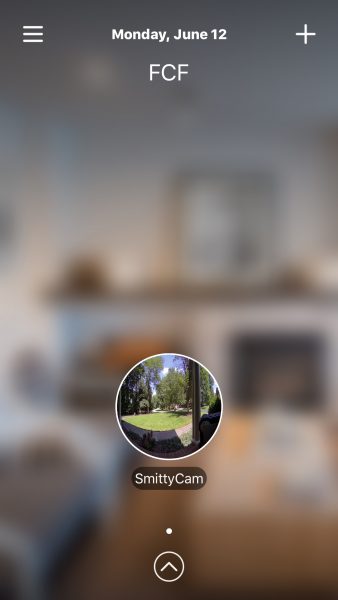 Once you have a home, you add an accessory by plugging the device in and waiting for the blinking orange LED. When you click "Next", you'll see your device's ID number, which is also printed on a sticker on the back of the device. (Sorry, didn't capture this screen.) Save the settings, and you're done.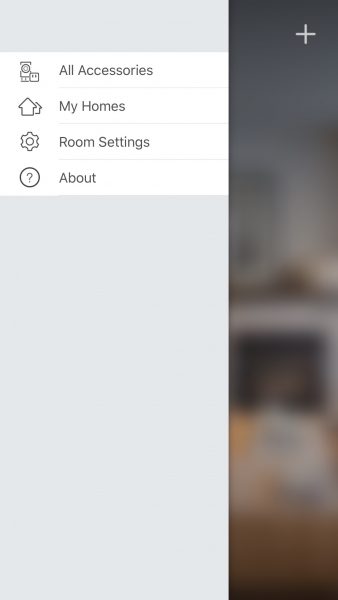 You can easily go back and edit any names you'd like to. As long as you keep power to the camera, it will save video and stills to a micro SD card. Through the app, you can get a live view of the camera, set up motion activation, and the frequency of micro SD card writes. You can also change the time zone and update the camera's firmware (which I had to do soon after receiving it.)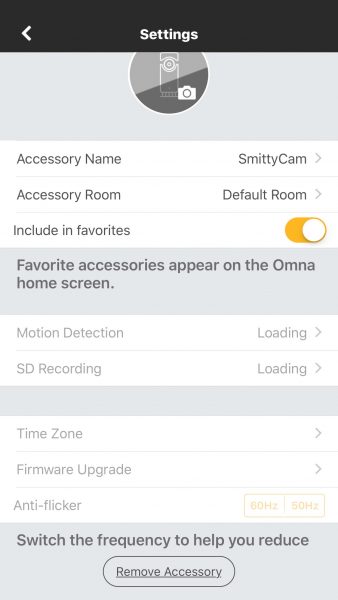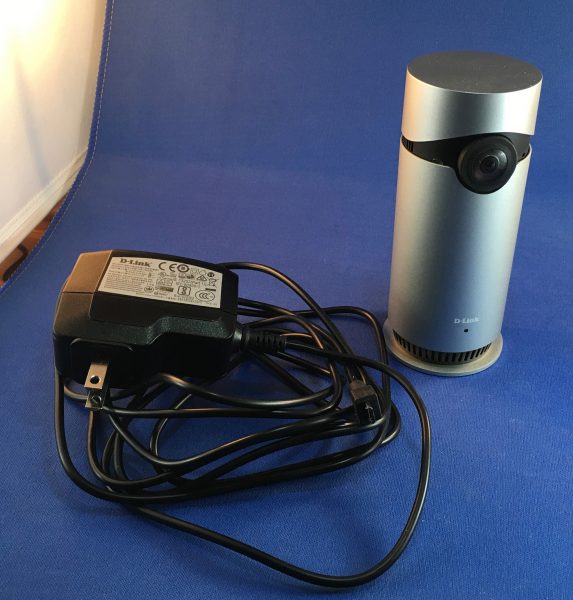 You can activate the mic on the camera and listen in through the app, too. This worked quite well. This, of course, adds to the size of the files being sent to your storage card. You can also speak to the camera, which is a great way to absolutely freak your dog out. (Sorry, Jack!)
Given enough light, the images that you get from this camera are fairly clear, but the 180º fisheye effect takes some getting used to. I was able to run it easily off of a power bank, out on the porch, which was pretty nice. It would be nice if they added an internal battery, in the case of power outage.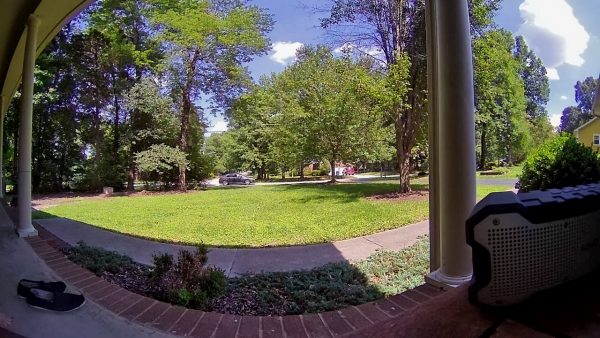 When I first was setting it up, I took a few shots in my office, with nothing but a desk lamp and my computer screens on. The results, while usable, look more like something from an earlier episode of a police procedural than a cutting edge HomeKit device.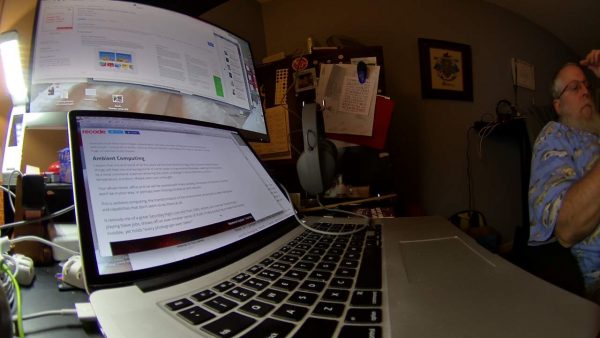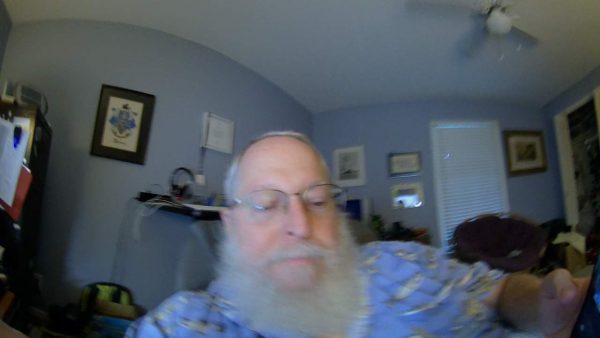 I did notice that the device ran pretty warm during testing. I rarely ran it longer than an hour or so, and it was always very warm to the touch afterward. Not sure what a 24/7 session would do.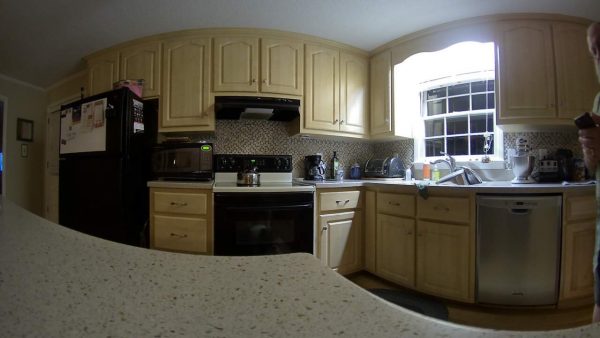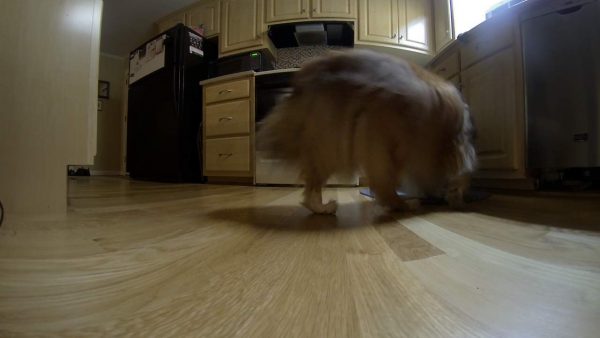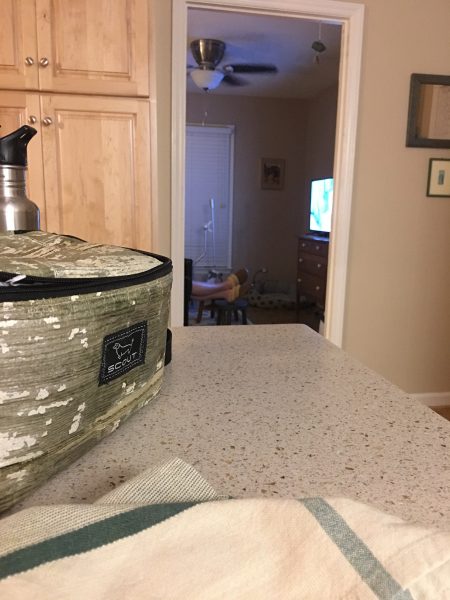 The three kitchen shots I included because 1) they are being shot with just the LED over the sink and another light on the other end of the family room, and 2) they show the quality of photos you get with decent lighting. The last one, sitting on the island, shows my Lovely Bride's fuzzy slippers as she watches yet another British Crime Drama. There is no other light in that room except the TV screen. Not too shabby!
I was sent a first unit that got bricked almost out of the box. Took a bit of time to get it replaced since it was a review unit, but the help desk folks were very friendly and helpful, as far as they could go. There is no "replacement" for a defective unit through the Dlink site – it's done through the place of purchase. Right now, that's Apple. From my time in Apple Retail, I know that 2 weeks after purchase, you had to contact the manufacturer, even if the product was in warranty. (All Apple-branded products have a one-year warranty that is honored in-store. Almost all third-party products sold there have at least a one-year warranty, but that's handled through the manufacturer.) I called support several times and was consistently told there is no way to swap it out except at the place of purchase.
There isn't a way that I found to get the camera connected to a network or service for archival storage. It's the onboard micro SD or nothing. This may limit recording in some locations, where it may be difficult to replace the card. (Think: your vacation home three states away.) But for a daily nanny cam or pet sitter, it is nothing to swap it out or slip it into a computer to copy files, then erase and reinsert.
I am not a fan of the photos in this format. Everything is warped – my front porch and walk are perfectly straight in reality, but you can't prove it by those photos above! If there was a way to easily force the camera (or the software) to post-process the image into something that looks less like a 1960's movie LSD scene, I'd probably be more of a fan. But at this stage, I'm not.
Source: The sample for this review was provided by D-Link. Please visit D-link for more info, or Apple to purchase.