We use affiliate links. If you buy something through the links on this page, we may earn a commission at no cost to you. Learn more.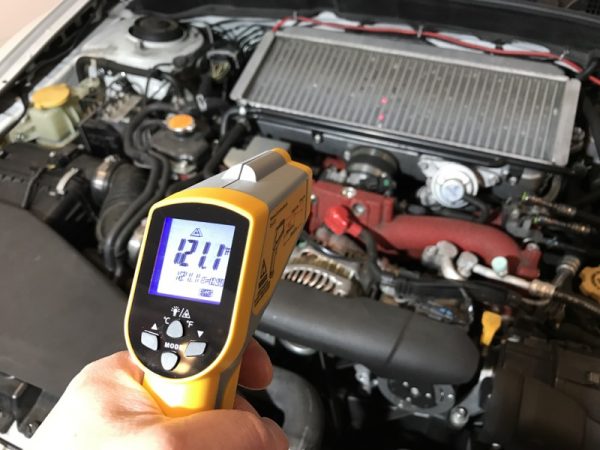 I used to have one of these infrared thermometers, but it's since gone missing.  I suspect it was stolen in the Great Garage Robbery of 2015.  I recently had a chance to test out another infrared thermometer, but with not one laser, but two!  Let's check out this laser-y goodness.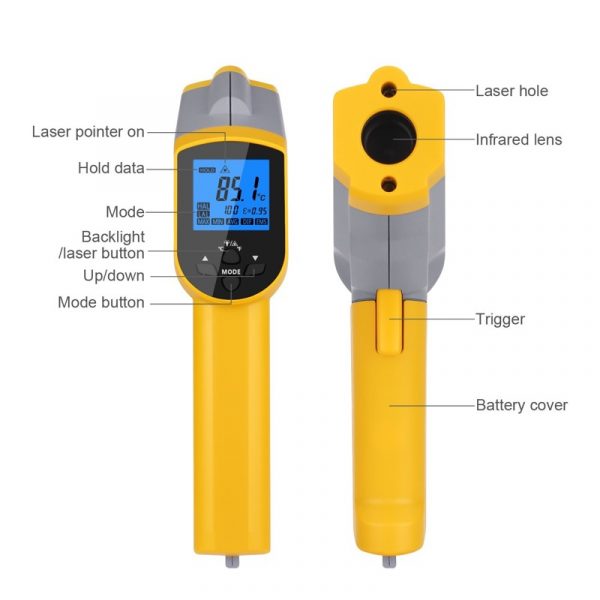 Specifications :
● Temperature: -50°C~550°C (-58°F~1022°F)
● Accuracy Resolution: ≥100°C±2% / ≤100°C±2°C
● Response Time: ≤0.5S
● Emissivity: Adjustable (0.1-1.0)
● Distance to Spot Ratio: 12: 1
● Storage Temperature: -20 to 50°C (-4 to 122°F)
● Operating Temperature: 0 to 50°C(32 to 122°F)
● Power/ Power Life: 9V / about 12 hours
Included In The Package:
1 X Tacklife T05 Pro infrared thermometer
1 X 9V battery
1 X User Manual
1 X Carrying Case
1 X 24 Months Warranty
To be honest, this looks similar to every other infrared thermometer you'd find on Amazon.  I suspect a handful are made by a few companies, then rebranded across many, many different names.
The model T05 comes with a carrying case and a 9V battery.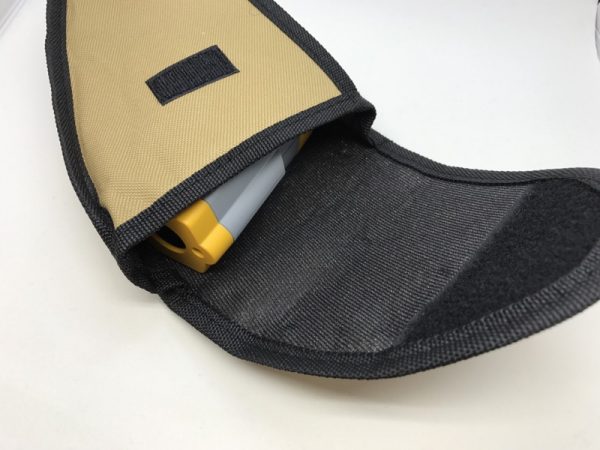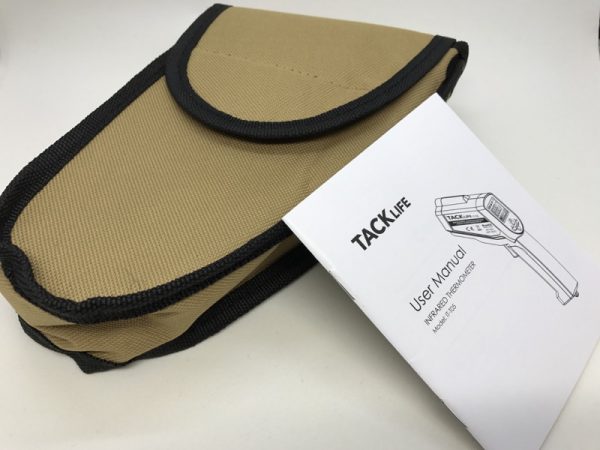 What I did not expect was a belt loop in the back.  Not bad!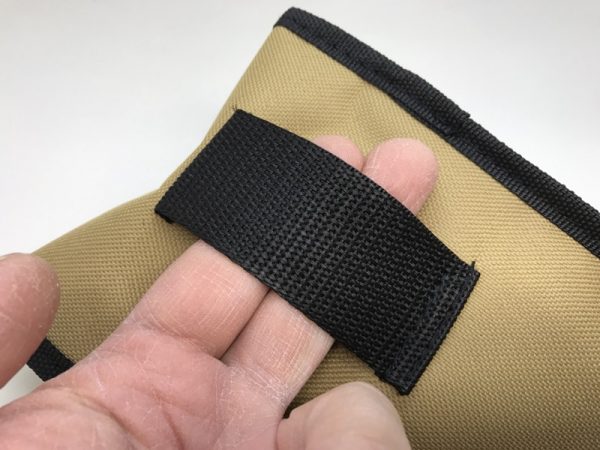 Look familiar?  If you've ever owned an inexpensive infrared thermometer, there's not a whole lot of difference other than cosmetics.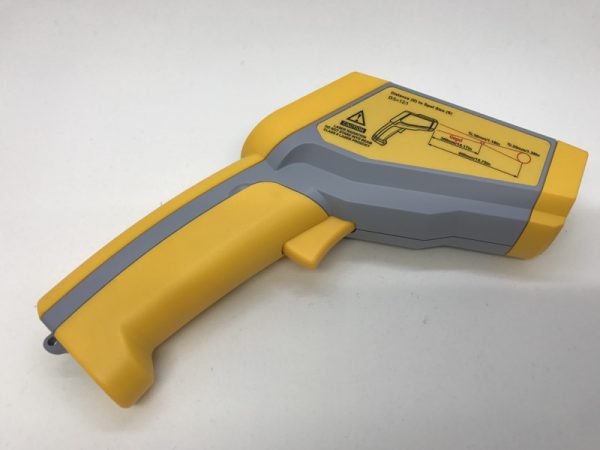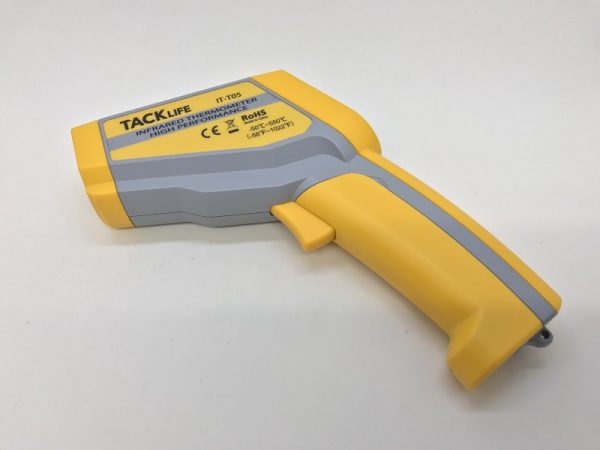 It's feeding time!  The T-05 takes a single 9 V battery (included).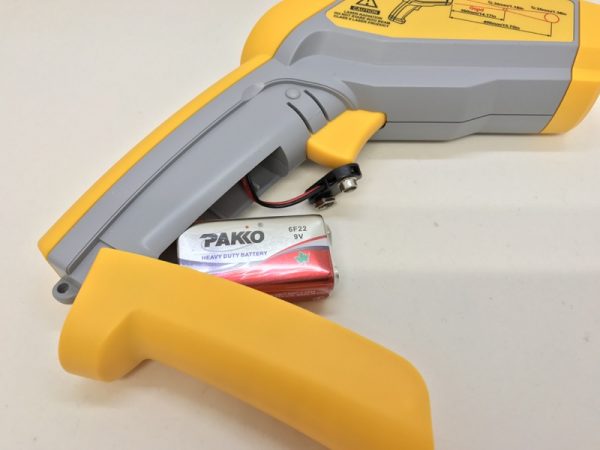 One thing about the T-05 that stands out:  Dual laser pointer.  The space between the two dots indicates the approximate "circle" you're measuring.  To me, this is a must-have feature.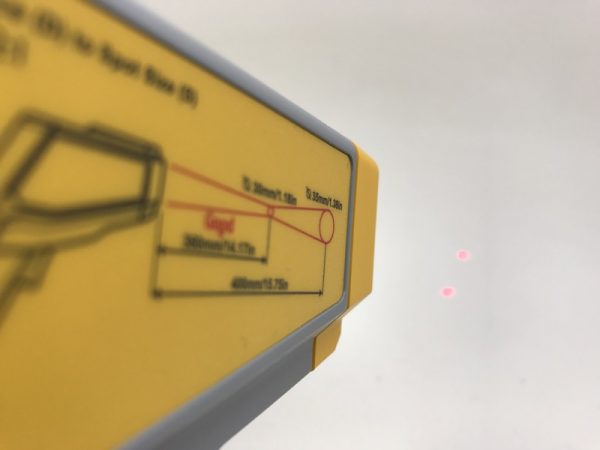 Don't forget to peel off the plastic film!  The LCD display can be backlit.  There are four buttons that let you toggle the backlight or laser on or off, set degrees C or F, and change emissivity (0.1 to 1.0).  The default emissivity is 0.95 out of the box.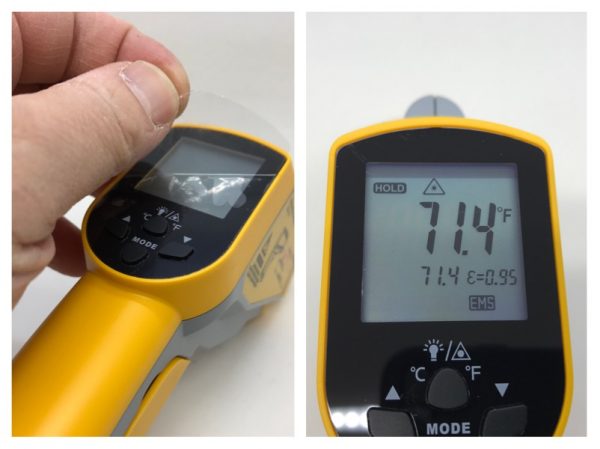 Let's go measure things! This block of reusable "ice" measured a frosty 7.6°F  Note the two laser dots.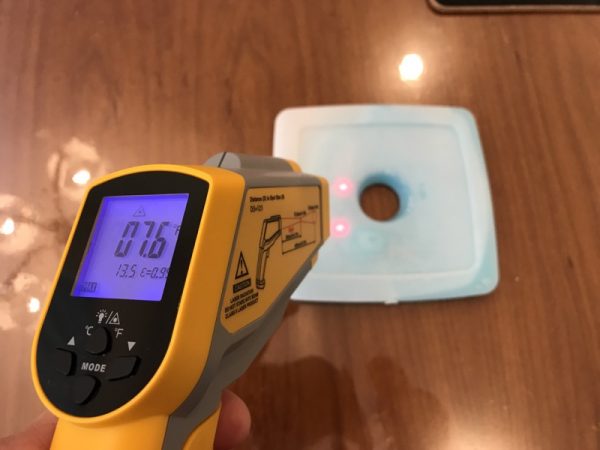 For something warm, I measured a cup of warm water.  (The red laser dot on the edge of the cup is actually a reflection).  Both the T-05 and my trusted Thermoworks Thermapen Mk4  measured about the same at the surface of the water.  Of course, one thing the infrared thermometer can't do is measure temperatures BELOW the surface.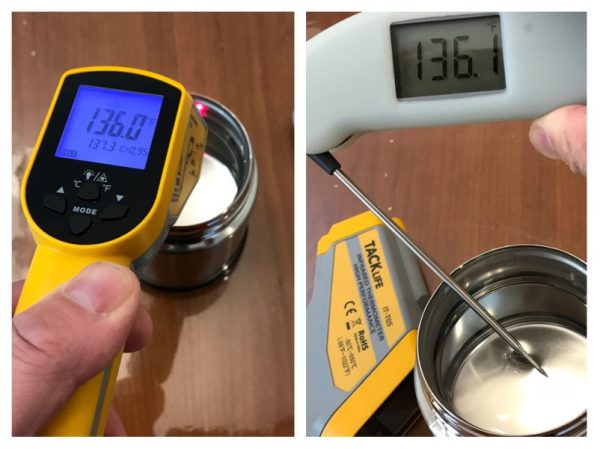 Is the Tacklife IT-T05 useful?  Sure it is.  Keep in mind that I consider this a strictly non-scientific instrument that's really only good for "how much hotter/colder is this thing vs. ___?"   However, the addition of two laser "dots" indicating the area measured makes this a far more useful thermometer than those without.
Source: The sample for this review was provided by Tacklife. Please visit their site for more info and Amazon to order.