We use affiliate links. If you buy something through the links on this page, we may earn a commission at no cost to you. Learn more.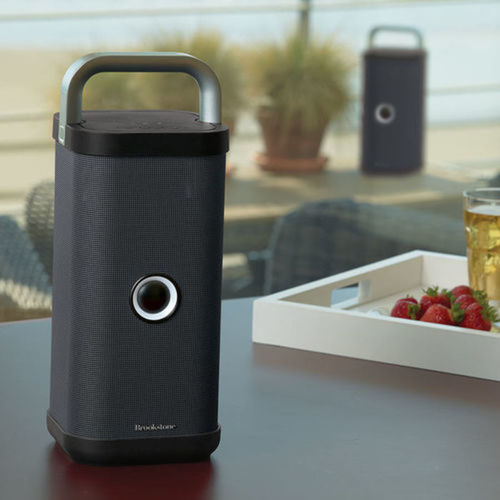 Summer's almost here! Time for family, friends and of course good music. Whether it's the loud get up and dance kind, or the nice relaxing mood setting kind, we all have a summer soundtrack. Most of us own a Bluetooth speaker of one kind or another but either they don't get loud enough, or, you have to worry about them getting wet. Brookstone's Big Blue Party Indoor-Outdoor WI-Fi speaker solves both of these problems.
The Big Blue Party speaker is not your everyday wireless speaker. First off this speaker is BIG (hence the name.) Big Blue comes in at just under 16" tall and weighs a whopping 12lbs. But in this case, its size and weight are indicative of its quality build. It's water resistant so you can take it anywhere – poolside, on your deck, or even to the beach. It also features 4 built-in stereo speakers and a subwoofer that fire at different angles for awesome sound that reaches every corner of the room (or backyard!) no matter where you put it.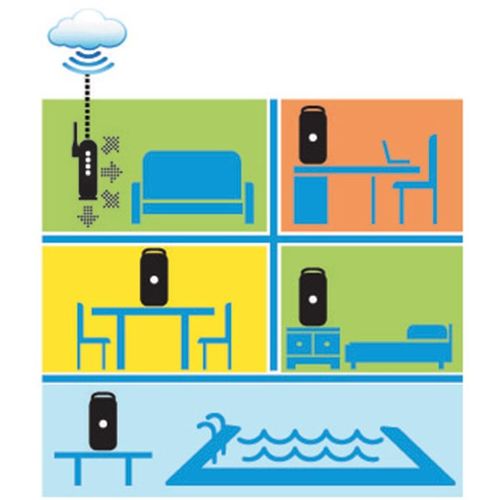 Big Blue has Wi-Fi and Chromecast built-in, so you can stream your favorite music from your phone, tablet or laptop. To stream music, simply tap the "Cast" button that's already built into major music, news and entertainment apps like Spotify, Pandora, and iHeart Radio. Casting via Wi-Fi also lets you say goodbye to staying within 30 feet of your speaker. And with Wi-Fi, you'll always get crystal clear sound without interruption. However, if you're using Big Blue somewhere Wi-Fi isn't available don't fret because it's also an old school Bluetooth speaker (hence the "blue" in the name, if you hadn't guessed). You can also add other Chromecast enabled speakers to create a multi-room listening experience.
The Big Blue Party Wi-Fi Speaker is $249.99 and is only available at Brookstone.com. If that's a little too rich for your blood, Brookstone also offers a Bluetooth-only version which is available for $169.99 and can be purchased through their website or Amazon. Both are great gift options for Father's Day, and Brookstone is guaranteeing delivery in time for Father's Day if you place your order by 1 PM EST on June 12th.