We use affiliate links. If you buy something through the links on this page, we may earn a commission at no cost to you. Learn more.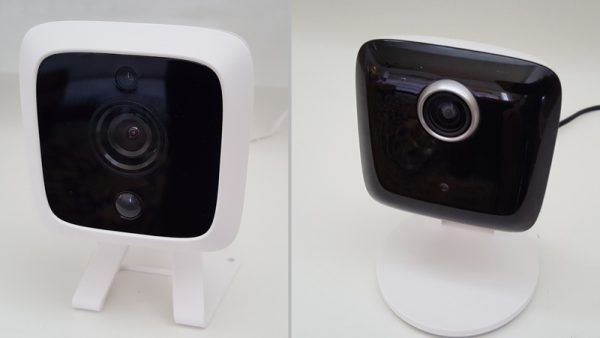 There is no shortage of home security devices out there, and I have even reviewed an indoor camera here at the Gadgeteer that I liked a lot. But I needed an outdoor camera as well for an area outside my home that is somewhat hidden from view and could easily be used to break into my home. So I decided to give Nexia and their Wi-Fi HD home security cameras a try. I got their indoor camera (model WCP200NX) and outdoor camera (model WCO200NX) to see if they were worth protecting my home. So let me share with you what I found out.
First the specs from the manufacturer:
Outdoor camera (model WCO200NX):
Weight:               1.4 lbs
Dimensions:      1.4 x 3.3 x 4.8 inches
Batteries:           None, power connection required
Included:            Camera, Mounting Stand, 12v 1.5A Power Supply, Anchor Screws, USB to Ethernet Adapter
Warranty:          Limited, one-year
Resolution:        1080P (1920×1080, 16:9), 720P (1280×720, 16:9), High (640×480, 4:3)
Lens:                   Wide-angle 110 degrees
Price:                   $189
Indoor camera (model WCP200NX):
Weight:               12.8 oz
Dimensions:      2.8 x 3.3 x 4.2 inches
Batteries:           None, power connection required
Included:            Camera, 12v 0.5A Power Supply, USB to Ethernet Adapter
Warranty:          Limited, one-year
Resolution:        720P (1280×720, 16:9), High (640×480, 4:3), Low (320×240, 4:3)
Lens:                   Wide-angle 140 degrees
Price:                   $183
Setup and installation
This was pretty simple. You follow the directions that come in the box to download the free Nexia app and connect the camera to the www.mynexia.com website. After you are done with the initial setup, you can use either the Nexia app or the website to change the settings for the camera. I found the process simple and easy to follow.  You can also set them up to reverse the image if you mount the camera upside down, for example, from the eave on your house.
I got both an indoor and outdoor camera. The outdoor camera came with a mounting bracket that I didn't use. I have a piece of furniture outside on the patio where I use it so I didn't need to mount it. Keep in mind that the camera requires the included power supply, so if you want to mount it somewhere on your house you will need access to power from somewhere. The cable is only about 10 feet long, so that may be an issue in some situations.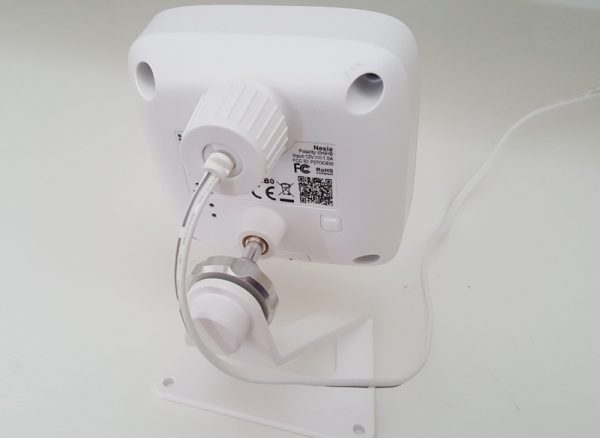 The indoor camera was easier for me because there were many places inside my house where I could put the camera on a piece of furniture next to a power outlet. In both cases, these cameras are not small enough to be hidden and are easily seen in any environment.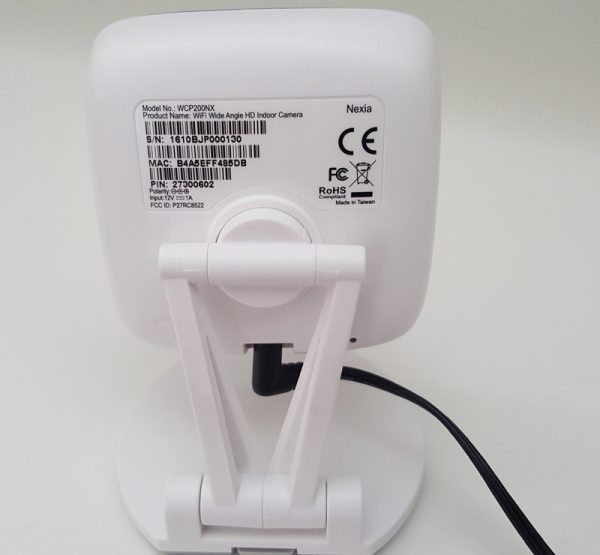 Smartphone app
The Nexia app is easy to use and intuitive. I have included a couple of screenshots here so you can see what it looks like. You can pin-protect the app so no one can see your cameras without entering the pin code, and all the settings for each camera can be altered here just like on the website. The Nexia line of products includes many home-automation products so this app is used for all of those if you decide to buy any.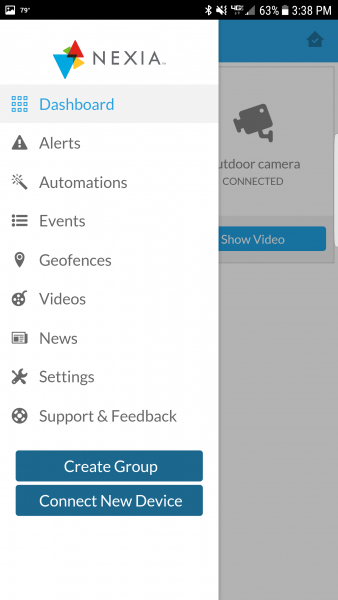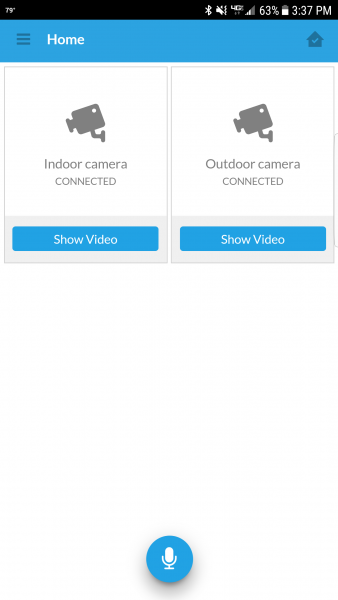 Performance
In my experience, the performance of both cameras has been spotty.  My internet connection is about 12 MB/sec upload which may have something to do with the regular 'buffering' that I see when trying to view live video from my smartphone. Both cameras are within 25 ft of my wireless router and yet I still have buffering issues when trying to view the highest quality image. So in both cases, I had to switch the settings to a lower quality image to avoid the buffering. There are no guidelines included with the camera that state what the ideal network speed is, so I can't speak to that.
One thing I really like is the night view, which uses the infrared lights on the camera to show you a great picture of the house at night.  That is definitely a plus with these cameras.
The outdoor camera has a motion detection feature and you can be notified on your phone when it detects something moving in front of the camera. My only problem with it is that in my testing with my family members by the time I loaded the app up to see the live stream from the camera, the person/dog that triggered the camera was already gone.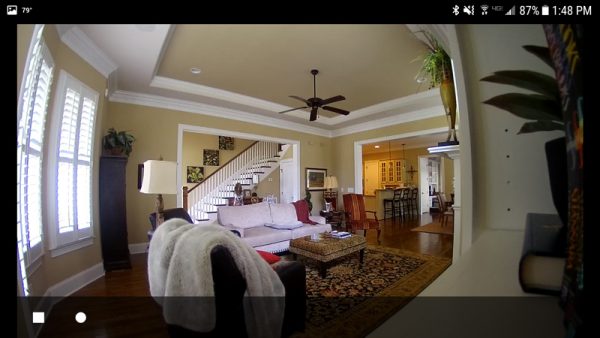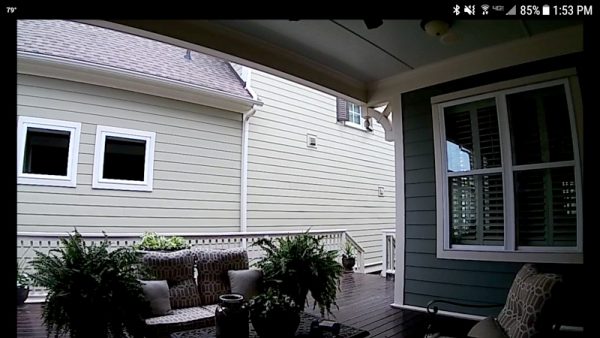 There is a service that you can purchase to have video stored in the Nexia cloud, but I do not pay for that. And even if I had that service, unlike my other security camera, the Nexia cloud service doesn't record 24/7 video footage. It only records 4 minutes of video and then waits for another motion event. The cameras that I got had no internal storage, and no SD card slot, so the cloud storage would be my only option for recording video.
The final thing that I don't like about these cameras is that they do not have a pan/tilt feature. So that means wherever you point them is what you get. The wide-angle lens definitely helps in that regard so I placed my cameras in the corners of rooms to get the wide view of the room. And on both of these cameras, you can pinch to zoom in the app to zoom into something you want a closer view of. That is neat.
Final thoughts
The ease of installation and the solid app that Nexia provides is great. I can see where if I had many of their products that the app would be great to be able to control everything. The price however for both of these cameras is very high. I got more camera with more features in my other security camera, for less price. I think that these cameras would be an option for someone who wants to simply be able to look at something live from their phone. But I don't think that I am going to use them as a true security camera.
Source: The sample for this review was provided by Nexia. Visit their website for more information or order directly from Amazon.