We use affiliate links. If you buy something through the links on this page, we may earn a commission at no cost to you. Learn more.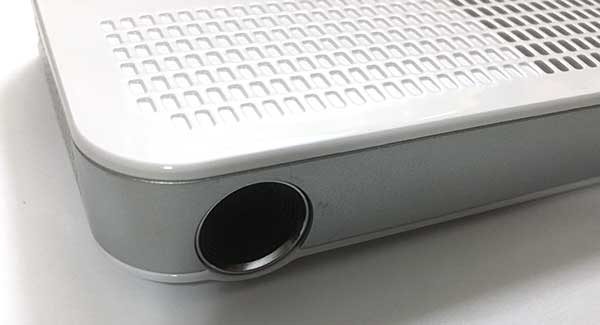 Introduced at the 2017 Consumer Electronic Show in Las Vegas, Korean company Cremotech's flagship Pico projector, the Laser Beam Pro C200 earned an Honoree Innovation Award. The C200 touts 780P resolution, a quad-core Android-based operating system, Bluetooth, and WiFi. I purchased one of these units as a portable alternative to my bulkier projector.
The C200 arrived in a 7"x 4" x 3.25" box akin to Apple's iPhone – sturdy, with the lower portion fitting snugly into the upper portion. Breaking the two safety seals reveals the C200 projector suspended and protected by a plastic tray. Below, the trays are the user manual and power supply.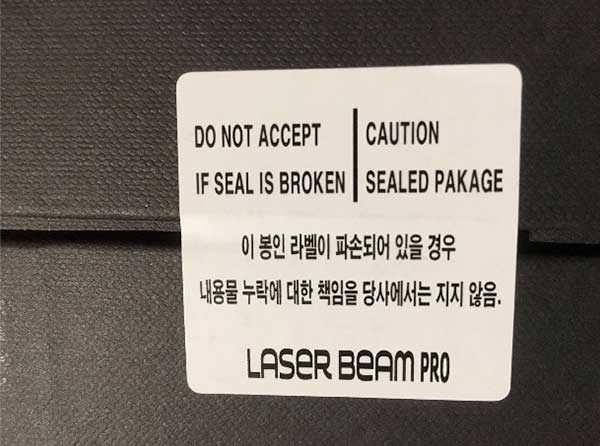 C200 LaserbeamPro "safety seal"
The projector measures approximately 6" x 3-1/8" x 3/4" and feels sturdy. To protect the finish, the upper surface is coated with that clingy plastic wrap stuff that's fun to peel off. How I love that Velcro-like peeling sound and the smell of new plastic. It's just like Christmas!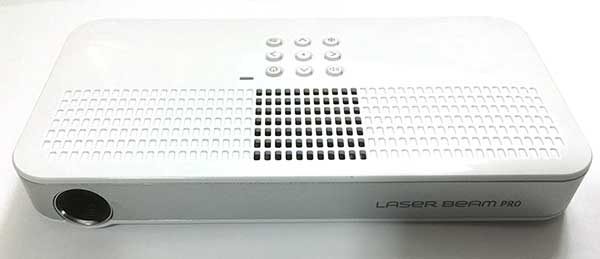 C200 Laserbeam Pro projector – The business end
Admittedly, I was a little disappointed that the power supply plug is USB C. I had hopes of using a standard wall-wart micro USB power block, but I can see why this isn't going to happen. The power supply is rated at a whopping 4000mAh – a full 4 amps. Clearly, this little beastie needs more power than a typical mobile phone power supply can muster.
Beefy 4000mAh power supply and USB Type C power connector
Charging the projector took about three hours, indicated when the power LED changes from red to green. While waiting, I took the opportunity to read the user guide. It's a tiny 3" X 3" manual and contains VERY basic instructions, warranty information, and specifications. For most, it won't be needed.
The Android OS takes about 30 seconds to boot and begins at the mode selection screen. I was rather surprised that a software update was ready as soon as I powered up the projector. I elected to update which took about 30 minutes.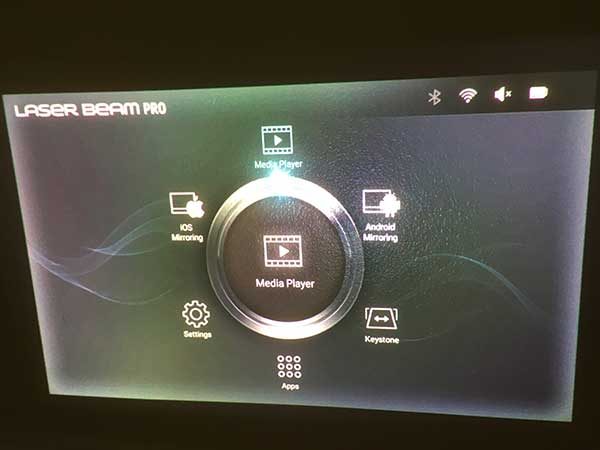 C200 Android skin user interface
The user interface is simple consisting of nine buttons on the top of the projector, comprised of four cursors, two volume, one "back," one "enter," and one for power. Tactile feedback is good with a satisfying click sensation. After booting, the operator is presented with selections for playing onboard (Micro SD) media, Applications including Netflix, Settings, Android Miracast and iOS Airplay. I tried AirPlay first and found the connection agile, with little lag. However, when attempting to Airplay streaming media from the web, the C200 display would go blank. While trying to get this to work, on several occasions, the projector spontaneously rebooted. Not an encouraging start. Moving on to play videos already stored on my iPhone 6S was seamless and smooth. Now that's a little better.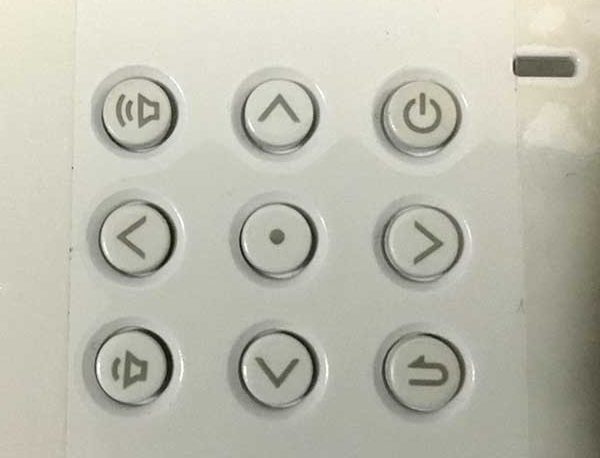 Nine button controls on the top of the projector below the cooling fan. The rectangle adjacent to the power button is the power indicator, red for charging, green for fully charged.
Several movies were loaded to an SD card which was inserted into the player. Interestingly, the projector doesn't seem to like having the card inserted with power applied as it responded with another spontaneous reboot. Restarting, the C200 was able to read the SD card and located the files I intentionally placed in a sub-folder called "movies," albeit a little slowly, taking about 40 seconds to populate. Interestingly, the files were populated in the order they had been copied to the SD card. I would have preferred for them to be alphabetized.
I tried several different video files of different formats which played without difficulty. The 200-lumen image is surprisingly bright for a pico projector, but in no way could compete with a full-sized 1000+ projector. Contrast is…. Well, okay. The image is watchable, with a kind of sparkly hue, due to the laser light source. It's been stated that the human eye perceives reflected laser light as brighter than competing illumination sources. I can't verify this, but I can say the image is the brightest I've observed in any comparable pico projector.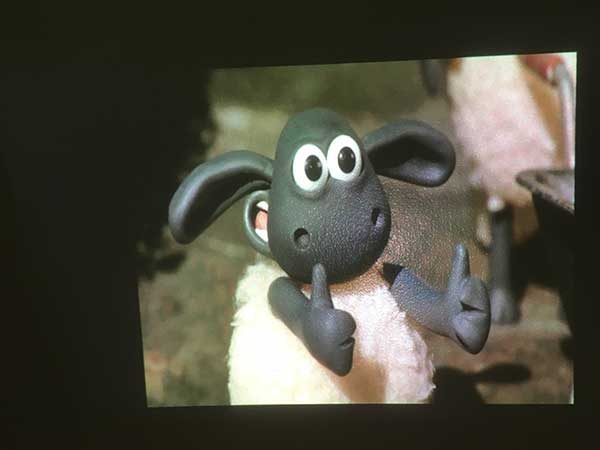 Thumbs up for a crisp, clear, bright image (approximately 40 inches diagonal)
Unlike DLP projectors which contain a system of tiny mirrors for each pixel, this unit "draws" each line of video similar to CRT tubes of years gone by. The 780P image is clear and colors are brilliant and appealing. I found the color to be somewhat warm, I would estimate 5000K, but I have no mechanism for formal testing. I tend to favor a cooler color temperature but wasn't put-off with out-of-the-box tint. I'm sure I'll be tweaking the settings as time goes by and I get to know this projector more.
The C200 is equipped with a cooling fan which is not oppressively loud but is noticeable particularly in close quarters. The housing adjacent to the lens became warm, but never uncomfortably so.
I found the audio output somewhat shrill, but I didn't expect much from such a small speaker. It's certainly adequate for small-group presentations, but I don't think a home theater user would appreciate the lack of fidelity. To complement the audio, I coupled the projector to a Bluetooth sound bar. The connection was easy to access through the "setting" menu, found the sound bar and paired without difficulty. I could see no discernable audio lag and was pleased with the performance.
Moving on to the built-in apps, I started Netflix and logged into my account which was cumbersome. Using only the cursor keys and the on-screen keyboard was tedious but can be done. To expedite the process, I plugged in a Logitech USB wireless mouse which worked instantly. Netflix loaded with a comparable delay from other streaming devices such as Roku 2, Stick or smart TV.
I used the projector to play the first half of a movie for a small group. Image size was approximately 120 inches. The image at that size is not extraordinarily bright but is quite watchable. Images of 40-60" are much brighter with pleasingly vivid colors. Despite being "focus free," images under about 20 inches appeared muddy. The optimal distance was about 60 inches, not bad for a projector that fits in your pocket. After about 1 hour with no issues, the image turned off and the Bluetooth speaker disconnected. Initially, thinking that I had reached the end of the battery life, the projector did another spontaneous reboot. Interesting.
Day two opened with yet another software update. I hoped it would eliminate the spontaneous restarts and Airplay issues, but I found no improvement with AirPlay streaming web browser content. Loading and playing a different movie from SD yielded the same result. This prompted me to contact KDC USA, the manufacturer's representatives in The United States. They were quick to respond shipped a replacement unit. Shipping of the defective unit back to KDC was at my cost.
The replacement unit arrived a few days later and this eliminated the reboot and AirPlay issues. I watched several hours of Netflix both using the built-in app and AirPlay with excellent results. However, I noticed a pesky "spot" on the screen reminiscent of a bad pixel or DLP element which I found to be very surprising since this projector has been touted as being 100% laser so missing "pixels" should never be an issue. Another RMA was processed back to KDC and a second unit was sent. I suspect most people would find this to be insignificant, but having a background in digital imaging, I found it distracting, particularly for a nearly five-hundred dollar projector straight out of the box. In the spirit of fair play, if this projector was going to be used for largely static presentations (spreadsheets and the like), I doubt it would be noticed.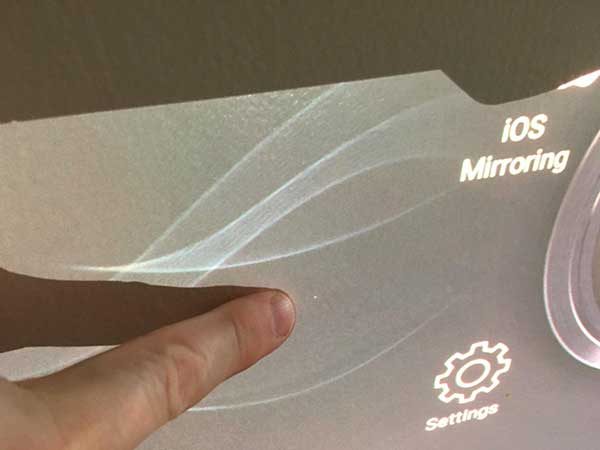 What looks like a defective pixel, but can't be – this is a laser…
The second replacement unit arrived and, to my surprise, this unit also had what appeared to be a defective "pixel." Since this projector does not use DLPs mirrors, LED or LCD technology, it does not have "pixels," so the presence of these screen anomalies is a bit enigmatic. Emails to KDC prompted a polite and pleasant call from KDC's Service Department and I was told these projectors are quality inspected in Korea and again when arriving in The USA, but such a minor anomaly might be missed. I was politely told that this issue would be brought to
KDC's engineering team in Korea for investigation.
In the month I've owned the C200, I've had issue after issue, but KDC's service department continues to be responsive, offering another replacement or refund. I'm hoping the current issues can be resolved.
Conclusion: The output from KDC's C200 Laser Beam Pro projector is crisp, bright and vibrant and a good choice for anyone looking for a pocketable projector with good resolution. While in its infancy, laser projection is clearly viable and I look forward to KDC's future offerings.
Source: The sample for this review was purchased with my own funds. Please visit KDC for more info and Amazon to order.



Product Information
Price:
$485.00
Manufacturer:
KDC
Retailer:
Amazon
Pros:

Intuitive user interface
720P resolution
Bright, even in situations with some ambient light
Focus-free projection
Vibrant color
Good battery Life
Excellent connectivity choices

Cons:

Expensive
Feeble speaker output
Manufacturer quality control issues