We use affiliate links. If you buy something through the links on this page, we may earn a commission at no cost to you. Learn more.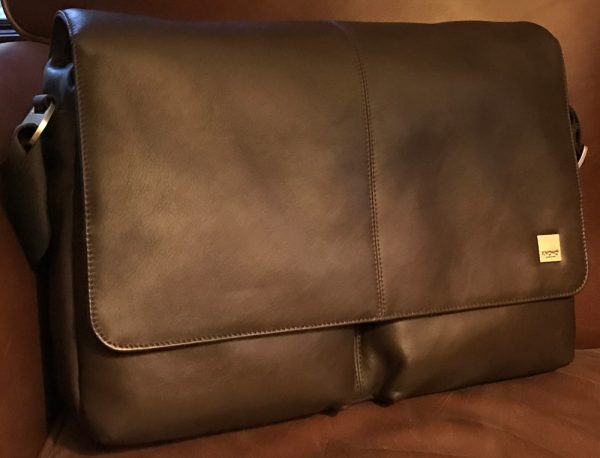 I prefer leather messenger bags to carry my gear around with me. Many of the bags I review are large enough to lug around all of my EDC gear and my 15″ MacBook as well. But when a bag is that big and made from extra thick cowhide they are heavy, many four to five pounds or more. Add in the weight of my gear and five pound laptop and the total burden is nearly twelve pounds. Julie calls me crazy, but we both agree it is a first world issue. That said, the Kobe from Knomo London is big, spacious, made from high quality leather, nicely constructed, and best of all…surprisingly light. 
Note: Images can be clicked to view a larger size.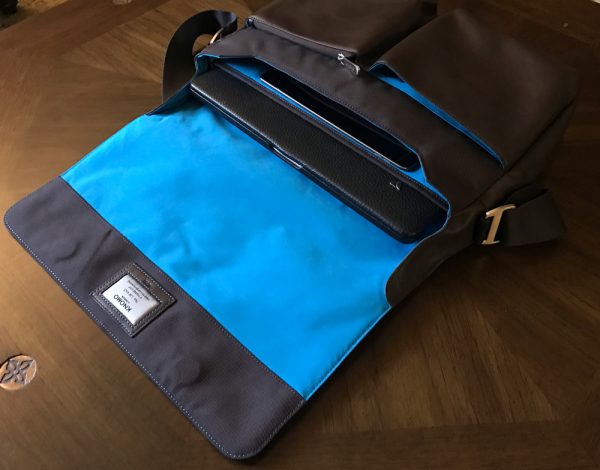 The Kobe is a soft leather messenger bag designed to carry up to a 15″ laptop in addition to a good amount of gear. To achieve its lightweight status, the Kobe is a nice mix of relatively thin full grain leather, rugged nylon weave canvas, and soft microfiber lining.
SPECIFICATIONS:
Materials:
Inbuilt RFID signal blocker lining
Crafted from full grain leather
Adjustable, durable PET weave shoulder strap
Leather 'dust flaps' to protect inside from dirt
Back slip band for sliding over a larger trolley
Size:
Dimensions: H11.8″ x W16″ x D3.5″
Fits laptops up to 15″
Weight: 2.6 lb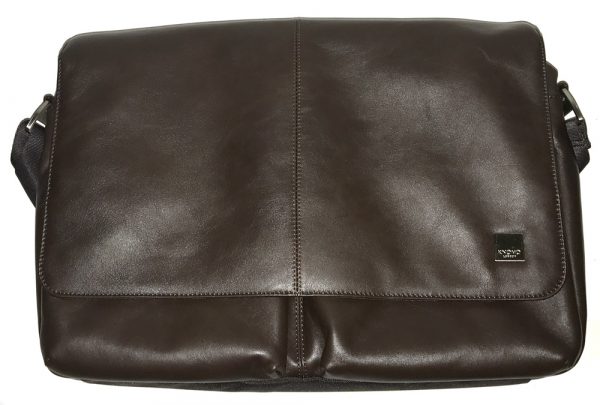 The messenger bag flap and a majority of the front is made from a high quality leather that is nicely stitched, stained, and finished. But compared to a Saddleback or Colonel Littleton bag the Knomo leather is a fraction of their thickness/ruggedness. But that thinness is how the softness of the leather and the bags overall lightweight is achieved. The dark brown leather and nylon stitching are highlighted by polished metal hardware. The main flap is held securely closed by an integrated magnetic closure system stitched into the lining.
Never miss one of our posts again. Sent MON, WED, and FRI with the latest gadget reviews and news!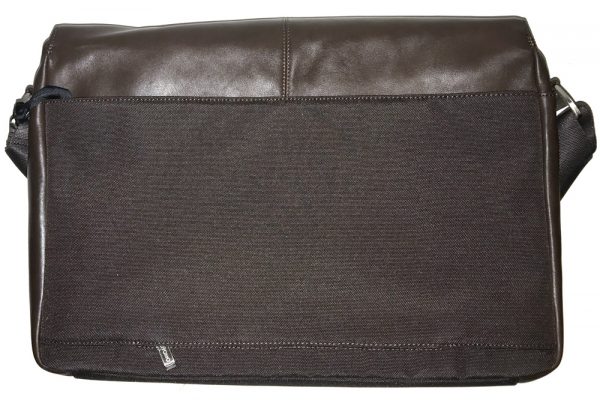 The back is a man-made (I'm pretty sure it is a nylon-based) material that is soft yet durable. There is an easy access slipper pocket built into the back.

Knomo also engineered a slip band into the back for sliding the Kobe over your luggage handle for more convenient, secure transport while rushing thru the airport. When not in use, there is a zipper at the bottom of the slipper pocket enabling the access point to be closed.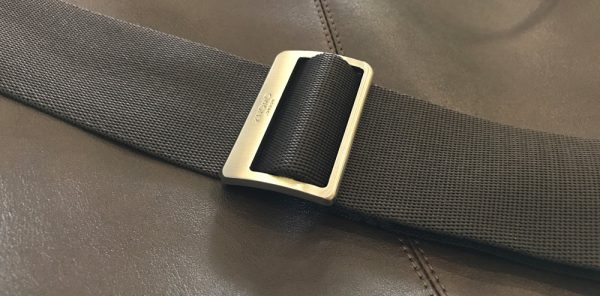 The quality of the bag is excellent — the leather, fabric, and metal hardware are all very nicely done and work well together. In this closeup you can see the attention to detail of the materials, stitching, and finish.

Knomo lines the interior of the Kobe with a microfiber material. The lining is a bright blue that is pretty vibrant but grows on you. The lining is very soft and will not mar your gear. The Kobe is a spacious bag with ample room for all your EDC stuff.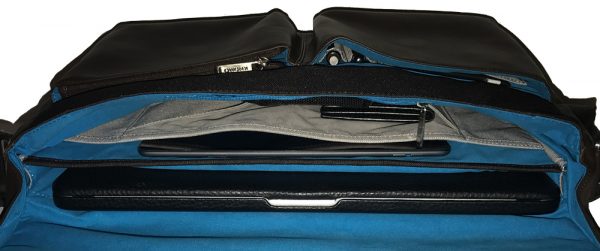 The Kobe easily holds all of my gear. The interior of the bag is divided into two primary sections: the main compartment is padded and meant for laptops with the front compartment for tablets and your bits and pieces. Here you see the bag containing my 15″ MacBook Pro, 9.7″ iPad Air, identification, James Chapter knife, bag of cables and adapters, Surefire Pen 3, permanent marker, a couple of thumb drives, sunglasses, etc…you get the point. Even with all my stuff there us still room for more.
Knomo does a great job "combining 'unstructured' design with premium organization". The Kobe's compartmentalized design (molded shape and flexible structure) gives everything its own place which is very in line with my AR tech-loving lifestyle. A design I find far superior to a messenger bag that is simply a big massive cavern where everything is dumped into to be bumped around and/or buried, never to be seen again.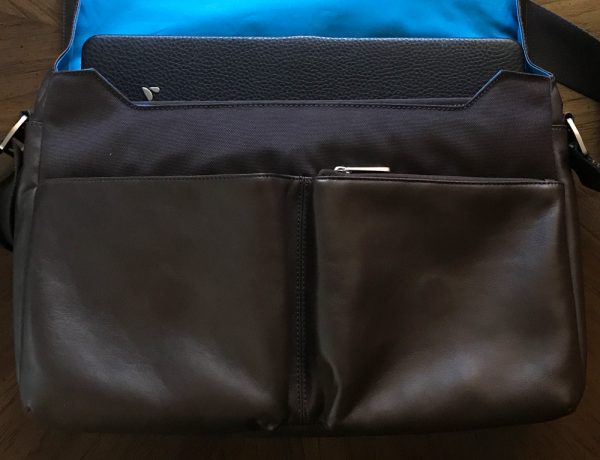 On the face of the main compartment are 2 front pockets. The right one zips closed and has RFID lining – "perfect for cards, passport, and phones" with the one on the left open for easy access.

Knomo stitches a unique identifier into the inside of the Kobe's main closure flap, enabling you to register your bag and if it's lost, some good samaritan can return it to you through the Knomo website.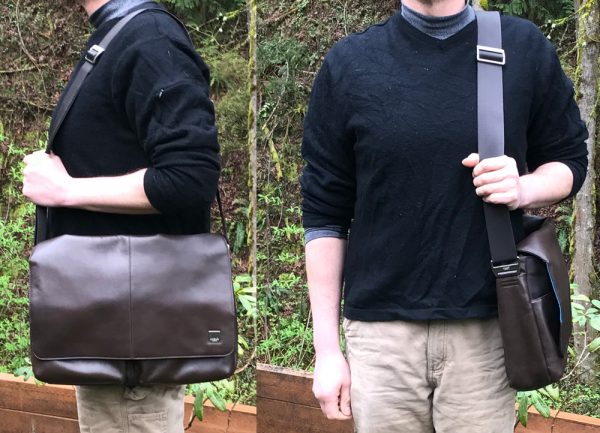 I have never been a fan of nylon shoulder straps for many reasons. But the Kobe's adjustable PET weave strap is durable, (surprisingly) comfortable, and rides very well on my shoulder. It is attached to the bag via metal hard points. You can wear the bag over a shoulder or cross body. The strap is fully adjustable but not removable.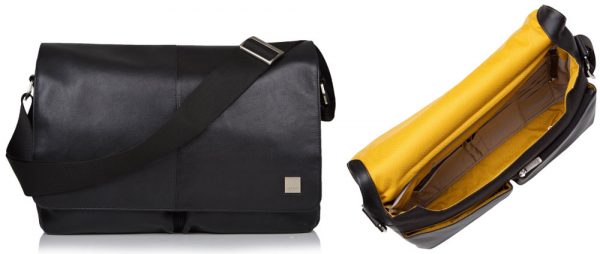 The Kobe is also available in black leather/weave with yellow interior.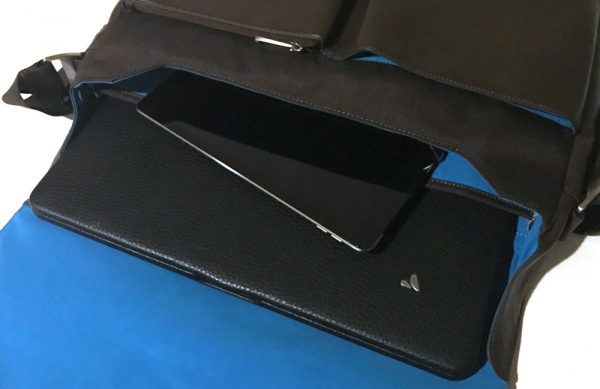 Overall the Kobe 15″ soft leather messenger is a great bag. Knomo has created a very well made carryall with a professional, polished look. For its size, the Kobe is lightweight but large enough to carry all your gear and then some. Its full grain leather and soft, padded microfiber interior do an excellent job of gingerly transporting your gear while the flap and magnetic closer keep items securely within.
Source: The sample for this review was provided by Knomo Bags. Please visit their site for more info.  Check prices and order on Amazon.


Product Information
Price:
$299.95
Manufacturer:
Knomo London
Retailer:
Amazon
Pros:

Well made from quality materials
Nicely finished
Lightweight
Spacious (holds up to 15" laptop)
Secure magnetic closure system
Padded microfiber lining

Cons:

Not as rugged as other equivalent bags
Leather is pretty thin