We use affiliate links. If you buy something through the links on this page, we may earn a commission at no cost to you. Learn more.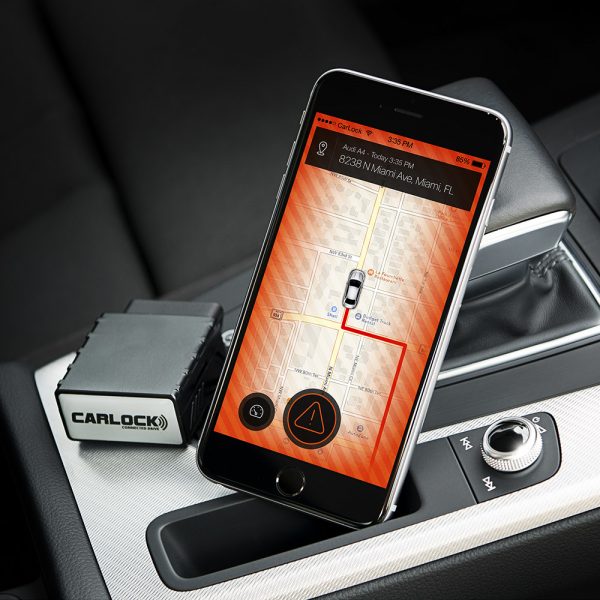 Aside from a house, a vehicle may be one of the priciest purchases a person will make. That being the case, most people want to make sure they protect their investment. One of the easiest ways to protect that investment is to know where the vehicle is at all times.
Carlock is a small device that fits into your vehicle's On-board Diagnostic port (OBD) and tracks your vehicle by GPS. It can send alerts if your engine is started, someone's tampering with the car, or the vehicle is moved while you're away from it.
Design
Carlock is a very simple device.
It's a small, square device, with a 16 pin plug. It has branding on one end of the device; other than that it's an extremely plain device.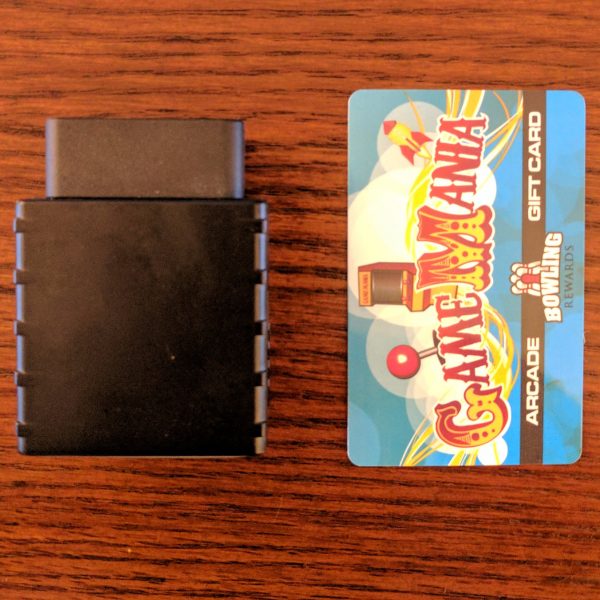 The entire device is about the same length and width as a debit/credit/gift card.
There isn't much to the design of the Carlock. It's a very plain device, but that doesn't matter much because it will be tucked away under the dashboard and won't be seen.
Setup
Of all the devices I've reviewed for the Gadgeteer, this has to be one of the easiest installations I've ever encountered.
First, you're going to locate your vehicle's OBD port. It's going to be located somewhere under the driver-side dashboard.
If you're having trouble locating it, you can use this OBD locator site.
Once you've located the OBD port, you plug the Carlock device into it.
That's all there is to physically installing the device.
Once the device is physically installed, you download the app and create an account with Carlock.
This is also a simple process.
First, you enter the activation code and serial number that came with your device. Then you enter some biographical information and the make/model of your vehicle.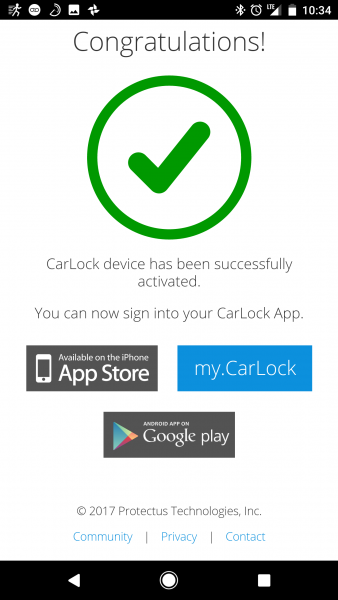 Once that is complete, you're ready to use the device.
Use
The first time you open the app, it will instruct you to drive for a bit before it can detect your location.
After about 5 minutes, the app should find your location. Your location is updated approximately every 30 seconds while driving, and every 30 minutes while stationary.
For most people, the most important aspect of the Carlock is its security features.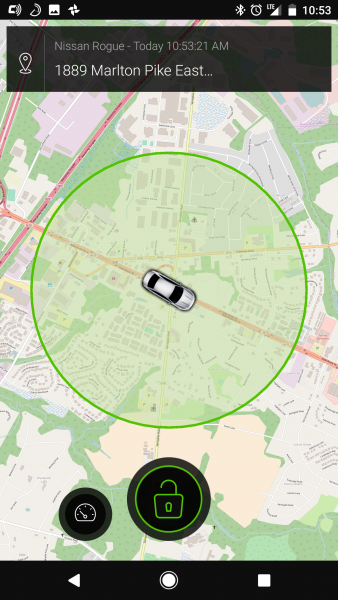 In the picture above, the vehicle is "disarmed". You can drive the vehicle and you won't receive any movement alerts.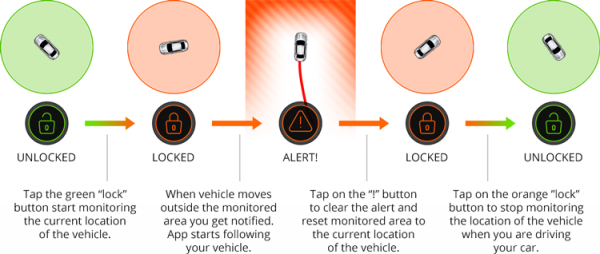 As you can see in the diagram above, arming your vehicle is simple.
If your vehicle is moved while armed, an alarm on your phone will go off and the app will show your vehicle's current location and path it took to get there.
Along with notifying you when your vehicle moves, Carlock can also alert you when the engine is started, if the vehicle vibrates excessively, and if Carlock is removed from the OBD port.
Most of us probably wouldn't remember to always arm and disarm our vehicle; fortunately, the app has an "AutoLock Scheduler" that allows you to set the times you want the vehicle to be monitored.
Perhaps you're not concerned with security, but rather the safety of those driving the vehicle.
Carlock is also able to monitor speeding, fast acceleration, sudden braking, and harsh cornering. If Carlock detects any of the above, it can send an alert to your phone.
Additionally, the app scores how the vehicle was driven over the previous month and keeps a log of trips and notifications.
This is an excellent way to keep tabs on younger drivers you may have in your household.
Cost
The device itself costs $59.94. That's not a bad price for a security device with so many features; however, there is also a subscription that must be purchased in order to take advantage of the device's abilities.
You have two options for the subscription service. You can pay $113 upfront for an entire year of service, or you can pay $9.60 a month.
In my opinion, neither price is too prohibitive; although, the savings for the yearly plan is negligible at $2.20.
Depending on your car insurance company's policies, you may be able to get a discount for using Carlock.
Conclusion
Carlock packs a lot of punch for being in such a small package.
It's incredibly easy to install and doesn't require any upkeep, yet still manages to monitor your vehicle's security and the driving habits of those using your vehicle.
Whether or not it's a sound purchase depends on the user.
Is your neighborhood safe, do you have young drivers in your home, or are you looking for an inexpensive way to lower your insurance rates? These are all questions you need to ask before purchasing Carlock. Depending on the answer, Carlock may be for you.
Source: The sample for this review was provided by Protectus Technologies, Inc. Please visit their site for more information and Amazon to order.



Product Information
Price:
$59.94
Manufacturer:
Protectus Technologies, Inc.
Retailer:
Amazon
Requirements:

Compatible vehicle with an OBD diagnostic port
Check vehicle compatibility here:
https://www.carlock.co/features-device/#will-it-work-in-my-car

Pros:

Easy install
Generally affordable
Great way to monitor young drivers
Insurance discount?

Cons: