We use affiliate links. If you buy something through the links on this page, we may earn a commission at no cost to you. Learn more.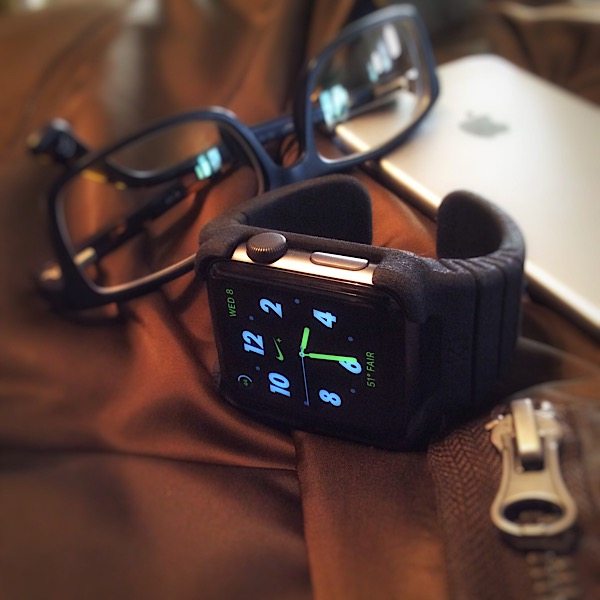 If you own an Apple Watch and you're anything like me you're constantly looking for new and unique bands to show it off. If you peruse Amazon there are literally thousands of choices but most of them are just cheaper replicas of watch bands that are already offered by Apple. I present to you the Apple Watch cuff case from Rip and Shred. A few things stand out immediately that make this band unique. Its one of the few, if not only cuff style bands available for the Apple Watch and it doubles as a protective style case. It's also 3-d printed using nylon plastic. But is this cuff case worthy of your Apple Watch? Let's find out.
The first thing I noticed right away is how incredibly light the cuff case is and although its light it seems very durable, while still retaining some flexibility. The other thing I noticed is that it had a rough finish similar to a fine emery board. More on that later.
There are cutouts in the cuff case for your Apple Watches microphone and speaker on one side and a larger cutout on the other, which gives you complete access to the crown and side button.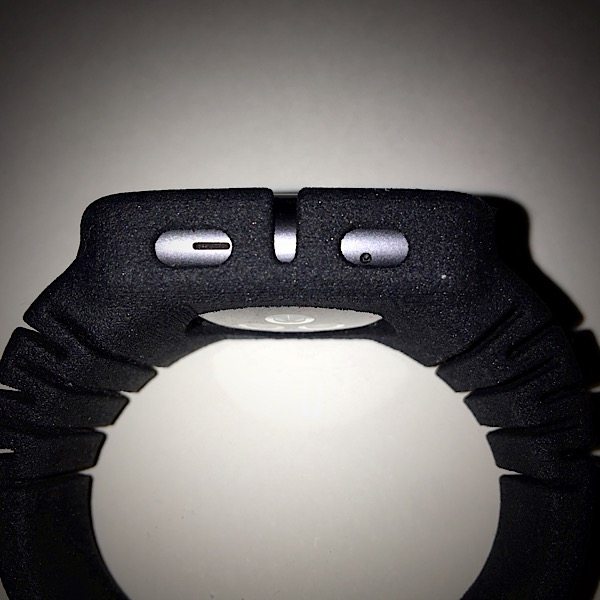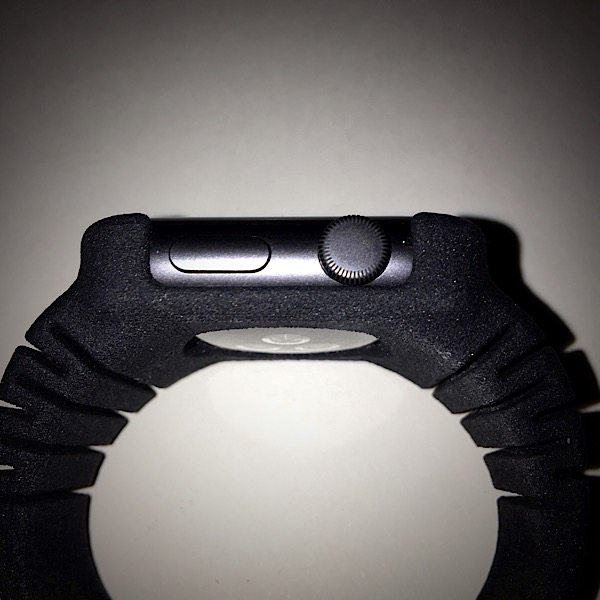 It also has a circular cutout in the bottom for the Apple Watches sensors. This cutout also allows for it to fit perfectly on my watches charging stand.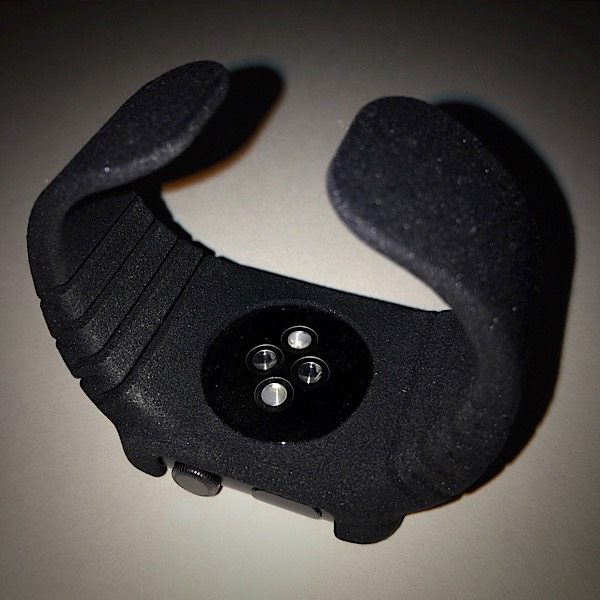 Never miss one of our posts again. Sent MON, WED, and FRI with the latest gadget reviews and news!
Placing the Apple Watch into the cuff case was really simple, it just snaps right in. The watch fits very securely once inside the cuff case, so you don't have to worry about it falling out. And it actually protects all four corners of your Apple Watch. A real nice advantage that typical watch bands just don't offer. This is great for me because no matter how careful I am, I always seem to bang my watch into something. From there you just slide the band over your wrist and you're ready to go.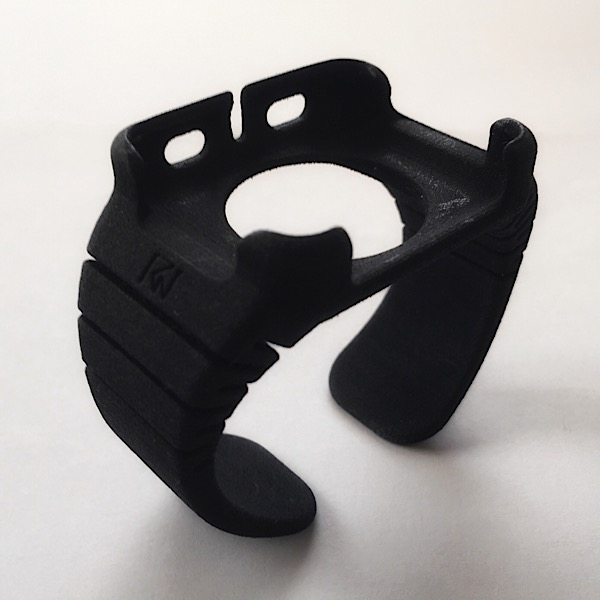 The cuff case comes in three sizes small, medium and large. I was lucky enough to receive both the small and medium sizes for my review. Having small wrists I found that the small was a perfect fit for me. If you have larger wrists or prefer to wear it more like a bangle style bracelet (Ladies), then I would definitely recommend getting a medium or large. Both the small and medium fit securely enough so there's no danger of your Apple Watch accidentally slipping off your wrist even during the most rigorous of your daily activities.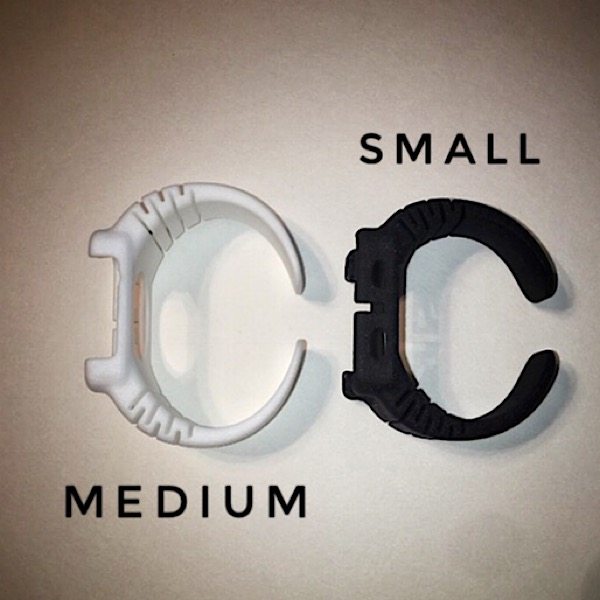 I was really eager to see how the cuff case would perform at the gym. I use my Apple Watch to track my workout stats and part of that includes using the watches heart rate monitor. Unfortunately, this is where the stiffness of the band became an issue. I found that the watches sensors didn't maintain constant contact with my wrist while I worked out and in turn my heart rate figures were inaccurate. So for me, it was a no go at the gym.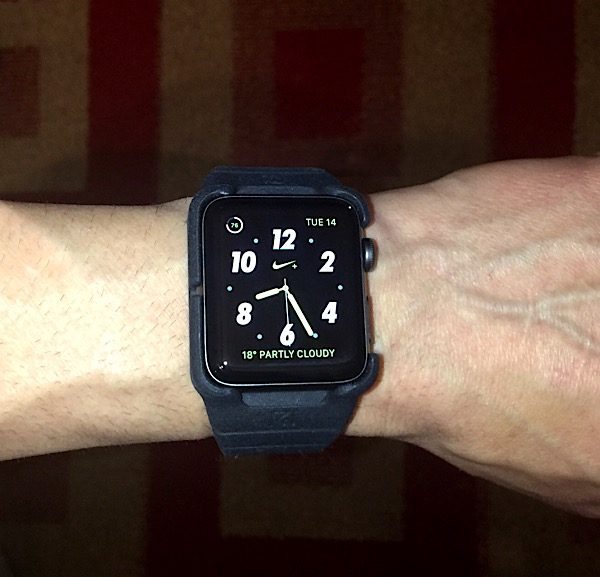 Remember that emery board feel I said the cuff case had. I was a little concerned that it would make the band uncomfortable, however, once I wore it for awhile my concerns vanished. The finish of the band was hardly noticeable. The only time it came into play was when wearing it with a long sleeve shirt. The finish on the band caused it to stick slightly to my shirt sleeve, but this is hardly a deal breaker. I was then contacted by the designer of the cuff case and Rip and Shred shop owner Gordon Lardi. Gordon informed me that they had changed the printing process of the cuff case and the result was a band with a smoother finish. I was sent one of the newly printed cases (white, size medium) and indeed the finish was much smoother. He said this was achieved by printing the case from side to side (parallel to your arm if it were on your wrist) instead of printing it from bottom to top. The cuff cases printing process happens on a large 3-d printing machine and the whole process takes about a day. Each case is printed upon ordering and is delivered four to five days after an order has been placed. Shapeways is the 3-d printing service that does the printing for Rip and Shred. If you would like to learn more about them, head over to their website at shapeways.com.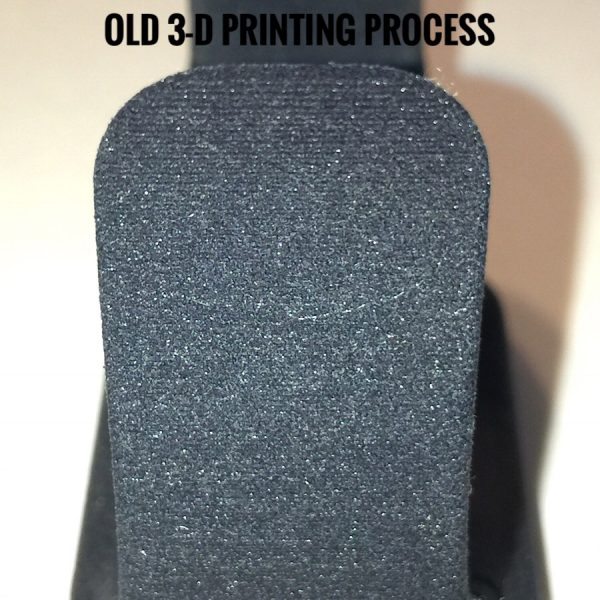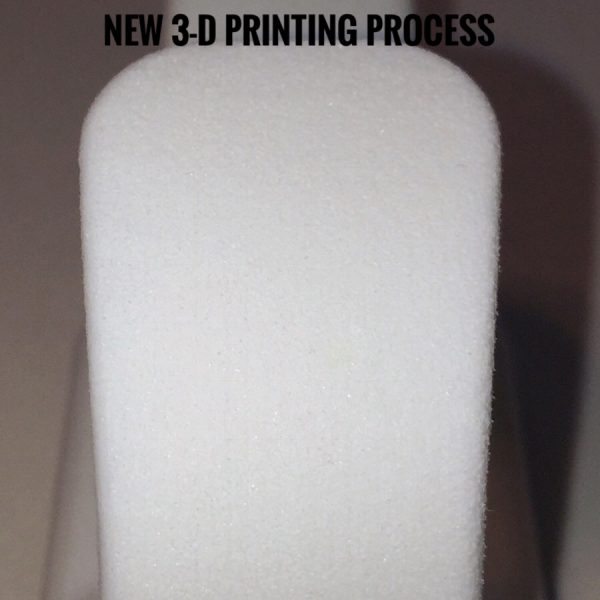 So is the cuff case worthy of the Apple Watch for me the answer is YES. I think the Rip and Shred Apple Watch cuff case is a great alternate band for the Apple Watch. It really gives the watch a whole new look. In fact, I've had a couple people ask me " What kind of watch is that?"  Since receiving the cuff case I've been using it as my everyday watch band. I really like its modern looks and how much lighter it is compared to the sport band that came with my Apple Watch. It's so light and comfortable in fact, at times I almost forget that I'm wearing it. Another thing I like is that you don't have to worry about getting it wet, so I can definitely see myself wearing it in and around the pool this summer. It also comes in a great variety of colors like blue, red, purple and pink to name a few.
The Rip and Shred cuff case is available for both sizes of the Apple Watch (38 & 42 mm) and is priced at $24.95. So if you want a great new way to showcase your Apple Watch this spring and summer head over to ripandshred.com And while you're there do yourself a favor and check out some of the other great product designs Gordon Lardi and Rip and Shred have to offer.
Source: The sample used in this review was provided by Rip and Shred. Please visit their website for more information or to purchase one.
Product Information
Price:
$24.95
Manufacturer:
Rip and Shred
Pros:

Modern look
Very light weight
Durable
Comes in multiple colors

Cons:

Its a little stiff
Price may be a little high for some