We use affiliate links. If you buy something through the links on this page, we may earn a commission at no cost to you. Learn more.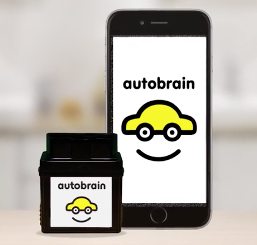 If you are the parent of a teenager, a baby, or you are concerned about the driving of your elderly parent, the following review will probably be of interest to you. Autobrain has developed a device that you simply plug into your vehicle's diagnostic port and it transforms your car into a connected smart car. Let's take a detailed look… 
Installation and Setup
Installation of the device itself couldn't be more simple. You just plug it into your diagnostic port on your vehicle.  Then you download the app, sign up for an account and then take it for a drive!  You will see lights blinking on the device, sort of like the random blinking that happens on a modem.  The directions say that it could take up to 12 hours for the app to sync with your car, but once my account was set up it only took about an hour. I did have to call because my account was partially set up already because of the fact I am reviewing it, so there was a bit of confusion, however, the gentleman on the phone was very helpful and got me going in no time.
Using the Device
There are 4 modes that you can choose from: Family Safety Mode, Teen Safety Mode, Senior Safety Mode, and Safe Baby Mode.  You can switch between these modes using the mobile app (which is free from the App Store or Google Play) and your desktop computer.  The program looks the same on the app and the computer, so switching between them is very easy to do.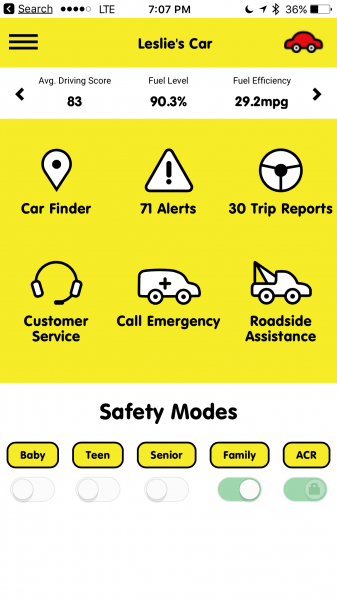 All of the modes have settings that you can change to customize them to your specific needs. If you have a teenage driver that you'd like to keep track of and see how good they are driving then teen mode is the obvious choice.  It will give you a driving score that is calculated by taking any instances of speeding, hard braking or hard accelerations and gives you a numbered driving score with 100 being perfect.  The data that you can get from this program is amazing.  For each trip you can see how many miles were driven, how long it took and what the fuel cost was.  I could have used this to charge my kids a fee for having to make extra trips in the car when they forgot things for softball practice back in the day!
For each mode you can set up parameters that will alert you when a person goes outside of what they call a "Safe Zone" that you create.  To create it, you put in an address and then how many miles from that address a person is allowed to go. You will then get an alert on your phone when someone is out of the safe zone. You can actually drive yourself crazy with the amount of alerts you could get from this device.  You can get an alert when someone speeds, when the car starts, when the car is driven between certain hours of the day/night, when it parks, when the car leaves and arrives home school or work, or any other address that you add.
The alerts are almost immediate.  When I would park my car, I would have barely closed the door and I would get a notification that I had turned my car off.  I would probably not set up all these alerts if I was monitoring someone's driving because it would drive me nuts! Unless it was my grandma because she rarely goes anywhere.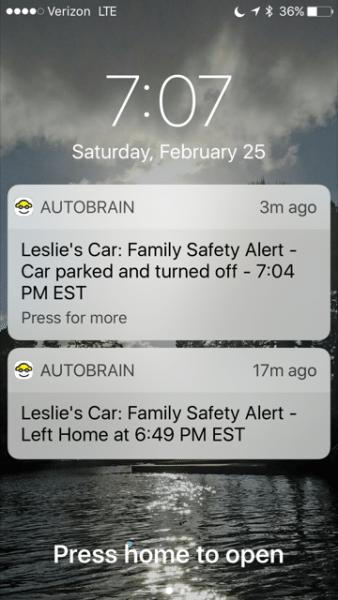 The Teen, Family and Senior Modes are all very much alike, but the Safe Baby Mode is a tad different.  While in this mode, you will get an alert to remind you to take the baby out of the car every time the ignition is turned off.  This may seem like a silly thing, but apparently, this sort of thing happens as evidenced by the news reports, so better to be safe than sorry! You can turn this mode on in addition to any of the other modes.
Roadside Assistance and Car Health Detection
Another great benefit to having this gadget plugged into your diagnostic port is that it can detect mechanical issues with your car.  If an issue is detected, an Autobrain mechanic would contact you and give you an estimate on how much the repair should cost. No more questioning whether or not a mechanic has overcharged you which allows you some added bargaining power at the repair shop.
You also get 5 free tows 35 miles or less each time, free lockout services if you lock your keys in your car, emergency battery boosts if your battery dies (which shouldn't happen because you would get notified if your battery was getting low), emergency fuel delivery if you should happen to ignore the low fuel alert that Autobrain sends you, tire change services and most importantly, emergency crash response should you get into an accident.
Using the App
The screenshot below is what the main menu looks like on the computer and it's identical on the phone.  On the computer however, to the right side of this menu is a map that shows you where your car is (see next pic), and where it has been.  It will tell you the places the driver stopped, and for how long. It will allow you to choose the specific day and you can follow along the route that the car was driven.  You can even see where the driver had to brake too hard or accelerate way too fast.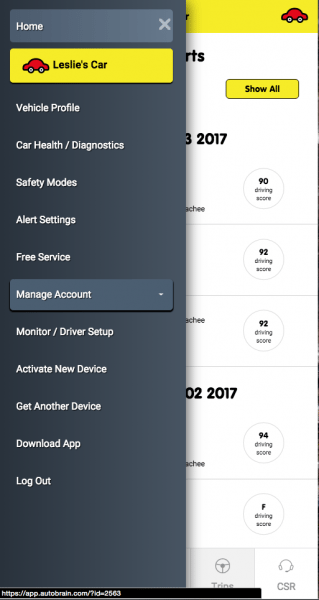 Below is what the map looks like in the browser on your computer. You can see all this on the app on a phone or tablet too, it's just you can only see half of it at a time.  As you can see on this trip we took in Family Safety Mode, there were 2 hard breaks, and apparently I was speeding 5 times!  Of course, I did all this to "test" the device and make sure I got the alerts 😉  My score is an F because if you speed….automatic F!  Tough crowd.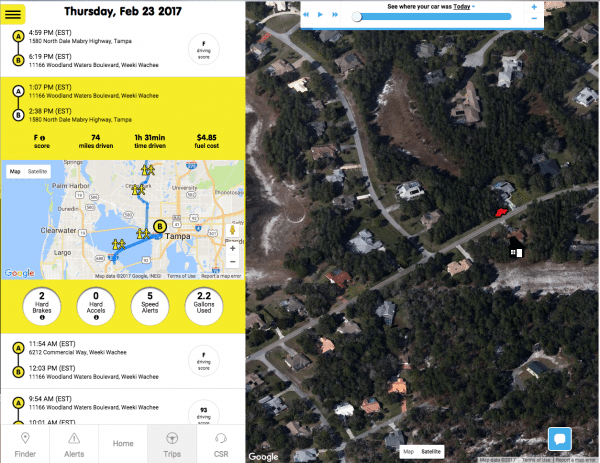 Share the Love
You are issued a promo code when you sign up (it's found in your app settings under Free Service) and if you give it to a friend and they sign up, they can get the device with a one month trial for only $19.97, plus YOU get one month of service for free as well.  This is cheaper than you can get it through the Autobrain website, which is $49.97 with a one-month free trial. Also keep in mind that if you don't like it, you can send it back and get a refund and they will even send you a postage paid envelope! With no risk and no contracts…it's a no-brainer!
All in all, I am pleased beyond belief with the functionality and the ease of use of this product. It's like having Onstar or AAA service, with all the control right at your fingertips. The only thing that I couldn't figure out, and it's not that big of a deal really is how they compute the driving score.  I tend to be a perfectionist and a fairly good driver, and I get 93's on my score and there are no alerts that I've hit the brakes or excelled too hard. Now that my girls are not really new drivers anymore, I plan on using this device (which they love) instead of Onstar because they are too far away now to rescue them if they have a flat tire or lock their keys in their cars. It's a wonderful piece of mind for all of us!
Source: The sample for this review was provided by Autobrain. Please visit their site for more info.
Product Information
Price:
$49.97 plus 1 free month service. $9.97 per month thereafter.
Manufacturer:
Autobrain
Requirements:

A vehicle
A diagnostic port
A driver
A computer, smartphone or tablet

Pros:

Easy to setup and install
Cheaper than Onstar
24/7 roadside assistance included
Low monthly cost and no contracts

Cons:

Difficult to figure out how the driving score is calculated.