We use affiliate links. If you buy something through the links on this page, we may earn a commission at no cost to you. Learn more.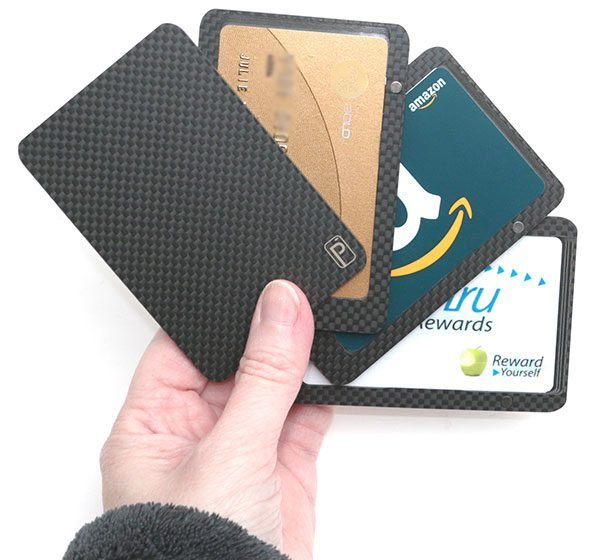 Have you been shopping for a new minimalistic wallet but don't want one with the same old tired style as everyone else's minimal wallet? Then look no further my friends because I have a wallet that you'll want to check out. It's the PITAKA carbon fiber magnetic wallet and it's definitely unique. But is it the perfect minimalist wallet? Let's find out.

What is it?
The PITAKA carbon fiber magnetic wallet is a minimal wallet that's made of carbon fiber, which is RFID blocking. It also features a modular layered design that allows you to customize what it can hold.
Design and features

The PITAKA wallet resembles a deck of playing cards in shape, size and even with the layered "card" design.
Made of carbon fiber, the wallet is lightweight but tough.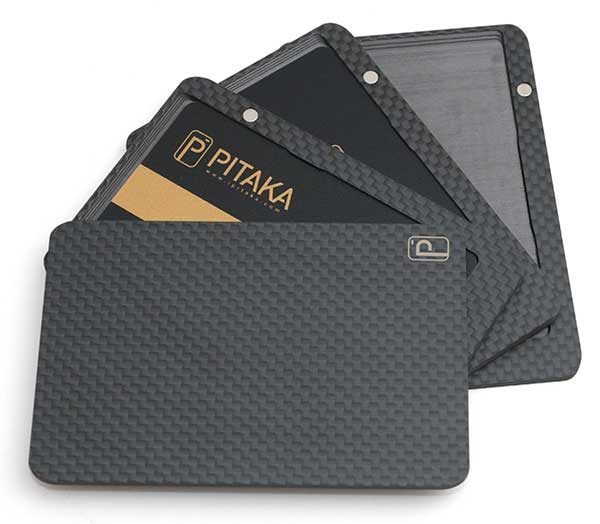 The main wallet ships with four layers that include the top and bottom layer end pieces that can hold one card each and two internal layers that each hold two cards. That means that the wallet can hold a maximum of six cards.
PITAKA also sells additional layers that can hold coins, a key, SIM card, micro SD cards, and cash.

There are three magnets embedded in each layer. The larger magnet in the center bottom edge and two smaller magnets on the side edges. The location of the magnets allows for the card fanning effect that you can do with one hand (see video demonstration below).
Each internal PITAKA layer can hold two standard-sized embossed or non-embossed plastic credit cards.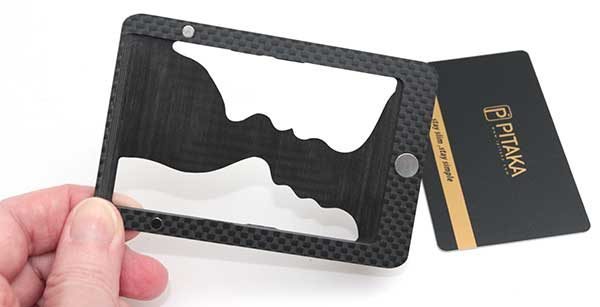 The cards are held in place with very small tabs that you can barely make out in the image above. Look on the straight rails across from the nose in the face cutouts and you will notice that the plastic has a slightly wider section.
See it in action
As you can see in the video above, you just hold the wallet in your hand and fan the "deck" with your thumb which is also used to raise the card. Although I didn't do a very good job in the video, with a little practice, you can use this wallet with just one hand.
There are two issues/problems with this wallet that that should be discussed.
First of all, you need to pay attention to the orientation of the wallet, If you hold it in your hand so that the larger center magnet is on top, spreading open the wallet will either cause the wallet to fan open upside down or even worse, will cause the magnetic layers to disconnect. I show this towards the end of the video at the 36 second mark. I really think there some be a visual or tactile indicator of how to hold the wallet.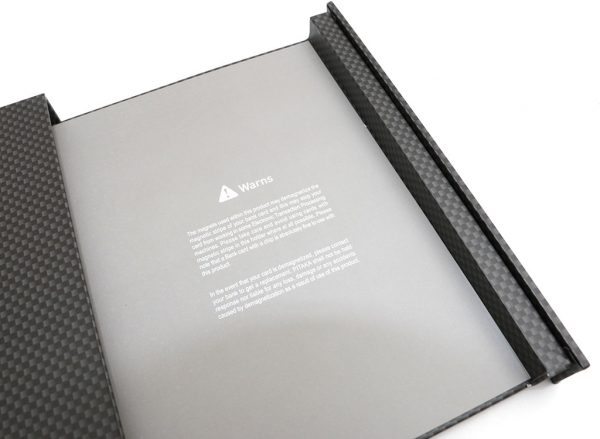 The bigger issue with the PITAKA wallet is not how to hold it, but what types of cards it can hold. The box that the PITAKA is packaged in has a warning (click the image for larger view). Basically, it says that you should not use cards with magnetic strips in this wallet. Why? Because the PITAKA wallet uses magnets to hold the wallet's layers together and those magnets can demagnetize the cards. I contacted PITAKA to get some clarification on this issue and this is their reply:
Great to receive your email and reply you on demagnetize issue.

Since there are magnets on our carbon fiber wallet, they are enabled with one-hand cool operation, meanwhile bringing another issue of demagnetizing
card with a magnetic strip. But that could be fewer and fewer situations as the RFID chip cards (credit cards, metro cards…) are reported to be the trend.
Most European countries have been used RFID credit cards everywhere and Americans have been on the way. Below are a tech news FYI.
https://www.nfcworld.com/2016/06/23/345759/emv-claims-third-global-card-present-payments/

Also we surely understand it's still a great trouble if demagnetizes. We tried so much find magnets won't demagnetize and checked with many material experts, all told us no such magnets exist. If you know some please do inform us for research and resolution. But kindly noted Chip technology is an advanced, and it is more safe than stripe.
As an innovation company, it's impossible to develop a product that will be conflicted with the trend and technology.
The problem is that my main CitiBank Visa credit card has both a magnetic strip and a chip. I still find stores where I have to swipe instead of use the chip. So that's a big problem for me and I'm guessing will be an issue for others as well.
Final thoughts
The PITAKA carbon fiber magnetic wallet is a wallet that has a lot going for it. It's lightweight, has RFID protection, can be customized to add or remove layers and is fun to use. But the main problem with it is the potential to demagnetize cards with magnetic strips. If you don't use those types of cards anymore, then yay for you! I think you'll enjoy this unique wallet. But if you use cards with magnetic strips, I don't think this is the wallet for you.
Source: The sample for this review was provided by Pitaka. Please visit their site for more info and to order one.

Product Information
Price:
$80
Manufacturer:
Pitaka
Pros:

RFID blocking
Modular
Lightweight
One handed access to cards

Cons:

If you don't pay attention to the orientation of the wallet, you might disconnect the layers when fanning the "deck"
Can't use with cards that have a magnetic strip